G-Floor Graphic and Extreme How-To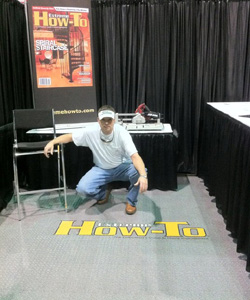 The flooring in the Extreme How-To Booth at the 2011 International Builder's Show held in Orlando, was a huge hit with attendees and exhibitors. Our logo was imprinted in the actual flooring material and as you can see, it looks really cool.
G-Floor Graphic is an exciting new product made by Better Life Technology, LLC. It is a durable vinyl graphic-floor material and is suitable for a wide range of applications. Specifically designed for both solvent and UV curable coatings, the product is best suited for second surface print, offering the most durable material layer in the industry.
These floor coverings can be customized with just about any kind of graphics. Click here to read more:  http://www.gfloorgraphic.com/
---
Recommended Articles