Pro Tips for Simple DIY Fixes
By Rob Robillard
Home furniture and furnishings need special care to keep them working properly and maintain their original luster, value and aesthetics. Here are some maintenance tips and tricks I've picked up along the way, to help you attain the status of home-furnishing maintenance Jedi Knight!
Repair a Wobbly Leg
"Stop Leaning Back!" I never thought I'd be echoing my parent's words, but now I do. My kids are "lean-ers," they love to lean back when sitting on the kitchen counter stools. Not only is it dangerous, it drives me crazy because the pressure on the rear legs always weakens the frame joints. As a result, I probably end up repairing two stools per year.
This repair takes 30 minutes or less. When compared to a $150 stool replacement cost, it's well worth the time investment.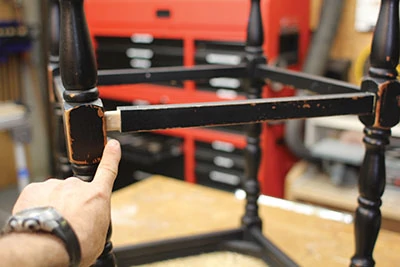 First spread the stool's stretchers further apart with a bar clamp to expose the tenon and mortise. Lightly sand the exposed tenon to roughen up the surface for the new glue. Use a small brush to dampen both mating surfaces, which helps the glue cure faster. Then apply the glue. For wood components, use a quality wood glue. For other materials an epoxy may work better. Gorilla Glue epoxy comes in a two-part applicator and is fast-setting, strong, easy to use and evenly dispenses. Apply the glue with a brush to ensure equal coverage inside the mortise.
Next, clamp the legs together, then clean excess glue off the joint. If foaming occurs as the adhesive sets, wipe it clean with some solvent (paint thinner works). Come back later and clean up any additional foam with a small sharp chisel.
When dry, cover the glue line with a marker to make the repair invisible.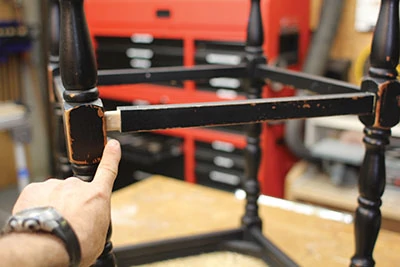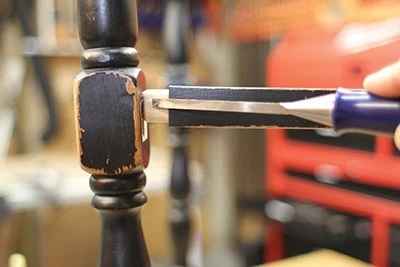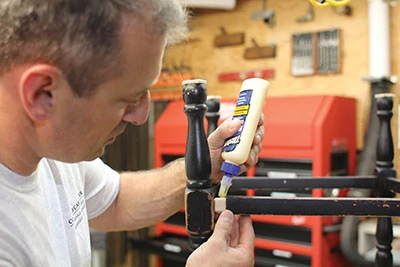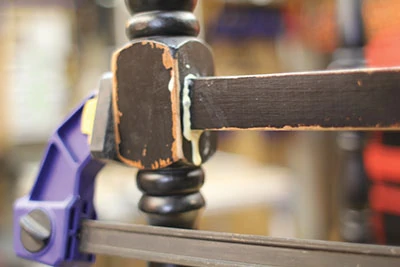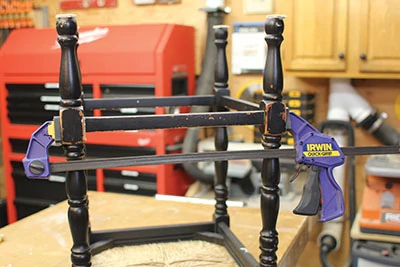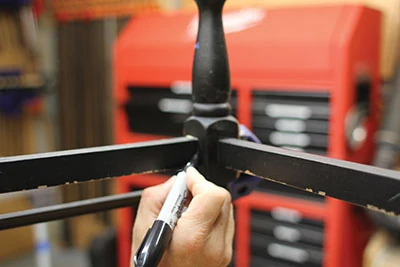 Repair a Footstool
Footstools or ottomans are popular additions to chairs and couches and are designed for people to rest their feet on or for additional seating. They also serve additional functions of storing items such a blankets and books, and although not recommended, are occasionally used as a stepping stool.
As you can imagine, footstools and ottomans take a beating, especially if they are used often. One common repair is to tighten a loose leg joint.
Many store-bought stools have threaded inserts that accept a machine-threaded bolt. This bolt (called a hanger bolt) usually has a machine thread on one end, and the other has a wood thread. The wood-thread side inserts into the stool's leg. This is where the failure usually occurs.
Use or misuse causes the legs to spin loose and eventually wiggle, which in turn elongates or widens the threaded wood hole and causes the leg to become permanently loose or wobble.
To repair, use thin strips of wood or even toothpicks and a little wood glue to make the wood hole smaller. Then, insert the wood-threaded bolt. The additional wood gives the threaded bolt something to grab against.
Use ChannelLock pliers to hold the threaded screw as you turn the wooden leg with your hand.
If this method does not work, then glue in a dowel, cut it flush and completely predrill and insert the threaded screw into the dowel.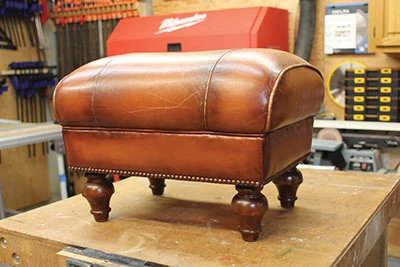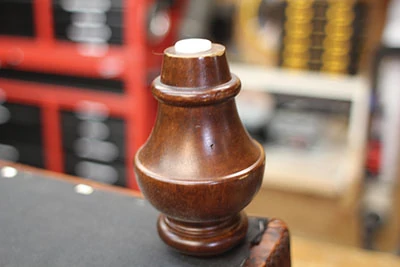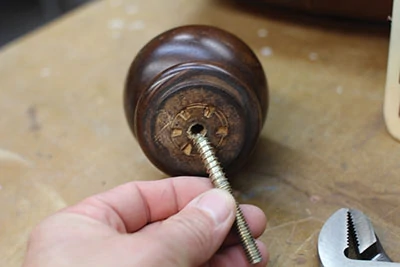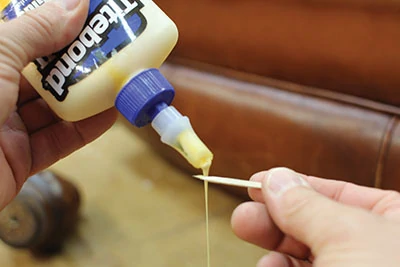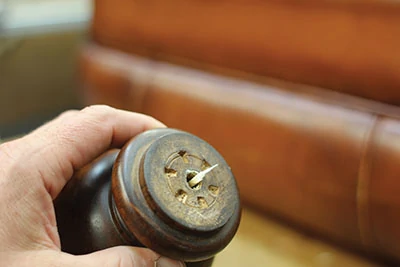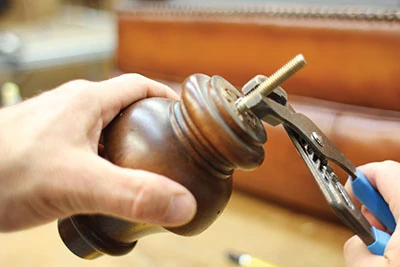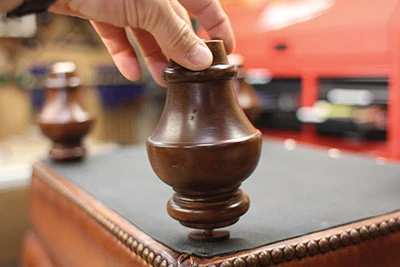 Loose Hinge Repair
Similar to repairing a footstool, here is a trick for fixing stripped-out wood screws. This is a common problem with cabinet door screws, which come loose and cause the door to bind. In some cases you can just use a longer screw, but finding a screw head to match can sometimes be tough.
A quick, convenient cure can be achieved with toothpicks or wooden matchsticks. Toothpicks are usually made of a harder wood than matchsticks and may provide a longer repair.
First, remove the screw or hinge for best access. Dip one or more wooden sticks into wood glue and then stuff them into the hole. Tap with a hammer or butt end of a screwdriver for full penetration. Break the toothpick or matchsticks off at the surface and replace the screw. If the stick does not break flush with the cabinet surface, you may need to remove the hinge and cut it flush with a utility knife or chisel. If the holes are larger than about 1/4 inch, use more sticks and glue. Once dry, reinstall the screw in the center of the bundles of toothpicks or matchsticks.
As you install the screw, it will crush the toothpick fibers tightly against the existing wood. The pressure will hold the toothpicks in place and fill out the stripped hole. When the glue dries, the toothpicks will be glued to the existing wood and to each other, making a very strong repair. If you don't have glue you can do this repair without it.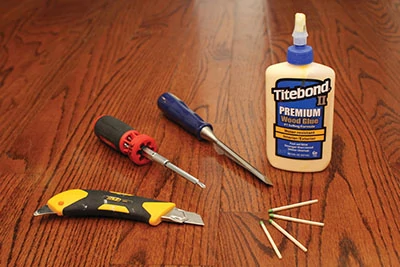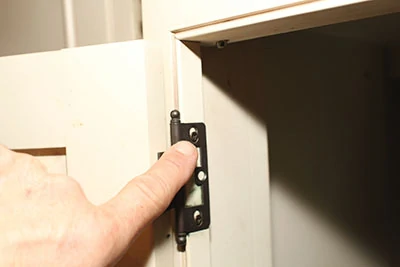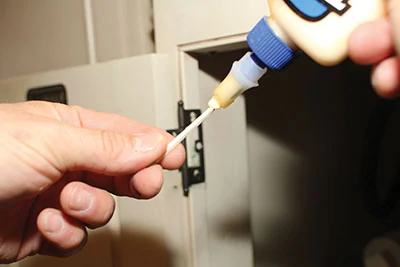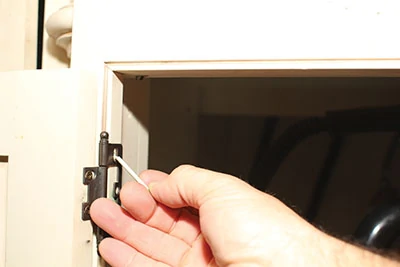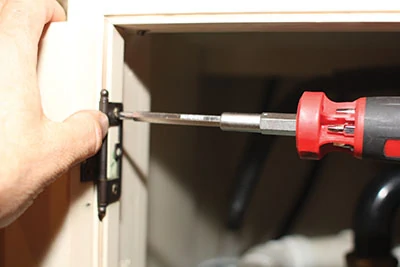 Care for Teak Furniture
Teak is a tropical hardwood species of tree, popular for outdoor furniture use due to its durability and natural resistance to rot and decay.
As teak ages and is exposed to the elements, the natural, beautiful color changes to a silvery gray patina. Teak naturally resists moisture and part of the reason for its durability is its high content of resinous oils, which prevent the wood from drying out quickly. This also prevents it from absorbing too much moisture, making it less likely to rot. Teak will most likely not rot away, but it can look ugly if not maintained.
Left unprotected teak can sometimes develop black mildew spots from moisture and lack of maintenance.
Regular cleaning teak will help prevent mildew buildup and potential discoloration.
Here are two DIY cleaning solutions for teak: No. 1—mix 1 cup each of chlorine bleach and laundry detergent with 1 gallon of warm water; No. 2—mix 1 cup of vinegar with 1 gallon of warm water. Note: If the teak is badly stained with mildew and mold or other material, add about 2 teaspoons of Trisodium Phosphate (TSP) to the mixture.
Wear rubber gloves and safety glasses, and apply the solution with a spray bottle or garden sprayer.
Apply the cleaner in a well ventilated area, and work it onto the teak using a soft nylon bristle brush to scrub the solution into the woodgrain. Scrub the mixture into the wood and across the grain. If you scrub with the grain, it can tear the wood fibers, leaving the surface rough and vulnerable to the elements. Wait 15 minutes and then rinse with water.
For teak that has seen a long exposure to the weather, you may need a more aggressive store-bought cleaning solution.
When cleaning teak furniture, try to work in the shade. Spray the entire item, including the underside, and keep it wet with the solution for at least 15 minutes. Work in sections small enough that the solution will not dry before the allotted time. Scrub on more solution to areas that begin drying too early.
Rinse the teak with clean water. Use a soft-bristled brush as you rinse to remove any residual stubborn dirt. Allow the wood to dry for about 24 hours. If it is still dark or stained, mix 1/2 cup of oxalic acid into a gallon of hot water and apply to the wood with a nylon scrubber. Let the mixture sit for about 10 to 20 minutes, then rinse and repeat if staining is still present. Let the wood dry 24 to 36 hours before applying protective oils.
Apply the protective oil of your choice to the teak in a well ventilated area. Apply it evenly, with a brush and allow it to soak in at least 1 minute. Wipe off the excess with a dry, clean rag. Allow to dry before using the piece of furniture.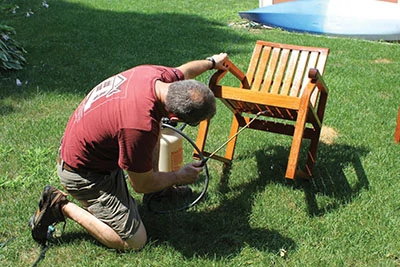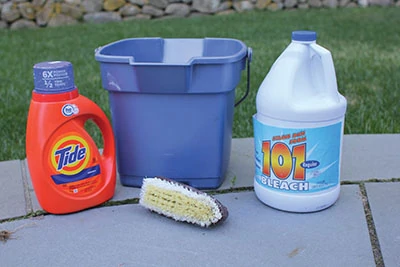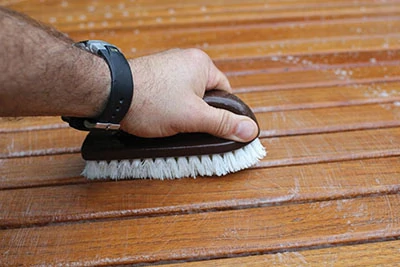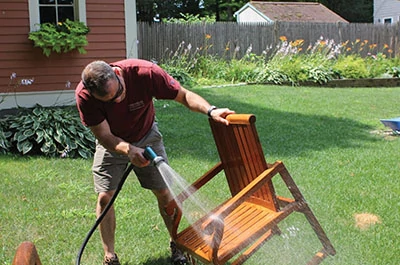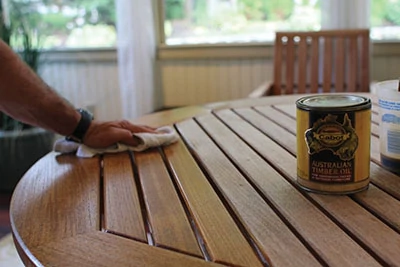 Protect Hardwood Floors from Furniture Damage
We all pay a lot of attention to protecting floors against outside contaminants like sand and salt by installing foot mats to prevent abrasion damage. Sometimes, furniture and chair legs can get overlooked as potential sources of floor damage.
The oak wood floors in my house were refinished in 2004 and shortly after my wife purchased new bar stools I started noticing scratches. It was time to remove the plastic glides installed at the factory and install felt pads.
Just like foot traffic, how often your furniture moves along a floor will play a part in choosing the right type of furniture pad or chair glide. For heavy pieces of furniture that won't be moved at all, you have a wider range of furniture pads to choose from. Thick pieces of felt or rubber work well with heavy furniture.
Unprotected chair legs can damage your floor's finish in a matter of minutes, so I typically gravitate toward self-adhesive felt pads. These are peel–and-stick pads that can be found almost everywhere. They are typically made of felt and are inexpensive. The adhesive on these pads won't last as long as tap-on or slip-on pads, but they allow the stools to glide smoothly along the floor. For this reason, I choose to change them out yearly.
When making the repair, set the furniture item upside down for easy access. Remove any factory-installed plastic pads from the chair legs by prying off the staples with a screwdriver and hammer. Use pliers or end nippers and pull the staples if applicable. Wipe the end of the leg clean. Apply pre-cut felt or cut your own to size, providing a protective pad to all four legs.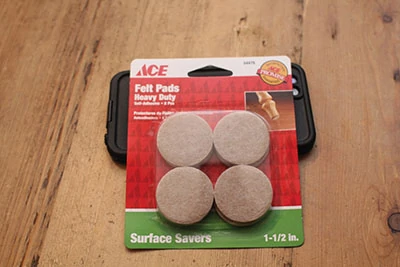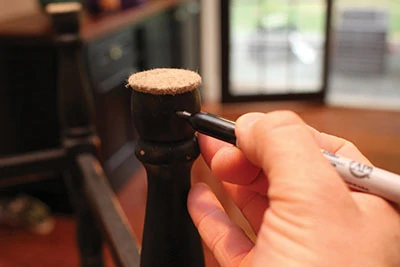 Hide Scratches & Wear Marks
With three kids and two dogs I've come to the realization that hardwood floors are going to have scratches. Several years back I had a water leak in my kitchen, and several oak floor boards were replaced. As a result the newer area of repair is slightly higher than the older floor and develops wear marks at the seam.
Once a year, or as needed, I touch up this area with a color-matched Minwax Wood Finish Stain Markers. These markers are great for quick and easy touch-ups of nicks and scratches on wood furniture, moldings, cabinets, doors, floors and other wood surfaces in your home.
This stain pen contains real Minwax Wood Finish stain and comes in a variety of colors to match most stains. I've used them to touch up many projects, such as staircases, banisters, bathroom vanity cabinets and floors.
There are many such kits available that can make glaring scratches, dents and chips disappear with-out the high cost of a hardwood professional or a wood restorer.
Shake the marker well before use, and depress the tip gently a few times on scrap paper or wood to start the stain flowing. Apply it precisely to the area of wood needing attention and wipe off excess with a cloth.
Replace the cap tightly after use, and store the pen on its side. If the tip dries out or hardens after extended storage, remove the tip and soak it in mineral spirits overnight. Mineral spirits or paint thinner can be used for cleanup.
These simple tips will not only help you maintain your home furnishings and furniture but will help you obtain the elite status of "problem solver" with your significant others and friends.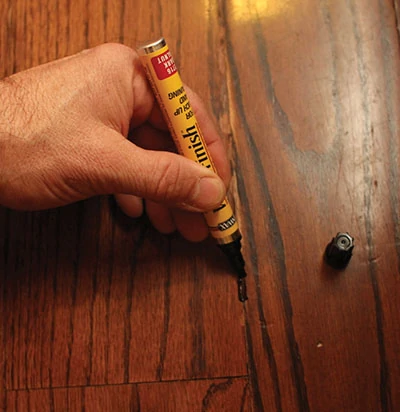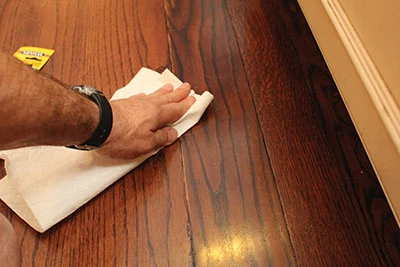 Side Note 1
Restor-A-Shine Wood Polishing Compound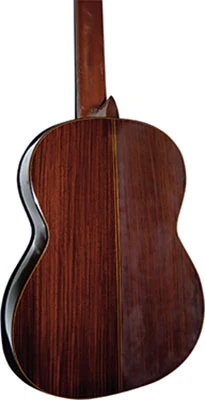 Howard Restor-A-Shine Wood Polishing Compound is specifically designed for wood finishes, using extremely fine micro-polishing powders, mineral oil, orange oil and select waxes. Restor-A-Shine safely polishes out fine scratches, oxidation and haze. It revives dull areas and eliminates steel wool marks and other surface blemishes. It is the perfect product for completing the restoration of a high-shine wood finish after using Howard Products' Restor-A-Finish. You can also use Restor-A-Shine for the final buffing stage on a newly applied high-gloss finish. This unique polishing compound can safely be used on lacquer, varnish, shellac and especially polyurethane finishes. In fact, you can use it on any clear-coat wood finish. Visit www.howardproducts.com or call 1-800-266-9545.
Side Note 2
Briwax Spray
Made with the same great quality beeswax as the original BriWax, the new BriWax Spray offers a perfect wax finish every time. It cleans, restores, revives and polishes wood, marble, granite, silver plate and more. It features high wax content, it's is silicone free, and easy to use. Just spray it on 15 to 18 inches from the surface, wait 2 to 5 minutes and buff it to a waxy shine. Repeat the process until the desired shine is accomplished. Visit www.briwax.com.
Side Note 3
Got Table Legs?
The woodworkers at Tablelegs.com make classic, unfinished furniture parts with quality and value you can count on. Design your own table and choose from premium furniture legs, wood columns, cabriole legs, bun feet, kitchen island legs and more. Your parts are made to order, and 98 percent is crafted right in the company's Vermont woodshop. This ensures consistent tolerances between parts, as well as superior color and grain matching. Also, made-to-order makes it possible to customize almost any design to your exact need. All parts are sold without finish applied. Learn more at www.tablelegs.com.
Side Note 4
Timber Buddy Wood Floor and Furniture Repair Kit
The Timber Buddy Repair Kit includes everything you need to make simple repairs to your hardwood floors, cabinets and furniture. The Hardwood Floor Cleaner cleans your wood floors and furniture without the use of harsh chemicals. The Repair Putty is pliable, easy to use, and comes in multiple colors that can be blended to match your wood finish. The Timber Buddy Kit also includes three stain pens, a handy little scraper, pair of gloves, a durable cloth, water-base finish and storage bag. Visit shop.timberbuddy.com.