Upgrading an Old Wood-Burning Stove with a Stylish, Efficient Gas Fireplace
By Stuart Hanson
When it comes to which type of fireplace is best, there has always been considerable debate. Many people lean towards the romance, smell and 'crackle' of a wood-burning stove, mixed among those seeking gas fireplaces that not only create warmth and comfort for the whole family, but also offer the finest in style, convenience and efficiency.  While it's true most people will always envision a roaring fire within the family room, the wood-versus-gas debate still continues.
While both types have their advantages with staunch defenders on both sides of the gas-versus-wood conversation, the real winners are today's homeowners as modern fireplaces truly are a far cry from the unattractive and inefficient hearths of the past.  Whether you're designing your dream home or just looking for an easy way to maximize comfort and save heating costs this season, there are numerous considerations regarding this popular home upgrade as exemplified via one Pacific Northwest couple from Redmond, Washington.
Homeowners Steve and Tara Fries inherited a mid-70s freestanding wood stove when they purchased their home in early 2000. Since then, an upgraded great room and kitchen outshined the outdated wood-burning appliance. With a baby on the way, they felt a safer, more-efficient change was needed.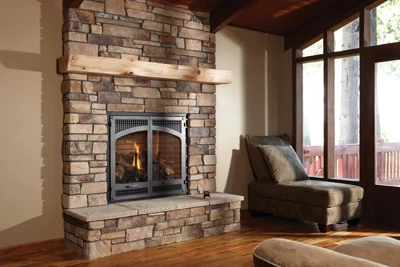 "I remember sitting around a roaring wood fire when I was young so I have a natural affinity towards that, but we decided a change to gas was more appropriate with a baby on the way," says Steve Fries, a long-time media sales professional. "We're both so busy and about to become even busier, so the overall efficiency, look and convenience of a gas fireplace really felt like the right choice."
As the Fries' found out while going through the process of upgrading to a new gas fireplace, there were many aspects to research and consider before they upgraded their inefficient wood stove with a 'hot' new home appliance.
Consideration #1:  Determine the Best Fuel Source
Selecting the most appropriate fuel source is often the first step when deciding which direction to go. For more rustic or rural home settings, wood is the preferred fuel source for its classic "crackling" sound, and its low-cost and availability. Natural gas is a convenient way to have a warming fire at the flip of a switch or remote control, and is readily available via the local power/utility company (less so in remote areas). Additionally, there are many cities and states that periodically limit or prohibit the usage of wood-burning fireplaces because of environmental conditions—so warming the home with gas eliminates that potential circumstance. That was an important consideration for this family since they're located in the greater Seattle area where burning bans occasionally occur.
Consideration #2:  Proper Styling is Essential for Architectural Consistency
Thanks to modern design and styling, many of today's fireplaces are a far cry from their unattractive predecessors of the past.  Maintaining architectural consistency makes a great difference between a fireplace that looks like an inappropriate add-on and one that looks like it's an original part of the home. Simply put, it's a matter of replicating the particular architectural style in other finished materials throughout the space for an overall, cohesive look.
Visiting the local hearth retailer will quickly show any would-be buyer a nearly endless selection of faceplate designs and material choices. Brushed nickel, wrought iron, antique gold and hand-rubbed copper are just a few of the options designed to provide a cohesive, luxurious look unifying the home's architectural style. The Fries' selected Kirkland Fireplace, a nearby fireplace retailer supplying the Seattle area with gas, wood and electric fireplace products, including installation services and maintenance. They eventually decided on the Winthrop GreenSmart high-output gas fireplace by Avalon, a brand known for its beautiful wood, gas and pellet fireplaces, stoves and inserts featuring organic styling and natural design.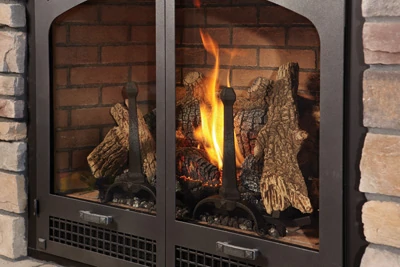 "The Winthrop's size and proportion just looked right for our great room setting while providing ample heat output throughout our entire 2,520 square foot home," says Steve.  "And we—as in my wife—decided the Avalon Bungalow face, weathered-brick fireback, accent lights, wrought iron andirons and GreenSmart remote were the best appearance and functional options for our situation … and I of course agree. It looks great and heats even better."
"The combination of the Bungalow face and the other options really made the fireplace 'pop' while still looking like it belonged in the space all along," explains Tara, a coffee shop owner by day and loving Mom by night.  "The overall selection and available options from Avalon were all very stylish and really high-quality, and it certainly shows in our fireplace. I'm so happy in how it came out."
Consideration #3: New Developments in Efficiency, Realism and 'Zone Heating'
One of the most critical performance measures of any heating appliance is the overall efficiency.  This important data tells you how much of the generated energy is turned into useful heat—and is especially important with rising fuel costs nationwide.
"Heating appliances these days are no longer the fireplaces of old," says Kurt Rumens, president of the Avalon fireplaces. "If you have an older fireplace, the efficiency difference can be drastic when compared to newer models. You can easily get more heat for your money and help avoid high-energy bills by upgrading an existing fireplace."
For example, the Avalon gas fireplace within the Fries' residence is powered by the GreenSmart system featuring an innovative collection of components, controls and technology that when combined provides an elegant, smarter and greener way to heat the home. Features such as accent lights, flame adjustments, blower control and a choice of pilot ignition modes, when combined with the GreenSmart remote, allows homeowners to run the fireplace in "Smart Thermostat Mode" that automatically adjusts the split-flow burner system. The rear burner will turn off leaving the front burner on for an attractive flame appearance when less heat is desired. This mode maximizes the viewing pleasure of the fire, as opposed to simply shutting the entire unit off—and a smarter, greener way to enjoy the fire.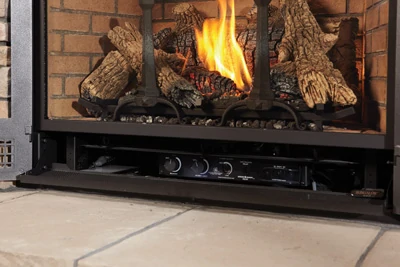 Also, the GreenSmart system conserves fuel throughout the entire year. As one cost-savings example, GreenSmart Pilot mode uses an intermittent pilot (IPI) spark to light the pilot flame which does not run continually, therefore conserving energy when the appliance is not being operated. On many lower-quality gas fireplaces, a standing pilot light is standard and uses roughly .552 therms of gas each day. The average therm of natural gas is $1.10, or $0.60 to run every day—no matter if the appliance is on or off. An entire year, or 365 days, of standing pilot usage roughly equates to 201 therms of gas or $219.  GreenSmart helps save on both energy usage and the annual heating bill.
In addition to new developments in energy conservation and efficiency, gone are the days of small blue flames within a black box known as a gas fireplace. "Homeowners are becoming 'smarter' about fireplaces as they look for an efficient heat source that creates comfort for the entire family and look great as well," says Rumens. "These days, gas fireplaces meld luxurious design with performance so realistically that it's almost difficult to tell apart from a wood-burning fireplace with the gorgeous, dancing yellow-flame fire and flickering embers."
Furthermore, Avalon fireplaces emit warmth directly into the living space needing heat, or through optional heat ducts that direct heated air into adjoining rooms thus heating only the areas used most. Whereas forced-air heating systems distribute heat from a central furnace unit through ducts to all areas of the home—even unoccupied rooms, thus wasting money—by contrast, this method directs heat only into the living spaces needing heat. This approach known as "zone heating" further reduces household energy usage, while increasing ambience and comfort levels to the areas used most.
Installation
For DIY'ers looking to upgrade their home with a fireplace, the surrounding rockery/tiling and mantle is certainly within the parameters of what can be done by yourself; however, the actual fireplace installation is not.  Fireplace dealers are trained and certified to provide the best service as possible, and have gone through training programs regarding the installation of direct-vent gas appliances. These trained specialists ensure flawless and safe operation, a very important aspect when dealing with maneuvering gas lines and setting pilot lights so the appliance conforms with local construction codes. Failure to follow all the installation specifics and requirements could result in property damage and/or bodily injury, so hiring a trained installation specialist is paramount for a safe installation.
In the end, the Fries' were extremely happy with their decision—and more importantly—the final outcome. "We learned there are many options, designs and things to consider before venturing towards updating a fireplace," added Steve.  "We couldn't be happier with the performance and look of the final product, though. It's perfect for our situation."
In short, today's high-quality fireplaces have never been "hotter".