When it comes to selecting a floor, homeowners always search for the right balance of value, durability and style. A flooring material's value and durability remain fixed variables in these decisions, but popular styles are susceptible to change over time, so it's smart to stay ahead of the curve. Here's a look at some of the latest trends in flooring for 2018.
PERFECTING IMPERFECTION IN WOOD FLOORS
Our friends at Lumber Liquidators have one of the largest inventories of prefinished and unfinished hardwood floors in the industry, and the company offers suggestions from some top interior designers in its Spring 2018 Style Report. The look of real wood remains popular for its warmth and timeless appeal, and some of the latest styles embrace wood's natural imperfection. New flooring options of distressed hardwood and wood-look floors highlight the contrasting tones and unpredictable patterns of genuine woodgrain. According to the Style Report, "Natural knots and cracks offer unique character. Whether real or mimicked, rugged textures and weathered finishes help create timeworn spaces."
Lumber Liquidators' new Tribeca Oak hardwood captures this sought after authentic look and feel. For a water-resistant option, the company's Rocky Coast Pine engineered vinyl plank gives a weathered wood look to a snap-together floating floor.
Running with this trend of weathered materials, the look of the "industrial home" also remains hot with designers. However, the industrial aesthetic is softening, notes the Style Report: "Oxidized surfaces, weathered metals, and wood bring in a softness and natural component." The industrial style incorporates elements from old warehouses and industrial buildings, like brick, steel and concrete, or exposed pipes. Wood remains a key element to provide an organic contrast. This trend blends many textures and techniques to allow plenty of design flexibility.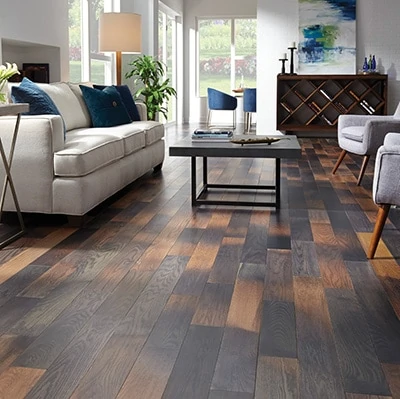 For an industrial look, Lumber Liquidators offers darker toned distressed wood-look floors like Copper Barrel Oak or Timber Wolf Pine engineered vinyl plank.
RETRO BOARD STYLES
Regarding hardwood flooring trends, the experts at SMART Carpet & Flooring expect to see a return to vintage and retro looks. In addition to distressed hardwoods (and wood-look) floors, the company forecasts an uptick in wide-plank flooring—hardwood planks that are 5 or even 7 inches wide, which will make any space look larger.
Flooring with planks of varying widths will also be popular. According to SMART's trend report: "Reminiscent of historic homes when nothing went to waste, mixed-width wood flooring makes for a one-of-a-kind look that brightens and freshens any room. Choose any combination of widths for this trend: Let your personal aesthetic be your guide."
Parquet floors will see a comeback. This vintage, midcentury "chevron" flooring can be combined with other 2018 trends, including distressed wood, cool gray wood tones, or even wide plank flooring.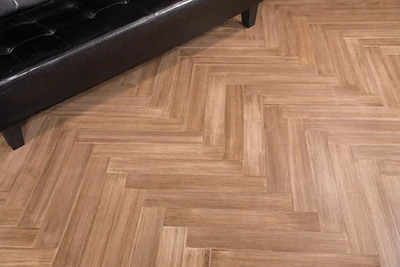 Riffing on the parquet floor trend, Cali Bamboo has launched seven new bamboo floors, including two made for herringbone style installations. Cali Bamboo President, Doug Jackson says, "We put a massive effort into spotting and acting on trends before they hit the broader North American market, and have been tracking parquet-type patterns like herringbone in Europe." The herringbone pattern was used by the ancient Romans to stabilize brick roads, and was first adopted for wood flooring in the 16th century.
PET FRIENDLY CARPET
Many homeowners love carpet for its warmth, softness, and the many available colors and patterns, but this is one flooring option that can be especially vulnerable to indoor pets. Cleanup after accidents is more difficult than with vinyl, tile or hardwood flooring.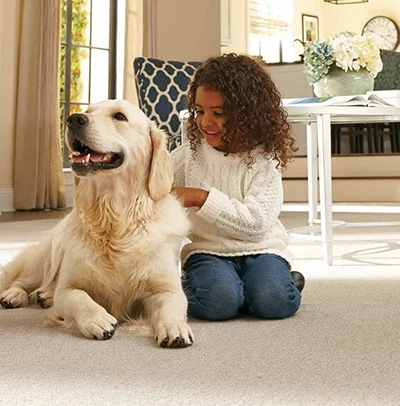 For homes with household pets, SmartStrand Forever Clean carpet from Mohawk Flooring now features All Pet Protection and Warranty, the only pet-friendly carpet protection system that covers all pets, all accidents, all the time. The new carpet features zero-percent moisture absorption to reduce pet odors in the carpet fiber. The Nanoloc spill and soil shield ensures quick and easy cleanup, making it three times easier to clean dirt, hair and pet dander. SmartStrand Forever Clean carpet offers lifetime, built-in stain protection.
BACK IN BLACK FOR TILE FLOORS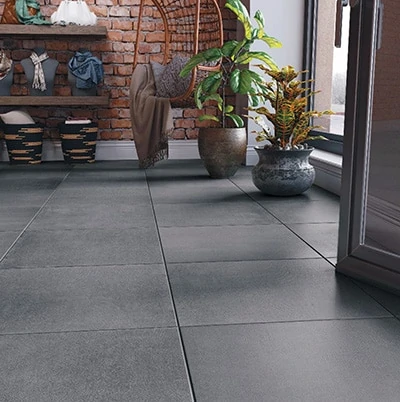 According to Crossville Ceramic's style guide, Color Trends 2018, porcelain tile is trending in the style of a brooding teenager, with dark and moody colors. Black, and its many variations, offers endless design possibilities because it acts like a neutral and goes with everything, while highlighting the bold color choices that are blended with it. Use black tile flooring when you want a counterpoint to a color accent, such as a front door or fireplace. Black porcelain tile is available in a wide range of shades and textures.
LOW-MAINTENANCE PORCH FLOORING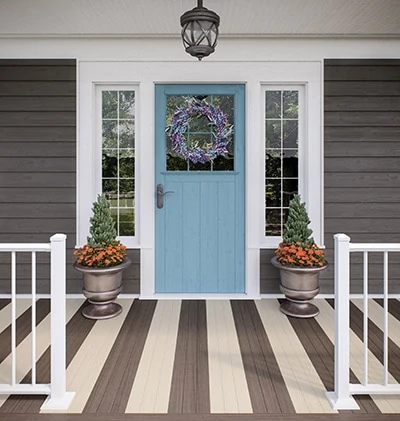 Featuring patented Eovations technology, Deckorators porch flooring provides the industry's best strength-to-weight ratio and has virtually no thermal expansion or contraction. Made from a blend of polypropylene and mineral filler, the flooring is lightweight but has a fiber-like structure inside, similar to wood, and offers unmatched strength. The lightweight porch flooring is easy-to-handle on the job site and won't splinter, sag, chalk or crack unlike other porch flooring options. Available in tongue-and-groove or solid edge for easy installation, these ultra-low maintenance boards are available available in three colors that offer the traditional look of painted wood: Chicory (brown, variegated), Kettle (gray) and Macadamia (beige, non-variegated).