An inexpensive, easy-to-use moisture meter is a valuable tool that every woodworker and DIY homeowner needs to have.
By Michael Morris
Ever build something in your shop and have the wood warp or split later on? Or paint exterior siding or interior drywall, then watch the paint peel and flake afterward? Or install flooring materials, only to see your handiwork buckle and heave?
These situations vary widely, but the failures they represent all share the same underlying cause: moisture content in the materials being worked on. Professional woodworkers and building con-tractors know how to avoid this problem, and DIY'ers should take note. Before any carpentry, painting, drywall, concrete, or other construction or finishing project, first test the materials with a moisture meter.
Some amount of water is ever-present in wood and most other materials used in construction—even when those materials seem adequately dry upon close inspection. And that embedded moisture is forever seeking to find a balance with the moisture in the environment around it.
If the wood you use for furniture or flooring has a higher moisture content than its ambient surroundings, it will eventually dry to a near-compatible level; when the difference is extreme, it can cause the wood to shrink and crack as that moisture dissipates. Moisture migrating out of materials also causes paint and other surface finishes to fail, just as moisture emanating out of subflooring can invade the finished flooring laid on top of it, causing the wood to swell and buckle.
Moisture meters are a standard go-to test and measurement tool in many industries, from material handling and storage to gardening and woodworking. As the pros know, "If you can't measure it, you can't manage it." Fortunately, these instruments are also readily available in hardware and home stores at very affordable prices. And they're easy to use—simply hold one against the material you need to test and you'll know instantly whether that material is ready to work or finish, or if it needs to be in an environment where its moisture content can gradually reach equilibrium with its surroundings.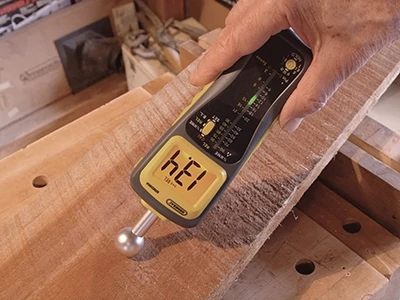 Two Types
For the average user, there are two basic types of moisture meters to choose between. Pin-type meters have sharp, needle like pins that are designed to be stuck directly into the wood or material to be tested. Their built-in or wire-connected pins measure electrical resistance, which is affected by the moisture content in the material. Pinless, non-penetrating meters have electrode plates or knobs that are simply placed in contact with the material surface and generate an electrical field to measure relative moisture content. Both types of meters will get the job done, but each type of measurement requires some interpretation by the user.
For example, because different materials have different densities and moisture-retaining properties, many inexpensive meters produce only a measurement code number that users must match to the specific gravity of the material.
For woodworking purposes, a specific gravity reference list for common wood species may be provided by the meter manufacturer or is obtainable from various resources, such as the U.S.D.A.'s Forest Products Laboratory. More full-featured meters often provide a direct readout that identifies the material or wood species along with its specific gravity and additional descriptive information.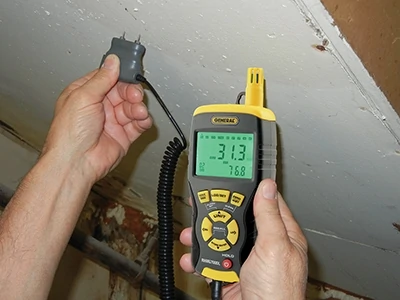 The two basic meter types also differ in the way they measure moisture content. Pin-type meters measure moisture at or just below a material's surface, but because their pins must penetrate—and potentially mar—the surface they are less desirable for testing finished goods. Pinless meters, on the other hand, can detect moisture up to four inches beneath a surface and are useful for determining moisture content without damaging the material, such as in wallboard behind a tiled surface, or for comparing the relative moisture of two different woods that are to be glued or jointed. However, pinless meters do not measure the actual amount of moisture in a material but only compare the moisture in the material to the moisture content in other areas or ambient surroundings.
General Tools & Instruments offers an extensive variety of pin and pinless meters, as well as meters that can do both penetrating and non-penetrating measurements. According to Kevin Basso, General's chief engineer, the choice usually depends on the application or need at hand.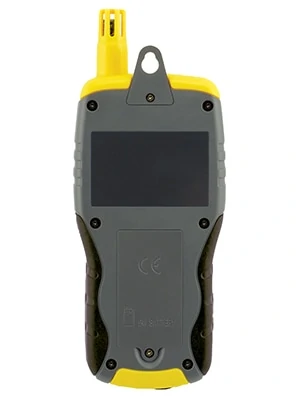 "Users may prefer the pinless, non-penetrating moisture meters on finished areas such as fine flooring or wall paneling," Basso says, "because it won't harm or damage the surface being inspected. In checking areas using this method, a meter could indicate an increasing relative moisture trend and you'd be able to identify a suspect area and determine if further testing and inspection is required."
Moisture meters are especially necessary for woodworking because wood is extremely susceptible to moisture fluctuation. Fresh-cut logs may have up to 80 percent moisture content, while kiln-dried lumber may be as low as 6 percent. Construction lumber grade-stamped "S-dry" is required to have a moisture content of less than 19 percent. And the air-dried lumber stacked in your woodshop may contain anywhere from 12 to 20 percent water volume.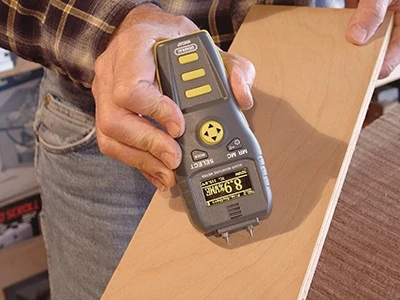 Knowing when wood is ready to be worked or finished often determines a project's success or failure, and not just in furniture-making. Framing carpenters building with wet wood can expect callbacks to replace buckled plywood, warped studs and popped drywall nails. Flooring installers who fail to acclimate their materials to the relative humidity of a room risk problems such as cupping, crowning and ruined finishes.
Wood finishes ranging from penetrating oils (tung, linseed, etc.) to surface sealers (alkyds and polyurethanes) help to protect wood from natural cycles of absorption and drying, but only if they are applied after the wood has reached a state of equilibrium moisture content, or EMC in industry terms. It's important to note that while finishes can help to slow the rate of moisture exchange, they will not prevent it entirely. Also, some wood species, like white pine and ash, are simply more prone to moisture-related shrinkage and swelling, while others, like teak and mahogany from moist tropical environments, contain natural oils that defend against this damage.
Finally, moisture meters do more than determine when wood and other materials are ready to be worked. They can also enable you to modulate the rate materials dry to prevent rapid shrinkage that leads to checking and splitting, and help when you design or plan a project to allow for dimensional movement due to anticipated changes in relative humidity.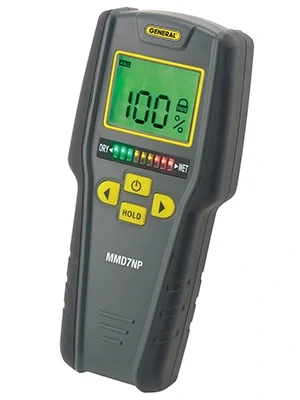 Selection
When choosing a moisture meter, key features to look for include:
Multi-function units that offer options such as pin or pinless measurement in the same unit, auto-calibration, and displays that show moisture content as a percentage or relative value simultaneously.
Separate settings for various materials such as softwoods and hardwoods, drywall and masonry. This can improve a unit's accuracy and make using it more convenient.
A wide range of applications. Some woodworking meters are calibrated to nominal wood thicknesses, such as 1/4-inch, 3/4-inch, or greater. While this can help to increase a meter's accuracy, it limits the unit's usefulness to specific applications. Also, some units only provide specific gravity ratings of the most common wood species but not for more exotic species.
Temperature and humidity compensation. This is helpful when testing lumber or materials like finished flooring that are moved from one environment to another, such as from a drying kiln to an ambient humidity area, or from outdoors to indoors. Some meters measure and display ambient temperature and relative humidity (RH) along with moisture level measurement.
Data analysis and storage of frequently used information, such as moisture measurement records, comparisons of different wood species tested, and ambient moisture parameters at the time of testing.