The age-old art of applying faux finishes has been "discovered" by today's homeowners. Faux finishes offer great ways of brightening an otherwise drab room, without a lot of expense. You can also completely change the appearance of a piece of furniture or accessory. Actually, the process of creating an imitation of a material with nothing more than paint has been around for years. Many 17th and 18th century furniture pieces featured a wooden surface painted to resemble leather, exotic woods and, of course, marble.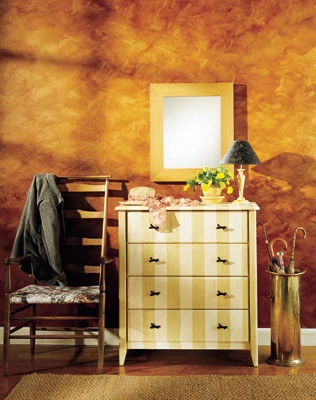 Furniture and accessories can still be given the "faux" treatment, but the most popular use these days is to brighten drab, solid-colored walls. If you think, "I just don't have the talent to do that," when you see an artistically painted room, think again. New products and easy-to-do methods allow even a first-timer to create a one-of-a-kind room decor.
"Sears developed a faux program with basic techniques that encourage homeowners to give it a try without the fear of making mistakes," says Dan Jenkins, Sears' buyer of specialty coatings and accessories. "Sears Easy Living allows homeowners to experiment with different effects with one, easy-to-use program."
The Easy Living  program offers more than 125 color combinations using four techniques: sponging, rag rolling, dragging and color washing. Each color card illustrates the technique applied, materials list and steps needed to start the project. Easy Living offers both paints and tools. The line's faux finishes in "Sheer Metallic" include gold, silver and Pearlescent for shimmering effects. The selection of faux-finish tools and applicators includes a natural sea sponge, rag-roller, color-washing and dragging brush and decorator tape.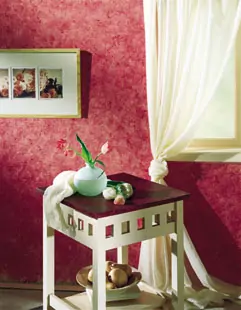 Wagner offers its WallMagic Starter Set for faux finishing that includes a dual roller arm, dual paint tray and step-by-step instructions. Wagner roller covers are available in a variety of textures, such as marble, wool. braid, sponge and a "stars" pattern.
Another manufacturer, Valspar, also offers a number of materials for creating a variety of faux finishes. These include paints and glazes for stippling, dragging, sponging, rag rolling, lime washing, metal patina, brushed suede and even crackle finishes for furniture and accessories. McCloskey Special Effects from Valspar have a number of spray finishes including crackle, suede and sand.
 Tactics for Walls
Wall surfaces should begin with a non-porous base coat of acrylic eggshell or satin finish paint. This semi-slippery surface is necessary to provide the longest working time with the glaze. Surfaces painted with flat paints can reduce working time and create a splotchy look. Most effects are done using a translucent glaze of a different color, although some effects use solid colors. Before tackling a wall or room, experiment on a piece of scrap wallboard, the hidden corner of a closet or small section of a room. Most effects are not hard to do, but consistency requires practice. Make sure you completely finish a wall before stopping or you may have problems as you attempt to work wet glaze into dried glaze. Following are general rules for the most common methods:
Sponging. Sponging utilizes a sea sponge to apply two to three accent colors to a base coat for casual to elegant looks. Sponging can create a soft, mottled look on anything from walls to trim and even furniture. My wife Joan and I began our marriage with little money and an old mobile home. She used a sponge finish to brighten and redo the old "linoleum." We applied a base coat and used two different sponge shapes with two paint colors to provide a pattern that matched the kitchen countertop. Manufactured sponges can be used, but they don't have the random pattern of natural sea sponges. Or you can do as we did years ago and cut sponges to make a specific pattern.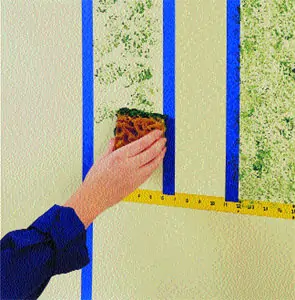 Before beginning, tape off ceilings, trim or any areas you don't wish to sponge. Two methods can be used – sponging off and sponging on. In sponging off, the glaze is first applied with a roller and then a sponge used to remove materials. The more common method is sponging on where the glaze is applied by lightly pouncing the sponge to the surface. Continue turning the sponge as you work to achieve different patterns. Sponges are available in a variety of sizes to enable work in large areas, yet get into tight corners. Sponge rollers make the work quicker and easier and corner rollers are also available. Both are available from TexMaster Tools. Experiment to determine the proper amount of glaze to use with the sponges as both too little and too much glaze can create an inconsistent pattern.
Stippling. Stippling is similar to sponging, except a special stippling brush is used to create the pattern. Lightly pounce the brush is lightly pounced to apply the translucent color over the base coat with the tips of the brush. Stippling can also be used in an on/off method. Regardless, the brush should be continually turned to create a random pattern with no visible square edges.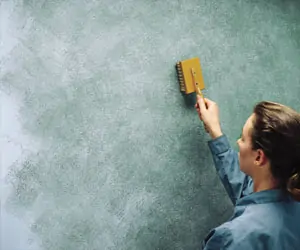 Dragging. Another popular method for both walls and furniture pieces that have large flat surfaces is dragging, also known as strie'. This pattern is created by pulling a special, dry "dragging brush" downward through the wet glaze. First apply the glaze with a roller. Then use a brush to remove streaks of glaze, revealing the base coat.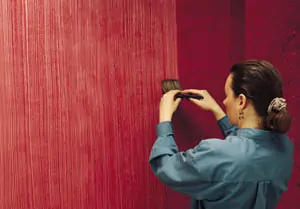 Rag Rolling. Rag rolling creates some of the most dramatic patterns. Again, rolling on or rolling off techniques can be used. In both techniques a ragging cloth, roller, or pad is used to create the effect. In rolling on, apply the glaze to the rag, twist the rag into a cylindrical shape, and then roll it across the surface to create the pattern. In ragging off, apply the glaze with a roller, and then dampen the rag with water, roll it into a cylindrical shape and roll it across the wet glaze to remove some glaze. A rag roller, such as from Sears, or a ragging mitt, such as from Plaid Enterprises, make the chore of ragging more consistent and easier to apply.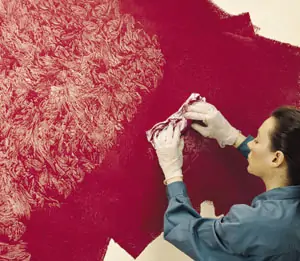 Color Washing. Color washing provides the most subtle, soft effect. Color washing adds depth to a flat wall, and even more effect on a textured plaster or stucco wall. Use a color washing brush, such as the Symphony Color Washing Brush from Bestt Liebco, to apply the glaze. Begin the process by brushing the glaze in an X-shape in a 1-by-1-square-foot area. Then continue to brush the area in smaller X's until the glaze is removed from the brush and the area has a nice mottled effect. You can further soften the look by using a dry washing brush or a Symphony Cheesecloth to remove some glaze before the glaze dries entirely.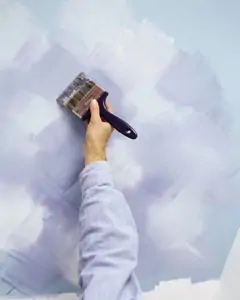 Additional Techniques
You can also create the subtle look of leather by using two translucent glazes, washing them in place and blending the colors. Use a dry brush or cheesecloth to further soften and blend all the colors. Another very popular washing effect is lime washing, as with Valspar's Decorative Effects textured lime wash or Briwax liming wax. Applied in the same basic method as color washing, lime washing adds a chalky, white textured glaze.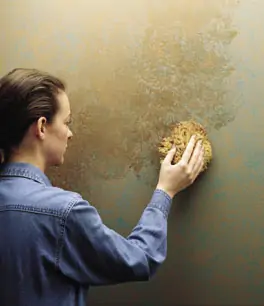 One of the newer finishes is Brushed Suede Paint from Valspar. The paint adds a rich texture with the velvety touch of suede. Apply the first coat of finish with a roller, and then a second coat with a roller. Use a 3- to 4-inch paint brush to create a more random textured look with the second coat. Valspar also has spray suede paints.
For a really exciting accent area use Valspar Brushed Metal glazes over a dry base coat. A wallpaper smoothing brush is an excellent choice for creating the look of brushed metal. Available colors include gold, silver, copper or bronze metallic. These finishes are great for accent pieces such as candlesticks, lamps, vases and other accessories. You can also use the colors to create the illusion of patina or rust, using a natural sea sponge to sponge on a glaze over a base coat.
Furniture and Accessories
Unfinished or "refinished" furniture and accessories can be given any number of faux finishes to create a truly one-of-a-kind piece. All of the basic techniques covered for walls can also be used on many furniture or accessory pieces.
Distressed wood is a common furniture finish. Distress the wood with a chain, hammer or other object. Apply a base coat, and then apply a glaze using a dragging brush to create a "wiped" effect. Another very popular and quite easy finish is crackle. This can be used on almost any surface to provide an "aged" appearance. The Valspar Porcelain Crackle finish comes in both a base coat and a glaze. The first step is to apply the base coat and then apply the crackle glaze using a sponge brush. Once the crackle has dried, apply a white antiquing glaze or a translucent color glaze for more dramatic effects. The materials are also available in aerosol cans for easy use on small items.
Other age-old popular imitations include porphyry (a resemblance to stone such as granite and other porphyry stones), marble, tortoise shell and even painted wood finishes. The French term "faux bois" actually means false wood. In many instances these finishes are painted on using a variety of artist's brushes. Creating any of these faux surfaces does require a bit more artistic talent, as well as more specialized tools. Porphyry stones are basically "granite" in appearance. Apply a base coat, and then "splatter" a variety of glaze and/or solid colors onto the surface using a brush tapped against a block of wood. The Valspar, McCloskey, Plasti-Kote line have spray versions of many stone, granite and sand finishes available in a number of colors for outdoor and indoor use.
Faux marble or "marbre" dates back to the pottery of 2,200 B.C. The most common tactic is called "floating marble." It's a good idea to have a sample of the marble you wish to imitate on hand so you can choose the correct colors and imitate the pattern. The method can be used with either a dry or wet ground. The first step is to apply a base coat or background color of semi-gloss paint. For a wet ground, apply the other colors while the background color is still wet. These can be enamel paints thinned with mineral spirits, or artist's oil colors thinned with mineral spirits. Drop and spatter the colors into the wet base coat and allow them to float or move outwards and mix together. One method is to use an eye-dropper to create the drops of color into pools of mineral spirits. Tilting the work surface can also cause the colors to run in specific directions.
A dry ground method uses a dry base coat. Apply a wash of mineral spirits and then drop the thinned colors in place. Any number of objects may be used to create different patterns. Use soft brushes to dab colors in place. Use artist's brushes or turkey-wing feathers to create streaks or lines with the colors. A sea sponge and glazes can add more subtle coloring, as can a rag roller. Once the surface has dried, protect it with several coats of  clear polyurethane varnish.
Faux tortoise shell is created in the same manner, except small flat brushes are used to create short paint strokes wet-on-wet of the various colors.
A number of years ago we redid an old house with absolutely terrible trim. We tried stripping, but too many paint layers made it a tough job. We then hired a painter who specialized in wood graining. When he finished, the trim greatly resembled the finest red oak trim. First apply a background color or base color. Then brush a dark glaze over the dried background color. Use veining brushes to drag the glaze color away in a woodgrain pattern. Knots and specialized grain patterns can also be painted. In this case, apply the background color, and then use a glaze with artist's brushes to create the design. Newer tools make wood graining easy even for a first-timer.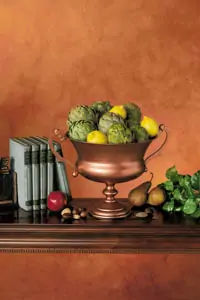 Regardless of whether you have drab walls and trim, or just want to create a special room, faux finishes can create a one-of-a-kind decor. Likewise uninteresting furniture or accessories, or some you've simply gotten tired of looking at, can become "new" and exciting with any number of todays easily-applied faux finishes.  
  
SIDEBAR
From Faux Finishes to Marvelous Murals
The excitement of achieving a great faux finish can lead to more ambitious undertakings with paint, such as murals. Many faux-finish techniques lend themselves to mural work and vice-versa. A subtle ragging technique in neutral tones of tan or gray makes a beautiful base for a mural, or it can be used as a final coat over a completed mural to give an aged, Old World effect. Connie Kilpatrick of Hallowed Halls Designs has more than 20 years experience in fine art and design, specializing in commercial and residential faux finishes and decorative painting. She offers the following advice to do-it-yourselfers trying their hand at mural design.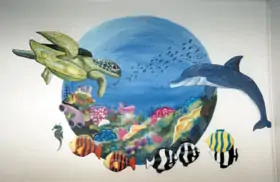 Traditional murals contain subject matter taken from nature, such as landscapes or seascapes. They can be very detailed and realistic, or simply a suggestion of the real thing. Sources for ideas can come from anywhere – books, magazines, photographs and favorite paintings.
            Making a small sketch to scale (i.e., 1 inch equating to 1 foot) is very helpful whether covering an entire wall or only a portion of a wall. Draw a grid over the sketch in 1- or 2-inch intervals, according to the size of the mural. After preparing the wall with the color or finish of choice, chalk a corresponding grid on the wall in 1- or 2-foot intervals. Then, copy the sketch onto the wall, grid for grid.
            Using colored chalk makes mistakes easy to dust away. When drawing, keep the scale of the room and wall in mind as the full size of the sketch comes to life. Dust away grid lines after completing the drawing and prepare to paint.
            Choose a limited number of colors to start, testing swatches on a board that contains a sample of the wall color. Acrylic and latex paints are quick-drying and easy to clean up. Blending wet into wet is more challenging with these water-based paints, but it's possible if one works quickly.
            Paint should be applied starting at the top of the wall, using paler shades of color and working downward. In scenes of nature, begin with areas in the distance and move toward the foreground. Remember, objects that are farther away are lighter and more faded. Closer objects are more vivid and detailed.
            Continue building the mural layer by layer, often stepping back to review the progress and making any necessary adjustments. Keep in mind "it's only paint" and any apprehension will most likely melt into success.
Ready to try a mural? Try these painting pointers:
Try a monochromatic color scheme, using several tints and shades of a single color.
For removable murals, paint on primed canvas (purchased by the yard) and install like wallpaper, using trim molding to cover the edges.
Don't forget the ceiling – a great place for decorative designs.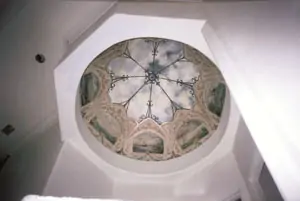 Faux "dome ceiling window" mural