Father's Day Gift Guide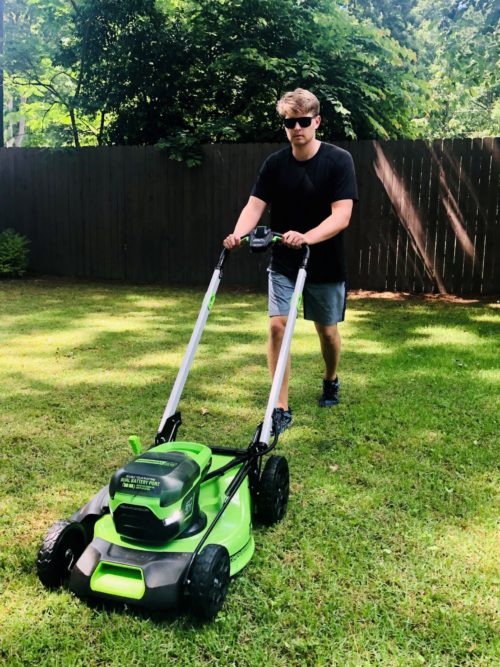 Fathers and tools go together like baseball and hot dogs, pizza and beer, hammers and nails. When you're shopping for a gift, you can't go wrong by adding to his arsenal. We've rounded up a few ideas to drop on your pop this Father's Day, from lasers to lawn mowers, perfect for the guy who taught you to tie your shoes.
Greenworks Pro 300-Watt Battery Operated Power Inverter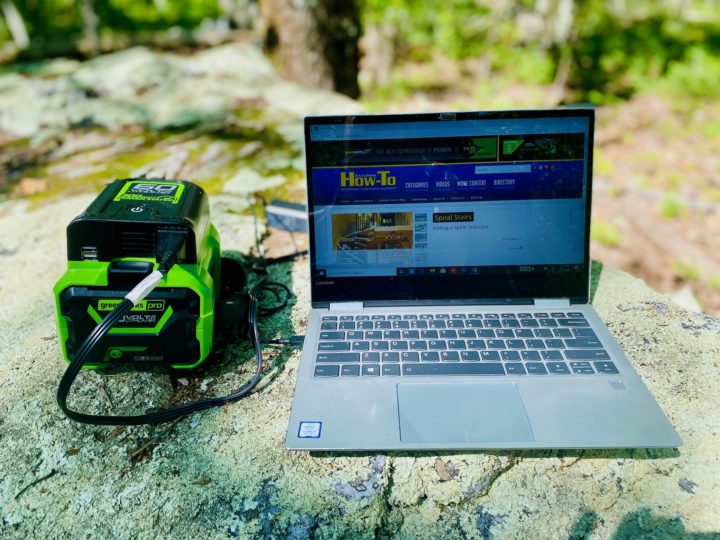 This new inverter uses the same 60V battery as the Greenworks Pro line of Outdoor Power Equipment. If Dad already has these tools and the battery(or if he doesn't), the inverter is a must have addition to Pop's lineup. The unit offers 300 watts of continuous output. It has 2 usb ports and a 120 volt ac outlet. This tool gives you the ability to take power where you need it to run your laptops, tv, lights, and charge your phone. Perfect for tailgating, camping, and on the jobsite.
DEWALT® Jobsite Bluetooth® Radio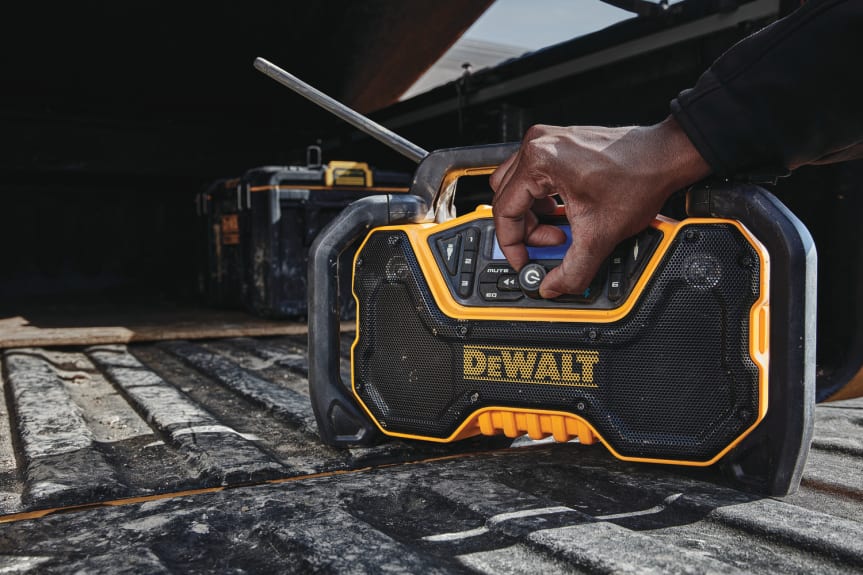 This AM/FM Radio is portable and lightweight with 6-FM memory presets as well as a 3.5mm auxiliary input for a direct mobile device connection. In addition, this radio offers Bluetooth® wireless streaming with a maximum range of up to 100 feet. An included USB port charges a user's mobile device at 2 amps when the radio is plugged into the wall and powered via the included AC cord or when running off a compatible DEWALT battery (sold separately). The radio offers a premium quad speaker design with dual 3.5-inch woofers, dual 1-inch tweeters and a bass reflex port. Users can also adjust their sound experience of the radio through controllable EQ settings for bass and treble. The 12V/20V MAX* Jobsite Bluetooth® Radio offers a roll cage that helps to protect the unit from drops and bumps and incorporates an antenna slot that allows the antenna to fit within the top handle, helping to protect it from damage. DeWalt.com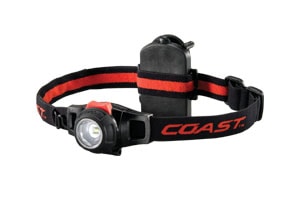 Coast HL7 Headlamp
Whether you're working at night, under a sink or under the hood, the Coast HL7 Focusing Headlamp frees up your hands and lights your path. The new headlamp boasts both adjustable focus and light dimming functions. With the company's new beam-focusing system, you get more usable light. From spot to flood, it offers superb light output and beam quality. The lamp provides a focused spot with a maximum beam distance of 357 feet, while producing an outer ring of flood light that illuminates a broader area for better peripheral vision. For added durability, an expandable Z-Cord provides power to the LED from the battery pack and is built in to the headband to reduce the possibility of snagging. The HL7 features an unbreakable LED and is impact- and water-resistant, backed by a lifetime guarantee. coastportland.com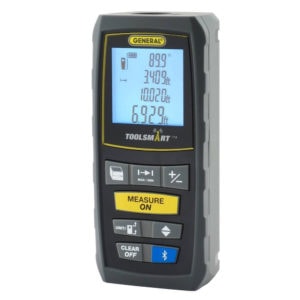 ToolSmart™ Laser Distance Meter 
If your dad is a DIY'er, he'll love a laser distance meter—a favorite tool of the EHT staff. The new ToolSmart™ Laser Distance Meter from General Tools & Instruments instantly and accurately measures length, width, height by simply pointing the tool and pushing a button. Use it to quickly calculate area and volume. With its superior accuracy (+/-1/16 in. / 1.5mm) and 100-ft. range, the eliminates measurement errors and turns a two-person job into a one-person job. The average measuring job can be completed in about one third the time needed to use a tape measure—and with much greater precision. generaltools.com
Greenworks Pro 60V 21 in. Mower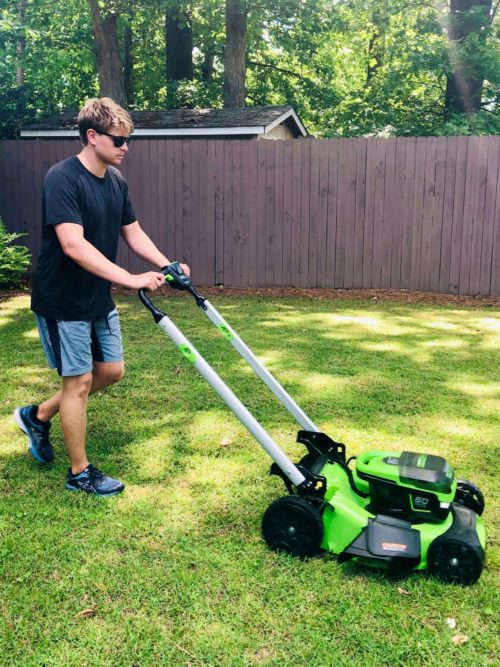 Powered by pro-grade 60-volt lithium-ion batteries, the new Greenworks 21-in self-propelled, battery-powered lawn mower delivers the power and performance typical gas-powered mowers, without the noise, fumes, or harmful emissions. Featuring our exclusive SmartCut™ technology, the mower detects changes in terrain and grass conditions, such as higher or denser grass, and automatically adjusts the speed of the cutting blade to deliver more power and maintain consistent cutting performance. It's also equipped with the industry's only dual-port auto switchover technology, with dual battery ports for longer, uninterrupted run-times — when one battery depletes, the mower's power supply is automatically switched to the second battery. This mower has a multi-function 4-in-1 design with turbo mode, it's capable of bagging, mulching, side discharge, or leaf pickup. It features a self-propelled drive system with rear-wheel-drive and variable speed control for maximum traction, maneuverability, and control; 21-inch steel cutting deck; seven cutting heights; on-board battery indicator, and EZ Fold™ handles. Up to 60 minutes of runtime with included 5.0Ah battery. This mower comes with a 4 year tool and battery warranty. On sale now at Lowe's – 10% savings through 8/6/20 lowes.com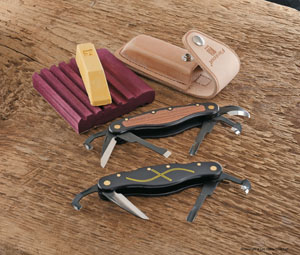 Flexcut Pocket Jack and Carvin' Jack
For the woodsmith on the go, the folding design of these carving knives not only makes them compact to store or slip into a pocket, but also helps protect the sharp edges. To cover everything from rough shaping to fine detail cuts, each includes a versatile selection of well-honed spring-steel blades hardened to RC55, all contained in a comfortable contoured handle. With a black-finished steel handle, the Pocket Jack has a 1-3/8-in. detail carving knife, a 3/16-in. No. 11 straight gouge, a 3/8-in. scorp and a 1/4-in. 70-degree V-scorp. With a steel handle inset with bubinga scales, the Carvin' Jack has the same four blades as the Pocket Jack, and adds a 5/16-in. straight chisel and a 3/4-in No. 7 sweep knife.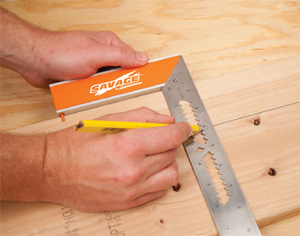 Savage Try Square
The Savage Try Square from Swanson features a unique scribe bar similar to that on the Swanson Speed Square that guides a pencil for scribing rip cuts. Scribe lines every 1/8-in. between the 1-in. and 6-in. marks. The stainless steel etched blade is easy to read and resists rust. The handle is built from aerospace aluminum for exceptional durability, and a retractable "kickstand" holds the handle flat on the material for easy, accurate measuring. Available on Amazon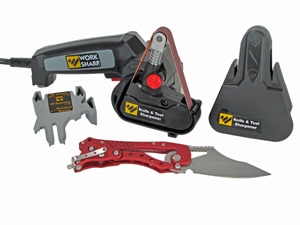 Work Sharp Knife & Tool Sharpener
The Work Sharp Knife & Tool Sharpener is a precision electric sharpening tool that sharpens any knife to a razor-sharp edge quickly and easily. The patent-pending flexible belt sharpening technology sharpens any knife fast and with repeatable results: hunting knives, kitchen knives, pocket knives, serrated blades and more can all be easily sharp-ened to a shaving sharp edge. The abrasive belt sharpening method also excels at many other tool sharpening tasks such as scissors, lawn mower blades, garden pruners and any other bladed cutting tools. worksharptools.com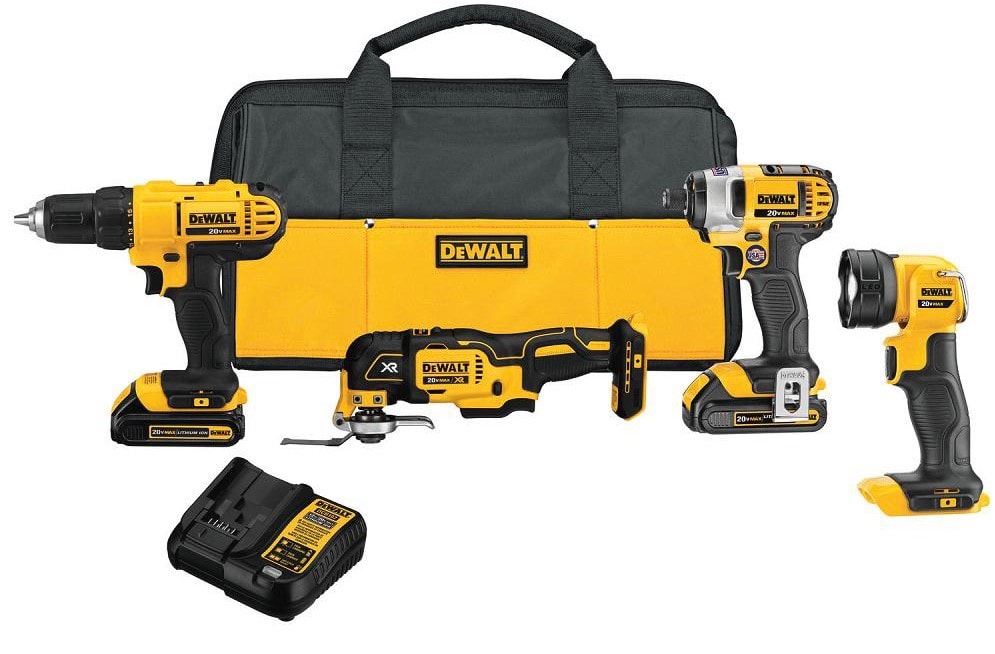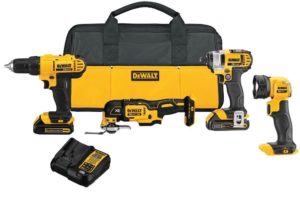 DEWALT 20-Volt MAX Lithium-Ion Cordless Combo Kit 
This 4-tool cordless combo kit includes one 20V MAX drill/driver, impact driver, oscillating multi-tool, LED work light, charger, two batteries, and a tool bag. The DCD771 drill/driver featurs a two-speed transmission, is lightweight and compact for working in tight spaces. The DCF885 allows for convenient one-handed loading and accepts up to 1 in. bit tips. The DCS355 oscillating multi-tool has a powerful brushless motor providing the power you need to get the job done. The DCL040 LED light helps illuminate dark work spaces and can be used hand-free. DeWalt.com
---
Recommended Articles