Father's Day Gift Guide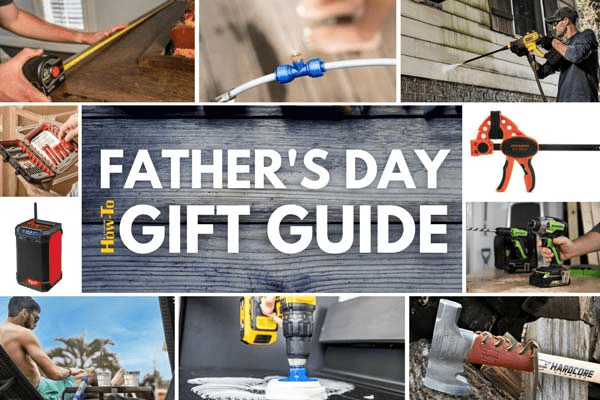 Fathers and tools go together like baseball and hot dogs, pizza and beer, hammers and nails. When you're shopping for a gift, you can't go wrong by adding to his arsenal. From lasers to lawn mowers, we've rounded up a few ideas to drop on your Pops this Father's Day.
DEWALT 20V MAX* 550 PSI Power Cleaner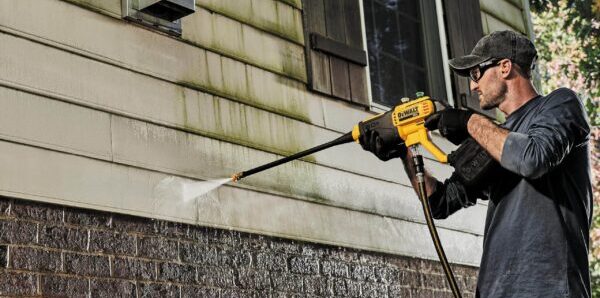 The DEWALT 20V MAX* 550 PSI Power Cleaner joins the 200+ products in the DEWALT 20V MAX* System and delivers 10X the pressure of a garden hose. For added versatility, the Power Cleaner can connect directly to a garden hose or draw from a fresh water source with the suction hose (included). Four quick connect nozzles (included) offer various degrees of spraying including turbo spraying, and additionally, the unit is equipped with a soap bottle making it ideal for a range of cleaning applications. The Power Cleaner includes two spray power settings controlled by a Hi/Lo power switch and is available bare (battery and charger sold separately) or kitted with a DEWALT 20V MAX* 5.0 Ah Battery. DEWALT.com
Greenworks 24v drill & impact driver kit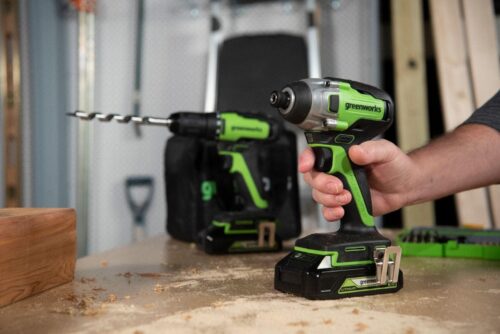 The Greenworks 24V POWERALL™ lithium-ion platform powers over 75+ indoor & outdoor products, including lawn mowers, blowers, string trimmers, chainsaws, power tools and more! The 24V lithium-ion battery provides 20% more power and 35% more run-time, and delivers fade-free power with no memory loss after charging. This Greenworks combo kit features two 2.0 Ah USB batteries, which also act as a portable power station for your electronic devices. The Greenworks 24V POWERALL™ platform comes with a 3 Year Limited Tool & Battery Warranty to protect your investment. Greenworkstools.com
Arrow Fastener Electric Staple Gun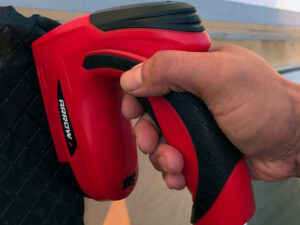 The E21 cordless electric staple gun is both a staple and a nail gun, and it features a soft, overmolded grip, a cordless JT21 electric tacker and a convenient stapler base for easy storage. The staple gun boasts a three-hour battery life and can shoot up to 1,000 shots on one charge. The E21's lithium-ion battery platform makes it ideal for light-duty projects, like upholstery and crafting, and any application where AC current and cords are a limitation. Additionally, the E21 is one of the first electrical tools to use Arrow Fastener's popular JT21 light-wire staples and can fire up to 30 staples or nails per minute, including 1/4, 5/16 and 3/8 in staples. Arrowfastener.com
Pony Jorgensen Heavy-Duty E-Z HOLD Expandable Bar Clamp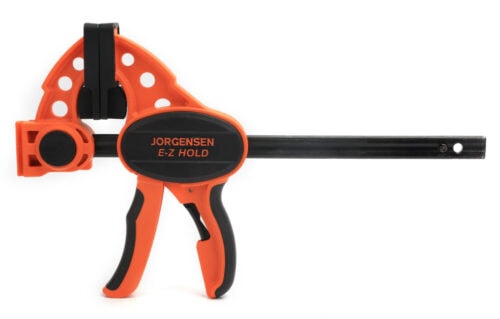 The Jorgensen heavy-duty E-Z HOLD expandable bar clamp line boasts a clamping force of up to 600 pounds ‒ doubling the force of the popular medium-duty Jorgensen E-Z HOLD expandable bar clamps. With an ergonomic grip lever handle and a maximum reach of 3 5/8 inches from the edge of the bar, the heavy-duty clamp line includes Pony Jorgensen's exclusive patented feature that allows for two E-Z HOLD expandable bar clamps to be joined together to make a single clamp with greater opening capacity. Plus, the clamps in this 33700 series can be converted to a spreader clamp. Perfect for serious projects that require powerful clamping pressure, the E-Z HOLD expandable bar clamp helps with rapid and easy clamping to get DIY projects done.
With the introduction of the heavy-duty collection to the Jorgensen E-Z HOLD expandable bar clamp product line, Pony Jorgensen offers a complete suite of expandable bar clamps for DIY and woodworking projects of all sizes. The full product line includes Jorgensen E-Z HOLD hobby bar clamps for hobby and craft projects, with max clamp openings of 4 and 8 inches; 6- and 12-inch light-duty Jorgensen E-Z HOLD expandable bar clamps; and medium-duty Jorgensen E-Z HOLD expandable bar clamps, with max clamp openings ranging from 6 to 36 inches. PonyJorgensen.com
Rainshower 310 SmartConnectTM Shower Head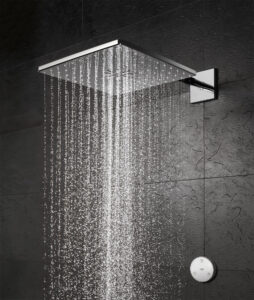 The Rainshower 310 SmartConnectTM Shower Head makes for the perfect stress-relieving gift for dad with features including:
A wireless remote that makes it easy to switch between spray functions without the inconvenience of having to reach up to the showerhead to change the spray – meaning the TV remote isn't the only one he'll be hogging!
Customizable spray settings include the luxurious feel of a relaxing rain shower, a powerful jet spray for an invigorating in-shower massage, or a combination of both.
This must-have shower head is also a breeze to install, no plumber needed, so dad can create the shower of his dreams with an easy DIY upgrade. Grohe.us
WiseBond™ Epoxy Systems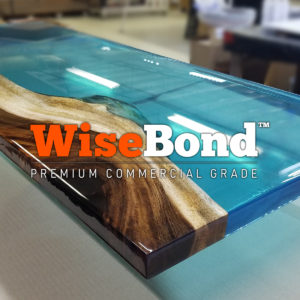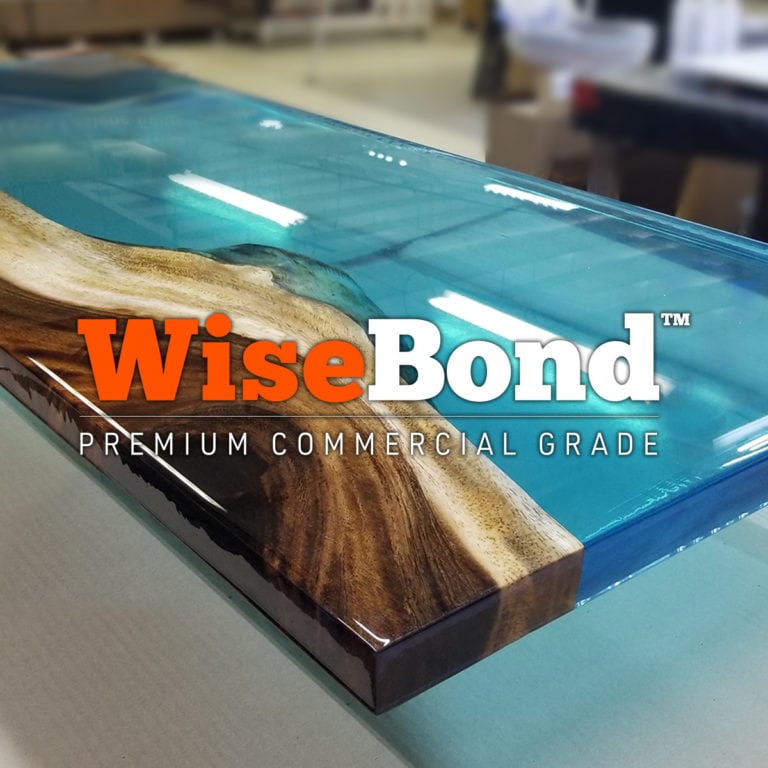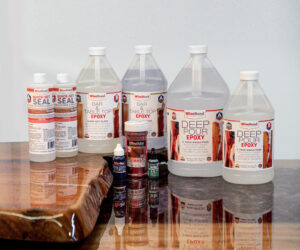 WiseBond™ Epoxy Systems are the perfect gift for the creative DIYer, hobbyist woodworkers and professional furniture makers. As resin art and epoxy river tables continue to climb in popularity, WiseBond™ stands out as an industry leader with high clarity, non-yellowing UV stability, and a variety of available products for every need.
WiseBond™ offers three epoxy formulas: Bar & Table Top kits for flood coats, Deep Pour™ epoxy kits for 2" single river table pouring, and Quick Set live edge epoxy for a fast cure to coat and crack filling projects. Other offerings are epoxy colorants ranging from mica powders, to transparent alcohol inks, to opaque pigments, to amazing color shifting powders.
WiseBond™ offers easy online ordering on their website with quick UPS shipping, Dealer set up and pricing, bulk ordering for heavy epoxy users, and multi-gallon kit bundles. www.WiseBond.com
General Tools Laser Tape Measure – LTM3X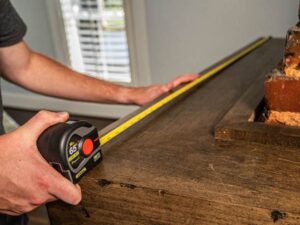 The LTM3X combines a 16ft tape measure, a 65ft laser measure AND a bubble level in the same body. The LTM3X offers a simple, one-button operation to take measurements up to 65 feet in seconds. The laser measure also can now act like a digital tape measure that offers real-time, continuous measurement. Its larger, high contrast screen is easy to read from all angles and features white numbers on a black backlit display. The bubble level determines if the surface is level horizontally. The perfect tool to meet every DIYer's measuring needs. Generaltools.com
Hardcore Survivalist Hatchet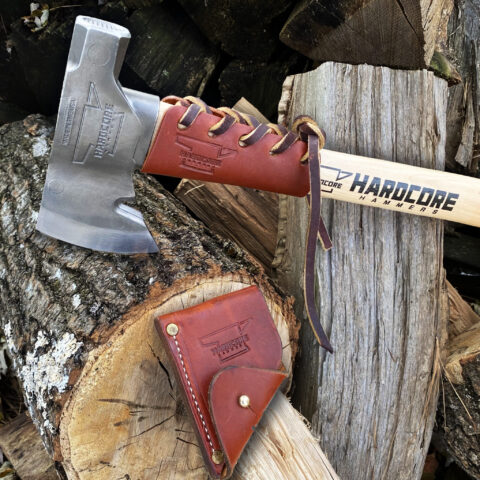 The Hardcore Survivalist Hatchet from Hardcore Hammers is the ultimate hatchet!  It features a 19oz head made of investment cast 4140 American steel on an 18″ Grade A American hickory curved handle and includes a custom made leather sheath.  The head also features a nail/tent stake puller and the hammer end (of course) has a patented recessed striking face.
The Survivalist is perfectly balanced for any job, whether it's pounding nails, chopping and splitting firewood, or fending off the impending zombie apocalypse.  This premium hatchet cuts like a full size axe yet is small enough to fit in a backpack.
Pairing the Survivalist Hatchet with the custom Leather Hatchet/Hammer Collar will protect from overstrikes in the event of an errant swing.  The Leather Hatchet/Hammer Collar is made of top grain leather and is custom fit for Hardcore Hammers hatchets and hammers.
Made in the USA.  All Hardcore Hammers products are proudly made in the USA using steel, hickory and leather all sourced in America. Available at hardcorehammers.com
Project Source Misting Systems
Is your Dad cool? Make sure of it with these new misting systems.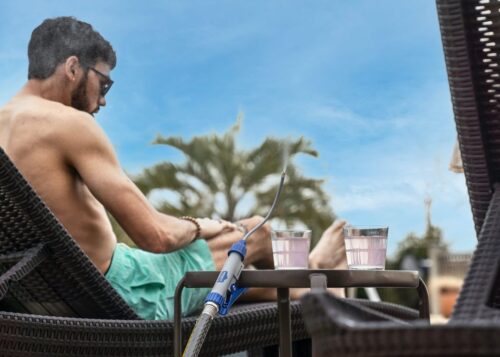 PERFECT FOR POOL CHAIRS, SMALL PATIOS & MORE
Like a mister spray bottle, only better! The Mini-Mister personal outdoor cooling misting system connects to any garden hose to keep you cool whether you're relaxing by the pool or working in the garden. It's daisy chain capable, so you can connect several mister heads to cool even more outdoor space.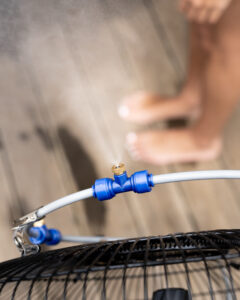 PERFECT FOR PATIO, POOLSIDE & OUTDOOR SEATING
Turn any standard fan into a misting fan with the Fan Conversion Misting Kit. This outdoor misting system is easy to set up, and it works with any garden hose to deliver cooling mist while you relax on the patio or work in the garden.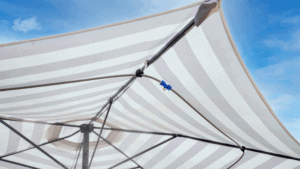 PERFECT FOR OUTDOOR DINING, PATIOS & GREENHOUSES
This portable outdoor misting cooling system is a versatile solution to cool your outdoor spaces. It works with any garden hose and quickly attaches to every kind of outdoor structure including greenhouses, umbrellas, pergolas, deck rails, swing sets and awnings.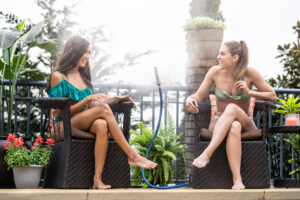 PERFECT FOR PATIOS, POOL CHAIRS & BACKYARD SPACES
The FlexiMist outdoor cooling misting system works with any garden hose to keep you cool while you grill outdoors, relax on the patio, or play games in the backyard. The flexible design lets you aim the cooling mist anywhere you need it, and with daisy chain capability, you can connect several misters together to cool a larger space.
Project Source Misting Systems are available at Lowe's
RYOBI 18V ONE+™ 7-1/4″ Sliding Compound Miter Saw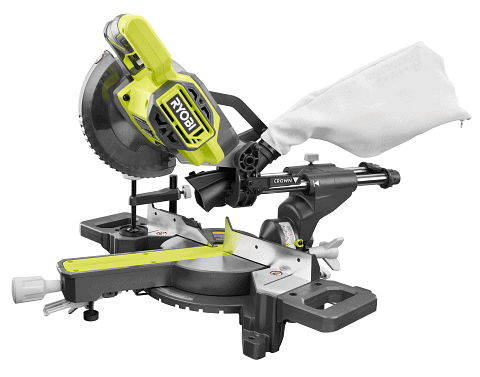 The RYOBI 18V ONE+™ 7-1/4″ Sliding Compound Miter Saw is designed with a heavy-duty 18V motor that delivers up to 3,600 RPM. Not only does it have the power to make difficult cuts it can make up to 800 cuts per charge.* The lightweight design maximizes portability so you can take the tool to the job and cut what you need where you need without the hassle of an extension cord. It features a 1-1/4″ dust port to help keep your area clean while working. The 40-tooth Carbide-Tipped blade increases performance for fast, clean cuts and cross cut up to 2″ x 10″. Best of all, it is part of the RYOBI ONE+™ System of over 225 Cordless Tools that all work on the same battery platform. Ryobitools.com
Milwaukee Tool M12™ Radio + Charger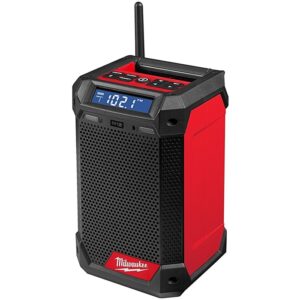 This new jobsite audio solution delivers unmatched versatility for its size, allowing users to charge up, hang up, and turn up the sound with a full range speaker, a tweeter, and multiple hanging options.
The first solution on the M12™ System with charging functionality, the M12™ Radio + Charger features a 12V DC port for quick, convenient charging of all M12™ batteries. Additionally, a 2.1 USB port delivers fast charging for electronic devices like mobile phones and tablets.
Its sleek design allows for various integrated hanging options to enhance the overall portability of the radio/charger so users can hang it up wherever they go. This includes a self-centering keyhole and a hollow handle for pass-through hanging capabilities on a variety of common jobsite materials.
A full range speaker and tweeter deliver clear mids and highs. From up to 100ft away, users can stream high definition music wirelessly via Bluetooth® connection from any electronic device. Additionally, when equipped with an M12™ REDLITHIUM™ CP2.0 Battery, the radio/charger can achieve more than 10 hours of continuous run-time.
Backed by legendary Milwaukee® durability, the new radio/charger is designed with an impact resistant exterior to protect the internal components and allow it to withstand tough conditions including drops and impacts. With an IP54 rating, it can also withstand water and debris without sacrificing sound quality.
The new M12™ Radio + Charger joins the M12™ Cordless System, the largest sub-compact system on the market, currently made up of more than 100 solutions. milwaukeetool.com
Litheli 20-Volt 13-Inch Battery Powered Lawn Mower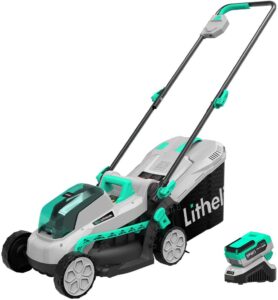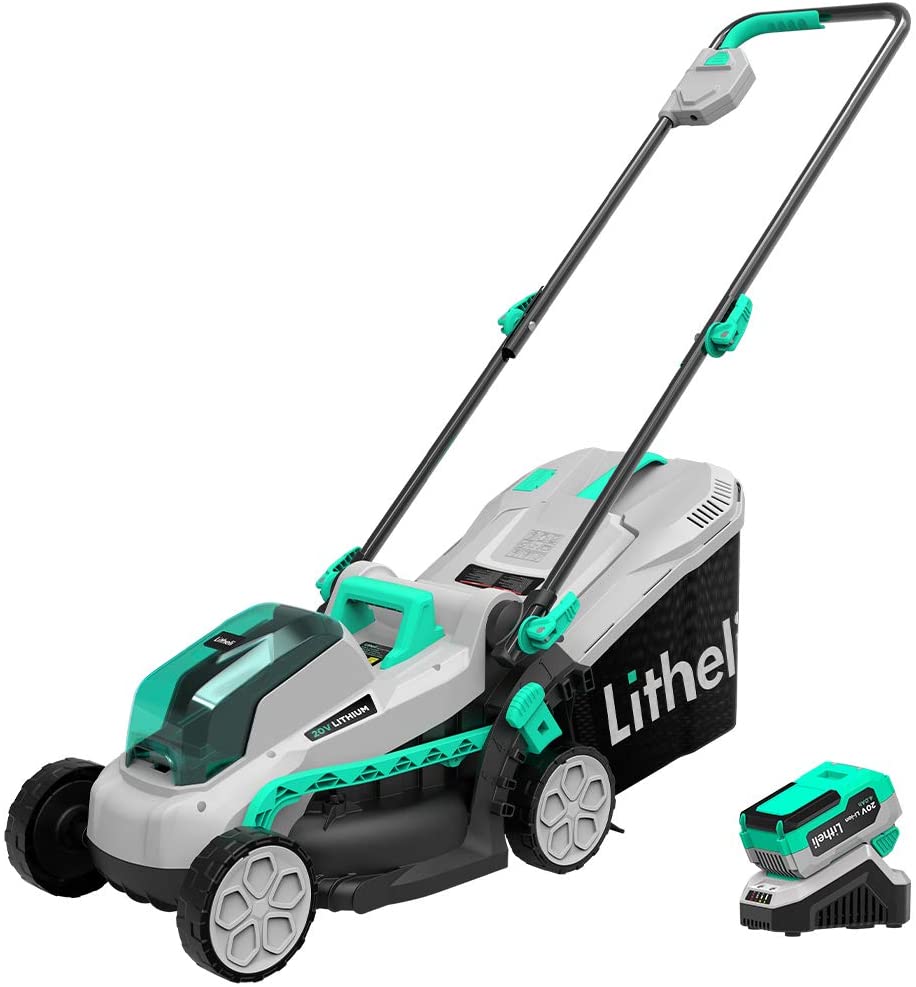 The EHT May 2021 Tool of the Month, this mower features a 13″ blade which is suitable for the zigzag patterns typical of smaller landscapes. Single-lever control offers 5 deck positions ranging from 0.98″ to 2.56″, giving you the precision needed for a healthy grass cut. It also delivers maximum maneuverability with 6″ wheels, smooth and easy at each turn.
More than its compactness, this mower is sufficiently powered by a Litheli 4.0Ah multi-protection Li-ion battery that supports a clean cut for up to 40 min. The battery also works with Litheli 20V family that features 20+ power tools and outdoor power equipment for home & garden projects, with gas-like performance and cord-free convenience.
Litheli 13-inch lawn mower comes with a 5-year warranty on tool and a 3-year warranty on battery and charger. Available on Amazon
Crescent Tools u-GUARD kit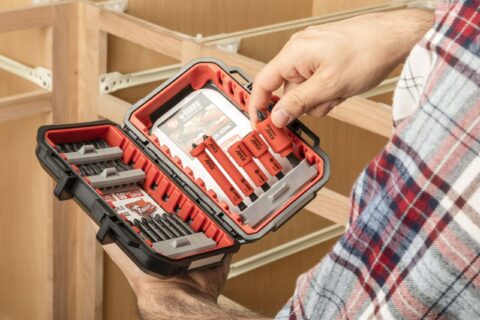 The Crescent APEX® 30-piece impact rated fastening set with u-GUARD™ is built for the most demanding jobsites. The stack and store alphaCASE™ features a tongue and groove design with thick sidewall construction. The 30-piece set includes Crescent APEX's patented non-marring u-GUARD covered products which protect final finishes from damage, and the core Crescent APEX S2 steel product with optimized tip geometry for fit to the fastener. Screw driving bit tips include square, Phillips®, Torx®, slotted, quick release bit holder, power bit holder, and magnetic nut setters. Bits are secured in pivoting insert rails inside the case, allowing easy access to bits and case reconfigurability. Available at Lowe's
Nature's Generator Elite – Gold System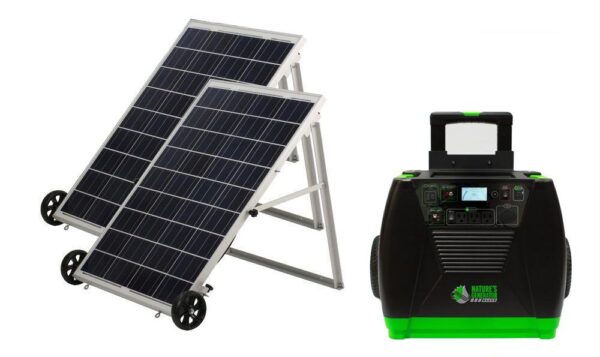 The Nature's Generator Elite – Gold System is a user-friendly unit that stores energy in its internal battery and uses state-of-the-art electronics that convert solar power to 120-Volt household electricity. All Nature's Generator products do not require gas to run and can be used indoors as they do not emit any toxic fumes like standard gas generators. The Elite is also whisper quiet when in use! Naturesgenerator.com
RotoScrub Pads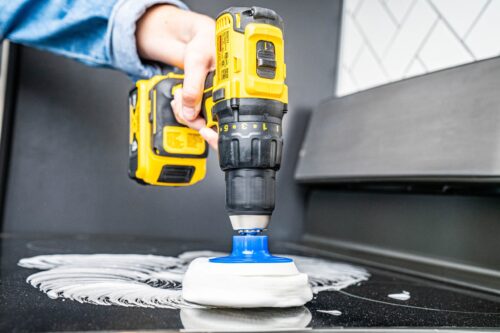 RotoScrub Pads allow you to clean 5x faster by using the power of ANY drill to quickly and easily clean and remove mildew, soap scum, hard water stains, and other grime from bathroom and kitchen surfaces that need scrubbing. This 7 piece kit includes velcro backing and 6 oversized non-scratch nylon scrub pads, which can be used on both sides for 2x longer life! Available at Lowe's 
---
Recommended Articles