LENEXA, KAN. – Homeowner Julie Beck knew she had to get a new roof when it started raining inside her attic. Cracked concrete tiles, a poor installation job and overall deterioration of her concrete roof all combined in 2015 to prompt Beck to invest in a new Bellaforté Slate roof.
"We suffered with this failing concrete roof for almost five years," says Beck, a homeowner in Stilwell, Kansas. "I loved the look of the concrete tiles, but problems kept reoccurring. They did not perform well with our freeze/thaw cycles and temperature changes."
When Shawn Bellis of Epic Exteriors saw the condition of Beck's roof he knew it was time the family invested in a new roof. "There were broken and cracked concrete tiles throughout the entire roof resulting in multiple leaks," says Bellis. "It's such a beautiful home and the roof is a prominent feature. However it was in very poor condition and gave the homeowners headaches on a daily basis."
Bellis recommended a product he's installed many times before, polymer slate roofing from DaVinci Roofscapes®. The composite roofing material is impervious to freeze-thaw conditions and even with moisture on the tiles, the simulated slate tiles won't absorb water, so there are no chances of cracking or splitting of the tiles.
Following advice from Bellis, Beck and her husband Christopher went to 15 different homes to see the installed product before making their decision.
"Our roof has a strong visual effect on the house plus there's a breezeway that connects to a guest house," says Beck. "I needed to feel completely comfortable that the new faux slate roof would complement our entire home.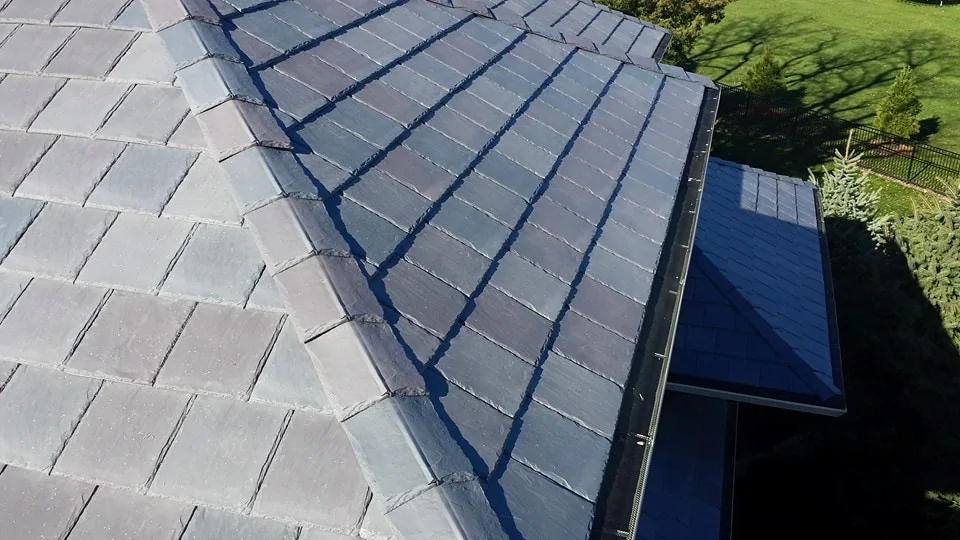 "I have zero regrets about selecting the Bellaforté Slate roof. The European-VariBlend of four different shades of grays and purple looks very authentic to natural slate. This roof has given new life to our home and I have peace-of-mind because there's a lifetime limited materials warranty backing up our new roof. We just had three straight days of rain and it's completely dry in our attic. I couldn't be happier!"
Recycling the Old Roof
While gaining a new roof for her home was important to Beck, what would be done with the old roof was also top-of-mind for the homeowner.
"I'm a big believer in recycling whatever we can," says Beck. "I have a family of six and we recycle so much that there's just one bag of trash that we put out each week."
To help her achieve her recycling goal, Bellis created a special system to take the old concrete roof tiles to a location for re-use. And, scraps of the DaVinci product were returned to the company's location in Lenexa, Kansas for recycling into starter tiles.
"My family knows I'm very committed to recycling," says Beck. "I think my favorite part of this project was working with Shawn to assure that every bit of the old roof and scrap from the new roof was able to be reused in a positive manner."
The experienced team members at DaVinci Roofscapes develop and manufacture industry-leading polymer slate and shake roofing systems with an authentic look and superior performance. DaVinci leads the industry in the greatest selection of colors, tile thickness and tile width variety. The company's reliable products have a limited lifetime warranty and are 100 percent recyclable. All DaVinci high-performing roofing products are proudly made in America where the company is a member of the National Association of Home Builders, the National Association of Roofing Contractors, the Cool Roof Rating Council and the U.S. Green Building Council. For information call 1-800-328-4624 or visit www.davinciroofscapes.com.