12/27/2006 – CONTINGENCY OPERATING BASE SPEICHER, Iraq (AFPN)
Sitting still doesn't suit these civil engineers.
Sixteen square miles about 100 miles northwest of Baghdad is this camp, Speicher, and it isn't much different from any other camp in northern
Iraq: ankle-deep dust, Soldiers and Sailors and Airmen and Marines with a job to do and doing it.
Camp life is like home life. You need a place to eat and sleep and work, a place to put your stuff, a little light, a little heat, a few improvements around the place to make it not just livable but a somewhere you feel comfortable hanging your hat at the end of a long work day.
Enter Detachment 10, 732nd Expeditionary Civil Engineer Squadron, or CES. Approximately 60 of the Air Force's finest are deployed here in lieu of Army engineers to help repair, renovate, construct and maintain base facilities.
It's the first Air Force civil engineering Prime BEEF, or Base Engineer Emergency Force, detachment here, and nine different civil engineer units have contributed Airmen, the largest contingent from Ellsworth Air Force Base, S.D., and others from bases as diverse as Seymour-Johnson in North Carolina and Sembach in Germany.
Upon arrival, these Airmen even had to fix up their own work place and sort out their own tools before they could begin helping others.
"We did some scrounging," said Master Sgt. Bruce Stocking, operations superintendent, deployed from the 28th CES at Ellsworth AFB. It was quick work; within a week of boots on the ground, they were in full operational mode.
Det. 10 handles projects large and small: repairs, maintenance and operations in the garrison facilities that make up Speicher. They even construct new buildings when required.
The work runs the gamut from changing light switches to building a chapel, "from a dollar-fifty to 150,000 dollars," according to officer in charge Maj. Craig Johnson, deployed from the 355th CES at Davis-Monthan AFB, Ariz.
"It's the repair shop of your dreams," said Major Johnson.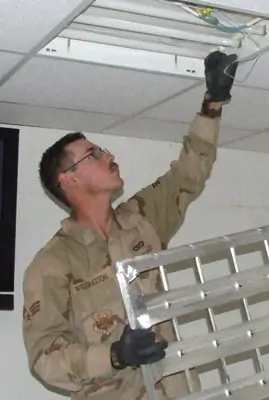 Senior Airman Ray Wiggington installs light fixtures in a building being renovated at Contingency Operating Base Speicher, Iraq. (U. S. Air Force photo/Maj. Richard Sater)
There are four teams — electrical, heavy, mechanical, and operations — consisting of electricians, power production specialists, carpenters, heating and air-conditioning specialists, heavy-equipment operators, plumbers and more. Whether a building needs rewiring to eliminate safety hazards and improve its efficiency or new office space needs to be designed, complete with cubicles and work stations crafted of plywood and other materials that are easy to get, Det. 10 is the point-of-contact, just as a Prime BEEF unit would be at any Air Force base.
"We do the same thing here that we do stateside, except a whole lot more of it," Major Johnson said.
That "whole lot more" is complicated by what complicates everything in Iraq: dust and wind and rain and a supply system that doesn't stock everything typically required to maintain a base.
"If our supply doesn't stock it, we can't go to Home Depot," the major said.
And there are little problems to solve: Dozens of parts that are metric instead of standard, or the wrong length or shape or function. Det. 10 makes it work anyway.
Equipment is tired, used hard in this desert environment.
"The fleet is 15 years old," said Master Sgt. Don Anderson, the heavy repair superintendent deployed from the 431st Civil Engineer Squadron at Sembach Air Base. The graders, dump trucks and rollers the detachment inherited are "a challenge to keep running, but we manage," he said.
The trick? "A lot of creativity to get simple repairs done," said Master Sgt. Brad Branfield, electrical shop superintendent, deployed from Ellsworth. "You keep looking, keep trying until you get what you need," whether it's batteries or spark plugs or generator parts. "There's no end to the fixing."
There also is a requirement to keep on top of things. Urgency is the normal operating mode at a contingency base, and this one is no exception. The base is expanding, with its population expected to grow by 50 percent next year. For the focus to remain on the mission, the support structure has to be in place, and fully operational.
But there is always a bigger picture. It's not just brickwork or plumbing a toilet.
"Think about the task. What's it for? We're not just installing a light switch," Sergeant Branfield said. "We're providing power for a PRT," a provincial reconstruction team headquarters for the civil affairs unit that works directly with Iraqi civilians and town leaders to improve the lives of the local citizenry.
"We have an impact on the Soldiers' lives," said operations officer Capt. Mike Pachel, also deployed from Ellsworth AFB. The results are immediate. Improved billets. Post exchanges set up near living areas. "We're contributing," Captain Pachel said. "It's a support role, but it allows others to do their important stuff" outside the wire.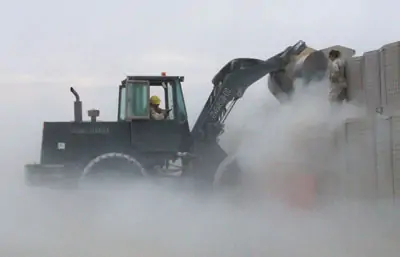 Senior Airman Riza Razz spots for Staff Sgt. Jason Kerkaert as he fills Hesco barriers at Contingency Operating Base Speicher, Iraq. (U. S. Air Force photo/Maj. Richard Sater)
One chapel and three post exchanges built, nearly 500 Hesco barriers placed and filled, 120 Army billets remodeled, a whole building rewired and re-plumbed and painted, two unmanned aerial vehicle weapon systems bedded down, two satellite dishes installed and dozens of other projects big and small: it all means one thing, said Master Sgt. Philip Aitken, mechanical superintendent, deployed from Ellsworth AFB.
"We're helping people out, making things better than they were before we came," he said.
They will depart shortly, satisfied in that regard, with a new Det. 10 arriving to take their place. Detachment 10, 732nd ECES is an element of the 732nd Expeditionary Mission Support Group headquartered at Balad Air Base, Iraq. The 732nd EMSG falls under the 332nd Air Expeditionary Wing. An important part of the wing's mission is providing combat-support Airmen like those in Det. 10.
Editor's Note: Lead photo shows Senior Airman Jason Schwager building a staircase at Contingency Operating Base Speicher, Iraq. (U. S. Air Force photo/Maj. Richard Sater)