By Karen Templer
A team of remodeling professionals offers sage advice on making your kitchen dreams a reality.
When the time has come to plan your dream kitchen, consider the advice of the following building professionals from across the United States. This article was originally published in Kitchens: A Sunset Design Guide in 2009 by Sunset Books.
For starters, collecting inspirational photos and looking for the consistencies among them will help you develop your initial ideas. Photos and your notes can also help you keep the entire project on track, providing both budgetary and design guidance. "It's important for people to get everything out on paper so they understand the magnitude of what they want," says design Principal Erik Barr, "because, quite honestly, they can't afford it. So you have to go through it all and prioritize."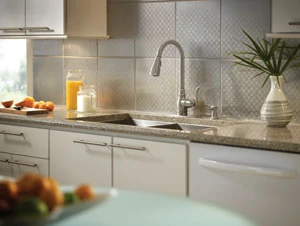 Prioritizing
It's a cold reality, but most people don't have the budget to do everything they want. However, before you begin striking things from your wish list, do some cost comparisons, get professional input, and question your own preconceptions. After careful consideration, you might decide that the things you value most are not the ones you initially thought.
What advice do our experts have to offer when it comes to setting priorities? General contractor Brian Eby believes that "adequate storage and functional layout are more important than aesthetic matters."
Architect Kathryn Rogers concurs: "A kitchen is about quality of life. You have to have places to put things."
For architect Benjamin Nutter, it's a matter of longevity: "A kitchen is the working space of a home and where people spend their time, so we think about its use over time. It's the place in the house with the most moving parts, and it needs to stand up." So, he too strives to get the most functionality he can within a client's budget.
Echoing that, interior designer Kathy Farley says, "Colors can always be painted out, but with materials I really want them to make sense for a long period of time."
"It's worth it to spend money on the things you will touch every day," adds Barr. "For instance, if you like to cook, it might be worth it to you to have a nice stove. Cabinet hardware is a thing you touch every day, so that might be a priority. Or it might be the countertop and the sink." Cleanup is a constant, and Barr notes that the way a sink is detailed in a counter matters, and is worth getting right. The same goes, in his view, for the finish on any wood elements.
While our panelists agree that a good stove is a wise investment for serious cooks, several feel that it's easy to overspend on appliances. "People tend to put in more appliances—and bigger appliances—than they need, which takes away storage space," says architectural designer Michelle Rein. "So do you really need these things? Are you really going to use them?"
Despite being an avid cook, Kathy Farley feels that an eight-burner range rarely makes sense—"You'll never use eight burners at once"—and she notes that not all expensive appliances live up to their price tags. Farley, Rein, and Nutter all counsel clients to visit manufacturers' showrooms in their area and even to sign up for the cooking classes that take place right in the showroom, allowing people to try out different appliances. "Be a savvy shopper," says Rein. "There are better appliances for less money that will give you a beautiful look for most kitchens. You don't have to spend top dollar."
Erik Barr has one more piece of advice, which is to beware of the thing you covet most: "Often the thing you're digging in your heels about is the thing that has to go." He has experienced this situation not only with clients but with his own renovation. Letting go of the idea he was clinging to—preserving the original butler's pantry—changed the entire project for the better. He can say from experience that, for the designer or architect, "Having wiggle room is paramount. The ability to think outside the box is why you should bring in a professional in the first place, and what gives a professional a leg up. So don't get attached to anything. You'll lose out in the end."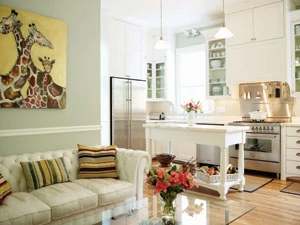 Enlisting Help
The kind and quantity of professionals you'll need to work with to create your new kitchen depend on the scope of the project. If you're doing strictly cosmetic work, you can always paint the room yourself. Relocating outlets, fixtures, sinks and appliances may require the help of electricians and plumbers. Other changes might call for carpentry, drywall or tile contractors. The more complicated the job—and the more numerous the contractors—the more important it is to have a general contractor to coordinate the work and oversee its quality, as well as anticipate and apply for needed permits. Working with an architect or interior designer with extensive kitchen experience, no matter the scope of the remodel, can pay dividends.
"If you're spending a good chunk of money to substantially improve your kitchen," says Brian Eby, "allocate 10 or 20 percent of it to hiring a professional designer or architect. They'll be able to help you get the most bang for your buck and will also have a good handle on any resale issues." As a general contractor, Eby has seen firsthand, time and again, the impact of professional clarity and objectivity: "[On your own] you will do things the way you've had them before or have seen them done; a pro will have a whole different, unfettered perspective." Pros also bring to the table ample knowledge of materials and appliances—and the pricing and availability thereof—potentially saving you both money and time.
When looking for a professional, it's vital to interview multiple candidates and ask for references. Eby recommends contacting several references, visiting completed job sites—especially those with similarities to your project—and, of course, asking about the contractor's performance, including regarding budget and deadlines. "Anyone should be completely comfortable giving you those references—you're not being unreasonable in asking for them. And if anyone is hesitant about giving them to you, consider that a red flag." A good general contractor will have a regular crew or a roster of subcontractors, from painters to electricians, which he or she has worked directly with in the past and
can vouch for.
If you need design help but can't afford a trained architect or designer—and don't assume that without interviewing a few—there are good software programs that will help you develop your floor plan. You'll also find "kitchen designers" on staff wherever cabinets are sold. These are employees trained in the use of computer modeling programs for translating a floor plan into 3D, but they generally are not formally trained architects or interior designers.
"They might not actually be good at thinking spatially," cautions architect Neal Schwartz. "Plus, their job is to sell cabinets, so they'll want to solve every problem with a piece of cabinetry when there may be a better option. You can wind up with inefficient cabinetry and a kitchen that doesn't take advantage of assets like the light or the flow of the space." So even with in-store pros, ask for and follow up on references to ensure you're working with someone who will improve on what you could do yourself.
Budgets and Schedules
"You'd think it would be obvious, but scheduling seems to be a challenge because we're all so used to getting things instantly," says Benjamin Nutter. "So we talk to clients quite a bit about schedule." Construction projects are disruptive and take time—notoriously longer than the estimate—so be prepared for the reality. Nutter raises the related issue of your availability once work begins. If you're able to meet regularly to discuss progress and ideas, a project can be more flexible, with design decisions made as construction progresses. If your schedule prohibits that, you'll want the design to be
more or less complete before the work begins. That difference in strategy can impact the total time the project takes.
Then there's the extreme variability of costs beyond the general construction estimate. "Unlike the rest of the house," Nutter explains, "construction costs [for kitchens] can be misleading because they can easily double once you factor in cabinetry, counters and appliances." Construction costs aren't nearly as flexible as your material costs will be, which may require some flexibility when you choose the materials. For example, the labor cost for laying a tile floor will depend almost strictly on square footage, so it will be largely the same regardless of the tile you choose. But the cost of the tile itself will vary quite drastically depending on whether it's linoleum or limestone. Drawing up a basic plan and getting labor bids early in the process will help you to know how much of your budget will be available for materials, which will then guide what those materials will be. Or you may find you're more flexible about some aspect of the construction than you are about materials. For example, you may choose to forgo a skylight in order to get that limestone floor.
On the subject of construction costs, Erik Barr notes, "Small jobs don't necessarily cost less. There's no economy of scale, and no contractor wants a small job anyway." In his experience, it doesn't make design or economic sense to constrain
a contractor by clinging, for instance, to the position of a window or door. "People have this notion that if they keep it contained it'll keep the price down," he says, but it's not necessarily the case.
Kathryn Rogers likes to show clients alternatives to what they think they want, along with comparative costs, because often the difference in the cost of a more substantive change is less than expected, and the results much greater. So she draws each project up three different ways and prices them out, and clients are consistently surprised. "They really have to see it," she says.
Because remodeling projects are inherently unpredictable to some degree, every job has the potential to take longer and cost more than initially expected—you really have to count on that. If you can't afford to go over budget, don't price the job out at the full amount—set 15 to 20 percent aside for contingencies. For example, if you have $45,000 to spend and not a penny more, proceed as though you have only $35,000 and cost out all labor and materials to fall under that figure. Then you'll have some wiggle room to change your mind, and you'll be covered if it turns out your subfloor is rotten or the range you love gets discontinued and the new model costs more. In any case, ask your contractor for a job schedule, know the delivery windows on everything you need to order, and make sure orders are placed such that materials are on hand as they're needed. Delays cost money.
Demolition and Deconstruction
Demolition on even the smallest scale raises environmental, safety, and health concerns ranging from hazardous construction materials to overtaxed landfills.
The primary hazard of demolition is that there's no telling what is in or under the floor, wall, ceiling, and even countertop surfaces without cutting or tearing into them. But doing so in a home built before the 1980s can inadvertently unleash toxic and cancer-causing substances such as lead and asbestos. If you work with a contractor, he or she should be well versed in issues relating to these matters; if you plan to do home-improvement projects yourself, do your research first. Most people associate lead with paint and asbestos with insulation, but there are numerous adhesives and construction materials—including floor and ceiling tiles and even fabrics—with asbestos content.
There are also ceramic glazes that contain lead. (Imported tiles available today may still have lead content in their glazes.) Asbestos is hazardous only when airborne, so if an old floor is glued down and stable, your best bet is to leave it and put the new floor over it, in case the old flooring or the glue contains asbestos. If you plan to remove old flooring or wallpaper, sand painted surfaces, chisel out tile, or cut into walls, test the surfaces before the work begins. Look for an accredited testing lab in your town, which should also be able to inform you about removal and disposal guidelines and requirements should materials in your home test positive for hazardous substances.
Then there's the matter of waste. Anytime you can reuse existing materials or other elements in your kitchen—whether by refinishing existing cabinets or floors or refurbishing a stove—you will limit both the amount of waste you create and your consumption of newly manufactured materials, and you will likely save money in the process. When tearing out anything you won't reuse, strive to deconstruct rather than demolish. You can donate cabinets, sinks, and floorboards to various agencies or sell them to salvage companies, keeping the materials in circulation and, again, out of landfills. Your city may even require that you do so. Many municipalities now grant building permits contingent on waste management plans, some mandating that as much as 80 percent of removed materials be recycled or made available to salvage companies rather than sent to the landfill. All of this is good for you as well as the planet—those same salvage companies may have the reclaimed wood floor you've been dreaming of.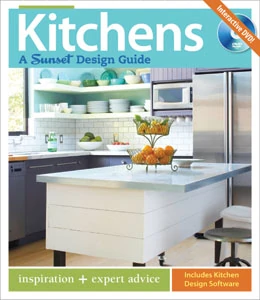 Side Note
More Kitchen Advice from the Pros
For a detailed look at the latest ideas on design and materials, consider Kitchens: A Sunset Design Guide, the new publication from Sunset Books in which this article originally appeared. Learn from real-world solutions based on the skilled expertise of kitchen remodeling professionals. Packed with essential advice and the latest information on green materials, energy conservation and safety issues, the book also includes "the Sunset Kitchen Designer," a CD of interactive software to design your dream kitchen and then see it from any angle in 3D view.