By Larry Walton
Preparing your automobile for the storms ahead.
In the olden days, getting ready for winter meant chopping enough firewood to cook and heat the house, and moving livestock from elevated pastures closer to home. Nowadays it's quite a bit different. For many of us, digging out a winter jacket, changing seasonal sports gear and getting our cars ready to run easily and efficiently in frigid temperatures is about all that's needed to survive the cold season.
Winter can be tough on a vehicle. Traction, visibility and daylight hours are all limited, but there seems to be no limit to rain, fog and snow. Tire pressures drop, oil gets thick, salt accumulates and roads get slippery. We need our wipers to wipe, our lights to light and our anti-freeze not to freeze.
All of the regular maintenance procedures apply for winter, and in some areas they are more important because a mechanical breakdown can be dangerous when the temperatures really get low.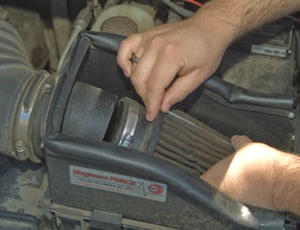 Therefore, make sure that your oil changes, tire pressures, air filter, fuel filter and coolant levels are current. Depending on your mileage, you may be due for some of the longer term items such as injectors, plugs, igniters, shocks, transmission service and whatever else your owner's manual says.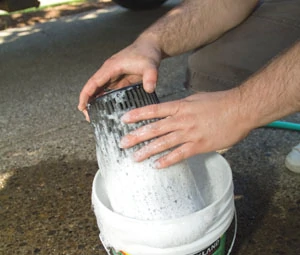 Traction
Lower temperatures drop air pressure readings at a time when tire condition and traction are critical. In addition to making sure pressures and tread depths are in spec, consider switching to a true winter tire.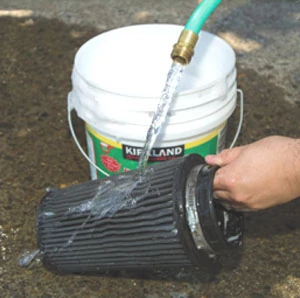 Yuppers, NoDakers, Mainers and other dwellers of the north will be sporting their studded tires for the season. Snow boarders and ski bums alike will often go with the spiked treads as well. Studless snow tires are another option. Bridgestone Blizzak, Goodyear Ultra Grip Ice, Michelin X-Ice Xi2, Nokian Hakkapilitta RHi, and Continental ExtremeContact are examples of these tires, which work well especially for those who only occasionally see snow and ice. These DOT-approved snow tires are made of softer tread compounds and have lots of siping for added grip in ice and snow. Studless tires are better on dry pavement and are easier on the road surface compared to studs.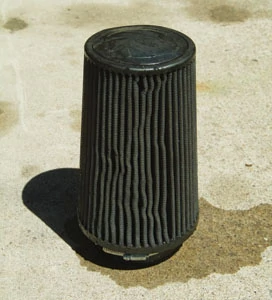 Those who occasionally see snow and ice conditions can opt to carry tire chains in their vehicles. Some retailers who sell chains will take them back for a refund if they are unused. Chains can be very effective traction devices when used properly. Make sure you are in a safe location when installing chains. You are chaining up because conditions have gotten pretty challenging. Other drivers may not have control of their vehicles, which makes it dangerous for those installing chains at roadside.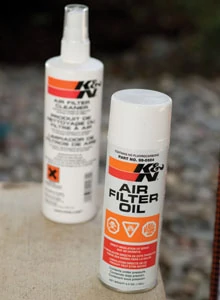 Do not attempt to use chains that are off the fitting chart for your tire. Follow installation and use instructions carefully.
Throwing a chain can cause both auto body and drivetrain damage. Pay attention to speed cautions and give attention to the safety check intervals to make sure everything is operating properly.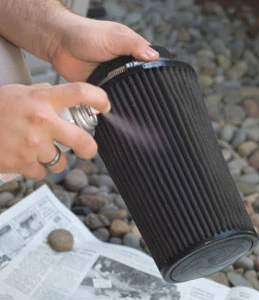 Rainy conditions also require appropriate tread designs. Don't assume that your car has all-season tires. In fact, if you drive a performance oriented car with sport tuned suspensions and low-profile tires; it probably came stock with summer tires. When I checked the tires on my wife's turbo-charged WRX I found this to be the case so I ordered a set of Goodyear Eagle F1s.
Four-wheel drive also enhances traction and is great to have for most winter road conditions. Make sure all the drivers in the family understand the operation of the transfer case, hubs and switches. Provide the proper cautions about diff lockers if your rig is so equipped. Test your four-wheel drive system ahead of time especially if it's rarely used. Remember, four-wheel drive isn't a magic get-out-of-trouble device. Braking and handling remain mostly unchanged in 4×4, so don't get too cocky.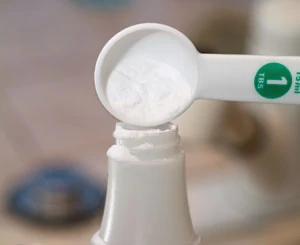 Getting Started
Batteries need more attention in winter. They don't like temperature extremes. When cold, they can produce less power at the very time when the engine is harder to start. Diesels are particularly hard to start when cold. So make sure your battery is in good shape before winter sets in.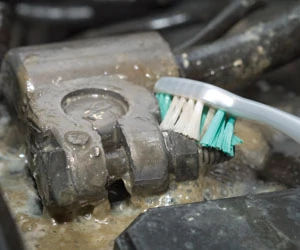 Also hard to start is any vehicle with a cracked block from frozen coolant. Check and/or change the engine coolant in your vehicle to make sure it has the proper antifreeze levels.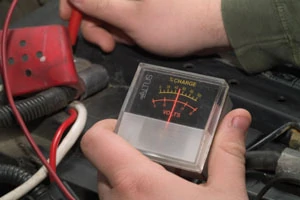 One of the reasons engines start harder in cold temperatures is because oil gets thicker when temperature drops. You can counteract this tendency by using oil with lower viscosity grade numbers. Check your owner's manual for the proper range to match the temperatures.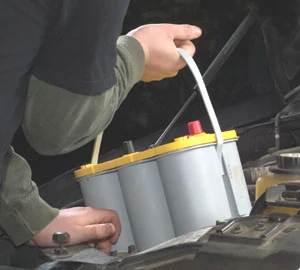 Diesel owners may want to consider switching to a synthetic motor oil such as Rotella T, which improves cold-weather performance while providing excellent high-temperature wear protection. Exceptional cold-weather flow properties really help with cold starts on diesel engines.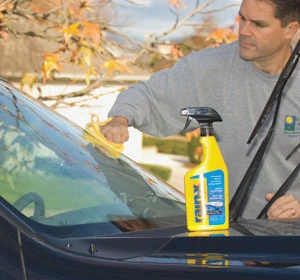 Winter Eyes
Wiper blades have about a one-year life expectancy. UV exposure, being frozen to the windshield and wiping off mud splatters all speed the degradation of the blades. Aftermarket frame-and-blade designs make for a quick and easy install. Rain-X Latitude, for example, can easily be installed on wiper arms with J-hook, side pins, bayonet or pin-and-holder connectors.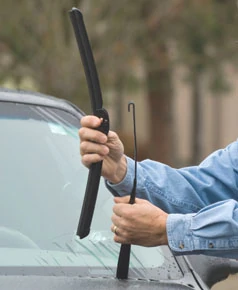 Don't forget the wiper fluid, which needs to be temperature rated to levels you expect to encounter in your travels.
Seeing and being seen is greatly improved through the addition of auxiliary lights. We not only face rain and fog, but the nights are longer, requiring us to drive more hours in the dark. Adding driving lights and fog lights to your vehicle can make a big difference to improve vision, reaction times and stopping distance.
Check your owner's manual for a section on winter driving. Above all, be prepared.
MORE WINTER TIPS
Winter Survival Kit
During the winter months your vehicle's emergency kit should include a first-aid kit, water, food, flashlight, window scraper, tire chains, bag of sand, flares, small shovel, jumper cables and blankets.
Plugged In
If your diesel vehicle is equipped with a block heater, use it. It will start easier, run better, and the heater/defroster will work right away. To save energy, Dan Judy Automotive in Salem, Oregon, recommends buying a 30-amp, commercial-grade timer and setting it to come on about two hours before you plan to start your truck.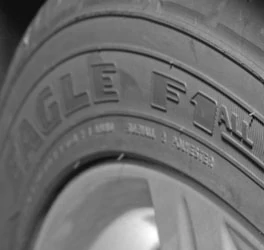 Wheel Deal
When you get serious about changing tires for winter conditions it may work best for you to get a second set of wheels for your snow tires. If your vehicle is a model that is often modified by owners with aftermarket wheels, the stock wheels that fit your rig can often be found on Craigslist or local trader publications.