From advance HVAC systems to kitchen appliances, the drive to save energy in our homes is giving rise to all manner of new household products with a focus on conservation. With engineers hard at work to deliver the greenest products available, homeowners are seeing more and more opportunity to reduce utility costs and protect our natural energy resources. Here's a glance at a few new items to help tighten the belt.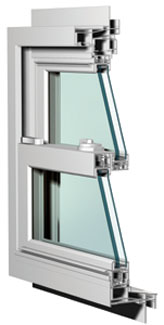 High-Efficiency Windows
Windows are more than meet the eye. Not just glass and a frame, modern energy-efficient windows include spacer systems, glass and gas fillings that are vital in the thermal efficiency of a window. And, the framing material also plays a role in how energy efficient a window is once it is installed in the home. Premium vinyl is an excellent insulator with thermal properties far superior to aluminum, steel and stainless steel. Multi-chambered frame construction and fusion-welded corners of vinyl windows provide homeowners with superior energy-efficiency capabilities. This keeps the air from infiltrating into the home through the window.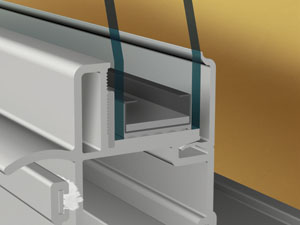 Spacer systems inside the window also play a major role. For example, most Simonton windows and doors feature unique spacer systems as part of an insulating glass unit built into the construction of the window frame. Made of materials that help prevent air infiltration, spacer systems are placed between the glass panes and further reduce temperature transfer. The unique U-channel design of Simonton's Intercept spacer system flexes and contracts, reducing seal failure in the insulating glass unit. Simonton's Super Spacer system utilizes solid silicone foam to provide superior thermal efficiency.
One of two kinds of glass are typically used. Low E (Emissivity) Glass has a transparent metallic oxide coating applied onto a glass surface. The coating allows short-wave energy to pass through but reflects long-wave infrared energy, which improves the U-value. Laminated Glass is specially designed glass where two panes of glass are bonded to a durable interlayer, providing increased safety, UV protection and noise reduction. If the window or door gets broken, the laminated glass will adhere to the plastic interlayer-preventing glass fallout in the home. This glass can be found in the Simonton's StormBreaker Plus product line.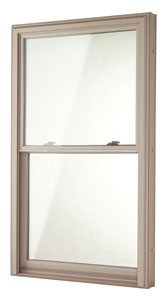 Additionally, the space inside an insulating glass unit—between the glass panes—may be filled with Argon gas, an odorless, colorless, non-toxic gas that is six times denser than air. This acts as an added barrier to prevent harmful UV rays from entering the home. Gases in a window work to help keep the interior of the home more comfortable by preventing heated and cooled air from escaping the home. Combined, this leads to reduced energy bills for homeowners. Visit www.simonton.com.
About Simonton Windows
Simonton Windows produces ENERGY STAR® qualified replacement and new construction windows and doors, including a line of impact-resistant products. The company was ranked #1 in quality in the 2007 Brand Use Study sponsored by Buildermagazine and has won two consecutive Best In Class Awards for being ranked "Overall Top Rated Vinyl Window Brand" in unaided industry studies.
Founded in 1946, Simonton's hallmark has been to deliver its made-to-order products in seven days. Simonton is a founding sponsor of The Weather Museum and a corporate partner of Homes for Our Troops. For information, call (800) SIMONTON or visit www.simonton.com.
Advanced Comfort Control
ICM Controls now offers the CC750 Comfort Control Center, an advanced motor speed control that promotes effective humidity control for enhanced comfort and improved indoor air quality—all with the added benefit of reduced energy costs. When connected to your existing single-phase air conditioner or heat-pump system, the CC750 offers advanced air-moisture removal and control, resulting in drier, more comfortable conditions, even during long spells of humidity. Its default settings can also be easily customized using its menu-driven programming screens to meet specific conditions unique to each home.
By creating drier conditions, the user can raise the set point temperature on the thermostat without sacrificing comfort. According to the U.S. Department of Energy, for every two degrees that you raise your thermostat set point in the summer, you can save 5 to 7 percent on your summer cooling bill. Additionally, by slowing down the fan motor speed by as much as 75 percent, the CC750 dramatically reduces energy consumption that can lead to even greater energy savings.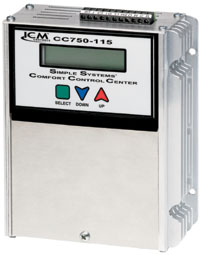 The CC750 also offers certain health benefits. Due to reduced blower speeds, the CC750 enables air to remain in contact with installed air-filtration devices, helping these devices more effectively clean the air being breathed, especially beneficial for individuals suffering from allergies and asthma. With reduced humidity levels, the CC750 also aids in the defense against mold and fungus growth, a health hazard that can also lead to structural damage. For further information, call 1-800-365-5525 or visit www.icmcontrols.com.  
Home Heating with Power Generation
One prime example of today's new energy-efficient appliances is the Freewatt Home Heating System, the first appliance that heats the home and generates electricity. By relying less on electricity from power plants, a Freewatt system can lower environmental impact and reduce the high costs of heating the home during winter.
"Freewatt is designed to operate whenever the home has a need for heat," says Michael Paparone, ECR president and CEO. "Using a Honda generator, Freewatt generates 1.2 kilowatts of electric power and nearly all the heat created by the generator is then recycled to heat the home. This electricity can be used to power the home or can be sold back to the 'grid.'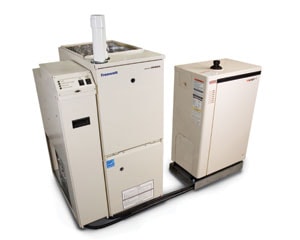 "Unlike a traditional home heating system, Freewatt can produce nearly 5,000 kilowatts of electricity each year, which reduces your carbon footprint by up to 6,000 pounds," says Paparone. "For example, using Freewatt for one year is the equivalent to not driving your car for six months." For more information, visit www.freewatt.com.
First Incandescent-Shaped CFL Bulb
The new GE Energy Smart compact fluorescent light (CFL) bulb features the GE Spiral CFL inside the glass bulb. With this new CFL—an exclusive design achievement that GE has protected with more than a dozen U.S. patent applications—the electronics fit in the neck of the bulb. The result is a profile that's virtually identical in appearance, size and fit to a traditional incandescent bulb, presenting an energy-efficient alternative to the sometimes unpopular spiral shape.
"These fit in more lamps and fixtures than standard GE Spiral CFLs with the plastic base," says Kathy Sterio, general manager of consumer marketing, GE Consumer & Industrial. "Some people just want an incandescent bulb profile so they can easily use it with clip-on lampshades or smaller table lamps. Other people may see it as more aesthetically pleasing than GE Spiral CFLs in lamps or fixtures where the bulb is visible.
It provides a more finished or tailored look that appeals to a lot of consumers."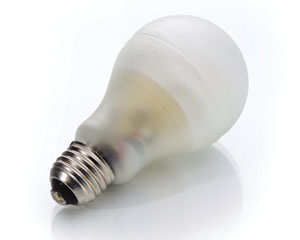 This new 15-watt incandescent-shaped CFL is the first in GE's new lineup. Between April and June 2009, GE plans to introduce 9-watt and 20-watt incandescent-shaped covered GE Energy Smart CFLs, 40-watt and 75-watt equivalents, respectively. Each will offer an 8,000-hour rated life and 5-year guarantee based on four hours of daily use. The 20-watt CFL will have a slightly taller profile that mirrors a standard incandescent 3-way bulb. A 100-watt equivalent, incandescent-shaped covered GE Energy Smart CFL and other inventive products for household applications could be introduced as early as 2010. Visit www.geappliances.com.
Stop Energy Loss to "Phantom Power"
GreenSwitch is a product designed to eliminate "phantom power," which pulls extra energy into your home when you don't need it. This is power used by products such as monitors, printers, telephones, coffee makers, microwaves, stereos, space heaters, televisions, DVD players, battery chargers and much more. Most of these products continue to use power, even when they are turned off or not being used. This can add up to hundreds of dollars per year in a home. GreenSwitch is designed to eliminate this phantom power and prevent lights from being left on, as well as provide proper control of heat and air conditioning with just one switch. You can leave your home and have all the unnecessary power turned off, which can save 20 to 35 percent for the average home, according to the manufacturer.
The entire system is wireless and will easily retrofit into any existing home. Because it's a wireless system, no rewiring is required so it can usually be installed in about an hour. With the convenient flick of one switch, the GreenSwitch Master Switch sends a protected radio frequency to all GreenSwitch components, which are replacement switches and outlets that receive the frequency. This signal cuts power to designated lights and outlets and sets climate control to economy mode. Turn the switch back "on" to return the system to fully operational. The recommended GreenSwitch starter kit includes a master switch, a programmable "wand," a programmable thermostat, four light switches and four control outlets.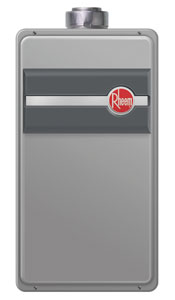 Tankless Water Heater Supplies Three Bathrooms
The new RTG-66DV direct-vent, gas-fired tankless water heater from Rheem is powerful enough to meet the hot water needs of a two- or three-bathroom home, yet takes up no more space than a standard household medicine cabinet. Measuring a modest 25-1/2 inches high, 13-1/2 inches wide and 10 inches deep, the new unit saves even more space and reduces installation time and expense through its use of concentric venting. Instead of separate Category III stainless steel vent runs for the fresh-air intake and exhaust lines, the RTG-66DV expels the byproducts of its combustion process through a 3-inch exhaust pipe that sits inside the 5-inch intake run, thus eliminating the second line. With inputs ranging from 11,000 BTU/hour to 180,000 BTU/hour, the unit delivers 120-degree F water at a rate of 6.6 gallons per minute (GPM) at a 45-degree F rise in temperature from input to output. At a 35-degree rise, the flow rate increases to 8.4 GPM. The new RTG-66DV carries a longer warranty than previous models: 12 years on the heat exchanger and 5 years on parts—up from 10 and 3, respectively. For more information on water heaters, visit www.rheem.com.
Super Saver Refrigerator
With 80 percent of consumers believing it is important to save energy and, in turn, money, at home, Whirlpool launches a refrigerator that does not sacrifice function for efficiency, exceeding federal efficiency standards by more than 30 percent. The new Resource Saver refrigerator is the most energy efficient side-by-side refrigerator ever. This refrigerator requires no more power than a 60-watt light bulb.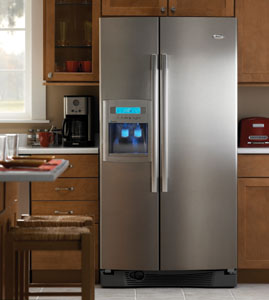 In addition to energy savings, the Resource Saver refrigerator offers several convenient features such as the In-Door-Ice Plus system, which places the ice dispenser and collection bin in the freezer door, giving easy access to ice and freeing up valuable freezer space—enough to store up to eight frozen pizzas.
To help stretch the dollar even further and better preserve food, the Resource Saver refrigerator is equipped with 6th Sense technology. This technology automatically adjusts cooling to bring existing food to the desired temperature in half the time. Additionally, it helps the refrigerator quickly return to normal operating temperatures. A Fast Cool button, when selected, immediately drops the refrigerator and/or freezer temperatures to accommodate new food additions, such as hot leftovers. The technology does not affect the efficiency of the refrigerator. Learn more at www.whirlpool.com.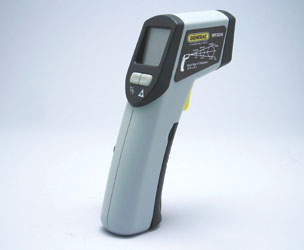 Pinpoint Areas of Heat Loss
Homeowners have a new, inexpensive yet highly effective weapon in the war against energy costs. The new Heat Seeker (Model IRT206) from General Tools & Instruments Co. is a handheld, easy-to-use tool that can detect and help stop energy loss around doors and windows, ovens and microwaves, insulation, ductwork and other areas throughout the home. This precision tool will also accurately sense temperature differentials in electrical fixtures to help locate and correct such hazards as overloaded circuit breakers or wiring. The Heat Seeker is a gun style, remote sensing, infra-red thermometer that enables users to obtain accurate temperature readings instantaneously, without having to physically contact the object. It performs the same tasks as heat-sensing tools designed for industry that cost hundreds of dollars, but the Heat Seeker is affordably priced to appeal to typical homeowners ($65.95). Its rugged, ergonomic design features a backlit LCD display with built-in laser sighting. Just aim the laser pointer at a specific location for an instant temperature reading. For more information, visit www.generaltools.com or call 1-800-697-8665.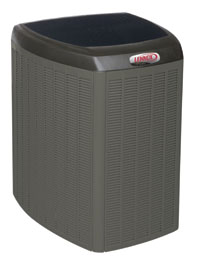 Dedicated Dual-Fuel Heat Pump
Lennox now offers a dedicated dual fuel heat pump designed to alternate seamlessly between electricity and gas to ensure efficient operation. The XPG15 heat pump functions as a heating and cooling system in one, reducing gas furnace fuel consumption. Enjoy electric cooling in the summer. Then, on cold days the gas furnace becomes the primary heat source, making use of the most efficient energy source possible. This system offers the best use of both energy sources. Defrost control enhances comfort, virtually eliminating the "cold blow" that can sometimes occur with dual-fuel heating. Plus, the patented Silent Comfort technology provides smooth, quiet cooling and heating. Visit www.Lennox.com or call 1-800-9-LENNOX.
Solar Water Heater with Gas Backup
The new Phoenix Solar Water Heater from Heat Transfer is the first solar water heater to combine domestic hot-water storage with a 97-percent efficient, gas-fired backup—all in one unit. What also makes the sealed-combustion, direct-vent Phoenix Solar exceptional is its ability to deliver both space heating and domestic hot water in a single, energy-saving package. Side tappings in the jacket permit auxiliary connections to a hydro-air system for space heating. Here, a pump circulates the heated water from the Phoenix Solar to a heat exchanger in the ductwork to provide heat for the living space. The unit can also power hydronic radiant floor heating and snow-melting systems.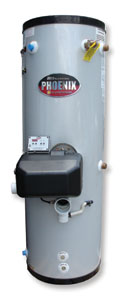 "The dual capability of the Phoenix should be a major attraction to home and building owners and managers looking to cut energy consumption," says Heat Transfer CEO, Dave Davis. "It not only transfers all the energy the sun provides, but it also includes an ultra-high-efficiency backup when the sun's not enough." The Phoenix Solar incorporates a dedicated solar heat exchanger at the base of the unit, for transferring heat from solar panels to the water in its 80- or 119-gallon storage tank. Visit Heat Transfer at www.htproducts.com or call 1-800-323-9651.