Ohio Christmas tree farmer does it himself with advanced retaining wall technology.
Robert Hoover is the superintendent of the Bethel Local Schools in Tipp City, Ohio, a small city 12 miles north of Dayton. But that's just Bob's day job, and it only hints at his wide-ranging interests and skills.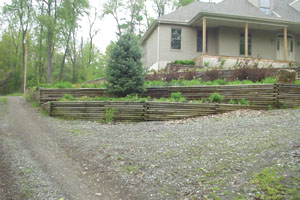 Bob owns Hoover Trees in West Liberty, Ohio—a village of 1,700 situated north of Springfield midway between Urbana and Bellefontaine. Established in 1990, Hoover Trees is a family-owned, 45-acre Christmas tree farm operated by Bob and his family. They sell about 400 trees annually. Hoover Trees grows five different types of trees (including Douglas and Fraser Firs) and is well known for offering many large trees over 12 feet. Its sizeable selection of Concolor Firs, a unique tree with a citrus aroma, also makes Hoover Trees special.
To maintain the natural beauty of their trees, the Hoovers shear them by hand. That's dedication.
During the winter holiday season, families come to Hoover Trees to walk through the fields of the farm and select the one Christmas tree that is just perfect for them. Then they warm up while enjoying free cups of hot chocolate, and they can browse in the farm's gift shop which features seasonal items and unique gifts.
Thus, Bob is an educator and a farmer. And to say that he's also a do-it-yourselfer or a handyman would be an understatement. Bob has worked as a general contractor, and he built his family's home and all the farm buildings himself. Perhaps it should not be surprising then that when Bob took on a big landscaping project, replacing timber walls around his home, he used the most advanced retaining wall technology to do the job."
"This looks interesting…"
The Hoover home sits on a steep site under laid by limestone. It is difficult to grade. Bob designed and constructed timber retaining walls around the house to establish a level area for a lawn.
In the spring of 2008, Bob was visiting a local woodworking shop to pick up some supplies. He happened to pick up the May 2008 issue of Extreme How-To magazine, which included a special section featuring highlights from the 2008 International Builders' Show. Hoover came upon the new retaining wall system from Millenia Wall Solutions in that section of the magazine. "As I read about the product and looked at the photos, I thought it looked interesting and easy to use," Bob recalls.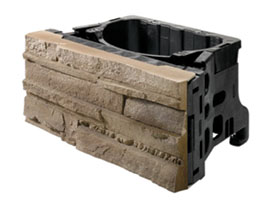 Millenia wall units consist of a confinement cell secured to a rigid frame. They are manufactured using recycled polymeric resin materials and weigh only five pounds per square foot (compared to 60 to 100 pounds for concrete blocks). When the units are set in place, they lock together. Weight is achieved by adding crushed stone fill into the confinement cells and the space around them within the frames.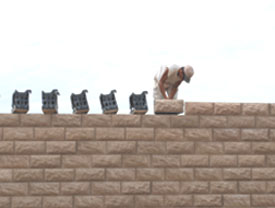 "The timber wall behind my house is two years older than the sections in front. It was falling apart, and I was unhappy with its appearance," says Hoover. "I had been thinking that I needed to do something in the front before that wall started to deteriorate and become unsightly. The Millenia wall units looked like real stone in the magazine, and it occurred to me that the system just might be a good alternative for my home."
Learning More
Hoover took a look at the Millenia Wall Solutions website to learn more about the system. "I found out that the product was engineered by experts in the retaining wall industry and that it has environmental advantages." He called Millenia to talk to a sales representative. He asked questions about installation and was sent a sample wall unit in just a few days.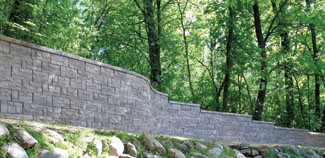 In June 2008, Bob selected Millenia SC100 units (one square foot each) in the ChiseledStone style in grey. He liked this style's appearance of hand-cut quarried stone and believed it would harmonize with his home. And, yes, his wife Esther helped make the color and style decision.
Hoover hitched his trailer to his Ford F-250 pickup truck and drove the 185 miles up to Sterling Heights, Michigan, to Millenia's manufacturing facility. According to Hoover, he picked up the units himself in order to save the delivery costs. He was glad he did because he was able to find out more about how the product is made. He got to talk with staff at the plant about how they formulate and apply custom paints, coatings and finishes to achieve aesthetics and adhesion for the faces and caps of Millenia's wall units. They also discussed future product enhancements.
The Proof is in the Wall
Back home in West Liberty, it was time for Bob to get to work on his new retaining wall, starting with dismantling the timber wall. "I had attended a class on segmental retaining walls, but I am no expert," says Hoover. "I used the instructions I received from Millenia and then just learned as I went along."
To prepare for the installation, he dug a trench, shoveled crushed stone into it, and compacted the stone to form a firm, even base. Using a level, Bob placed his first row of units and interlocked them. The first row had to be level from side to side and front to back. He took care to keep the level consistent across the entire first row. 
 Next he filled his first row with crushed stone, backfilled the wall, and compacted the stones within the units and the backfill behind them. "It was easy once I caught on to the technique. When you get the base row set and level, you've got it figured out," says Hoover. "Building up the wall by placing additional rows goes fast."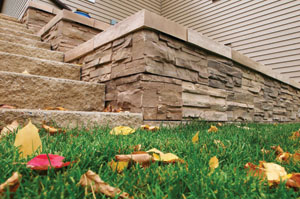 In contrast to a landscape contractor who can assign a crew to a project, Bob had to work on his new wall on and off, over the summer as he found the time. He kept at it and finished by setting top caps into place. His new wall is 900 square feet. "Working with Millenia's wall units, I could see that a professional installer would get fast and efficient with the system very quickly."
And how does Bob assess the result? "We really like the appearance of the wall, especially with the caps in place," he concluded. "So I will use Millenia to replace the timber wall in back of my house, and I may install more walls in other places around our property."