DIY projects are booming like never before, as home and building supply centers see unprecedented growth, especially in outdoor living products. Many DIYers and homeowners are busily improving their backyard spaces and turning them into havens for relaxation or outdoor meals.  One ambitious homeowner, George Goor of London, Ontario, Canada, took on the replacement of an old deck to make it safer, more family-friendly, and easy to maintain with MoistureShield Vision capped composite decking. The Vision colors chosen recently debuted in Ontario with the option of CoolDeck Technology, which reduces heat absorption by up to 35% over comparable deck products in a similar color.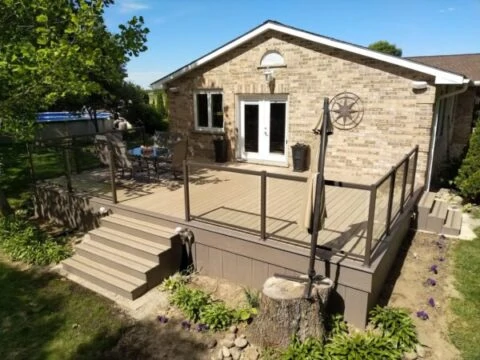 According to Matt Patry, Branch Manager, Copp's Buildall, a family-owned building products dealer in London since 1877, homeowners like Goor are typically looking for materials that are easy to work using regular tools and splinter-free, with several advantages over wood.  "We helped George select MoistureShield's Vision capped composite decking, which has CoolDeck, the only technology of its kind in the industry," said Patry. "We felt it was the ideal choice for a deck with direct sun exposure."
Goor went with Mochaccino color, a rich tan shade, and Cathedral Stone, a light gray, for the picture frame around the perimeter. Available in solid or grooved profiles, Vision's grooved boards also provided the elegant fastener-free appearance the Goors were looking for.  Patry added that Vision has the toughest cap in the industry.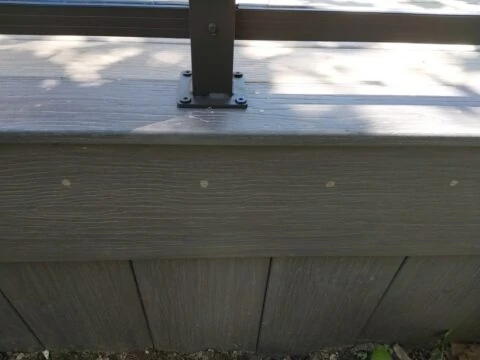 Before installing his new Vision MoistureShield deck, George had a pressure-treated wood deck that was in desperate need of replacement. "We had lived in the house for 20 years and the deck had gotten so bad I fell through the step, it had become a huge hazard," said Goor. "And, it was so hot you couldn't walk it in bare feet." Goor said his wife and three daughters, all in their 20s, noticed right away that the new deck surface was much cooler to walk on.
Amazingly, Goor built the beautiful 16 X 27 square ft. Vision deck by himself, with no previous building experience or online plans. "I had very helpful tips from Copp's Buildall and the MoistureShield staff to help me along," he said.  "We now have five out of seven meals a week outdoors and plan to host our eldest daughter's wedding for 42 people on the deck."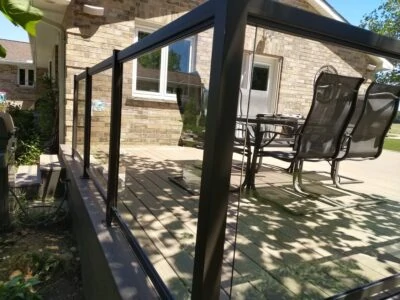 Because it was a replacement deck and just a few sq. feet larger, the township required no plans or permits to be submitted for his project. Goor said the installation was straight forward, and MoistureShield Vision was very easy to work with and the cuts were very precise. "I started by sinking 12-inch Sonotubes for the footings; installing 4 beams out of 2 2x10s each and then 2x8s on 12-inch centers for the frame," said Goor. "Next, I laid the 16-foot MoistureShield Vision boards and then used chalk lines to square up and picture frame the perimeter. To complete the smooth look and make it even safer for bare feet, we used MoistureShield's hidden clips. The finishing touch was to install bronze railings from Ontario Deck Railings."
As with any DIY project, Goor found the deck-building experience to be an educational one. "Everything was installed with regular tools," said Goor. "I did call the technical experts at MoistureShield to figure out how to miter corners, thankfully their tips and questions kept the project on track. I also didn't know how to do the fascia trim, but the sales folks at Copp's were immensely helpful and we got it done."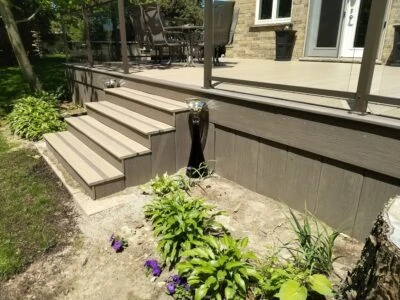 "We just love the rich color match and my wife and daughters can't believe how the deck remains cool. I like how it doesn't scratch or dent –these are superb products," said Goor. "The girls love it." Designed to create lasting outdoor living spaces, the capped composite decking is impervious to rot, insects and moisture.  The Goor's new deck will make for an ideal wedding venue and a beautiful outdoor living space for years to come. Learn more about MoistureShield Vision and CoolDeck at moistureshield.com