Keep Warm While You Work!
Over the years I've worked in a number of shops, including an old unheated, drafty barn. I managed to build furniture and cabinets during the winter months, but even with a contractor's kerosene heater, it was still miserable. A properly heated shop or garage can not only provide more comfort, but safety as well. If you're not concentrating on your work because you're cold, or your hands won't work properly because of the cold, it can create a dangerous situation. And, some tools and materials should not be allowed to freeze.
A wide range of garage or workshop heating products is available these days. The choice depends on the use of your garage or shop, the size and type of building, and what type of energy you wish to use to provide heat. The type of shop, and the materials used, can also dictate the heat source. I spent a long time in my dad's cabinet shop, a renovated store front in a downtown area. The shop was equipped with a gas-fired furnace, and each week we sat aside a day for spraying lacquer finishes on the cabinets. The furnace was shut off and all pilot lights extinguished, because sprayed lacquers are highly flammable, actually explosive. The furnace was not turned back on until all vapors were expelled.
Electric Heating
In a previous issue we discussed radiant floor heating for household use. The same technology is just as applicable for a shop or "working" garage. Many such buildings utilize a concrete floor, and the radiant heat cables or panels placed in a concrete floor or under appropriate floor coverings provide even, "from-the-bottom" heat. If you're building a new shop or garage, this is an excellent choice to consider. An alternative is radiant ceiling panels, such as the Enerjoy Radiant Peopleheaters from SSHC. The noncombustible panels provide an even heat that, like in-floor radiant heating, heat people and objects in addition to the air.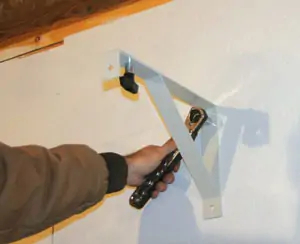 Other types of electrical energy heaters include portable heaters and permanently installed heaters. Economical, portable electric heaters can be used for small shops, or for occasional use, but they must not be left unattended, and dusty workshop conditions can be a hazard. Also, these units are not typically energy efficient.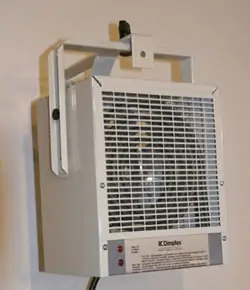 More efficient, permanent-mount electrical heaters are also available for heating small shops, or for providing heat at a particular work space, for instance over a workbench. One example, the Dimplex Garage/Workshop Heater, a heavy-duty, steel unit, heats fast, using a powerful fan and a 4,000-watt stainless steel heater element. It comes with a versatile bracket that attaches to the wall or ceiling, allowing the heater to swivel and direct heat where required. The heater's mounting hardware allows the direction of the airflow to be adjusted up or down. This garage/workshop heater has an automatic temperature control to maintain consistent temperature from 45 to 77 degrees F. The unit has a powder-coated epoxy finish, and the casing element and fan blades are corrosion resistant. If the airflow should become restricted for any reason, the unit automatically shuts off.
Gas Heating
Gas, either propane or natural, is a common choice for workshop heaters. If the shop or garage is attached to the house, the house's forced-air furnace is sometimes utilized to heat the area. But this can also be inefficient if you don't want to heat that particular area as much as the rest of the house. A better choice in most instances is a separate gas-fired heater. Again, any number of these is available.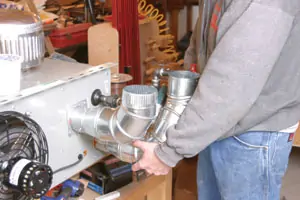 The Hot Dawg models from Modine Manufacturing are available in several sizes, depending on the BTU/Hr. The 30,000 model is suggested as typical for a 1 to 1-1/2 car garage, the 45,000 unit for a 2 to 2-1/2 car garage, the 60,000 BTU unit for a 3 to 3-1/2 car garage and the 75,000 BTU unit for a larger garage or workshop.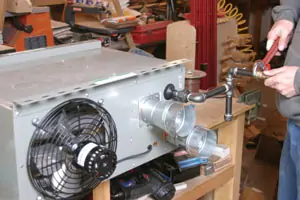 Two specific model types are available, the HD and HDS models. The HD models are power-exhausted, and certified for residential, commercial and industrial use. They feature extremely quiet operation, and are lightweight, easily installed 1 inch from the ceiling with only two angle brackets (included). The units install quickly and easily with field wiring connections and knockouts for quick access to gas and electricity. The standard power exhaust simplifies side-wall or roof venting with small-diameter vent pipe. One of the more unusual features of these heaters is they can be installed with either right- or left-hand controls. Gas, electrical and flue connections can be changed from one side to the other by simply flipping the Hot Dawg over. The permanently lubricated motor has trouble-free dependability and a full 10-year warranty on the heat exchanger.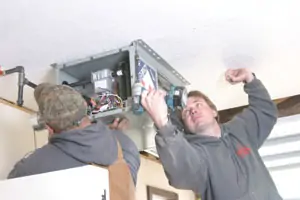 The HDS models feature separated combustion. These units draw combustion air from the outside to make sure the unit will have plenty of fresh, clean air to breath. This fresh-air supply reduces common concerns about dusty, dirty or humid applications. In addition, by drawing the combustion air from the outside, the overall heating efficiency is increased. The unit has an external thermostat and gas connections.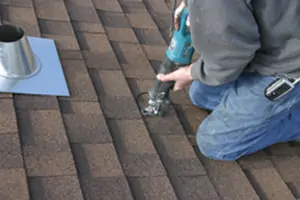 Another type of "alternative" heat source, vent-free gas-fired "zone" heaters have become increasingly popular with homeowners and can also be used to heat a garage or small shop. Extremely efficient, these heaters, under the brand names of Comfort Glow and Glo-Warm, are primarily designed as supplemental heat sources, and since they operate without the addition of a chimney or vent, every bit of heat that comes out goes directly into the rooms in which they are installed.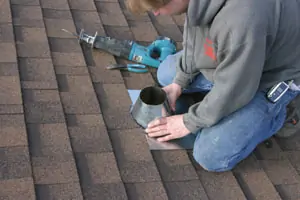 Gas heat is typically available in two forms, convection or radiant. Convection heat warms the air, making a comfortable environment but taking time to warm objects or people within the room. Radiant heat on the other hand heats like the sun, warming the objects in the room first. "They both have benefits," explains Pete Moyer, director of marketing for DESA Indoor/Outdoor Products. "It really depends on preference. Some even want both. That's why we recently developed a vent-free appliance that offers both kinds of heat."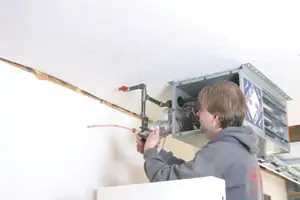 Vent-free heating is also completely safe in terms of air quality and does not require cracking a window in the room. In fact, since 1980 vent-free gas heating appliances have been equipped with safety-pilot systems called oxygen depletion safety pilots or ODS. The ODS automatically shuts off the gas supply in the event the oxygen level in the room falls to 18 percent. Most building codes throughout the U.S. now allow for the safe installation and use of vent-free gas products. However, since this is not the case in some areas, homeowners should check their local building codes before installing a vent-free appliance. Installation of a vent-free gas appliance is very fast and easy. A qualified contractor simply makes a connection from the vent-free appliance to the existing gas line, and the unit is mounted in place.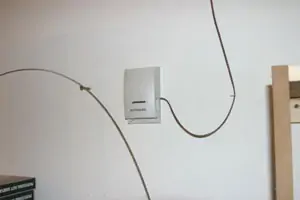 You can stay warm next winter, but it's important to choose the heat source that's best for you. Check with manufacturers as to specific applications.
Side Note:
Heat Sources Not Recommended
Although a wood heat stove is an economical choice, and somewhat common in rural shops, they can be dangerous due to the open flame. In addition, you probably can't get insurance, or the premium will be more than the cost saved by heating with wood. Some local codes may also prohibit the use of wood stoves.
Portable kerosene heaters are often used by contractors during framing and construction, and those with a forced-air fan can provide a lot of heat. Again, they do provide open flame, and require frequent filling with flammable liquids. They are not especially efficient and can be a source of carbon monoxide.
On the other hand, direct-vented kerosene heaters, such as those from Monitor Products, can be utilized, and are common in some woodworking shops. Monitor Products also offers direct-vented gas heaters as well.