By Monte Burch
Using the proper glue for specific jobs is important; using the proper technique with specific glues is just as important.
Sealed glue containers will usually last about a year, but glue in open containers has a shorter shelf life. The shelf life depends on the exposure to air and moisture as well as heat and cold. If you only do occasional glue jobs, purchase small containers. Glues also have an "open," "clamp" or "working" time. Mixed or two-part glues also have a pot life, or how long they stay usable after mixing. For longer life, keep glue containers closed and store at room temperatures. On glue bottles with applicator tips, always clean off and close the tip.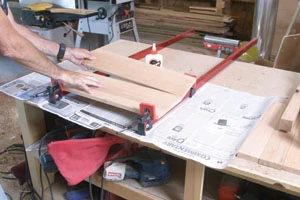 Most glues work best at 50 degrees or above, or at room temperature. Check the product label for proper temperature use. Have everything ready for gluing before you start the glue-up or clamping procedure. You'll need a clean, flat, smooth surface. A good tip is to first cover the surface with old newspapers to catch drips. Gather the clamps you need, making sure you have plenty. One of the most important tips is dry fitting parts. This is especially important if gluing intricate joints such as mortise and tenon or frame and panel. Joints should slide together smoothly, but not too tightly or there won't be enough room for the glue. If you are using dowels or biscuits, make sure you have enough of the right size on hand before you start. You'll also need cloths for clean-up and protective gloves for some materials. In most instances you will also need clamp blocks or pads to protect wood surfaces, especially soft woods, from denting under clamp pressure.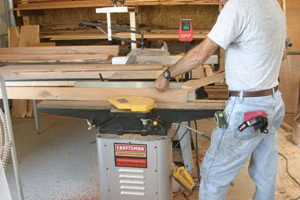 Glue can be applied with a glue-bottle applicator tip, but it's important to evenly coat the wood surface. Thin strips of wood can be used as "paddles" to smooth out beads of glue to more thoroughly coat the surface of narrow joint pieces, inside mortises or dadoes and for edge-jointing. If coating larger surfaces, such as when gluing down veneers, or making laminated parts, a roller is the best choice for a smooth and thorough application.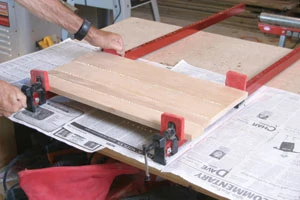 Different glues have different gap-filling capacities, but regardless, the mating surfaces should be sanded smooth and cleaned of any oil, dirt or sanding dust. They should also mate properly. In edge-gluing make sure all edges are jointed or edge-sanded and that they fit smoothly together without gaps.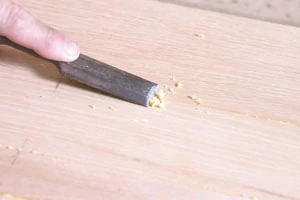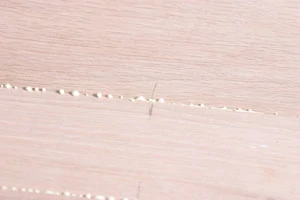 Different glues also require somewhat different techniques. PVA or "white" glue and aliphatic resin glues, often called "carpenter's," "wood" or "yellow" glues are the most common glues used in woodworking. The latter come in waterproof versions. White glue has a somewhat longer working time than most yellow glues, and this allows for easier assembly of complicated projects, such as frame and panels. Yellow glue, on the other hand, has a shorter clamping time. Titebond II Extend Glue is a commercial glue that has a slower speed of set and is ideal for exterior applications involving complex assemblies. Titebond Molding & Trim Wood Glue, however, is extremely fast setting, with a no-drip, no-run formula that dries clear, making it ideal for glue-ups of prefinished molding and trim. Titebond Dark Glue is a good choice for gluing up dark woods with less glue-line visibility.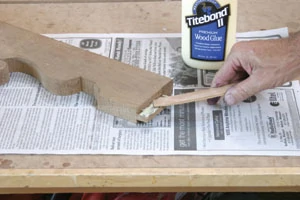 Most woodworking glues require at least 30 minutes of set-up time, with no stress on the joints for 24 hours. I prefer to leave items clamped solidly for 24 hours. Excess glue can be cleaned with a damp cloth, although on soft woods, such as pine, this will often leave a "hardened" area that is difficult to sand off, and leaves a splotchy finish. The best bet with these woods is to simply leave excess squeezed-out glue in place, then remove it with a sharp blade or chisel about 30 minutes after glue-up, then sand smooth.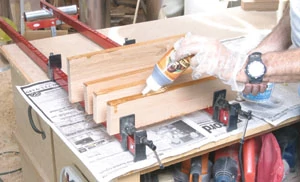 Polyurethane Glue
Polyurethane glue has also become increasingly popular with woodworkers and do-it-yourselfers. Polyurethane glue requires a moisture content of 10 to 20 percent. Some kiln-dried woods, however, may be 6 to 8 percent. For these woods you must first apply water to the surface of the wood without soaking it. A kitchen pump sprayer works well for this, or simply brush the water on with a foam brush. This is especially important for open-grained wood, such as oak, or when gluing end-grain pieces. On high-density wood, such as cherry, walnut or maple, sand the wood to remove oil/resin emulsions.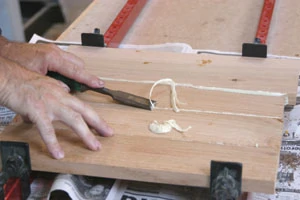 Polyurethane glue foams when exposed to air, but the foam does not provide proper filler for cracks. Again, make sure all parts fit properly. Joints should be cured 90-percent in about four hours, but again, for best results leave for 24 hours. For maximum water resistance, leave for 5 to 7 days at 68 degree F. The squeezed-out foam from a glue line is removed quite easily with a chisel, with little problem of stain prevention, making this a popular glue with furniture builders. Latex gloves should be used during application, and tools must be cleaned with mineral spirits. Polyurethane glue will adhere to metal, so cover clamps with waxed paper or the wood pieces will adhere to the clamps.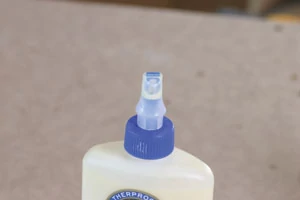 Hot Glues
Hot glues are extremely handy for temporarily fastening parts, which you can then align for permanent fastening using screws or air tools. Or, in some instances, for gluing small parts together permanently. For example, the Titebond HiPURformer professional hot melt system utilizes polyurethane, which outperforms traditional hot melts. Four different glues are available, two multi-purpose and two wood-to-wood. The main difference is the set time, which ranges from five minutes to 30 seconds. Available for commercial use for some time, the new system utilizes a patented, cordless adhesive applicator ideal for small shops and do-it-yourselfers. Drawer assembly, crown/trim molding, cabinet assembly, and furniture repair can all be done without clamps. This makes the glue great for difficult clamping chores. To use, first allow the glue stick in the applicator to heat up for at least 12 minutes. Make sure objects to be adhered are clean and at room temperature. Apply a thin bead of adhesive and immediately press together. Heavy objects should be fixed in position with tape or a vise until fully cured. Hardened, excess glue can be removed with a scraper or putty knife soon after it sets, or when it changes from clear to opaque.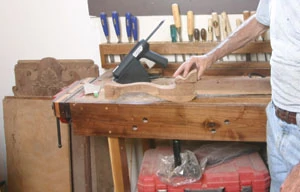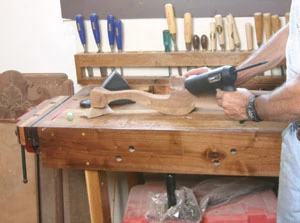 Hide Glue
Liquid hide glue, available in dried glue that needs water and heat, or in prepared hide glue such as that from Titebond, is the best choice for repairing antiques or gluing musical instruments. It forms a strong bond, but parts can be separated for needed repairs with a careful application of heat and water. Hide glue is also popular for adhering veneers to wood surfaces.
Contact Cement
Contact cement, commonly used for such chores as adhering veneer and plastic laminate, also requires some care in use. Pay careful attention to application instructions on the label, especially flammable products. In both instances the covering material is cut slightly larger than the surface to be covered, and then trimmed after adhering in place. Dry lay the material to check for fit and then apply the adhesive as per the instructions, rolling or brushing it on. Allow the adhesive to dry according to instructions. Position thin wooden strips about 4 inches apart over the wood surface and lay the covering material over the strips. Make sure the covering material is aligned properly, and then pull out one end strip. Use a roller to roll the covering strip down solidly on the wood surface. Then pull out another strip and roll, repeating as needed to complete adhering the plastic laminate or veneer in place.
Today's glues can make many woodworking and homeowner chores easier and more productive if you choose the right glue and use the right technique.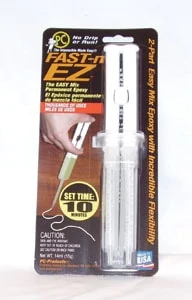 Epoxies
Epoxy is considered a step up from glue. These two-part formulas are designed for more permanent and critical repairs. Unlike many types of glue, they are resistant to moisture, humidity, heat (to an extent), caustics and even fuels and saltwater. Epoxies, once cured, are resistant to water absorption, which can cause failure with many types of glue. The definition of epoxy is: Any of various resins capable of forming tight, cross-linked polymer structures characterized by toughness, strong adhesion and corrosion resistance.
On Store Shelves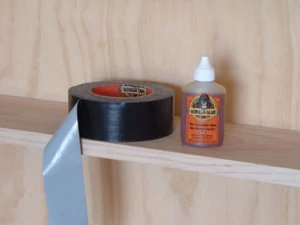 Gorilla Glue
The EHT staff has been a fan of Gorilla Glue for a few years now, and we've used it on, well, a little bit of everything. This super-strong polyurethane glue bonds wood, stone, metal, ceramic and more—an ideal interior/exterior adhesive for all sorts of household fixes and building projects. And a little goes a long way … Choose from a small 2-ounce bottle to a whopping 36-ounce bottle that's sure to last a while.
New to the Gorilla Glue family is Gorilla Tape, touted as "the toughest tape on the planet." It's the company's new alternative to traditional duct tape, which features a double thick layer of adhesive (17 mil), tough reinforced backing and a rugged all-weather shell. www.gorillaglue.com
Henkel Adhesives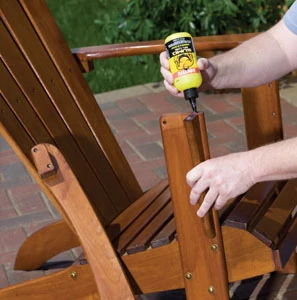 Henkel Consumer Adhesives offers a wide range of glues, such as the new Loctite Sumo Glue. According to the company, the new polyurethane technology of Sumo Glue sets three times faster than traditional polyurethane glue, offers superior bonding strength and is less foaming. While the Sumo Glue hasn't been available long enough for the EHT staff to test it extensively, we were surprised to see that at the 2006 National Hardware Show the company displayed a wall-mounted wooden bench, built only of Sumo glue (no other fasteners), upon which sat an actual Sumo wrestler. The fact that this heavy dude didn't splinter the bench beneath him is a real test to the glue's strength.
Another polyurethane product, PL Turbo is a super-fast-setting glue that sets in approximately three minutes—perfect for small surface projects that require the quick bonding of wood to a wide variety of other substrates like cork, fiberboard, drywall and more.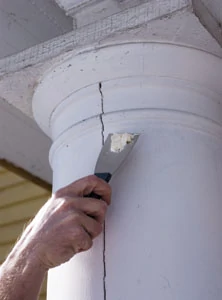 And here's another cool product: the PL Fix 2-Part Wood Repair Kit. The polyurethane-based kit contains one squeeze tube of resin and one tube of hardener, which are mixed to start the curing process. It has excellent adhesion and flow properties for use as a filler, adhesive or both. And you see what you get—it is shrink-, crack-, water- and heat-resistant, eliminating the need for multiple applications. Within four hours of application, the product can be sanded, milled, drilled, planed, screwed and painted. www.henkel.us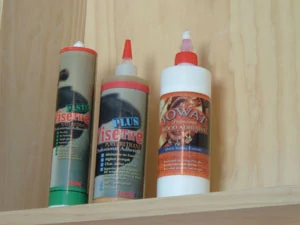 Jowat Adhesives
Jowat's ViseTite Plus moisture-curing polyurethane adhesive is a superior, low-foaming, exterior-grade adhesive that is claimed to be 100-percent waterproof. It's ideal for hardwoods and softwoods, stone, metal, ceramics and much more. The company's ViseTite paste is a one-component, moisture-curing PUR prepolymer with good adhesion to a large number of substrates for an almost invisible joint after bonding. ViseTite Paste is used in woodworking for hardwoods with high moisture content, window-frame assembly, sealing for stairs, turned wood sections and more. www.jowat.com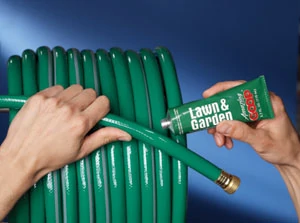 Amazing Goop
"Glues Whatever, Bonds Forever" is the slogan for Amazing Goop adhesives and sealants from Eclectic Products. Amazing Goop provides a lasting bond to a wide variety of materials, but its strongest selling point is the adhesive's ability to bond dissimilar materials. All Amazing Goop adhesives dry to a flexible, rubbery finish, which is great for bonding items subject to flex or vibration. They will not crack or separate under pressure. All are resistant to water, paintable and have reliable strength and durability. Choose from Amazing Goop Household, Marine, Plumbing, Lawn and Garden, Shoe Goo and more. Our staff has used the Plumbing adhesive on some leaky PVC pipe, and it sealed the problem right up. www.eclecticproducts.com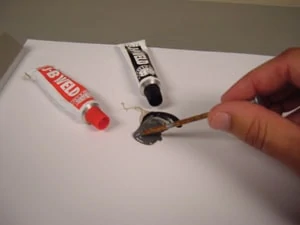 J-B Weld
Used for generations, J-B Weld isn't really a glue; it's a cold weld compound. It's an easy, convenient and inexpensive alternative to welding, soldering and brazing. J-B Weld is packaged in two tubes. One contains liquid steel/epoxy resin, and the other contains hardener. When mixed together in equal portions, a chemical reaction turns the mixture into a compound as hard and tough as steel—and with similar properties. Like metal, it can be formed, drilled, ground, tapped, machined, filed, sanded and painted. It bonds to virtually any combination of iron, steel, copper, aluminum, brass, bronze, pewter, porcelain and more. Repair appliances, plumbing, automotive components and all sorts of other objects around the home. www.jbweld.com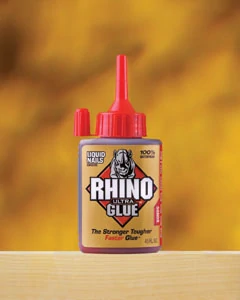 Rhino Ultra Glue
Macco Adhesives, a division of ICI Paints and maker of Liquid Nails adhesives, recently announced its Rhino Ultra Glue at the National Hardware Show in Las Vegas. Rhino Ultra Glue is a new polyurethane-based bottled glue designed especially for professionals, woodworkers and serious DIY'ers. According to the company, unlike the leading consumer polyurethane glue, Rhino Glue affords users stronger bonds sooner, longer work times, shorter clamp times and extreme weather resistance. www.liquidnails.com