By Monte Burch
From through cleaning to re-decking, here's a look at how to breathe new life into an old deck.

Decks are some of the most popular homeowner projects, and they're also some of the most abused. Weather, hot sun and foot traffic all take their toll. Today a wide range of deck materials and tools for maintaining as well as repairing decks are available. Take a look at your deck; is it time for a redo? The amount of redo required depends on the condition of your deck. Cleaning, along with recoating with a new finish, may be all that's required. Or you may decide to recover the deck with more modern materials such as composite decking, or upgraded pressure-treated lumber such as Wolmanized Outdoor Treated Wood.


The first step is a complete deck inspection. Check the weathering of the deck covering. Look for cracks, splits and splintering. Older semi-transparent stains may have worn away, especially in high-traffic areas. Look for popped nails, a common problem with decks assembled before todays hi-tech deck screws. Older deck screws used with pressure-treated lumber may even be corroded through. Inspect the structural components of the deck thoroughly. Older materials, even pressure-treated, may have degraded or sagged with usage and indicate the need for an upgraded construction.
Deck Cleaning in Detail
If you're lucky and only have a mildly dirty deck, a thorough cleaning may be all that's needed. According to Sikkens, manufacturers of Cetol DEK finish and Cetol SRD deck stains, the first step is to spray the wood with clean water to wet all surfaces. Then clean the wood surface using a solution of 4 ounces of Tri-Sodium Phosphate (TSP) or phosphate-free substitute, and one quart of liquid bleach to three quarts of water. Use a garden pump sprayer and apply generously to all surfaces. Allow the solution to sit on the wood for 15 to 20 minutes. During this period, scrub the surface with a hard bristle brush to help remove debris and weathering. Do not let the solution dry on the wood, keep it wet. (It's a good idea to work in smaller or manageable sections.) Before the solution dries, power-wash it away with clean water. Do not exceed 500 psi in order to prevent damaging the wood surface. With most power washers, the nozzle must be 1 foot from the surface for full effectiveness. Do not use a garden hose as the pressure (approximately 60 psi) is not high enough for effective cleaning. Allow the surface to dry for three good drying days before applying a coating.

If the wood has rust marks, stains or blue fungi left after the initial treatment, retreat the surface with a solution of 4 ounces of oxalic acid crystals in 1 gallon of warm water. This solution should be allowed to sit on the affected area for 15 to 20 minutes then rinse with clean water. Again, allow it to dry for three good drying days before coating.
If you have a deck constructed of natural wood, such as redwood, cedar or ipe, sanding may be in order to bring back the beautiful color and grain. Use 80- to 120-grit sandpaper for vertical surfaces, 60- to 80-grit for horizontal surfaces, such as deck floors and tops of handrails. This can be time consuming, but the results are worth it.

If you have a really dirty deck, or one with a weathered finish, you'll have to work a little harder, and use a purchased deck cleaner. The Thompson's Company offers three different deck cleaners, including specialized cleaners for removing weathered waterproofers and semi-transparent stains, and for redwood and cedar decks. All Thompson's Water Seal deck cleaners are premixed and work in a matter of minutes. In the redo of one old deck we used Thompson's Heavy-Duty Deck Cleaner. The deck had a semi-translucent latex stain, badly weathered, but still adhering in spots. A deck cleaner is basically a "stripper." You'll need gloves, eye protection, a stiff bristle brush or broom, and a tarp or drop cloth to cover plants. Cover all plants around or near the deck. The cleaner is sprayed on using a pump-up sprayer and allowed to work for 10 to 15 minutes. The surface is then lightly scrubbed with a synthetic, stiff-bristled brush or broom and thoroughly rinsed with clean water. Allow the surface to dry for at least two hours.
Staining and Protecting
After cleaning, the next step is recoating to protect the cleaned wood. Three different products are available for coating cleaned older decks or new woods. These include semi-transparent stains, tinted wood sealers and clear waterproofers. Semi-transparent stains allow the wood grain to show through, yet provide UV protection as well as protection from water damage. They are also available in a wide range of colors and can really brighten an old, weathered deck. Tinted wood sealers do not provide as much color and are a good choice for less-weathered decks. Clear waterproofing products do not hide the natural color or grain of wood, but can slow down the graying process and provide waterproofing.

Two decks are shown in this article. One deck was cleaned and refinished with Thompson's Water Seal Advanced Waterproofer. The product can be applied just two hours after cleaning wood, a significant time saving from the 48-hour or longer waiting period required for most deck coatings, between washing and waterproofing applications.
Heavy-Duty Repairs
Now for the worst case scenario, a badly degraded deck with lots of popped nails, splintered, cracked and weathered deck boards. The second deck shown in this article was more than 25 years old, and had all those problems, plus some structural damage as well. Several options are available in a case such as this. The most economical method is to remove the old deck boards and simply turn them over, if they're structurally sound. Their undersides won't be as weathered, although you may need to clean and/or sand them back to a brightness. You will, of course, have the nail holes to fill with new screws. Another alternative is to simply cover the old deck boards with a composite deck material. Or remove the old boards and use a composite material. In that case you may have to add more structural support. Most composite decking materials require closer spacing than older 2-by material decking, as does 5/4 decking material. In the case shown the owner chose to redo the old deck with pressure-treated 2-by-6's to keep the design and appearance of the original deck.


Arch Wood Protection's Wolmanized Outdoor Treated Wood was chosen because it is a proven product. And it's less costly than cedar, redwood or composites. Wolmanized Outdoor Treated Wood is pressure-treated using a patented copper-based preservative along with an organic fungicide. Termites and fungal decay are the prime causes of degradation in outdoor construction wood exposed to moisture and weathering. The copper in the preservative protects against these problems, while an organic azole, also used as a fungicide for fruits, peanuts and other crops, protects against copper-tolerant fungi. The formulation makes the wood useless as a food source for termites and fungi, and keeps it attractive, clean and odorless.


The first step in redoing the old deck shown was tear-off of the old deck boards. The deck had a bench and railings all around that also had to be removed. Since all components were primarily installed with galvanized nails, it was an arduous task. The McFeely's Deck Wrecker, however, made the chore much easier.


The next step was replacing some rotted joists with the pressure-treated materials. Joist hangers were also used to provide strength. The old deck had been installed without them. A rotting sill plate was also jacked up and re-anchored in place, and a couple of support posts were replaced as well. New 2-by-6 deck boards were then installed down over the repaired structural members. New railings and benches were constructed and fastened in place.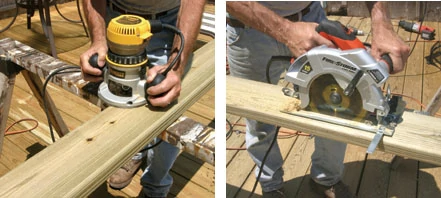 Final step was to apply the deck coating. The new deck boards were covered with Sikkens Cetol SRD stain. Sikkens Cetol SRD is a high-performance, translucent, water-repellent stain designed for decks, lattice, railings and benches and can be used on pressure-treated wood, pine, hardwoods, cedar, redwood and composite materials. The one-coat alkyd resin formula leaves a furniture-like appearance that preserves the natural character and grain of wood. The product builds a UV-resistant barrier to prevent graying and deterioration and is available in Natural Light, Natural, Natural Oak, Redwood, Teak, Mahogany, Butternut, Cape Cod Grey and Cedar.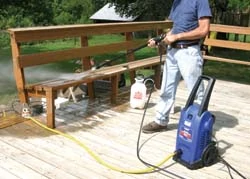 Too Much Pressure Can Stress Wood
While a pressure washer can clean a deck, be leery of what else a high-pressure stream of water might do. Once the sealers break down on an older deck, the sun's rays can weaken the wood fibers. These weak fibers can be easily blasted away by a pressure washer. While the pressure washer will certainly remove dirt and mildew, if set too high it can also remove wood, leaving a damaged deck with a fuzzy surface. One alternative to pressure washing is to use a solution of oxygen bleach to clean wood decks. Oxygen bleach is a powder that you mix with water. The solution is non-toxic and can effectively clean algae, mildew and depleted deck sealers. The solution does not diminish the natural wood color and, unlike liquid bleach, it won't hurt vegetation.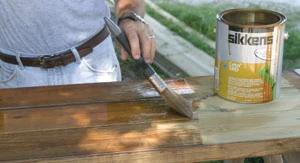 Manufacturers:
www.armclark.com             www.milwaukeetool.com
www.boschtools.com   www.chpower.com             www.ryobitools.com
www.ebty.com                  www.firestormtools.com
www.nam.sikkens.com       www.wolmanizedwood.com
www.McFeelys.com            www.vaughanmfg.com