Get the Kitchen of Your Dreams by Building the Perfect Cabinet
By Linda Parker
One of the best ways to revamp your kitchen is to give the kitchen cabinet a makeover or to install brand new cabinets. Even though building kitchen cabinets is not a very complicated task, the project would definitely require some basic knowledge of woodwork. For even the most experienced carpenter, the task of cabinet construction can be a daunting one. Making kitchen cabinets is essentially a repetitive process of creating a box shape. However, creating matching door and drawer fronts can make the job more complicated.
The process can be broken down into four basic steps:
Assemble the cabinet base, except the front, using heavy plywood. Add shelves to the inside using glue and fasteners. Available fasteners for cabinet construction include nails, pocket screws, dowels and other options.
Attach face-frames made of solid or paint-grade wood to the base. Place the base on its back, position the cabinet doors over the face-frames, and mark the hinge locations.
Attach hinges, handles or drawer pulls to the cabinet doors, drawers and base.
Install the cabinet into the wall using appropriate screws and/or mounting hardware.
If you are designing and building kitchen cabinets for the first time, it may be a good idea to consult a professional for advice on how to handle the more complicated parts of the task. Another option for those wanting to avoid too much woodwork would be to give old kitchen cabinets a makeover to make them as good as new.

Before you begin, it's important to get organized. This means keeping track of your wood materials and various pieces, because once you begin the process everything could become hard to keep track of, leading to confusion and misplacement of wood pieces. It's important to label any wood pieces and individual doors you remove according to where they will need to go.
When it comes to construction, safety is the number one priority. This means keeping all your tools in a safe place and easily visible. In carpentry, tools can easily turn deadly, so make sure to maintain an orderly worksite and keep any sharp tools away from children and on steady ground.
Cabinet Styles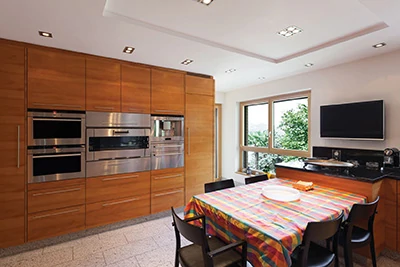 Before you begin building or remodeling the kitchen cabinet, you must decide on a style for the cabinets. It's important to ask yourself if you want the kitchen to match the rest of the house or to be different and unique. Three of the most popular categories for cabinet styles are:
Modern – Lacquered wood cabinets in colorful shades.
Traditional – Arched cabinets, recessed panels to give a cozy and more homely feel.
Vintage – For a more old-world style, give the cabinets some decorative molding and use beaded boards.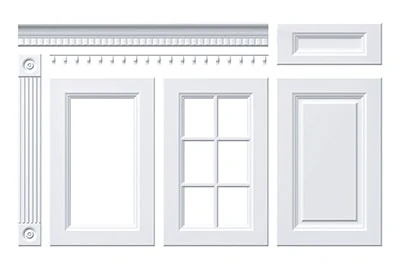 Kitchen Cabinet Doors
The doors are the most visible feature of a kitchen cabinet. This can also be one of the more expensive aspects of a cabinet, but door replacement is still less expensive than a full cabinet replacement. It is the face of the cabinet so it's important to know the various styles available in the market.
Shaker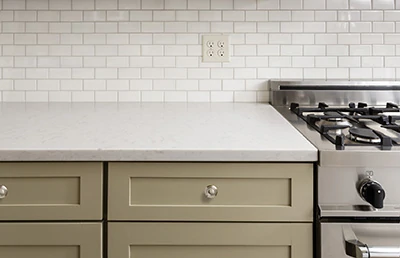 The most common style of door in kitchen cabinets today, this is a five-piece flat-panel style door. The shaker furniture style is known for it's use of clean lines with an emphasis on utility. If you don't use a very expensive type of wood, this style can be cost-effective and using a natural finish instead of paint can also save you a lot.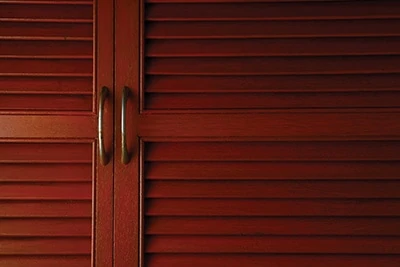 Louvered
These cabinet doors have slats with space in between them, making them great for spaces that require ventilation. This style looks very stylish in a kitchen but is also on the more expensive end of the spectrum.
Flat
Made with hard lines and with no frills, this is a simple, stylish and cost-effective option. Use laminate for extra cost cutting.
Inset
This is a pricey option but one which will last for generations to come. This type of cabinet door is set inside the cabinet frame and designed with great precision so as to fit perfectly.
Distressed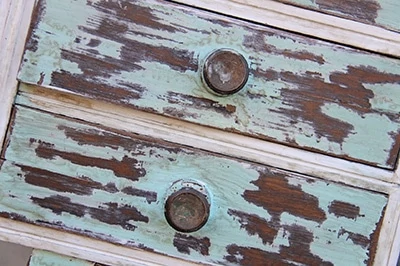 Great for a vintage-style kitchen, these doors have the corners rubbed off or other similar work done on them to give a beautifully worn look.
Kitchen Cabinet Colors
According to findings by the National Kitchen and Bath Association (NKBA), white, off-white and gray have proven to be the most popular color choices for kitchen cabinets in 2016. The research found that in addition to these simple colors, people also increasingly opt for neutral wall colors.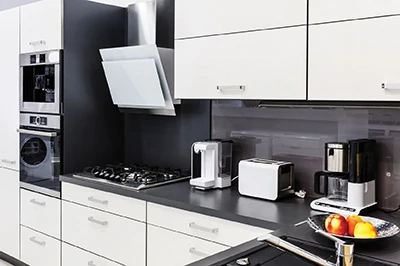 Interior designer Andrew Howard says gray is the perfect color for the kitchen, whether used on walls or cabinets as it the perfect combination of "elegance and approachability. It's both luxe and everyday practical."
A light blue with hints of gray can look very elegant and more subtle than plain blue. This shade would match very well with white or pale yellow if you want to create a soft atmosphere, with a classic feel.
On the other hand, if you opt to paint everything in white, the walls, the cabinet and the island, consider opting for printed floor tiles along with steel accents.
This will give your kitchen a neutral feel, neither modern nor traditional.
A great way to add a pop of color to glass cabinets in the kitchen is to keep the cabinet white, but paint the back wall of the cabinet a bright color. For example, white cabinets with a bright turquoise green will look great and very creative.
Kitchen Cabinet Sizes
The kitchen is a room that needs plenty of future planning. This means making the cabinets accessible for years to come and making sure the doorways leading into the kitchen can allow wheelchairs to enter. There should be enough room in the kitchen to move around without bumping into things.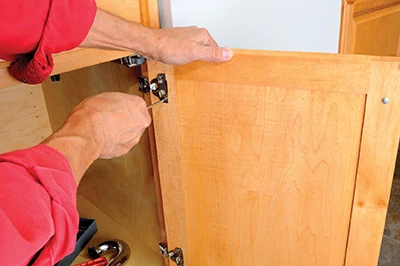 If you are using a manufacturer to install the cabinets, then make sure you ask if the cabinets are made with a certain ceiling height in mind, because most cabinets are made using an 8-foot ceiling as a standard measure. Make sure your cabinet supplier is aware of all measurements in the room, including the height and width of the room as well as the height and width of any windows and window sills.
Remember to ask your supplier if they can produce a computer-generated design of the finished product. Cabinet sizes also have an effect on delivery time. Your cabinet supplier may have some standard cabinet sizes in stock while more specialized ones could take much longer to deliver.
Whether you plan on revamping your kitchen cabinets yourself or plan to hire someone to do it for you, these tips will help you get a beautiful finished product. Color, design, type of wood and size are the main components that you must be aware of in order to design some beautiful kitchen cabinets to perfectly suit your home.