Converting a Storage Room into a Bathroom, DIY Style
Problem
DIY influencer Sammy Pampani has turned what was once a hobby into a full-on passion project. After beginning to document her DIY projects on Instagram only a year and a half ago, she quickly grew her fanbase and now has over 10,000 followers. Sammy can easily make any room brand new through her DIY skills and is currently focusing on making her house into a dream home for her and her family — all while saving money.
Her latest project was converting an unused storage room into a basement bathroom. The remodel consisted of removing a pre-existing oil tank, cleaning up the space and installing a toilet, shower and sink.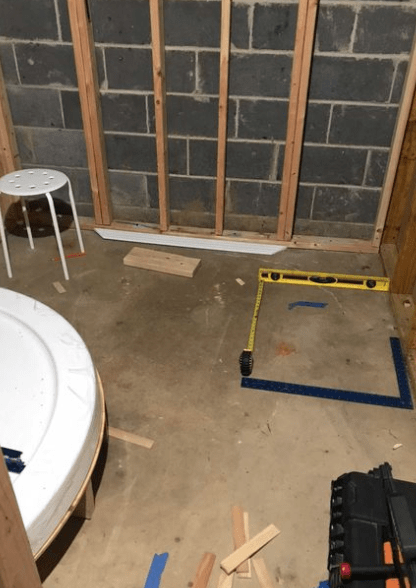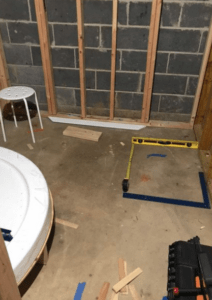 Sammy had no prior experience with bathrooms, so she decided to consult with two plumbers. Both explained the process of conventional plumbing and that, to do so, concrete would have to be broken in the room.
Instead of excitement for this solution, Sammy received two expensive quotes for rough-ins alone, as well as the notion that breaking up concrete would be an exhausting and lengthier process than she had hoped for. She decided to research, learn, and handle her project DIY-style to avoid breaking concrete.
Solution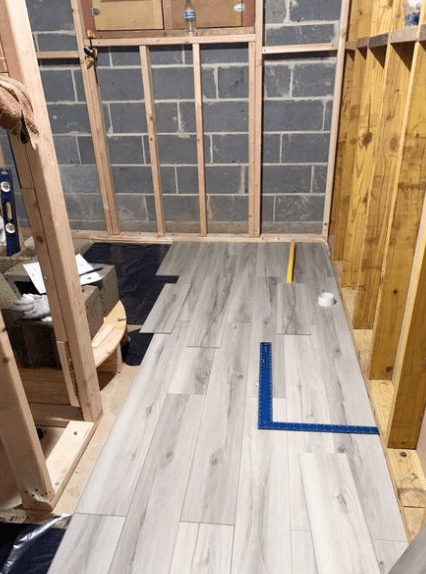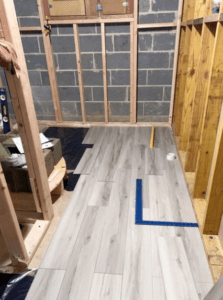 After some basic research, Sammy found Saniflo. At first a bit skeptical, she reached out to get information and watched YouTube videos of others installing the above-floor plumbing products. The main selling point? No need to break into concrete. In addition, communication with Saniflo and doing her own research gave Sammy the extra confidence in her skill set to install the product successfully.
"There was nothing comparable to Saniflo that I could find," says Sammy. "Nothing that appealed to me as a DIYer."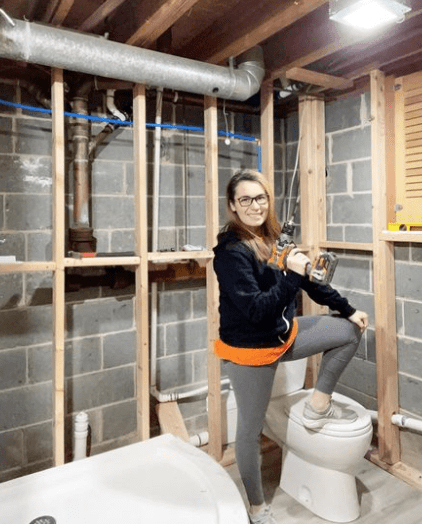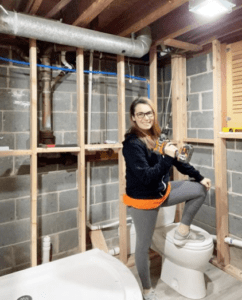 The experts at Saniflo explained that the Saniaccess 3 would be the best solution for her planned bathroom. The Saniaccess 3 is a half-horsepower pump system used to install a complete bathroom up to 15 feet below the sewer line, or even up to 150 feet away from a soil stack.
Positioned and connected to the toilet in the back, the Saniaccess 3 not only macerates toilet waste (black water), but can also handle gray water from a variety of other sanitary fixtures, such as a sink, a bathtub, or a shower. The wastewater from other fixtures is discharged into the Saniaccess 3 via two, 2-inch low inlets with built-in check valves on either side of the unit.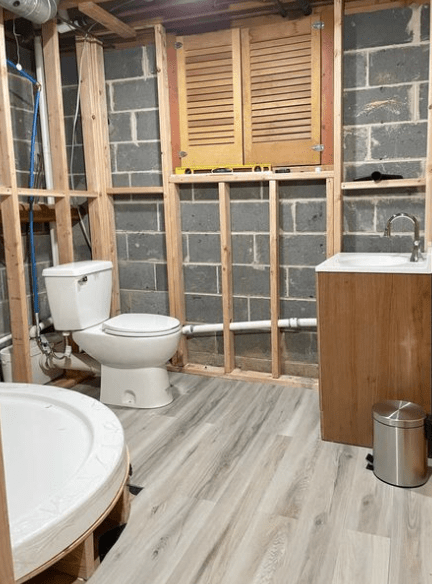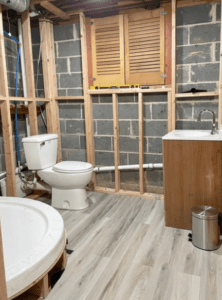 The project began as Sammy mapped out the room for a shower, a toilet right next to the shower, and a sink across from the toilet — all connected to the Saniaccess 3. The plumbing layout, which would run through wall studs, was also designed by Sammy and her husband in advance.
The pair first focused on the shower. When adding a bathtub or shower with this Saniflo product, a base needs to be constructed, and Sammy installed her base six inches from the ground. Next, they moved on to installing the sink and, finally, the toilet that connects to the Saniaccess 3.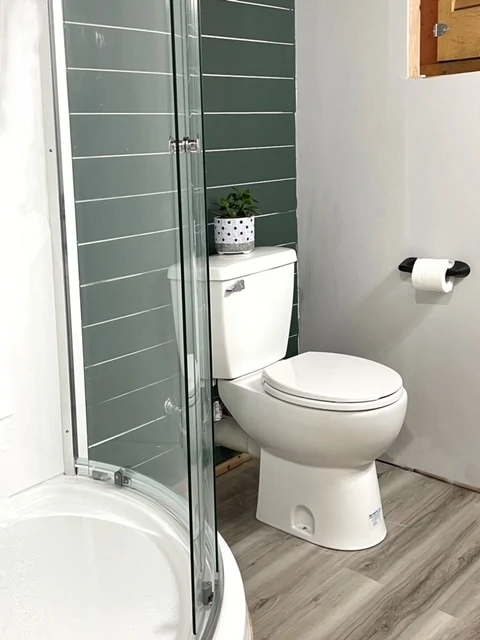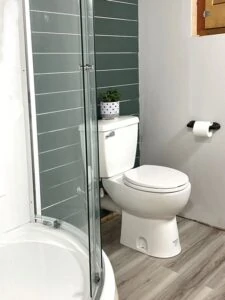 The 1-inch discharge pipe from the macerator runs vertically six feet directly above the toilet, travels around through 45 degree angles and flows directly into the main drain which moves drainage into the septic system.
"After we installed the toilet, we turned on the water. A tip I received was that we should flush many times to confirm there is no leakage or problems with air in the pump. Then to close off the walls," offers Sammy. The installation process took the DIYer only a day and exceeded expectations.
"We were nervous we would run into at least one issue. But, no, the entire process went incredibly smooth."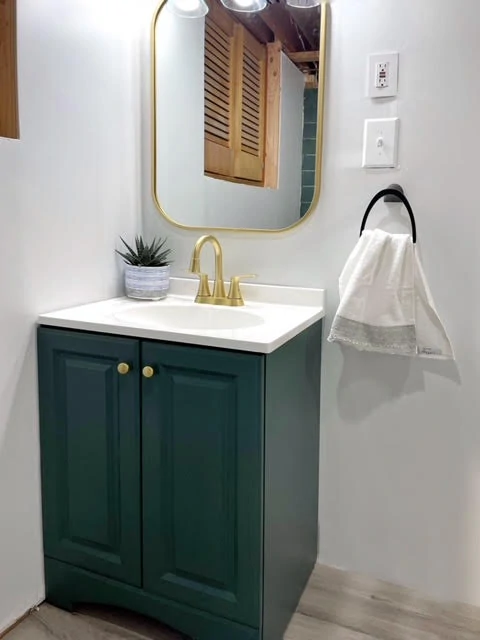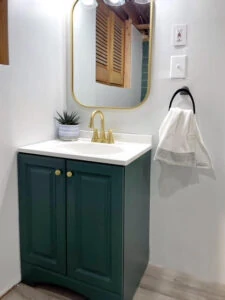 From the quiet sound to the neat look to the problem-free installation, Sammy found no downsides in using the Saniaccess 3. "We love this product! We already rave about it on Instagram!" she says.
After raving, Sammy also receives questions from her followers about how the product works: "How does the [macerator] box not smell?" "Is the box holding everything?" "How do you flush it?"
"These were all concerns I had before choosing Saniflo, and I now am happy to answer these questions and ease any worries of my Instagram followers from a DIY standpoint," says Sammy.
Equally important: Using Saniflo saved a substantial amount of money on the installation, according to Sammy. "The Saniaccess 3, compared with conventional plumbing, saved close to $2,000 and three days of labor. We just love it."
Sammy is already planning her next DIY projects: Converting a hall-way closet into a powder room and creating a kitchen basement. For both, she will be choosing Saniflo.