Diablo Tools (Diablo), which offers a solution-oriented range of best-in-the-world and best-for-our-world products for the professional user, reinvents the sanding industry yet again with their new reusable angled hand sanding block – the ultimate hand sanding solution with unmatched performance in hand sanding applications. With a dual-sided body design, the reusable angled block features both a cushioned foam side for contour sanding and a dense foam side for flat sanding and is designed to fit the exclusive Diablo SandNET™ sanding sheets – the only reusable sanding sheets on the market today.
Traditional foam sanding blocks only provide a one-density, single grit application. With their inferior foam design, these sanding blocks are highly disposable, clog up and wear out quickly, resulting in less material removal and more time and increased money spent on the jobsite switching out blocks. These pain points empowered Diablo to create the highest sanding performance block with the most amount of flexibility and the most cost-effective solution on the market today.
Diablo's new angled reusable block is the only sanding block that is truly a "tool", allowing users to reuse it time and time again with a variety of sanding grits thanks to the SandNET™ sanding sheets. With its advanced design, it can be used either dry or wet and features an exclusive 2-in-1 application that provides greater flexibility and increased productivity on the jobsite. Its innovative design also includes a corner contact edge for consistent scratch patterns and ultra-smooth finishes when sanding precise edges and tight corners.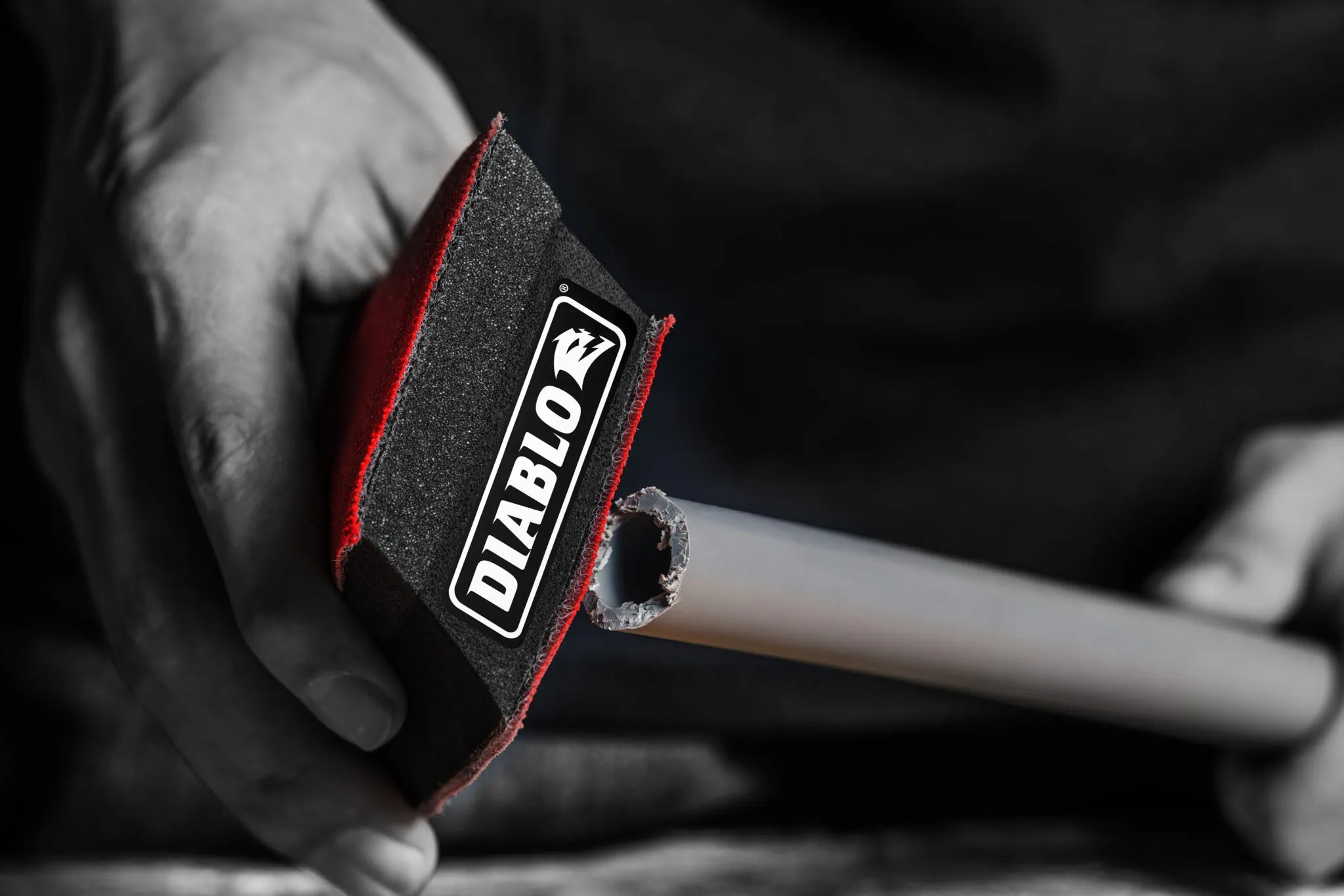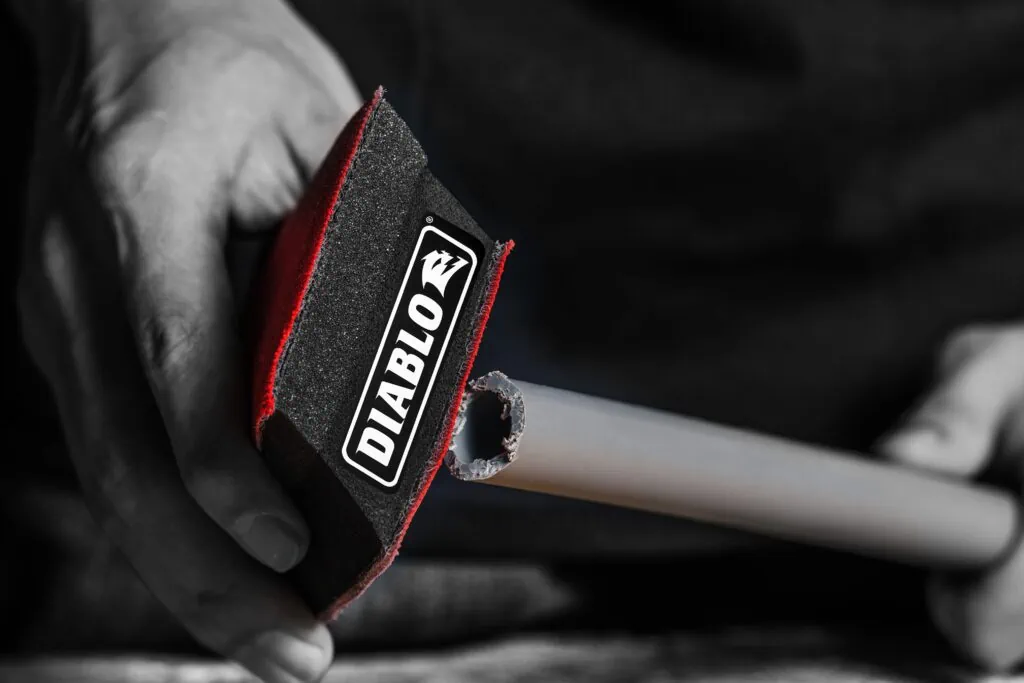 Diablo's angled sanding block provides professionals with the tool they need to sand hard-to-reach areas on drywall, wood, paint, metal, fiber glass and plastics, all while making sanding the no longer dreaded jobsite task that it is today. Designed to fit comfortably in your hand, the angled sanding block features a firm grip that enables smooth, consistent sanding on every corner.
Among its superior design, the angled sanding block is made to fit Diablo SandNET™ sanding sheets, the leading sanding solution on the market today. Traditional sanding sheets are prone to ripping, clogging, wearing out and require constant replacement of sheets and blocks. When paper sanding products are clogged or loaded with build-up, the grit no longer makes contact and the grains no longer "cut" into the material, costing professionals time and money. With Diablo's clog reducing net design, SandNET™ sanding sheets drastically outperform and extend sanding life up to 10X than other products.
The SandNET™ sanding sheets are reusable and feature a lattice-like design that allows sanding fibers to effortlessly pass through the net, and if it begins to load or clog, a professional can clean the grit by shaking, vacuuming, or rinsing for continued use. The ability to clean the sanding grit and reuse the sheet multiple times proves SandNET™ is the most technologically advanced, superior solution that offers the longest life, highest quality, most cost-effective range of sanding products on the market.
"Diablo does it again with another industry first by introducing the new angled reusable sanding block," said Russell Kohl, President and CEO of Diablo/Freud Tools. "This ultimate hand sanding solution features an exclusive, superior 2-in-1 design that is proven to have longer life than standard sanding blocks. There is nothing like this "tool" on the market today and it's changing the game in what it means to hand sand for the better by introducing a design that is environmentally sustainable, while also saving the professional time and money on the jobsite. This block in conjunction with our industry leading SandNET™ is an elevated experience that drywallers, woodworkers, carpenters, painters, and other industry professional's demand."
Diablo's Angled Reusable Hand Sanding Block is available now, wherever Diablo products are sold – including The Home Depot. For more information, visit diablotools.com.