Get 10 carpenters in a room and you'll probably get 10 ways to build and detail a pergola.
However, when it comes to the pergola's base—what our furniture and feet touch every time we enter the cross-hatched shadows of the posts, girders and rafters—it's safe to say everybody in the pretend group will opt for a hardscape. Cementitious or blue stone pavers are popular. And the variety, at least in my experience, ends there.
I take a different approach.
I frame a wood box and build what amounts to a deck for the pergola base. The box (before it has joists) is the best layout tool imaginable (see sidebar). I frame it to wrap around each post. So when I'm setting posts, there's no guesswork, and they're easy to brace and plumb up. And, unlike a paver product—which is the same temperature, give or take, as the middle of the street—wood remains cool, comfortable and easy to maintain. I used Cedar and pressure-treated lumber for this one.
While I build all my pergolas like this, the idea originated with the pergola I'm repairing in this article. So even though the pergola is already there, the details are basically the same from digging to decking.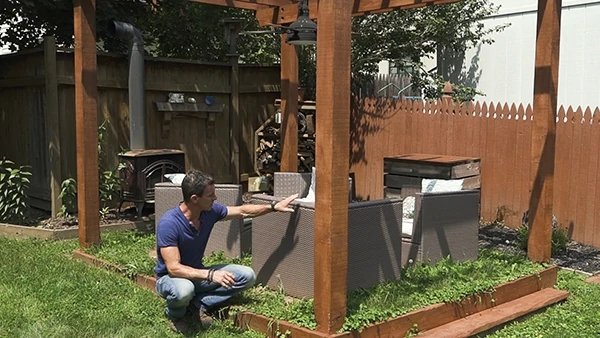 BEFORE THE DECK
Our plan was to have a grass base for our pergola. Cool, near zero maintenance, fireproof, etc. However, when the furniture changed, the light that reached the grass changed too. It quickly became weeds, and where there weren't weeds, there was mud. While the base was still fireproof, it wasn't any of the other things we had intended. Like, nice, for example.
However, in assembling the barrier for the dirt—what amounts to four band joists—an idea was born. So, I dug out the old band joist and prepped for a new wood base. Here's how I did it—and how you can do it for your next pergola project.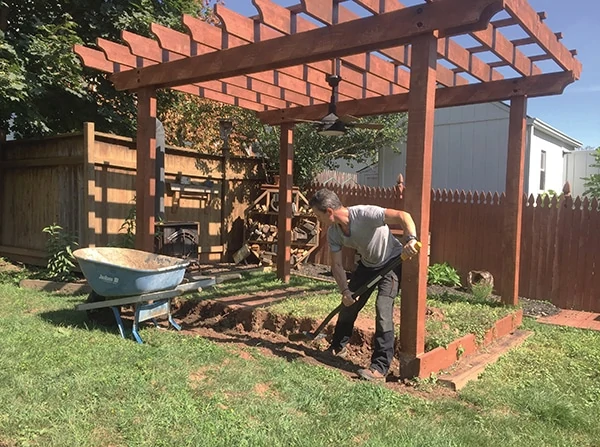 DIG IT OUT
If your yard is at all sloped, you'll need to decide if you'll want to bury a portion of your band-joist on the uphill side or add steps on the downhill side. Either way, the joists need clearance. Also, don't bother trying to "save" time by digging trenches for each joist. That's one of those moves that seems to be less work, but is really more work.
SUB-BASE
I'm kind of a stickler for things staying where I put them and lasting as long as possible, so I can be accused of "overdoing it." On the other hand, a similar project to this I built some 9 months ago has stayed where I left it just like the Empire State Building, so I'm going to keep my methods intact for now.
Because the band joists are partially buried on this project, I added a layer of fabric-covered gravel in a trench beneath them. Like a perimeter drain inside a house, the gravel gives water, a place to drain and the fabric keeps the aggregate from filling with silt.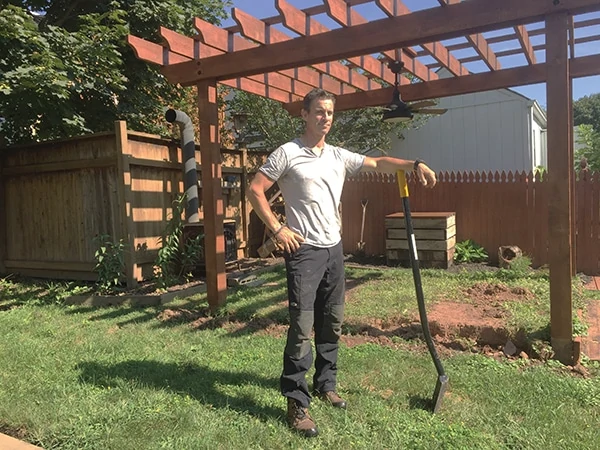 FRAMING
To install the band joists, I built the box around the posts. If you look closely you can see blocking on the interior faces of the posts as well. This will have decking fastened to it later, so they need to be installed now.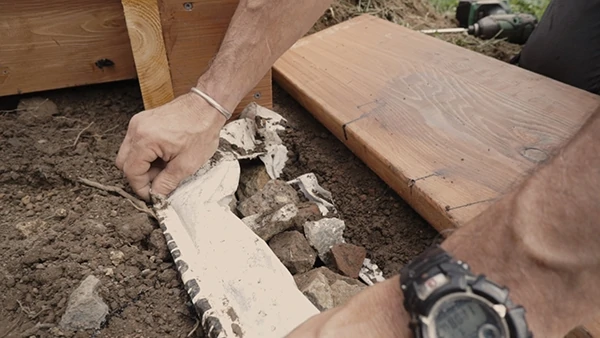 A couple things about the band joists:
Make sure you purchase "ground contact rated" pressure-treated lumber. You'll find "ground contact" and "above ground contact" available at retail.
Also, while we used oh-so-sweet cedar for the decking (and the pergola is made from it too), my cedar friends recommend treated lumber for the dirt work.
The band joists are pre-stained. I don't really need to add this extra step, but I did. It is a total belt-and-suspenders approach. Between the ag-bag, the right lumber treatment and a coat of sealer, this is a good, easy-to-install system.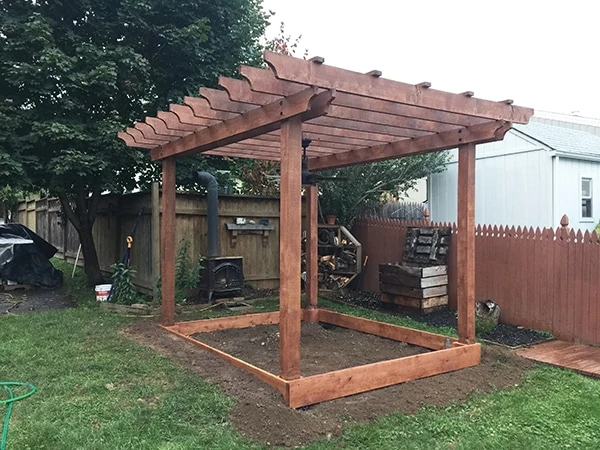 Use joist hangers. After the band joist is in place and I check that it's straight, I lay out the joists. After that, I set the metal hardware. Since I've successfully secured somewhere around zero joist hangers by pounding the metal tab into the lumber, I secure it in place temporarily with my scratch awl then fasten with rated screws.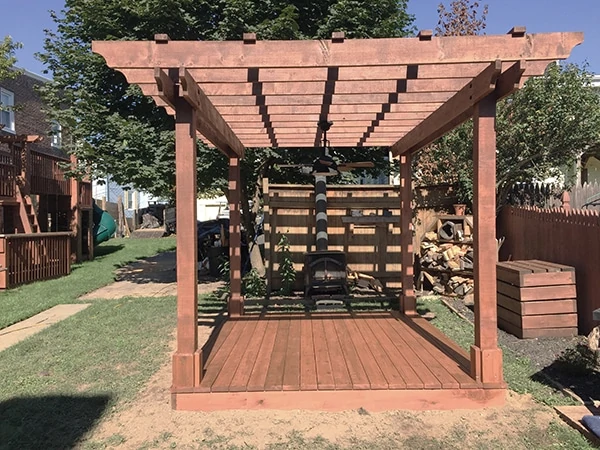 Until some sort of Hogwarts style magic is invented, my fasteners of choice will remain Spax #10 x 1-1/2-in. and 2-1/2-in. screws for connecting my metal hardware. Fast, clean, quiet and no hammer-whacking means I'm dead-on layout. Although I still carry a hammer, I increasingly think it's just for keeping my balance at this point. I almost always use screws to connect things.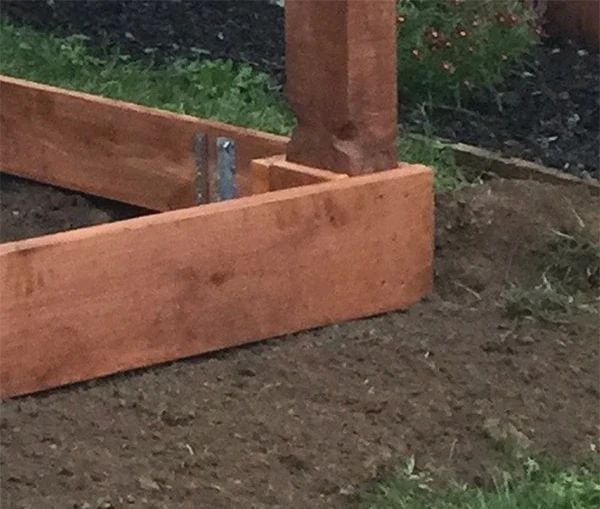 DECKING
The band joists that wrap around the outside of the posts create a 1-1/2-in. ledger, which is the starting point for our decking.
For the first piece, I cut a piece of 2×6 cedar decking to length and then rip it on the table saw 2 inches wide. I rip it wider than the band joist to give myself a little wiggle room in case something doesn't fit.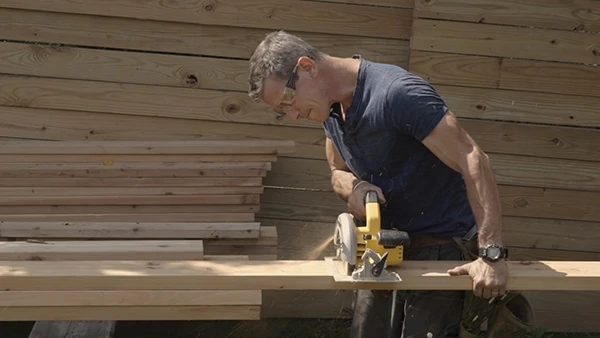 Before installing this ripper, I use my router and a roundover bit to ease the cut edge. Then, I install the piece, factory edge facing outward so no marks from the table saw are showing.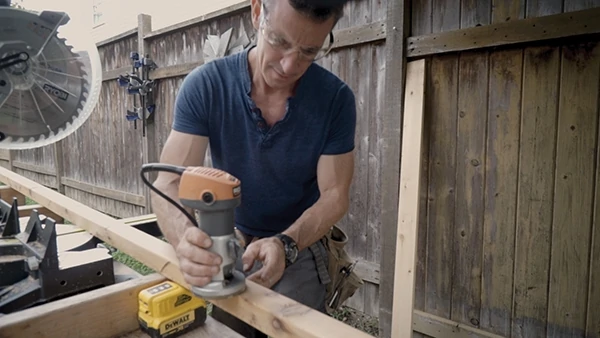 The second deck board is cut to length and slots directly between the posts. For the next two or three boards, I cut them to finished length and install with a 1/2-in. overhang just like the first piece. The remaining boards run long.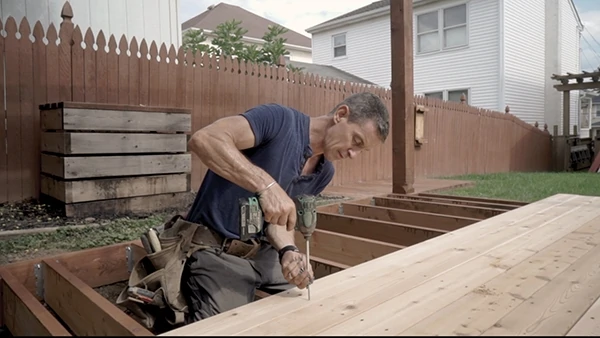 Use a screw or 16-penny nail as a spacer between cedar deck boards. Unlike PT lumber, cedar is kiln-dried and needs room to expand and contract.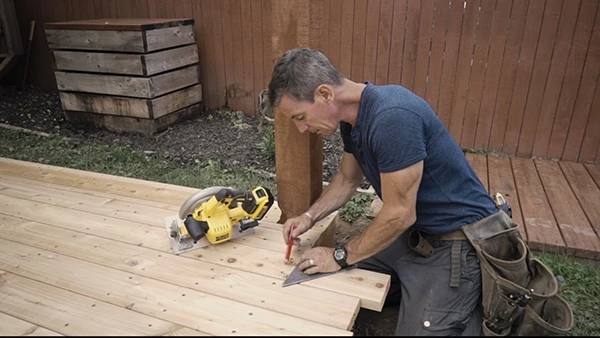 I cut the "wild" boards to length all at once with a circular saw, marking the cut with a chalk line. To register my chalk line exactly where I want it, I align it with a square across the first board and mark it with my pencil. Blue chalk works best, because red or black chalk is pretty much permanent. Keep the saw moving as much as possible during this long cut, which makes it easier to follow a straight line and minimizes burn marks.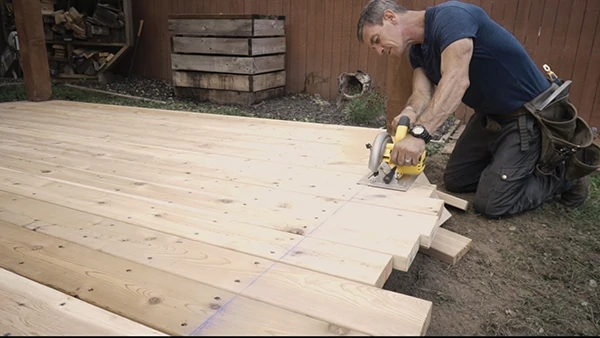 TRIM DETAILS
On this unique job (maybe the first of its kind, but who's counting?), I needed to clean up the bottoms of the sawn cedar posts. They had been weed-whacked within an inch of their life when the base was grass (design flaw, I know; mea culpa). To do this, I made what I call "medallions" but what essentially amount to plinth bocks for each face of the post. Necessity is sometimes the mother of invention, and I like the look.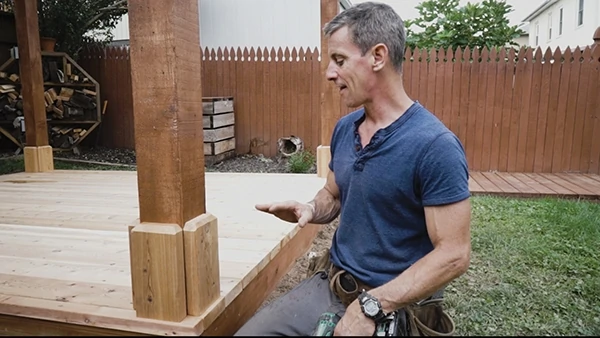 Twelve inches high with chamfered tops, they add a cool detail to an otherwise simple post. I include this because you can also use scraps to make other trim details like wraps or small shelves, or wherever your imagination takes you.
Editor's Note: Mark Clement's website is www.MyFixitUpLife.com.
Follow him on YouTube at www.YouTube.com/MyFixitUpLife.
Side Note
INSIDE THE BOX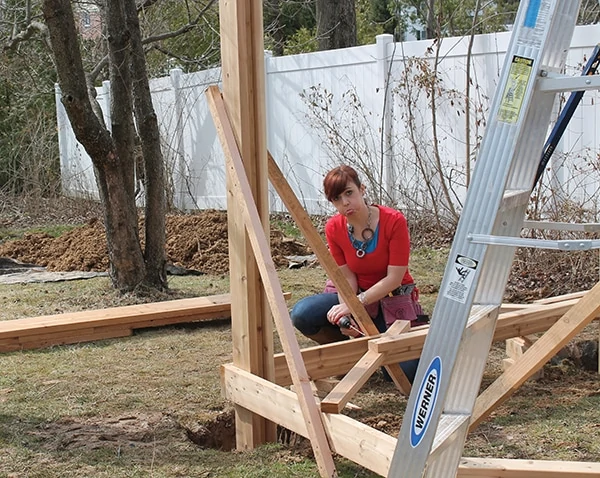 Building the box is like having a full-size blueprint. With it, you can…
Precisely layout the post hole locations
Remove the box to dig the holes with no obstructions
Put the box back on layout.
(I mark its location by gouging the grass with my Hyde multi-tool so I know where the box goes.)
Use the box to support and brace posts before pouring concrete.