Knowing how to "accessorize" is the way many modern women describe their penchant for flaunting jewelry, and DIY interior designers have the same outlook on household hardware. If you consider for a moment the vast number of knobs, pulls, hinges, handles and even heating registers that permeate the home, you realize that hardware makes up a major component.
Classy cabinet knobs and pretty pulls can make an old piece of furniture look decades newer and help focus the overall design of a room. A traditional rule of thumb when selecting hardware has been to match materials to the existing decor. For example, choosing granite knobs to match the countertops, or purchasing pulls with the same metal and finish, i.e. stainless steel with stainless steel, and copper with copper. However, that idea took hold when there was less of an assortment of decorative options for the consumer. With such a wide array available today, those old rules are taking a backseat to a more laissez-fare and intuitive approach in which anything goes,as long as it looks good.
Modern options not only include crystal, ceramic and wood,but a wide range of metal finishes such as brushed nickel, antique brass, zinc plate and many more. The options are too many to list. Hardware stores and home centers offer a variety of choices for up-close inspection, but for the widest selection as well as the best cost-savings for major whole-house purchases,online retailers offer the best deals. Check out the enormous selection at suppliers like www.leevalley.com and www.woodworkershardware.com.
Quick Tips for Hip Hardware
Style is a personal choice, but size is not, and the selection of cabinet and drawer hardware will be limited in size. When you remove a piece of hardware, you have to replace it with a new piece that fits the same mounting holes. Otherwise, your new hardware must cover the old holes.For paint-grade furniture pieces, you may get away with filling the old holes,repainting and drilling new locations, but this isn't recommended where woodgrain is exposed.
Removal and replacement is nothing but a screwdriver job,and if that confuses you, then you're reading the wrong website.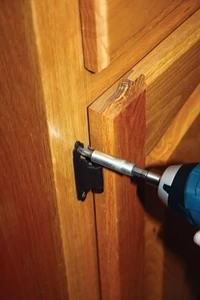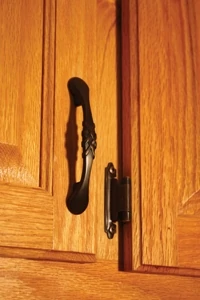 You may, however, come across an escutcheon–a plate behind certain types of drawer pulls–but these can be removed with a small cat's paw or (carefully) pried up with a putty knife.
When removing a door hinge, always remove the lower hinge(s)first, so the weight hangs from the top. When replacing a door, install the upper hinge first for the same reason.
Some hardware pieces, such as cabinet door handles, will have two mounting holes that you'll need to match precisely when replacing (the spacing is not universal). Measure the handle or pull between the center of the bolt holes, determining within the nearest 1/8 inch.
Store the old hardware until the replacement is complete. If the new bolts aren't the right length, you may be able to substitute old bolts for the installation.
When ordering hardware for framed cabinets, don't forget to order matching hinges. Not only should the finish match the decor, but the hinges must exactly match the size and shape of the old ones. For example,face-frame cabinets have a frame over the top of the opening and will require face-frame mounted hinges; other hinges have a recessed overlay. Decide how much overlay the hinges need to have. For cabinet doors that are completely on top of cabinet faces, choose a full overlay hinge. If there is only a partial overlay, choose a 3/8-inch inset hinge. For no overlay, choose a full inset hinge.(Frameless "European" style cabinets utilize a hidden hinge inside the face of the door, which completely conceals the hinge from sight.)
If you ever need to make new mounting holes in hardwood,always predrill the fastener holes to prevent splitting the wood.
To tighten a loose hinge screw, remove the screw and tap pieces of toothpick into the screw hole. Cut the toothpicks flush with the cabinet face. Reinsert the screw, and the toothpick material should tighten the connection.
SIDE NOTE 1
The "Invisible" Door Stop
Home hardware doesn't get much uglier than those old spring-style door bumpers that plague a home's baseboards like so many sore thumbs. Now, you can replace those unsightly door-stops with a bumperless system that mounts inconspicuously into the door hinge. To test it out, the EHT staff popped out the hinge-pin of a bedroom door and slipped in the DoorSaver II, a simple dual-cam device that can be custom set using an interlocking mechanism to resist the door opening at a predetermined swing point. This means homeowners can avoid wall dents and dings from wayward doorknobs, while also avoiding those ugly door stops. Visit www.doorsaver.com.
SIDE NOTE 2
Cheap trick: PaintYour Registers
Replacing an old, ugly metal HVAC register can rid the room of an eyesore. However, replacing a whole house full of them can get pretty expensive. The HVAC registers that came with our project house even had rust and old paint flecks spattered on them. We had three options: leave them as is,replace them, or paint them. Painting is definitely the cheaper option, and companies such as Rust-Oleum are making some very cool new spray-paint formulas that mimic the look of antique hammered metal, namely the copper, bronze and silver colors (although about 13 colors are available). I cleaned up the registers and painted them with Rust-Oleum's "Hammered Bronze," and they looked brand new and stylish–for a fraction of the cost of replacing them.Visit www.rustoleum.com.