Pro builder and radio personality shares tips on building the best deck.
David Billings hosts a home-improvement radio show in Birmingham, Alabama, home of Extreme How-To. I'm always tuning in Saturday mornings as I'm tooling around the house. It's a call-in show where listeners dial the station with their home repair questions, and David talks them through their improvement problems. The topics range from flooring and roofs to how to deal with nature's pesky critters that sneak into places where they don't belong. The show has a friendly, laidback, distinctly southern feel, so I didn't think twice when it came time to write a new decking article—I turned to my local deck-building radio expert. But first I wanted a little background on the guy who I only knew from the airwaves. Just how long had he been building decks?

David Billings: Decks go back along way. At age 16, I was the "cut man" or maybe I should say "cut boy," for a contractor who built decks on town homes. Now at the age of 42-ish and the owner of my own company, we have taken decks to a new level. It is no longer just the square or rectangular deck. Our clients are looking for the "wow" factor. This comes in many ways from deck style to exotic woods, and I never thought I would use the word "exotic" as it relates to deck building. From Brazilian woods, such as Cumaru and Jatoba, our clients are expecting more than just the basics.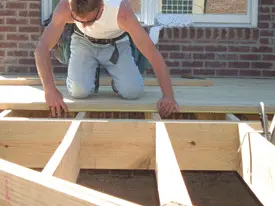 EHT: Tell us a little about your remodeling company and how you made the leap to radio.
DB: The name of my company, PENMARC Design & Renovation, is derived from the letters of my family. Penny, Marshal and Cason. PENMARC's primary focus is to the residential client that is not looking for the "Same Old Thing." I design according to their needs and wants. However, I am not a "yes" man. I believe that if you're going to spend money, you should be offered every possibility and option along with an honest, objective opinion. My father used to say, "Everybody has opinions, some good and some bad." I believe in creating a relationship with my clients, and if they are going to spend the money, I want them to get what they want. Sometimes they just don't know what they want. Opinions help. PENMARC will design projects from kitchen and baths to master suites and outdoor kitchens. We will tear off roofs and add second stories. The main goal is to be unique to the clients' desires and not use the same idea over and over again.
As far as radio … wow. Six years ago I put on a set of headphones with a mic and answered some questions from a local drive-time radio host. When I finished the interview, in passing, I mentioned "If your station ever wants to start a home-improvement show, call me and I will host it." Well, six years later not only am I still hosting, but I'm fortunate enough to own the Home 101 Show.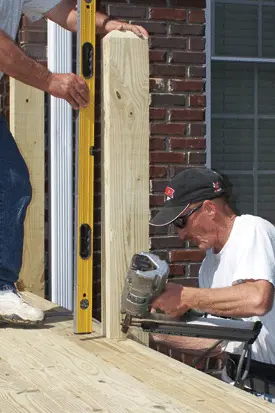 EHT: For our DIY deck builders at home, can you offer some advice on planning their deck? What are some of the primary issues that a homeowner should consider?
DB: When planning anything, preparation is key. Some questions I ask our clients are: How do you use the home? What type of entertainment, casual or formal? Typically, how many guest would you host on your deck? We also look at the family—the number of kids, their ages, habits and hobbies. Location is obviously important as it relates to the positioning the deck to the home, but I feel that how the deck is going to be utilized is the most important.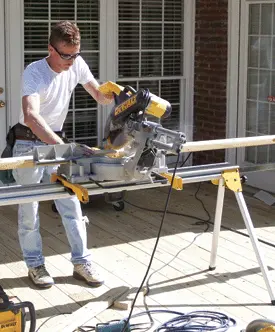 EHT: For your deck-building business, what materials do you prefer?
DB: Most decks are built using pressure-treated materials. As I mentioned earlier, customers are expecting more out of their decks, so exotic woods are very popular with us, too. Composite materials have been around for awhile now and carry a small portion of the market. Before you chose a composite material, you need to do a lot of research on the materials used to make the composite. TimberTech uses high-quality, virgin plastics, which makes for a stronger, better-looking system. For me, I still prefer God's composite. Regardless of the material used, always think about adding a design. Change up the direction of the deck pattern, or use a picture-frame design or an angled pattern.
EHT: I'd like to look at a few tips for folks who are about to build a deck. Starting from the ground up, how do you suggest anchoring the support posts?
DB: Always install your support posts on a sturdy foundation. The footing size should be twice the size of the support posts. Example: A 6-by-6 post should be set on a 12-by-12 base, with digging depths spec'd to the thickness and depth set by the freeze line.
Setting the post in the concrete or on a mount, or just on the concrete itself is personal preference. At PENMARC, we install a threaded rod in the concrete, drill a hole in the base of the post and epoxy the threaded rod so that when the post is set in place, it stays in place. Setting the post inside the concrete I believe will weaken the post due to moisture, creating problems over a period of time. By the way, that's just my personal opinion, and I'm not sure if any testing has been done to prove this could be a problem or not.
EHT: Nobody wants a bouncy deck. When framing the deck's support system, do you have any suggestions for a homeowner to ensure the deck remains sturdy?
DB: Always OVER-build. I use 2-by-6 for my decking but never for my framing. The smallest joist size used by PENMARC is 2-by-8, and most of the time I use 2-by-10. The difference in the cost of a 2-by-8 and a 2-by-10 is minimal, but the strength difference is substantial. I have been accused of over-building my decks … Let's talk again in 20 years. Blocking is not needed on our decks due to the way they are designed. Sturdy? Yeah, they're sturdy and spacing of joists on 16-inch centers ensures they stay that way.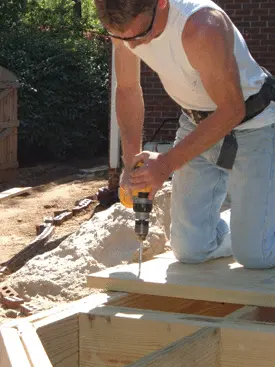 EHT: Any tips for DIY'ers who are installing the deck boards?
DB: It is common for the decking to be installed bark-side up to reduce cupping. However, some boards that are cut closer to the core of the tree have a straighter, tighter grain and cupping is reduced.
Fasteners come in many forms—screws, hidden clips and nails. Each offer certain benefits and drawbacks. I recommend that all deck and railing surfaces be screwed down, and the framing should be nailed with either ring-shank or spiral nails. Never use screws for the framing portion of the deck, because as the deck expands and contracts, the screws will break and so will your deck.
I design decks so I can use standard-length decking boards. I don't like butt joints. Typical lengths come in 8, 10-, 12-, 14-, and 16-foot lengths. I also use 2-inch-thick material and none of this 5/4-inch stuff. This makes for a stronger, longer-lasting surface.
As far as which way should the boards run … Well, this depends on where you enter the deck. I make sure that when you step onto the deck, the wood is running perpendicular to the way I am facing. This prevents me from being able to look between the boards. Instead, I'm looking across the boards. And as for the cupping of wood, as it relates to the framing, make sure the crown of the wood is facing up.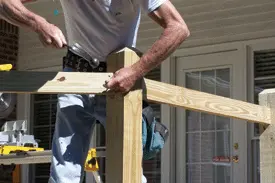 EHT: For a handrail system, what would you suggest for an appropriate rail height and baluster spacing?
DB: This question should be addressed to the code enforcement official for the area in which the construction is being performed. The height of the deck is the first factor in determining if a railing is even required. Most areas do not require a railing if the deck is less than 28 inches off the ground.  It is typical to install railing heights from 36 to 42 inches, with 4- to 5-inch banister spacing. This spacing was downsized from 6 inches, based on a study done determining at what point a child could get their head stuck between the banister, causing injury or death.
EHT: Can you suggest a regimen for maintaining the deck's quality and appearance over the years? Any particular cleaning techniques or products that you recommend?
DB: Let's start with the cleaning of a new(er) deck. Decks that are a year old or newer are easily cleaned with a quality cleaner like Deck Wash Pro and a garden hose. Only use a pressure washer if the deck is in severe condition, and if you really know how to use the machine. I have seen a lot of decks that have been ruined by pressure washers.
Most sealer manufactures will tell you to wait a full year before sealing the deck. I say seal when the wood is ready. How do you know? Well, look at the wood, feel it, and observe areas such as the separation between the deck boards. Depending on how long the wood has been stored at the lumber yard, you may be able to seal it immediately.
There are a lot of sealers on the market. Remember that just because a company does a lot of marketing of their sealer, does not necessarily make it a good sealer. TWP is a commercial-grade stain and sealer that will make your exterior wood projects look great and last a long time.
Whether your deck is old or new, make sure you inspect the deck on an annual basis. Look for loosening nails, splitting concerns, warping or checking of the wood, and make the repairs at that time. Don't procrastinate because when you do, it only gets more costly.
EHT: Have you come across any new tools, technologies or building materials that you would recommend to a DIY deck-builder?
DB: If I am speaking with a novice DIY'er, I have to offer this simple advice: "K.I.S.S."—Keep It Simple, Stupid. Don't misunderstand me, I am not calling the DIY'ers stupid, I'm just saying don't spend a lot of money on tools and equipment that you will most likely never use again. The new hidden fastening systems are great, but some need special tools.
EHT: Any last tips for our readers?
DB: One common amateur mistake is spacing the deck boards when installed. I recommend installing the decking tightly. As the wood cures, the spacing will come naturally. If you pre-space the boards, once the deck cures, your gap is too large.