Six Upscale Ideas Towards Creating All-Season Outdoor Living Spaces
Decks aren't just for summer anymore. These days, comfortable "outdoor living spaces" allow homeowners to enjoy the outdoors year round. Complete with such amenities as heat lamps, overhead sunshades and built-in seating, a summer-only deck quickly becomes an all-season outdoor living space with all the sophistication, look and feel of an inside room.
A well-designed and appointed outdoor living space can be a comfortable spot where the family can enjoy quality time together throughout the year. And with many stylish, durable accessory products available to enhance the comfort and convenience of backyard relaxing—the end result is a space that not only extends your living area, but also lifts your spirits.
Taking the time to incorporate some decorative and functional elements not only adds aesthetic flair, but also provides that cozy feeling to help extend the outdoor season year round. When inserting these elements into your outdoor living space, consider the following deck accessory ideas: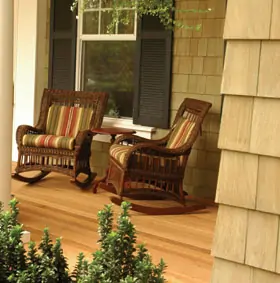 Moving Upward
When temperatures rise, glare and heat can deter backyard worshipers inside on summer afternoons. To help resolve this, many homeowners are incorporating sun-filtering structures atop outdoor living spaces. These "sunshades" let you enjoy the outdoors on even the warmest days, while providing protection from harmful UV rays and direct sun heat. Sunshade areas provide an ideal blend of shade and light—perfect as a retreat or a shady spot to cool off before going inside.
A nice touch to your sunshade is the addition of decorative canopy board ends. To create a custom end, finalize your design on construction paper and use it as a template to transfer your design to each board end. To ensure consistency, be systematic and symmetric in applying this decorative design to each canopy board. The possibilities are endless, but choosing decorative flair to complement the architectural feel of your house while matching any deck railing designs will add to the overall appeal.
Incorporate Nature
One of the easiest ways to brighten and improve any outdoor living space is with window and planter boxes made from all-natural Western Red Cedar. These stylish boxes are simple to build and can dress up your front or backyard when filled with colorful flowers, herbs, vegetables, etc. Best of all, the vegetation can be easily updated to keep the look fresh.
Seating & Railing Upgrades
One of the most popular decking trends involves adding stylistic upgrades throughout the entire decking area. For example, built-in Cedar benches are a great way to utilize longer stretches of decking with unobstructed views—while adding both style and function to the deck.
Decorative railings also offer a stylish, yet easy option when upgrading any deck. Incorporating railings allows you to create distinctive and unique designs, distinguishing your deck from others. And be sure you use one design throughout for a unified look.
Additionally, placing some weather-resistant furniture just outside the main deck entrance provides a smooth transition between indoor and outdoor spaces—inviting guests to move freely between each space. For a cohesive look, choose furniture cushions that visually tie the interior and exterior together.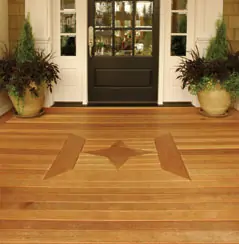 All (Warmed) Hands on Deck
When the night air turns cooler, patio heaters are great amenities to warm things up. These metal-clad space heaters are an increasingly popular means to extend the enjoyment of outdoor living well into the evening, while creating a warm glow for year-round ambience. These cost-effective heat sources radiate heat downward to warm a 12- to 20- foot area, and can be located almost anywhere. Best of all, they're safe, dependable and easy-to-operate.
Swirling With Spas
No matter where you live or what the temperature is outside, immersing yourself in a spa provides a relaxing way to get away from it all. There is nothing quite like lying in a bubbling spa, being massaged by gentle jets of water and looking up into a swirl of snowflakes. And these days, an endless combination of spa sizes and features are available to match every lifestyle.
You may consider installing some privacy screens and seating around the spa area as well. Built-in benches offer a place for people to hang out, and they dress up the entire decking area.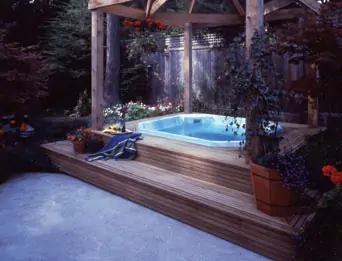 Decorate From the Deck Up
Speaking of dressing up decking areas, one of the best ways to instantly bring all-natural warmth and beauty to any outdoor living space is by using Western Red Cedar decking. Western Red Cedar adds character, balance and elegance to outdoor spaces—and provides a synchronized blend of all-natural materials that accentuates the natural surroundings yet gives the impression the outdoor space is an extension of the inside.
In fact, a unique way to accessorize the actual decking floor is to change the deck board direction; an angle change or unique board pattern provides the subtle indication that you're in a separate deck area.
"Many of my customers are requesting distinctive board designs lately. One of the most requested is an octagon inlay underneath a cedar table," says Tim Meisch, owner of Custom Cedar Decks in Mill Creek, Washington. "It's so unique that people often mistake it for a decorative rug." Another advantage of cedar: Not only does it exude all-natural charm and beauty, it is environmentally friendly and sustainable—in addition, many homeowners choose cedar for its natural resistance to mold and mildew.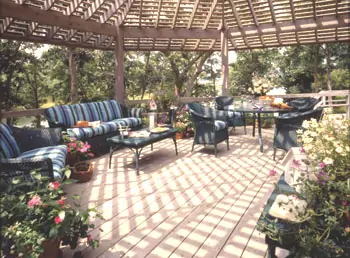 Additionally, recent advancements in UV blockers/inhibitors utilizing "nano" technology have significantly improved some cedar coatings. WRCLA affiliates such as Weiss Coatings are on the leading edge of this technology and have developed a product called "Solar Shield."  A combination of UV blockers, wood stabilizers and hi-performance resins have recently come into the market helping Cedar remain more "low maintenance" than ever before. The UV blockers break-down much slower, allowing for increased protection against the sun, more effective wood stabilizers help the wood retain its all-natural appearance and the hi-performance resin holds the finishing system together for increased protection. The end result deters the natural weathering process, protecting the Cedar for 5 to 10 times longer than before.
And there are several other, less obvious reasons why Western Red Cedar remains a favorite decking material as well. First, the color of all decking materials will gradually fade when given long-term exposure to the sun's UV rays. With plastic or composite decking, this color fade is irreversible. Deck owners must live with color differences that appear over time between sun-exposed and shaded areas of their original deck.
Fortunately, there is no such downside if you are building a deck from Western Red Cedar. Unlike plastic or composites, Real Cedar decks can be restored and refinished, providing a decking surface that looks virtually new. In addition, the surfaces of a Cedar deck can be touched up with sandpaper and stain to remove the inevitable "dings", scratches, and stains of a well-used deck. Such emergency repairs are bound to be necessary over the life of your deck, but with most plastic or composite materials, they're often not possible.
With the right planning and some decorative touches, you'll be able to create a safe and relaxing outdoor paradise that will become a welcome respite from the hectic pace of everyday life—regardless of the season!