The summertime weather tends to put most people in an outdoor frame of mind. And for most homeowners, the favorite outdoor retreat is the deck. With the latest tools and materials, homeowners have more options than ever when it comes to building and designing a deck. Here's a roundup of some of the latest deck-related products to hit the market.
EcoShield Deck Tiles
EcoShield Deck Tiles from AERT make it easy to enhance exterior surfaces and outdoor spaces. The deck tiles are fast and simple to install on patios, verandas, rooftops and virtually any level concrete or gravel surface. The tiles are manufactured using a patented process that encapsulates recycled wood fibers in recycled polyethylene plastic. Similar to composite decking, the unique product makeup resists rot, decay, moisture and insects. As an environmentally friendly product, EcoShield Deck Tiles contain a minimum 30-percent post-consumer recycled content, and 60-percent pre-consumer recycled content. The tiles snap together for simple and secure installation. Combine different patterns and colors to create unique styles for a personal touch. The tiles can also easily unsnap and be repositioned at any time to make new designs. Learn more at www.moistureshield.com.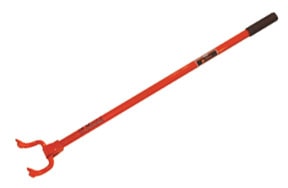 Deck Wrecker
Mayhew Tools has introduced a lean, mean new tool for demolishing a deck—the Deck Wrecker. With all steel construction, this 44-inch long wrecking bar offers superior leverage with a double pry bar head. By straddling the deck joists between the two prongs and utilizing a curved rocker design against the joists, it's easy to pry up deck boards while leaving the joist undamaged. Each prong also removes nails and screws with minimal effort, and the tips are narrow enough to fit between installed deck boards and start the decking removal with no other tools needed. The dual head of the Deck Wrecker is also wide enough between prongs to pry decking off doubled framing members, such as rim joists. Each Deck Wrecker comes with a foam handle grip and a powder-coated finish to resist corrosion. Visit www.mayhew.com.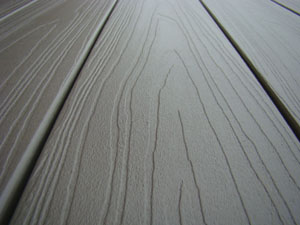 Fiberon Horizon Decking
The new Fiberon Horizon Decking products feature the latest patent-pending PermaTech technology that chemically bonds strong HDPE (High-density Polyethylene) and wood fiber with the most resilient surface material available. According to manufacturer Fiber Composites, the result is a low-maintenance outdoor product engineered to set a new standard for stain, scratch and mold resistance. Horizon decking is also easy to clean without the need for special cleaners. Fiberon Horizon Decking is as stylish as it is strong. Four rich designer colors (sand, brick, bronze and slate) require no painting or staining, and reversible boards provide natural woodgrain patterns. An environmentally friendly product, Horizon contains more than 50-percent recycled material and is backed by a 20-year limited warranty. Learn more at www.fiberondecking.com.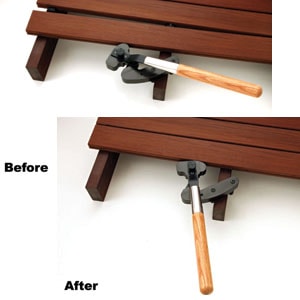 Hardwood Wrench
The Ipe Clip Fastener Company offers a new tool to help straighten bowed decking boards. The Hardwood Wrench is constructed of aircraft aluminum with a handle turned from solid hardwood. With simple one-man operation, it first locks onto the joist, and then the user swings the handle toward the bowed end of the deck board to straighten it in place. Once it's straight, just lock the board in place to hold it in a hands-free position while you install the deck fasteners of your choice. As the Hardwood Wrench cam locks into place it applies much more bending power than other methods of straightening deck boards to bend even the toughest hardwoods, such as ipe, as well as a variety of other materials like composites, treated lumber and cedar. The Hardwood Wrench is also adjustable to accommodate a variety of joist sizes. Learn more at www.hardwoodwrench.com.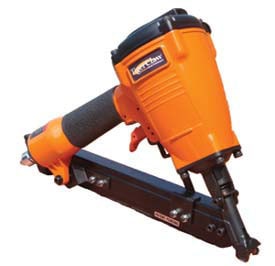 Tiger Claw Installation Gun
Tiger Claw's new semi-automatic installation tool can be used to quickly build a beautiful nail-free surface deck four times faster than traditional surface screwing. The installation gun can be used with Tiger Claw's TC-G hidden deck fasteners for pre-grooved boards. The gun drives a collated pneumatic screw in like a nail, but it can be removed like a screw. Simply slip the hidden deck fastener into the nose of the gun and position it in the groove of the board. The gun automatically enables perfect positioning of fastener and screw installation with the pull of a trigger, giving builders a one-step installation process for hidden deck fasteners.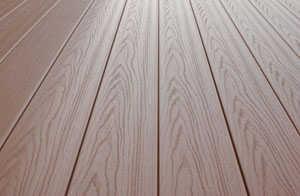 Genovations PVC Tongue-and-groove Decking
For a low-maintenance deck with fastener-free appearance, Genovations deck boards, made from solid PVC, utilize a tongue-and-groove system that provides automatic board spacing and completely conceals the screws. Produced in the U.S.A., these durable deck boards come with a lifetime warranty and are designed for quick and easy installation, requiring no expensive spacers or special fasteners. Only common deck screws are needed for installation, driven through a flange along the edge of the decking, which is then concealed by the placement of the next board in sequence. Genovations deck boards come in two profiles, 2-by-6-inch and the new 5/4-by-6-inch, and are available in four fade-resistant and stain-resistant earth tone shades (sandalwood, birchwood, cedar and driftwood). For more information, visit www.genovaproducts.com.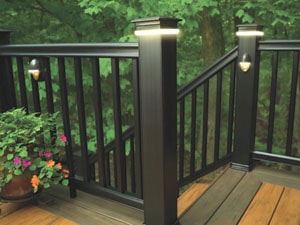 Timbertech Decklites
Featuring post cap lights, baluster-mounted accent lights, post-mounted accent lights, and stair riser lights, the new DeckLites product line from Timbertech is a customizable low-voltage lighting solution to stylishly illuminate the outdoor living space. The post-cap and baluster lights are specifically designed to fit TimberTech's RadianceRail and Ornamental Rail systems. Easy electrical connections let installers run up to 30 lights from a single 300-watt transformer. The new DeckLites are sold individually so homeowners and designers can create a lighting scheme that's ideal for each deck. Visit www.timbertech.com.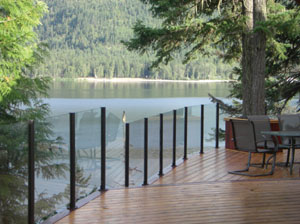 Falcon Topless Glass Deck Rail
For a high-end deck in need of a better view, Falcon Deck & Rail offers a patented topless glass system that eliminates both the top and the bottom railings quickly and easily. The patent is in the unique designer posts, which contain a rotating gasket for the installation of 10-mil glass. The Topless Glass System works with any deck shape. The unique design of the channels in this system allow the corner posts to accommodate angles from 45 degrees to 135 degrees, and the inline covers all the rest. The posts are stocked in three popular colors: Black, White and Oyster Grey. Custom colors are available on request. Falcon Railing manufactures and installs the system. For more information, visit www.falconrailing.com.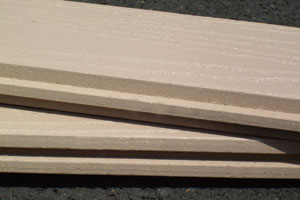 AZEK Porch
There's no doubt, any home's entryway takes a beating from foot traffic and weather. As  a durable, easy-to-clean solution. AZEK Porch planks provide a low-maintenance surface that resists stains, moisture, mold/mildew, scuffs, scratching, fading … and unlike materials containing polyetheylene and wood fiber, AZEK Porch can be used in covered or uncovered areas. Available in Brownstone and Slate Gray, these tongue-and-groove 1-by-4 planks install easily with traditional woodworking tools. Recently, the AZEK Porch tongue-and-groove planks have been classified for fire hazard areas by the State of California, one of the strictest fire codes in the nation. Learn more at www.azek.com.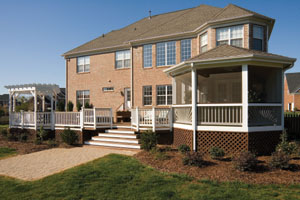 L3 Outdoor Wood
Wolmanized L3 Outdoor Wood is the first pressure-treated wood to be protected with a nonmetallic preservative. So, if you're into the "green" thing, then you'll be happy to hear that this new line of PT lumber is protected by an EPA-registered carbon-based preservative, which is listed in the GreenSpec directory of "environmentally preferable products," and it's even backed by the Good Housekeeping Seal.
However, even if you're a non-recycling, monster truck enthusiast and avid litterbug who burns his old tires in the backyard fire pit (but you occasionally build a deck), then L3 Outdoor Wood offers practical advantages for you, too. Previous types of treated lumber depended on copper or other metals in the preservative treatment. The problem with those metal-based preservatives is that they didn't get along well with other metals, meaning they caused a galvanic reaction that contributed to corrosion of metal hardware. Copper, for example, doesn't mix with aluminum, so when flashing a ledger board the installer would previously need to include a barrier between wood and flashing or use copper flashing rather than aluminum to prevent a reaction. With L3, using aluminum flashing is no problem at all. Plus, the previous metal-based preservatives were tougher on woodworking equipment like blades and drill bits, because they were cutting through metal particles in the wood. With no metal content, L3 Outdoor Wood causes less wear to bits and blades. Plus, it has a built-in water repellent and it's easily paintable for use on decks, fence boards, railings, trim, molding and other out-of-ground applications. For more information, visit www.wolmanizedwood.com.