It won't be long before the weather breaks, and everyone is back to building outdoors. The time to plan your new deck is at hand, and here's a roundup of new products to consider for the project.
Deckorators Voyage Composite Decking
Deckorators has expanded its line of wood-alternative decking with the launch of Voyage (pictured). This new line of composite decking features patented Eovations technology. Like other members of the Deckorators Eovations decking family, Voyage delivers the industry's best strength-to-weight ratio, absorbs virtually no moisture, and allows virtually no thermal expansion or contraction. Voyage adds to these benefits unique textured embossing for superior traction on the deck surface, along with the bold look of vertical grain variegation. The textured embossing offers homeowners the enhanced safety of superior traction underfoot in both dry and wet conditions. Deckorators Voyage decking provides 34 percent or greater surface traction than other leading brands of composite decking. Voyage is also 35 percent lighter than most wood-plastic composite decking and similar in weight to PVC for easier handling on the job site, but it's twice as strong as PVC decking in terms  of stiffness-to-weight ratio for superior durability. Visit www.deckorators.com/deckexpo.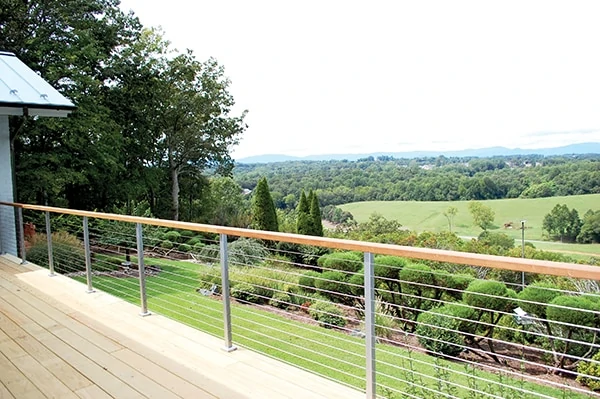 Atlantis Rail  Cable Railing
Atlantis Rail offers a complete line of stainless steel and aluminum cable railing systems. These low-maintenance railings feature unobstructed views that fit any indoor or outdoor, commercial or residential design. Enjoy the streamlined look of the RailEasy models that mix traditional wood or vinyl with the modern look of stainless steel. The NOVA II System combines stainless steel cable railing with aluminum posts and rails. Atlantis also offers a line of concealed hand swage cable railings called the HandiSwage Systems. For a completely stainless steel cable railing system, Atlantis Rail offers the SunRail line that features an easy installation while achieving a custom look.
Atlantis Rail's Spectrum System is a cable railing system that features pre-drilled square posts and fittings to surface- or fascia-mount posts and mount customer-supplied flat handrails. The posts are powder-coated stainless steel and available in standard colors of black or metallic silver (and special colors of pure white, pebble grey, light brown and dark brown). There are many additional features that can be added to the Spectrum System, including handrail mounting brackets to add an ADA -compliant handrail. Visit www.atlantisrail.com.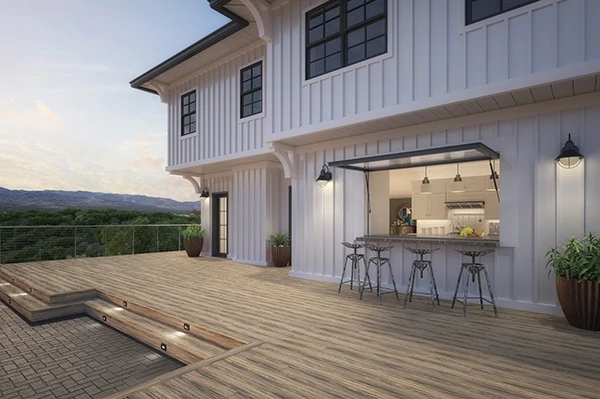 Deckorators by Hinkley Lighting
Deckorators has collaborated with Hinkley Lighting to bring an elegant new line of low-voltage lighting to outdoor living: Deckorators by Hinkley Lighting. The Hinkley brand creates indoor and outdoor lighting that is refined but with a modern point of view, crafted with a blend of innovation and artisanship. Deckorators by Hinkley Lighting delivers a wide selection of 12-volt LED post cap, step light and deck sconce low-voltage options to coordinate with Deckorators composite decking and railing. All options offer ease of installation, exceptional illumination, and a five-year LED and manufacturing defects limited warranty. Visit www.Deckorators.com/Hinkley.
CTA Outlast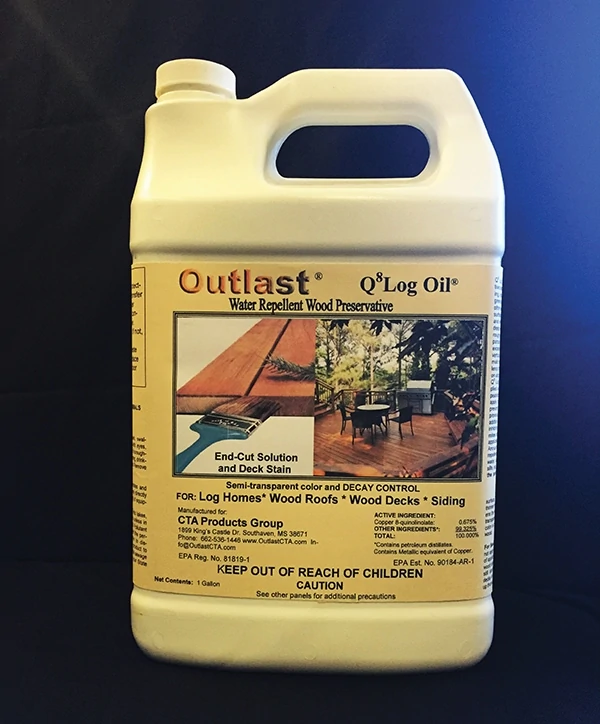 Manufacturers of treated lumber are adopting a new guideline in their manufacturer's warranty: Specifically, it you don't coat your end cuts with a preservative—and use the correct preservative—then your treated lumber won't be covered by the manufacturer's warranty. Enter CTA Products, which offers Outlast Q8 Log Oil containing the required oxine copper to treat end cuts. In fact, Outlast Q8 Log Oil is the only deck stain end-cut product on the market, so you can achieve your desired wood color along with the required protection in a single application. Choose from six color tones, including Natural Base, Light Gold, Medium Gold, Medium Reddish Brown, Dark Brown and Barn Gray. You can learn more about end-cut preservative treatment at www.outlastcta.com.
WiseCoat Water-Based Hardwood Finish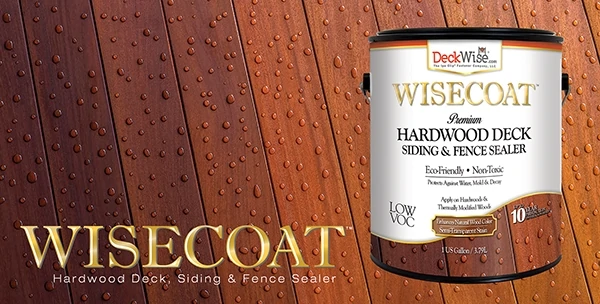 Lately, there has been much talk over new regulations regarding lower VOC levels in wood coatings and finishes. If you need a solution for local and state regulations or just want a new finish option for your wood project, consider WiseCoat by DeckWise. While the DeckWise flagship hardwood finish, Ipe Oil, is already a low 250 g/l VOC, the company has a new 53 g/l VOC environmentally friendly finish to offer in the WiseCoat Premium Hardwood Deck, Siding & Fence Sealer. If you live in an area with current low-level VOC regulations, you are already accustomed to the benefits of a low-VOC wood finish. You will be glad to know this waterproofing sealer for hardwoods or thermally modified wood is a one-coat application finish. It sinks in deep to coat the microscopic wood fibers and is guaranteed to impede water intrusion for up to 10 years on vertical surfaces and 6 years on horizontal surfaces. WiseCoat finish prevents the harmful effects of mildew and mold, dry rot, cupping and peeling of most any wood specie. As a non-film forming finish, it allows wood to age naturally and its semi-transparent tint adds UV blockers to prevent your project from graying, while enhancing the natural wood grain. Visit www.deckwise.com.
Insta-Rail Tube Kit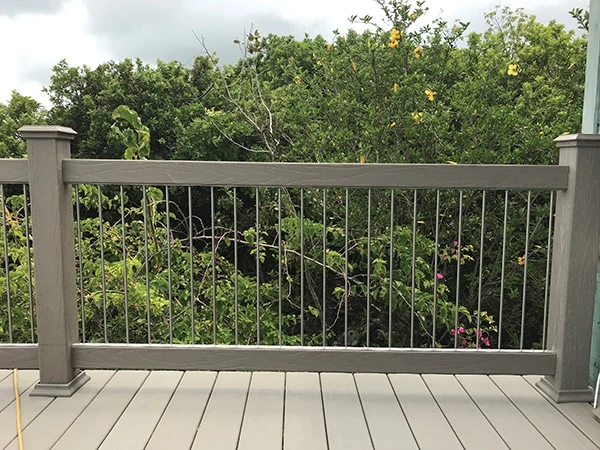 The Insta-Rail Tube Kit 36″ is a stainless steel vertical infill kit for existing or new deck projects. Note: This product is not a cable rail. The kit requires a distance of 24-1/2 inches from top to bottom rail and will fill up to 72-in. width. The kit width can be cut to fit. Spacing between vertical tubes is 3-1/4 inches, and the Tubes are 3/8-in. diameter. All components are made from stainless steel. The kit includes mounting channels, studs, anchors and tubes. The Insta-Rail Tube Kit offers fast, easy installation with basic hand tools. Visit www.dolleusa.com.
Sure Hold Fascia Board Screw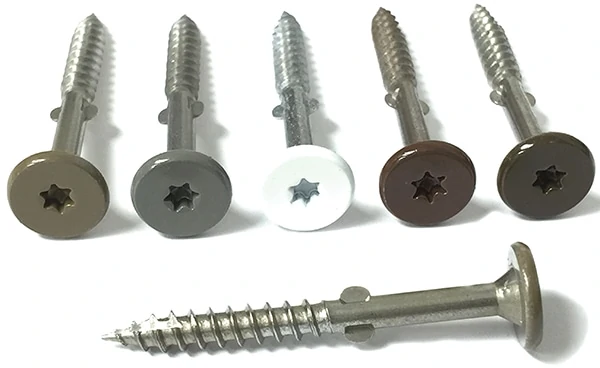 Sure Drive USA has launched a new composite fascia board screw that installs without the need for an expensive countersink bit. The Sure Hold fascia board screw has been designed with wings that auger through the fascia and trim board, creating an oversized hole. The oversized pilot hole allows for the expansion and contraction movement and keeps fascia board panels straight. No pre-drilling is required to install this superior engineered fastener. The Sure Hold fascia board screw has a self-starting Type-17 auger tip that eliminates splitting and starts faster. Made from strong 410 grade coated stainless steel, these screws will hold up to a variety of extreme weather conditions. The oversized flat top head design covers the oversized pilot hole and comes in a variety of colors. Mahogany, Earthtone, Graystone, Ipe and White painted heads are available to match your composite fascia board project. Visit www.suredrive.com.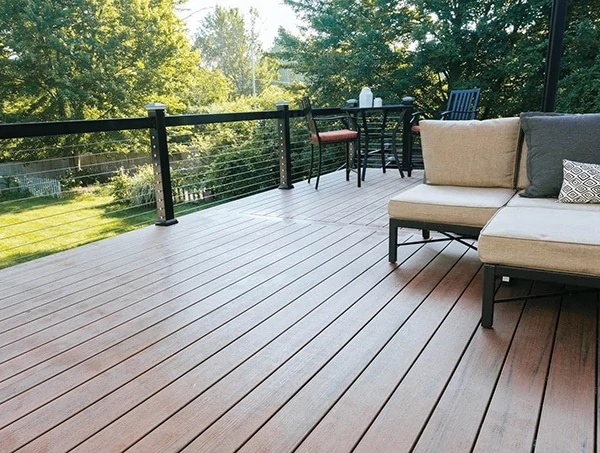 CAMO Drive with EdgeClip and EdgeXClip
National Nail's CAMO deck-fastening innovations can install decks up to 5X faster than traditional methods. The new CAMO Drive, a collated, ergonomic standup tool that attaches to any drill, offers three fastening methods—Edge, Clip and Face. The CAMO Drive is easy-to-use, versatile, and easy on your body. CAMO also offers the new EdgeClip and EdgeXClip for installers who are frustrated with clip installation. The Never-Miss Guide included in every EdgeClip and EdgeXClip pail, makes installation faster. For extremely fast installation, use the Camo DRIVE with the Clip Guide. A deck installed very quickly with new CAMO tools creates a smooth, fastener-free surface that is beautiful and barefoot-friendly. Visit www.camofasteners.com.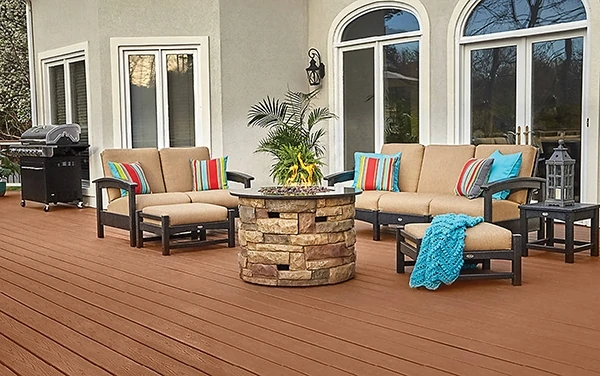 Trex Enhance Composite Decking
High-performance, stellar looks and affordability in a composite deck board? The newly re-engineered and expanded line of Trex Enhance composite decking combines the beauty and durability of Trex's composite decking with pricing designed to put the pressure on treated lumber. The updated Enhance decking collection is part of Trex's 'good, better, best' decking line-up, all backed by 25-Year Limited Residential and Fade & Stain warranties. Differentiating the reimagined Enhance line-up is a scalloped profile that is lighter weight for easier handling and installation. This innovative design also contributes to its lower price. Enhance Basics offers the performance and beauty of Trex in three proven and popular shades, ideal for DIY'ers with its unprecedented affordability. Enhance Naturals introduces five contemporary, multi-tonal hues that resemble the streaked looks of natural wood. Just like Enhance Basics, Enhance Naturals won't rot, warp, crack or splinter, and maintenance is hassle-free. Spills wash off easily with just soap and water. Enhance requires no sanding, staining or painting, and its protective shell defends against severe weather and heavy foot traffic. For homeowners seeking unparalleled performance and aesthetics, Trex's flagship Transcend collection continues to reign with 10 premium shades, including five monochromatic Earth Tones and five multi-tonal Tropical hues featuring high-definition grain patterns. Visit www.trex.com.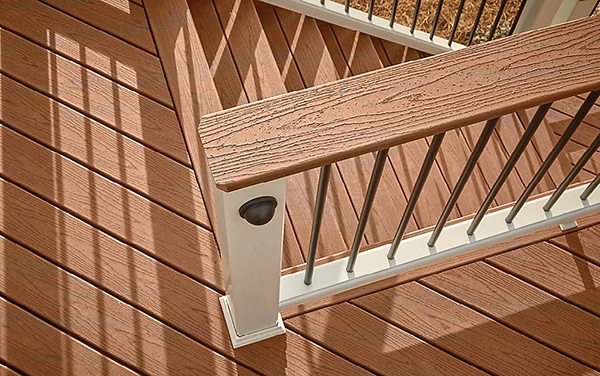 Deckorators ALX Classic Aluminum Railing
Durable yet minimal, Deckorators ALX Classic aluminum railing now comes in Weathered Brown, a popular color that can add a warm, natural finish to a deck. ALX Classic aluminum railing in Weathered Brown is available in 6- and 8-foot lengths and 36- and 42-inch heights with Deckorators Classic or Estate balusters. The product is easy to install, whether deck builders choose the preassembled or top and bottom rail kit option. Post and stair kits are sold separately. Weathered Brown joins Satin Black, Matte Black and Textured White in the ALX Classic aluminum railing color lineup. ALX Classic railing is covered by a lifetime limited warranty on manufacturing defects and powder coating and a 25-year removal-and-replacement warranty. Visit www.deckorators.com/ALX.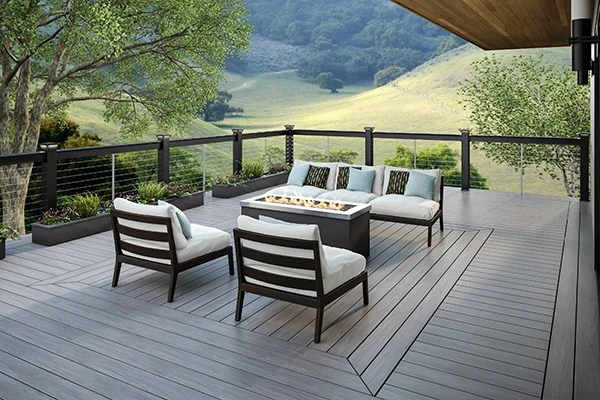 Trex Transcend Railing Kits
Trex has applied its "make it easy" mantra to selection of a railing system. To help take the confusion out of the railing selection process, the design team at Trex has curated railing pairings for every shade of Trex decking. Simplifying things even further, the company is now offering six of its most popular Transcend railing combinations in packaged kits.
All of the kits are offered in 6 ft. and 8 ft. horizontal, 8 ft. stairs, and 36-inch and 42-inch height dimensions to suit any outdoor living space. Visit www.trex.com.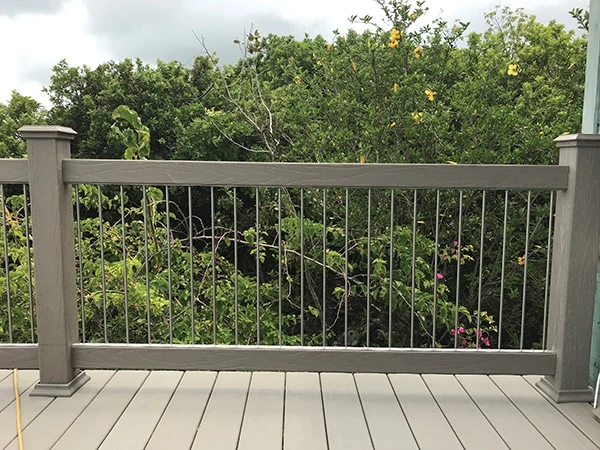 Deckorators SLX Cable Railing
Featuring sleek stainless steel posts and cable, new Deckorators SLX Cable Railing creates pristine outdoor views. Thin, modern, stainless steel 2-3/8-in. posts are available in 36- and 42-in. heights. Predrilled intermediate InvisiPosts come in 36- and 42-in. heights, while 1/8-in. cable is available in lengths up to 50 feet. The system features a stainless steel graspable handrail. SLX Cable railing is backed by a 25-year limited warranty on manufacturing defects. Visit www.deckorators.com/SLX.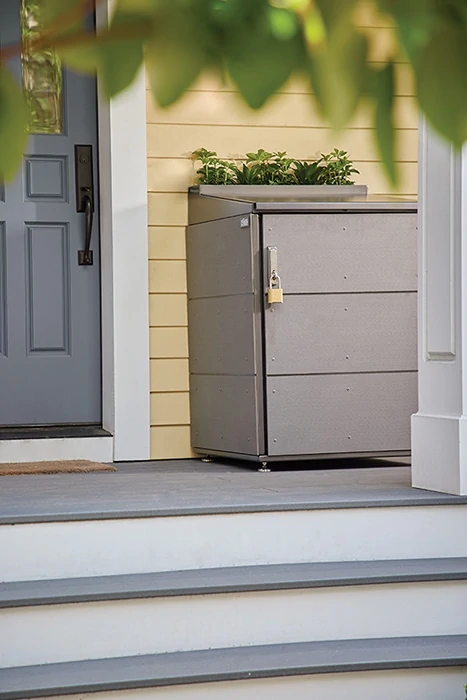 ParcelBin
The rapid growth of online shopping has been accompanied by an increasing problem: parcel theft. In response to the epidemic in porch piracy, ParcelBin is a lockable container that securely holds packages delivered when residents are not at home. The security latch is designed to work with most analog and smart-lock systems, including August Smart Lock and Amazon Key. ParcelBin comprises a fully enclosed powder-coated aluminum shell with recycled bamboo composite siding. Available in three finishes, it can be shipped free to any address in the continental United  States. Visit citibin.com.