Deck Makeover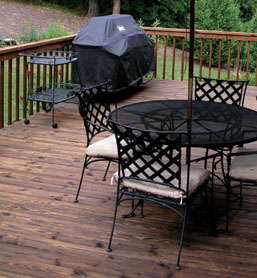 Simple Steps to Clean and Stain
The week after the July 4th holiday I found myself with some extra time on my hands for the first time in 11 years. The previous 11 Julys were filled with organizing one of the largest youth football programs in the Southeast. My kids are playing school ball now, and I've been commissioned to do some of the regular home-maintenance duties that have been neglected over the years.
We love to spend our evenings outside on the deck. Grilling out and relaxing with a cold beverage are part of the spring and summer traditions we enjoy. The deck has been long overdue for a cleaning and desperately needed some new color and protection. I was forced to do most of the work in the evenings and on the weekends. Mainly because I have a day job and secondly due to the unbearable July heat.
The deck had been previously stained about three years before with a synthetic coating that had held up pretty well. The first step was cleaning the deck. I used a strong wood cleaner from Armstrong-Clark. In order to remove as much of the old stain as possible, I was required to use a pressure washer after the cleaning. I used the Campbell Hausfeld PW2502 pressure washer. It is a gas-powered unit that offers 2,500 psi. I was able to set the adjustable nozzle for a wider spray to cover the width of a single deck board. This made the job easier than pressure-cleaning jobs I'd done before with older model washers. You have to be careful not to get the nozzle too close, or you will get into the wood and create rough spots on the deck surface. I let the deck dry for 48 hours after washing.
I was then ready to begin the stain application. I chose Armstrong-Clark semi-transparent Cedar Tone. I wanted to go with something different, so I decided that this time around I would go with the rich look of an oil-based stain. Oil-based stains typically require only one coat of coverage, which was a welcomed relief, and 1 gallon can cover 200 to 400 square feet. Armstrong-Clark stains contain water repellants and are known for their long-lasting protection.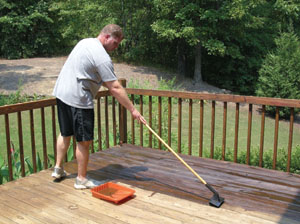 I strongly recommend using brushes and rollers to apply the stain. You'll get a more even finish. I used a 3-inch brush and small 2-inch roller for the rails and pickets. I used a deck pad (this tool is surefire back saver) to apply the stain to the deck boards. This works great with a long broom handle, as you don't have to get on your hands and knees. Allow the stain to dry for 24 hours.
The southern pressure-treated pine responded beautifully to the stain, and I was able to achieve the look and feel of a new deck.
For more information on wood stain applications, visit Armstrong Clark.
For an update to this article, read our blog post-Deck Makeover Update
---
Recommended Articles