Decks are such a hot item for today's home. There seems to be no limit to the new innovations, helpful accessories and decorative accents that are hitting store shelves. Here's a look at a few of the latest.
Hidden Deck Fasteners
One popular trend for today's decks is the use of "invisible" fasteners that eliminate any noticeable trace of screw-heads or wood holes, giving the deck a sleek, uniform appearance. Aside from being unsightly, screw holes can allow moisture to enter the deck and cause water damage. Hidden fasteners are also designed not to pop up the way nails or screws can – good news for people who enjoy walking their deck in bare feet.
If you want to hide conventional deck fasteners, try this: First, drill a 3/8-inch forstner hole, and then drill a 1/8-inch pilot hole. Then drive the screw. Next, make a bunch of wood plugs with a plug cutter. Then epoxy a plug into each hole. Then sand them flush, and then sand the rest of the deck to match the sanded plug areas. This is a lot of work.

EB-TY offers one alternative – a hidden system that uses ultraviolet-resistant polypropylene fasteners that secure the deck board. The fasteners function as a biscuit joint, fitting a rounded slot in the edge of the board. To use this system, the first board is fastened with screws (the holes are countersunk and plugged). EB-TY also recommends using a construction adhesive on each joist, about 3/8-inch wide. Now the easiest approach to installing these hidden fasteners would be to use the Correct-TY system. EB-TY has partnered with CorrectDeck Signature Series decking to offer pre-grooved Correct-TY Signature Series Decking. With Correct-TY deck boards, simply place fasteners in the slots at each joist. Install one 2 1/4-inch stainless steel head screw in each fastener at a 45-degree angle and tighten snugly. Place the next board so the slot slips over the exposed fastener and repeat the process as you move from board to board, using the fasteners in conjunction with adhesive. The Correct-TY fasteners automatically provide 5/32-inch spacing between the boards.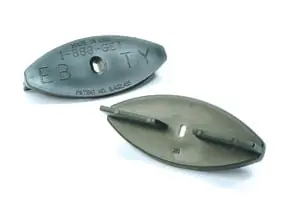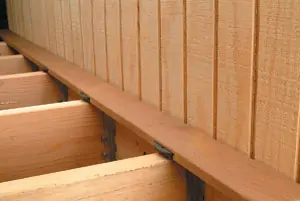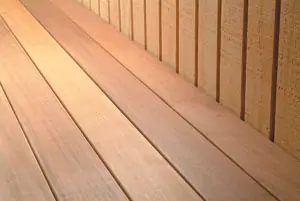 Easy enough, right? EB-TY offers this fastening system for all decking materials, wood and composite. However, if you don't use the pre-grooved boards, then at the joist intersection of each deck board, you'll have to cut a slot using a 1/8-inch router bit or plate joiner (biscuit cutter), so the bottom edge of the EB-TY fastener will be flush with the deck board. This adds a lot of labor to the installation. 
Another popular "hidden" system comes from Tiger Claw. Constructed from hardened, heavy-gauge stainless steel, these fasteners feature sharp, pointed tines on each side that are hammer-driven into the edge of the deck boards using Tiger Claw's simple installation block. Common decking screws are then driven through the  fastener, securing it to the support. The next course of decking is driven onto the protruding tines with a long sledge hammer (a 2-by-4 is used along the edge of the deck board to absorb the direct hammer blows). This  system does not require slots in the edges of the deck boards to accept the fasteners. Tiger Claw offers hidden fasteners for softwood, composites and hardwoods, as well as a new marine deck fastener.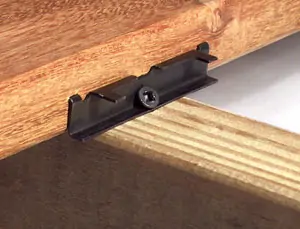 Each of these systems achieves a handsome nail-free surface, and according to the manufacturers, both hidden systems will reduce splitting, splinters and board cupping.
Over and Under
For homeowners looking for a "floor-like" appearance for a low-maintenance deck, vinyl covering may be the answer. Vinyl coverings are slip-resistant, mildew-resistant and waterproof. The vinyl membranes are installed over wood or concrete, which significantly cuts down on deck maintenance because there's no visible wood to paint or stain each year. They withstand normal pedestrian traffic and require little more than the occasional spray with a garden hose to keep them looking new.
Installation of these systems is fairly straightforward for the DIY'er, as the single-ply membrane is basically rolled over and glued to the substrate and fastened at the edges with vinyl or aluminum termination bars. The seams are heat-welded together to ensure a water-tight seal.
DeckRite offers a 0.05-inch-thick membrane with a 7-year limited warranty. DecTec offers a 0.06-inch-thick membrane with a 10-year limited warranty. Each company offers its vinyl covering systems in four colors.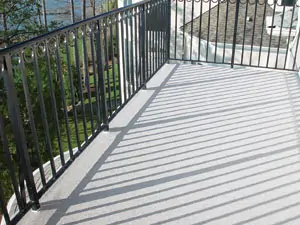 UnderDeck is a new maintenance-free vinyl ceiling system that installs to the underside of second-level decks. It creates a clean, dry area beneath the deck and provides positive drainage away from the home, allowing you to use your below-deck space rain or shine. The system allows you to screen-in your porch without all the expense and hassle of constructing an entire roof structure over your upper deck. This system is more complicated to install than the vinyl coverings, but a smart do-it-yourselfer could complete the project in a weekend. The Underdeck system is available in three styles and two different colors, each with 15-year limited warranties.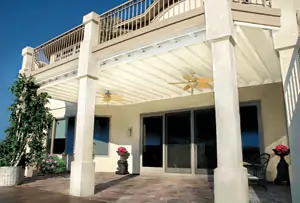 Deckorations
Many homeowners dress up their decks with artful rail-and-baluster systems using fanning wooden pickets, decorative post caps or even the old-fashioned look of wrought iron.
Companies such as Deckorators offer easy-to-install baluster systems to spruce up tired decks. "Our balusters offer the look of wrought iron in rust-free aluminum, which means our decks can take on a more distinctive, high-end look without costing a whole lot more than traditional wooden pickets," says company founder Kelly Jones. According to Jones, the company has developed special baluster, stair and railing connectors that eliminate the need for drilling. This significantly cuts installation time when compared to past installation methods.
For 2005, Deckorators has introduced the decking industry's first glass baluster. The 4-inch-wide, beveled glass balusters are made of high-quality 5/16-inch tempered glass and are ideal for installation on decks where the goal is to maximize the view.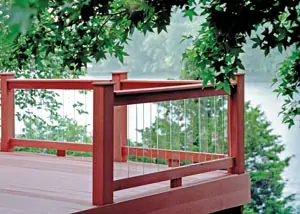 Another way to maximize the view is to shed a little light on the area. Homeowners can choose from options such as post-cap lamps, under-rail rope lighting, in-deck lighting disks and more.
Companies such as Bellacor, Progress Lighting and Sea Gull Lighting offer a wide variety of options from standing, hanging or wall-mounted lamps to low-voltage landscape lighting to illuminate the area surrounding your deck. Sea Gull Lighting offers the Ambiance Recessed Brick Light, which can be installed in a wall to brighten the deck while remaining completely unobtrusive to the deck space.
As you can see, there is a lot of bells and whistles to consider for your next deck-building or remodeling project, so take the time to do a little research and find out what's available. Have fun shopping.