Code Changes are Coming
Professional deck-builders and DIY'ers alike should take note of a few upcoming changes to deck-building codes. Representatives from NADRA (North American Deck & Railing Association) recently attended the International Code Council Committee Action Hearing for the creation of the 2021 International Residential Code and posted a blog about the updates discussed at the hearing. Here are the highlights in a nutshell, according to Glenn Mathewson, MCP – NADRA Technical Advisor.
Guard Posts
RB185—The most collaborated proposal was related to guard post installation. The update prohibits the notching of 4×4 posts and includes code language requiring a post to be secured into the adjacent framing of the deck, not just the single rim board. However, no specific hardware was specified, keeping the code generic and flexible. The proposal was approved.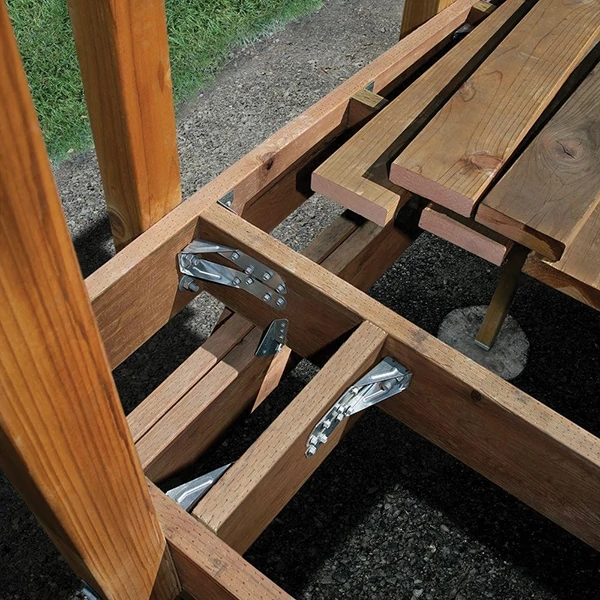 Deck Foundations
RB187—According to NADRA, this was a fairly simple proposal to make better sense of various deck foundation types, minimum depths and frost-depth exceptions. One clarification made was that decks attached to non-frost-protected structures, such as detached garages or sheds, will not have to themselves be frost protected.
Beam Spans
RB190—This proposal makes beam design for decks much more flexible. The current table in the IRC for sizing beams is based on the span of the joist supported by the beam, but it assumes those joists are at their maximum allowable cantilever beyond the beam.  For decks with flush beams and no cantilevered joists, the maximum beam span is incredibly conservative. NADRA proposed a footnote modification method that will allow the table to be more flexible and alter the values based on the lesser amount of cantilever. The example used in the proposal showed how a beam without cantilevered joists was still being limited to a maximum 7 foot 4 inches, but with the new footnote modification would actually be able to span 9 feet. The committee agreed that this was a much-needed flexibility to the table and approved the proposal.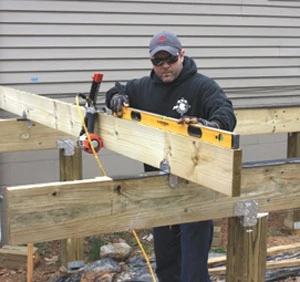 Joist Spacing
RB 191—This is a proposal that deck builders may not be thrilled about. The maximum joist spacing of different thicknesses of wood decking assumes each board is spanning at least two joist bays, bearing on three joists. The code change maintains the maximum joists spacing for decking supported on at least three joists, but reduces the maximum spacing for decking supported by only two joists. For these short lengths, the maximum joist spacing will be approximately half.
To learn more about deck code updates and the evolving state of the deck-building industry, visit NADRA.org.
Side Note
Enhance Your Deck Design
Pressure-treated pine has been a deck builder's go-to product for decades. With its natural beauty, affordability, strength properties and versatility, it's a tried and true solution that brings outdoor living dreams to life. And while following building codes is always a must, there are many opportunities to flex your creative muscles to make each project unique.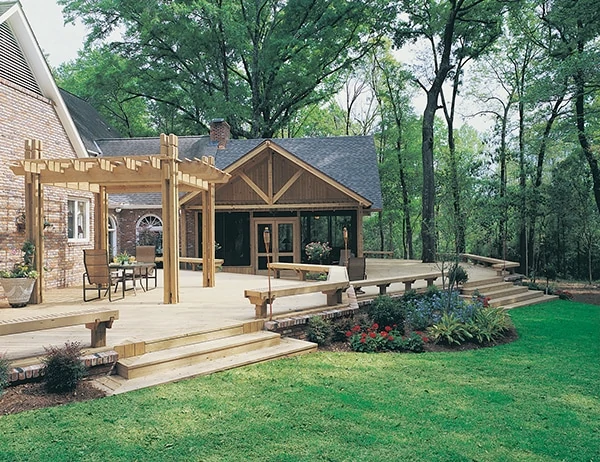 One of the easiest ways to show a little creative flair is in the railing. Rather than simply settling for vertical balusters or turned spindles, have some fun and explore distinct designs that complement the home's architectural style. When using YellaWood brand treated 2x2s or 2x4s, there are a wealth of options to explore, all of which will ultimately provide finishing touches to the deck. Chippendale, Southern Cross and countless other options are easy to create and make a huge impact when it comes to curb appeal.
Since homeowners are often looking to expand beyond the confines of their home, it's important to solve for a way to organize outdoor living into focused rooms. A clearly defined outdoor kitchen may be the first thing homeowners are looking for. But planning and building can't end there. Consider how to extend the space and increase functionality with things like seating space for eating, or exterior storage or increased privacy through screens, lattices or custom built, hanging decorative panels. When you design through the lens of how the treated pine can be transformative and create several outputs rather than just one, you'll build a happy customer for life.
As you work through the finishing touches of a deck project, consider including a pergola. Continuing to be extremely popular, they create shaded areas that can be enjoyed throughout the year. Plus, they don't have to be stand-alone structures. Instead, you can incorporate complementary designs across the deck to tie everything together.
When it comes to building outdoors with pressure-treated pine, the only limit is your imagination. Visit www.yellawood.com.