Energy-efficiency is a hot topic these days. The campaign is everywhere from hybrid cars to ex-vice presidents. But politics aside, one thing we can all get on board with: lower energy bills. Concerned homeowners can now look for materials and appliances with the Energy Star logo—a government-backed symbol indicating the item in question has met the Department of Energy's stringent criteria to be dubbed an "energy-efficient" product. More than 50 different product types carry the Energy Star logo, including appliances, lighting, windows, doors, and heating and cooling equipment.
In fact, the U.S. Environmental Protection Agency (EPA) is now working with homebuilders across America to erect Energy Star homes, constructed with the certified products and materials. According to the EPA, by purchasing an Energy Star-qualified home, "you can have all the features you desire in your home, plus lower utility bills—all while helping to prevent greenhouse gas emissions." These Energy Star-qualified homes reportedly deliver $200 to $400 in annual savings.
Of course, most of us don't live in these "qualified" homes, but we all want to cut down on energy bills. To that end, we can apply many aspects of the Energy Star initiative to our existing homes. Homes that earn the Energy Star incorporate a variety of features, and the following top the list:
High-Performance Windows
Windows with advanced coatings and construction help keep heat in during winter and out during summer. Energy Star windows also block damaging ultraviolet sunlight that can discolor carpet and furnishings. "Older windows can lose their efficiency," says Bill Lazor, senior product manager with Simonton Windows. "They can actually suck the life and energy out of a home, causing heating and cooling bills to soar." Lazor notes that windows should typically be replaced about every 20 to 25 years.
The ideal window selection for homeowners is an insulated glass unit made of at least two pieces of glass sandwiched together with a thermal spacer and then filled with either an Argon or Krypton gas. "Gas-filled insulating units, where the invisible gas is hermetically sealed in the window unit, is an excellent barrier," says Lazor. "The more barriers that separate the inside of your house from the exterior, the stronger your protection from heat gain or loss."
The right glass is another issue. "Low-E glass is a 'must' if you want to maximize the energy efficiency of your windows," says Lazor. "Tinted and clear glazings (or coatings) help prevent the transference of heat, cold and sunlight into the home." The transparent metallic oxide coating on the glass surface allows short-wave energy to pass through but reflects long-wave infrared energy.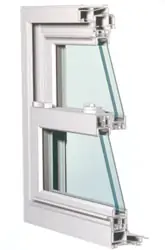 Effective Insulation
The right insulating material keeps you cool in the summer and warm in the winter, without overworking your HVAC system. Properly installed and inspected insulation in floors, walls and attics ensures even temperatures throughout the house, while using less energy. This means a cozier and quieter home.
Although fiberglass insulation batts are an acceptable insulation method, the batts allow air to flow, and can also compress and sag, which reduces the R-value. Or worse, fiberglass and cellulose insulation can both absorb moisture, leading to mold growth. As an alternative, many homeowners are choosing the newer spray foam insulation.
For a better thermal envelope, the sprayed-in polyurethane foam expands to about 100 times its original volume to fill air gaps between the framing studs in the walls and attic. By conforming to cavity shapes and sealing around wall features, spray foam insulation reduces air infiltration much better than standard fiberglass batts. That's a big benefit, considering that government energy reports estimate 40 to 50 percent of a home's heating and cooling loss results from air flowing through the building envelope. Spray foam insulation is also non-toxic and usually has a lifetime guarantee.
And as the house expands and contracts over time, so does the foam insulation. This eliminates cracks and spaces for warm air to escape. For more information on spray foam insulation, visit www.sprayfoam.org.
Tight Construction and Tight Ducts
Advanced techniques for sealing holes and cracks in the home's exterior envelope and in heating and cooling ducts can do wonders. Tight ducts and construction help reduce drafts, moisture, dust pollen, pests and noise. A tightly sealed home also improves the overall comfort and air quality of a home's interior. Some simple maintenance can pay off big. Caulk all windows, doors and wall penetrations. Add weather-stripping where necessary to obstruct air flow. Use a can of spray foam insulation to fill any large wall cavities.
When it comes to ductwork, many homeowners have drafty and noisy metal ducts, but fiberglass is another option. Fiberglass ducts can offer 75 percent more energy efficiency than plain sheet-metal. Fiberglass ducts also deliver air where it belongs, reducing hot and cold spots in the house, and they reduce air leaks because they're sealed eight times better than metal ducts.
The house foundation is another notorious problem area. For example, while many homes have poured concrete or block foundations, these basements can leak air and water. One new method of construction is the Xi wall foundation system from Superior Walls. Made with Energy Star-qualified DOW Styrofoam, the Xi systems are steel-reinforced concrete panels that create a permanent barrier against sidewall water penetration in the home. Factory-constructed and delivered to the jobsite, the panels are custom designed to complement any architectural style. "The Xi wall is the most advanced wall system available," says Aaaron Schoenebereger, director of marketing for Superior Walls. "Nearly every part of the foundation wall is insulated, including the corners, studs and bond beams." Learn more about the new Xi system at www.superiorwalls.com.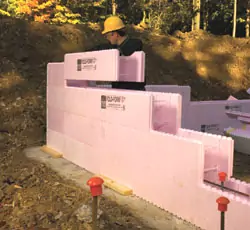 For new home construction, modern building technologies are making buildings "tighter" than ever, and that goes beyond just the foundation. An increasingly popular alternative to wood or steel frames is ICF construction, or the use of Insulated Concrete Forms. The technology is just what it sounds like. Built using special forms, a typical ICF system is 4 inches of polystyrene foam insulation combined with a 5-inch concrete wall, and rates above R-17 at average 75-degree test temperature. Plus, air infiltration in an ICF home is minimal due to the continuous air barriers provided by the insulation and the concrete. This combination of high R-values, low air infiltration and the high thermal mass of the concrete walls is believed to account for 25 to 50 percent in energy savings of ICF versus wood or steel-framed homes.
More Efficient Heating and Cooling
When properly installed and Energy Star-certified, you can expect higher quality and greater durability backed by longer warranties on many new heating and cooling systems. Homes built with the Energy Star Indoor Air package include properly engineered system sizing, improved duct and equipment installation, improved filtration, and whole-house and spot ventilation to dilute and remove indoor pollutants.
Alternative systems, such as wood-burning stoves, can also provide an energy-efficient means of heating. The same can be said for radiant heat systems, as well as zone-heating used with a hearth system.
Looking to the Future
With energy efficiency topping the minds of so many homeowners and prospective homebuyers, some builders are adding solar thermal and photovoltaic technologies to their new homes. These homes become power producers, drawing closer to the EPA's goal of building homes that produce as much power on an annual basis as they consume. Homes that are attempting to reach this goal are called Zero Energy Homes (ZEH), and you can expect to see more and more of these in years to come. New approaches and technologies have made solar thermal and photovoltaic an integral part of the house. These modern systems don't stick out at odd angles or make the houses look drastically different than their neighbors. With all the new energy-efficient technology combined with smart building practices, tomorrow's quality-constructed homes promise to look and perform better than ever.
For more information on how to cut energy costs, visit www.energystar.gov/homes.
Note: The Home Improvements tax credit has expired. The credits were available for home improvements "placed in service" from January 1, 2006 through December 31, 2007. You have until April 15, 2008 to claim credit on your 2007 taxes for any qualified home improvements made to your primary residence during 2007. If you made any qualified home improvements in 2006, but did not claim them on your 2006 taxes, you will need to file an amended return. You can not claim credit on your 2007 taxes for improvements made in 2006.