Solid surface material, a popular alternative to natural stone, is most commonly used for seamless countertop installations, but offers a wide array of other uses. It is often referred to as "Corian", although Corian is a product developed by DuPont in 1964. Today, solid surface is widely available with brand names including Corian, HI-MACS, Avonite, Formica Solid Surface, Staron, Wilsonart Solid Surface and more. According to SolidSurface.com, the material is made of acrylic resin, polyester resin or a combination of the two that is then combined with filler, color pigments and acrylic chips. The composition is usually extruded or poured as 1/2-in. thick sheets that are 30-by-144 inches and the same color throughout their thickness.

Solid surface is easy to cut and rout using only standard carbide tipped woodworking tools. It offers seamless installation, it's extremely durable, nonporous and hygienic—even suitable for food preparation. The sheets are available in a wide selection of colors and patterns, and they won't bow, cup or warp. Plus, the solid color makes the material easy to repair if chipped or damaged.
Although countertops are the most popular application, solid surface is suitable for a broad range of uses throughout the home and offers unique material characteristics that you simply can't get from stone or wood. Check out the following creative uses for solid surface.
Vertical Applications
Think beyond countertops for solid surface and consider the material for shower walls, tub surrounds, even wainscoting and wall cladding. With the proper installation procedures, solid surface sheets can be used in both wet and dry environments. The seamless sheets eliminate the grout joints associated with tile, which are notorious for becoming grimy and difficult to clean, making the material a popular option for bathrooms. Unlike stone, it can also be scrubbed with abrasive cleaners.
The solid surface sheets are generally fastened to the walls with beads of silicone sealant. Dabs of hot melt glue can be used to hold the material in place while the silicone sets. (Because solid surface expands and contracts a small amount, it should not be glued to walls using a hard seam adhesive or it may break itself loose.) Several sheets can be hard seamed together to provide the seamless appearance it is well known for.
Dye Sublimation
A relatively new process called dye sublimation enables the transfer of any design, logo, photograph or image (no matter how simple or complex) into the solid surface material (about 2 to 5 thousandths of an inch). Personalize your living space with your favorite football team logo or even a family photo.
Dye sublimation depends on an acrylic or polyester base to bond with the gassed ink dyes used in the process, which makes solid surface a perfect canvas. To initiate the process, choose your desired image or text—a photograph, digital or vector image—and provide it to your dye sublimation specialist. After approval, the specialist will print the image to an ink transfer plate and heat up both the plate and the solid surface material. Once the materials reach the proper temperature, a vacuum process is used to transfer the ink on the transfer plate (now in gaseous form) into the solid surface material. The printed piece can then be fabricated, shaped and lightly sanded, in the same manner as any other piece of solid surface material.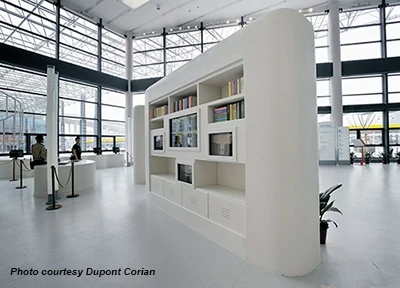 Thermoforming
Thermoforming is way to create three-dimensional curves and rounded shapes in solid surface material. Thermoforming is the process of heating and shaping synthetic material where other surfacing materials like quartz and granite cannot be used. The material is heated to the point that it becomes very flexible and can be shaped using forms or other tools.
The heating is typically done in an oven. It works best to heat the entire piece of material. (If you heat a small section where the bend will occur, stress may develop at the interface of the heated and unheated portions.) After the material has reached the intended temperature, remove it from the oven and slowly bend it over or shape it into the desired form.
There are three styles of thermoforming ovens; infrared/radiant, hot air/convection, and platen press. No matter what type of oven you use to heat the material, make sure it is large enough to contain the entire piece. The material needs to be heated to within a particular range of temperatures depending on the material composition, and SolidSurface.com offers an online temperature chart of thermoforming specifications for different brands of solid surface.
Cabinetry and Furniture
Cabinets made from 100-percent solid surface offer some attractive advantages. They maintain their finish with very little effort, offer a vast array of design possibilities, and they stand up to the toughest environments.
Unlike wood cabinets, thermoforming allows you to create 3-D curves and rounded shapes in the solid surface cabinets through heating and molding. Dye sublimation enables you to embed your artwork of choice on the doors or cabinet case.
When it comes to maintenance, solid surface is easy to clean, and scratches can be easily sanded and buffed out of solid surface material. The color of your cabinetry will also never fade, no matter how much you sand it.
The non-porous, waterproof prop-erties of solid surface also make it an excellent solution for any cabinetry destined for a laundry room, child's playroom and any humid or outdoor environment. These same properties inhibit bacterial growth, making the material an excellent choice for kitchens and even hospitals.
Cordless Power
In the near future, homeowners may walk in from work, set their smartphone on the kitchen counter and have the device automatically start charging, with no wires or wall-plugs required.
The manufacturers of Corian are working jointly with the Power Matters Alliance (PMA) to create wireless charging solutions that are embedded right into the solid surface material. Imagine eliminating the clutter of cords and charging accessories by replacing them with "invisible" charging hotspots located strategically throughout the home.
Final Thoughts
Solid surface makes a great countertop but so much more. It has the versatility to make the most creative design concepts a reality. Consider this cutting-edge material for your next home project when you want to add some extra pizzazz to your living space.