Looking to Design a More Sustainable Kitchen? Start Here:
Architect Wayne Turett Shares 12 Tips for Creating a More Sustainable Kitchen.
The kitchen is often said to be the heart and hub of the home. With an observed uptick in kitchen remodel spending and consumer interest in leading a more environmentally-friendly lifestyle, especially from millennials, the largest generational share of homebuyers, it's clear that sustainable kitchen upgrades are becoming a major priority for homeowners.Having recently constructed and designed his own home to Passive House standards with a stunning all-electric kitchen, Wayne Turett, founder and principal of NYC-based, award-winning architecture & design firm The Turett Collaborative, offers insights on how to begin the journey of creating a more sustainable home, starting with the kitchen.
1. Everyone Can Make a Difference
Whether you are building new or renovating, key factors to consider are energy-efficiency and indoor air-quality. Designing with these goals in mind is an important first-step. More informed choices, a desire for change, a positive mindset, and steps in the direction – giant or small –can all contribute to a more sustainable world. Regulations, guidelines, and costs, while incredibly important factors to consider, can often stun or paralyze. Thus, it's worthwhile to recognize that there are steps everyone can take to make a difference, rather than letting overwhelm cause you to abandon the cause altogether.Beyond this, consider how any improvement to your space will enhance resale value -especially with the topics of health, wellness, and sustainability in the spotlight and a majority of global consumers planning to improve their overall health & wellness within the next year.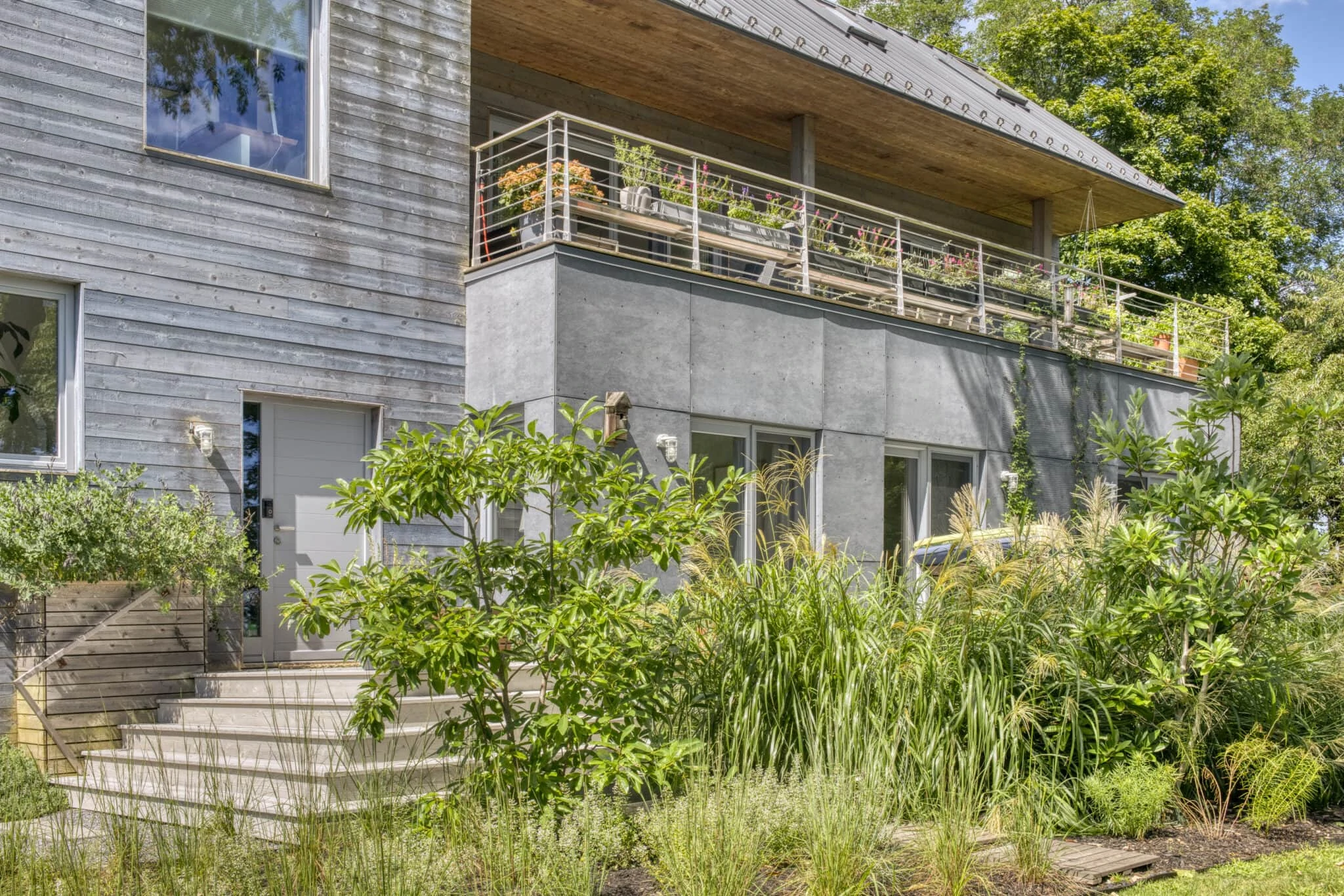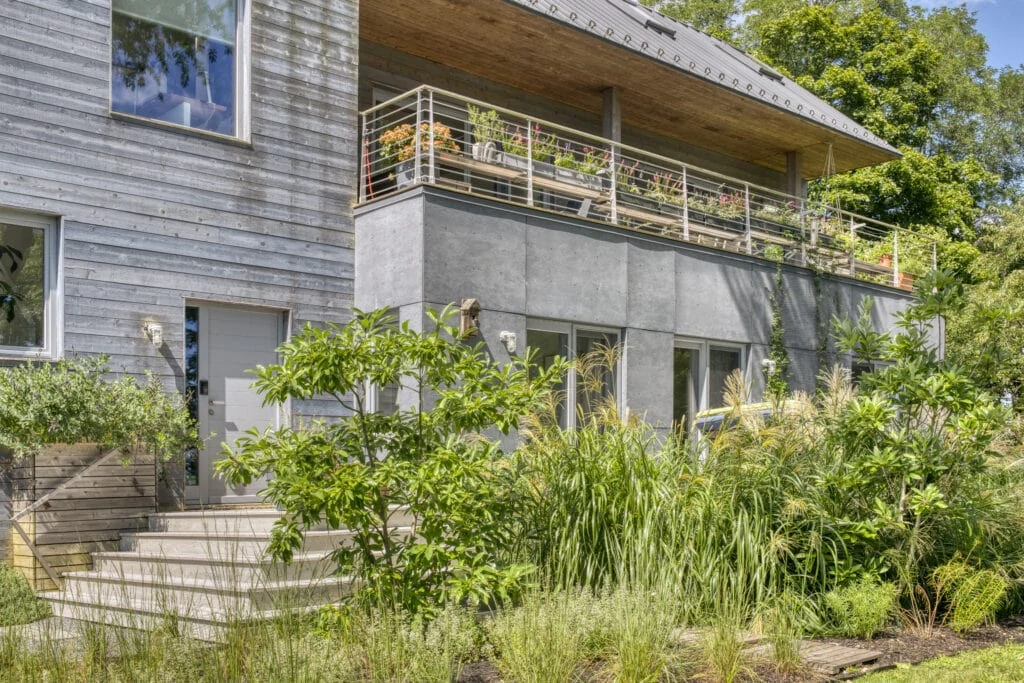 2. Consider Passive House Design for New Construction
If you are building a new home, consider Passive House design. Deemed one of the best paths to net-zero, a typical Passive House consumes about 90 percent less heating energy than an existing home and 75 percent less energy than average new construction, while also delivering filtered fresh air to all habitable spaces 24/7, a key feature in fighting the spread of COVID. Due to the highly insulated, nearly airtight design of Passive Houses, it's important to be mindful of ventilation. Turett's own Passive Home features an Energy-Recovery-Ventilation (ERV) system, which brings in outside air to the bedrooms and living rooms and exhausts stale air from the bathrooms and kitchen while conserving most of the embodied energy.
3. Buy Local & Consider Longevity + Repurposing
Perhaps the important factor to consider here is the quality of your materials. In order to make the most sustainable choice, you want to choose long-lasting materials that will stay in your home and out of landfills. Up cycling and repurposing original materials is also a sustainable, and budget-friendly, choice.Mix-matching old and new materials can even add a certain design edge to your space, and scrapped materials can be repurposed for alternative uses throughout the house, e.g. using old marble as a fire surround in the living room.Another sustainable decision is to opt for locally-sourced materials when you can – using your location as a key deciding factor in sourcing materials. Learn more about materials & resources from the U.S. Green Building Council's LEED credit library site here.
4. Mind the Glue on Your New Cabinets
For cabinets, a great material option is a wood-based substrate called MDF. However, MDF scan often be accompanied by formaldehyde glue, so it's important to look for MDFs with no added formaldehyde (NAF). Turett's own kitchen uses a modular cabinet system from Valcucine which can be dismantled, reassembled and extended over the years. Components are connected via mechanical joints that guarantee the absence of glue and carcinogenic formaldehyde emissions, significantly improving air quality in the kitchen.
5. Do Your Homework on ENERGY STAR® Appliances & Lighting
When it comes to appliances, most will fit within the ENERGY STAR® category of saving electricity. But if you want to substantially reduce your energy consumption (and really save on the power bill), you will need to research how much each appliance costs to run versus its competitors. According to Turett, Gaggenau, Miele, Bosch, Samsung, and LG are some of the best appliance brands when it comes to sustainability. For lighting, LED lights tend to use a lot less electricity. Using dimmers, light wall paint, task lighting, and lamps instead of overhead lights can also save you energy – and money.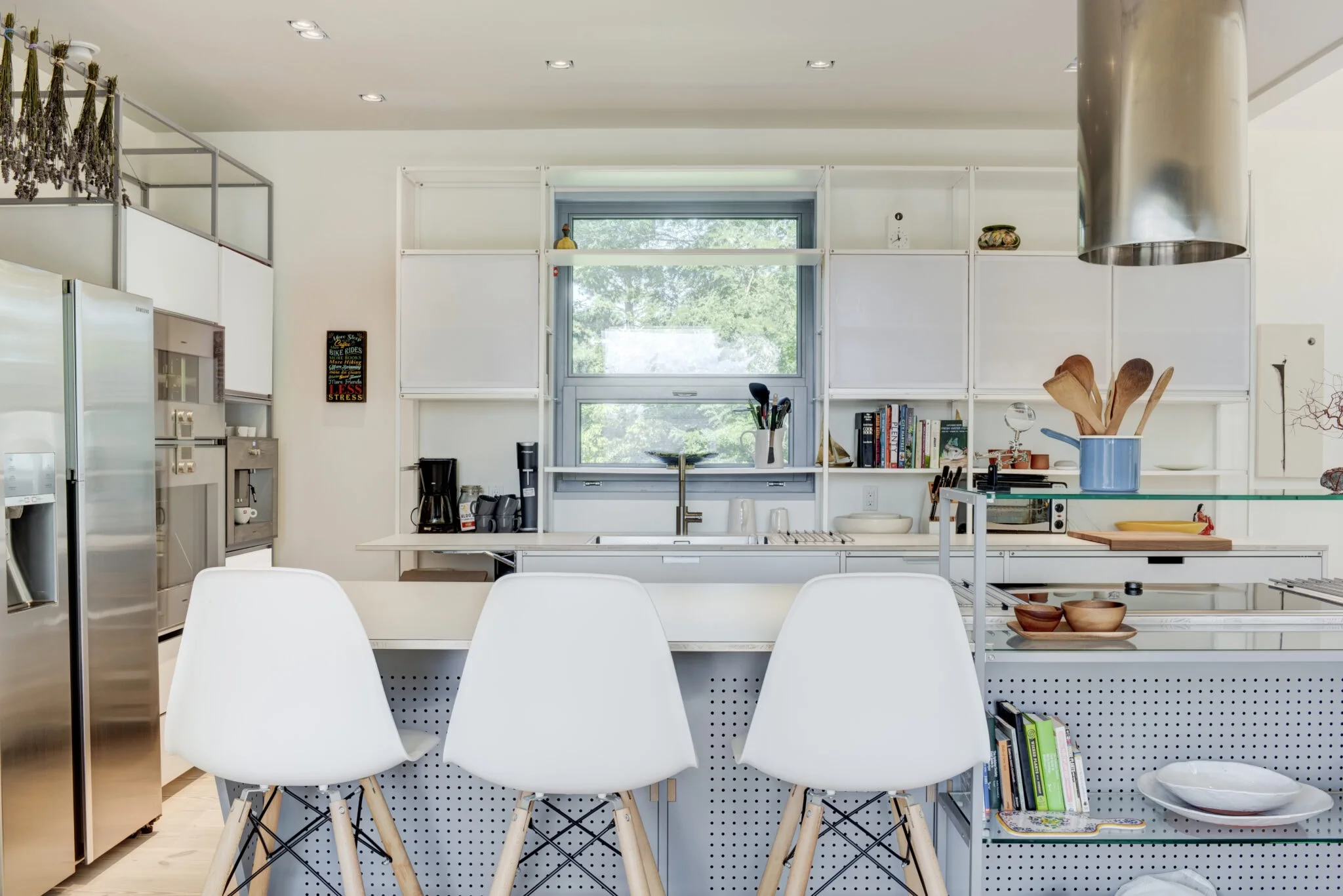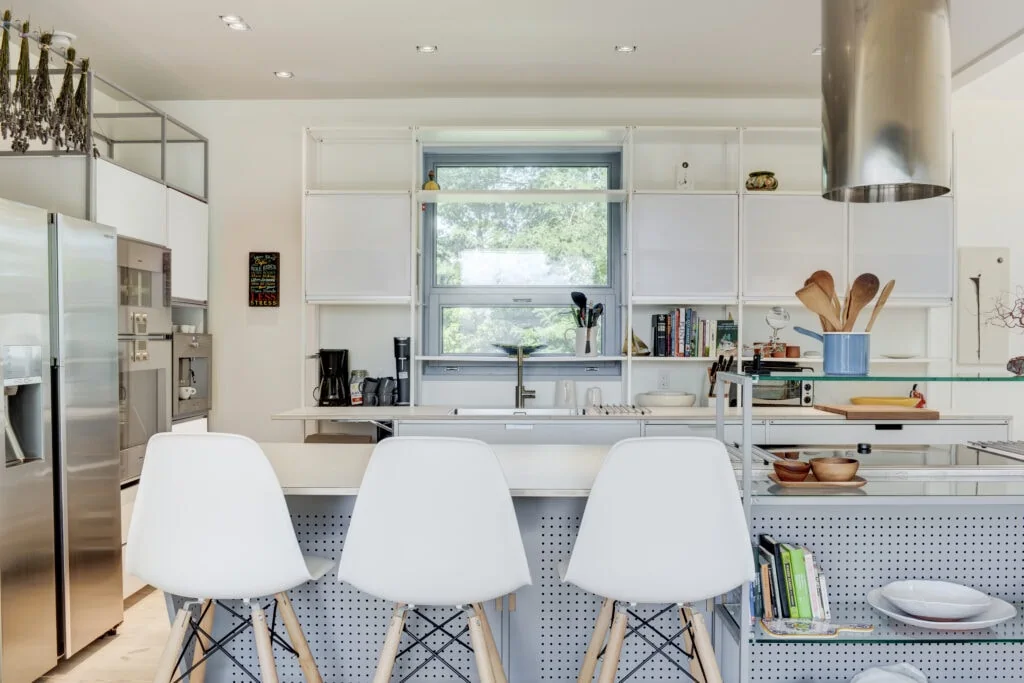 6. Reduce Food Waste by Selecting a Fridge with Food-Preserving Technology
Everyone's familiar with the frustration of having to throw away the now-rotten avocado that once looked perfect in the store. But did you know that 40% of all food in America is wasted?Look for a refrigerator that features a crisper drawer with food-preserving technology, like the Beko HarvestFresh™ which uses three-color light technology to cleverly mimic the 24-hour sun cycles, preserving vitamins in fruits and vegetables for longer and keeping produce fresher.
7. Goodbye Gas, Hello Induction Cooking
Cooking with gas has long been touted as the method of choice by professional chefs, but it can also have significantly harmful health implications due indoor air pollution, according to theWorld Health Organization and a recent Stanford Study. However, cooking with induction does not have this negative effect and is more energy-efficient. In addition to quick heating and boiling properties (with the ability to boil water in about a minute), induction cooktops like theFisher & Paykel Induction Smooth top Cooktop are also easy to clean and provide additional counter space when not in use. Not ready to invest in induction just yet? Consider steam ovens, instant pots, or crock pots, which use less energy by reducing cook time, water consumption, or electricity usage, respectively.
8. Install a Hood for Good (and Use it!)
No matter what type of stove or cooktop you have, proper ventilation and a hood vented to the exterior is key to extracting polluted air from your home. This is especially important if you insist on keeping your gas range. To improve the ventilation in his own home, Turett installed a motorized damper exhaust duct to regulate airflow in the kitchen. Additionally, the home has an energy-recovery-ventilation (ERV) system and an upstairs kitchen, which aids in ventilation by bringing smells out and up, versus down to the bedrooms. If you live in a small city apartment and don't have vented exhaust, Turett encourages putting an additional exhaust fan in the window to improve ventilation.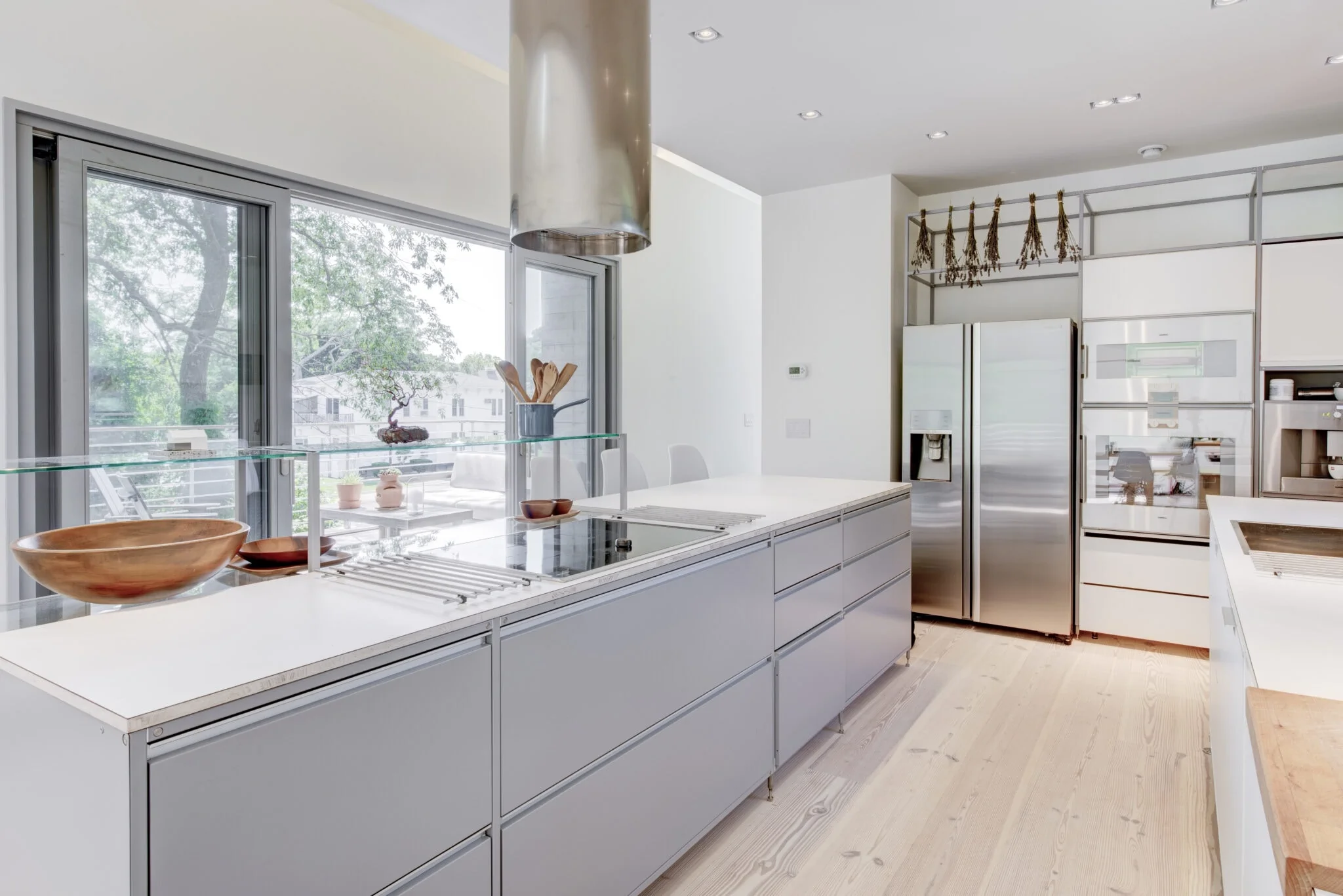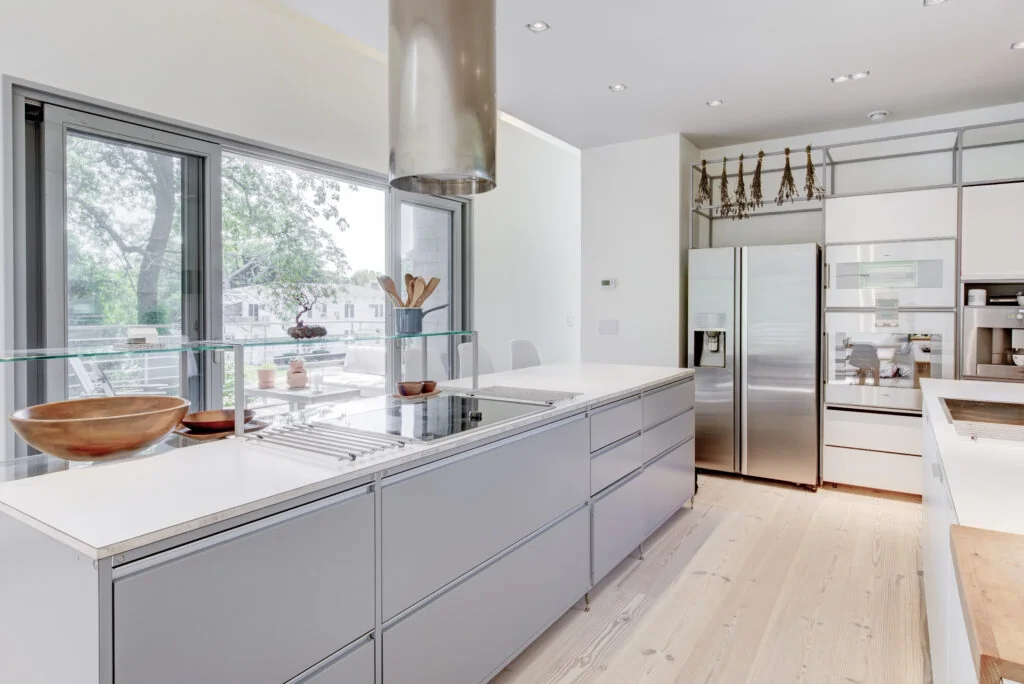 9. Forget Washing by Hand, You'll Save More Water with the Dishwasher
You have Turett's permission to opt for the dishwasher! Dishwashers actually conserve more water than washing by hand. ENERGY STAR® certified dishwashers can save more than 8,000gallons of water per year as well as $130 in energy bills.
10. Don't Take Your Countertops for Granite
With one-third of homeowners splurging on this area of the kitchen in 2021, it's clear that home owners are prioritizing countertops in their renovations. Provided it's easy to mine and sourced locally, on-trend stone countertops are fairly sustainable options due to the material's longevity. If opting for quartz, look for Green guard certified quartz or quartz made from recycled content. Not always thought of as a sought-after material, durable, easy to clean and reliable laminate countertops like the one used in Turett own Passive House from Abet Laminati can be both a cost-saving and an environmentally-friendly option.
11. Look for Versa-tile Flooring & Consider a Woca Finish on Your Wood Floors
Flooring made from naturally occurring raw materials, such as porcelain and ceramic tile, can be great options. Porcelain tile is especially known for its durable, stain-resistant and non-porous nature, making it great for use in moisture prone & high-traffic areas of the home like the kitchen, while ceramic tile's indestructible properties also allow it to contribute to waste reduction, with the ability to survive fire and floods, withstand fading, be installed over existing tile, and be salvaged or disposed of easily. Not to mention, both have the added benefit of noVOCs and great hygienic and antimicrobial properties. Natural wood is also a great option, but make sure to avoid polyurethane finishes which are high in VOCs and can be hazardous. The low-VOC, plant-based finish used in Turett's Passive House is a great alternative.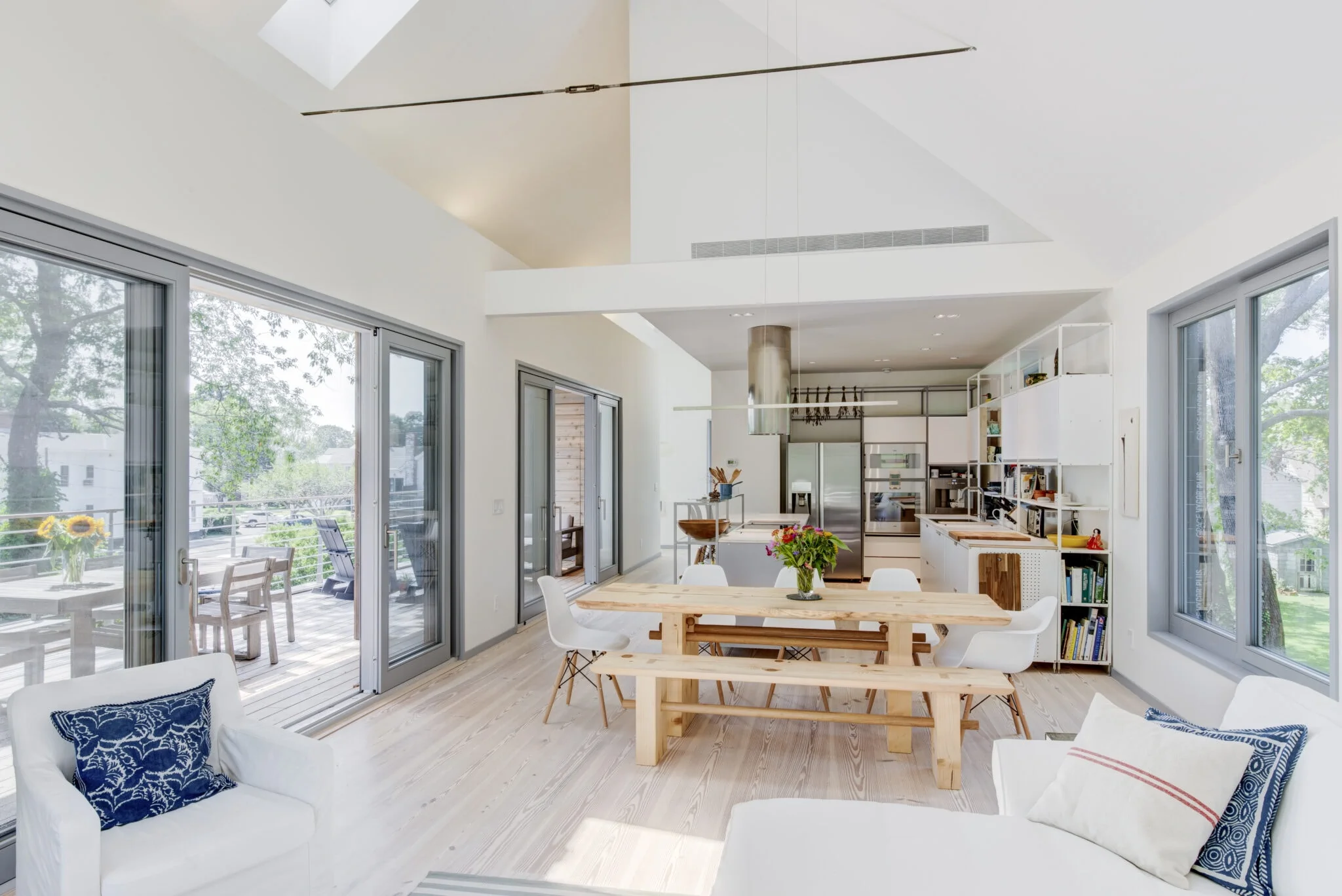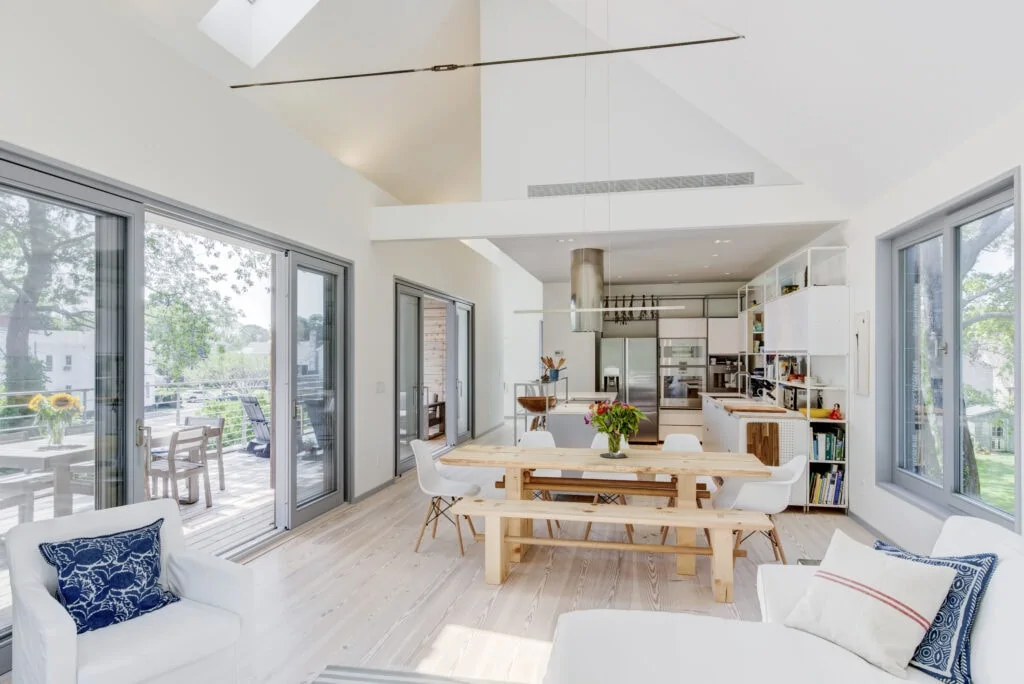 12. Insulate, Insulate, Insulate
Lastly, don't neglect the importance of insulation. One of the most impactful features of PassiveHouse design is its incredible insulation capabilities. Whether or not you're designing to PassiveHouse standards, insulation is key to energy savings. To reduce air infiltration, take extra care to seal up areas when installing new appliances and around exterior walls and windows. According to the Insulation Institute, insulation reduces emissions of pollutants such as carbon dioxide, sulfur oxide, and nitrogen oxide by eliminating the need for excess use of natural gas, propane, fuel oil, and electricity for heating and cooling. Not to mention, it will be great for your wallet, too.Product Details: Greenport Passive Home Appliances:
Gaggenau: oven, steam oven, microwave
Sub Zero: wine refrigerator
Miele: built-in coffee maker
Samsung: refrigerator, cooktop
Surfacing Materials:
Floor: Heart pine wide plank solid wood finished with a WOCA oil with white pigment
Countertop: Abet Laminati plastic laminate on plywood with exposed wood front
Cabinets: Valcucine modular cabinetry with mechanical joints and lack of formaldehyde glue