Using natural materials and local resources can help you help the environment.
By Charlie Jourdain
Homeowners today pour a lot of energy and study into ways they can make their homes more environmentally friendly. Yet when it comes to maximizing the features that make the most of their environmental opportunities, many forget about the yard space surrounding their homes.
Maybe it's the assumption that "green" takes care of itself in the great outdoors, or maybe that the average-size yards aren't big enough to make a difference. While not everyone can step outside a set of patio doors and set foot in a national park, that shouldn't stop homeowners from creating a yard that is inviting, soothing … and very friendly to the environment.
Create a plan that highlights your yard's natural beauty
Planning is the logical first step for any landscaping project, but when planning for a more environmentally friendly yard space, this step is even more important. Take time to consider all the natural features in your yard and how they can be featured in your new designs. What existing structures, if any, could continue to be used?
Working with rather than against the natural features in your yard space not only helps promote the native environment, it is also more cost-effective. The materials and labor needed to manufacture a natural scene can send any budget spinning wildly out of control.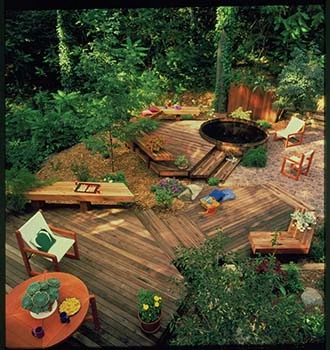 Think globally, buy locally
Inspiration for your yard space may come from around the world, but making a conscious effort to source your materials from local companies is another way to boost the environmentally friendly features of your redesigned yard. Think about it: If the items you order travel a shorter distance to your yard, then less nonrenewable energy is consumed.
Your local lumber yard or home improvement store should have information on where their stock is shipped from. There's an amazing selection of products and raw material—such as redwood lumber—that are American-grown and -made and will fit your plans better than anything shipped from overseas. For homeowners who want to know their products were also responsibly sourced, certifications like the Forest Stewardship Council (FSC) offer assurance that the company offering the product paid careful attention to how it was made, beginning to end.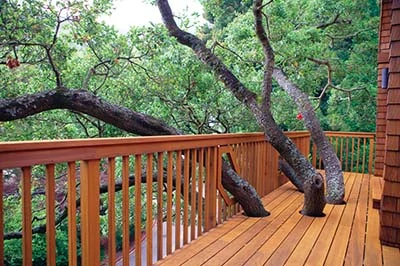 This is just part of what makes redwood one of the most environmentally-friendly woods to work with. In addition to FSC certification, some of redwood's naturally sustainable features include:
Redwood trees are carbon negative, as they consume carbon dioxide from the atmosphere, converting it to wood and then storing more carbon than emitted in manufacturing. This is far less than any plastic composite product that puts a ton of carbon dioxide into the atmosphere.
Redwood can be refinished a number of times and is also biodegradable. Other materials can spend thousands of years in landfills.
Redwood is also naturally resistant to decay, termites and even fire. This means redwood will last much longer in use than other common wood species.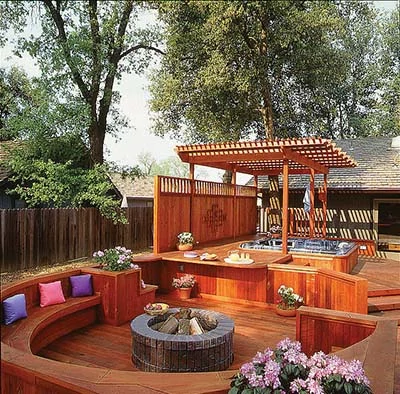 The same mindset applies for any plant life you want to include in the design. Local nurseries will have the knowledge and experience to help choose the best plants to thrive in your yard's unique habitat—whether shady or sunny, wet soil or arid ground.
Choose with the future in mind
Many consumers today have gotten used to a "throw-away" mentality. With inexpensive products available in abundance, discarding something before the end of its useful life sounds okay, but is a landfill really the best option?
Some products that are made from recycled products, such as composite lumber that features recycled plastic, cannot be recycled again. They're a one-time-use product. Natural wood products such as redwood, though, can be refinished and even repurposed for other items: a deck can become a bench or planters.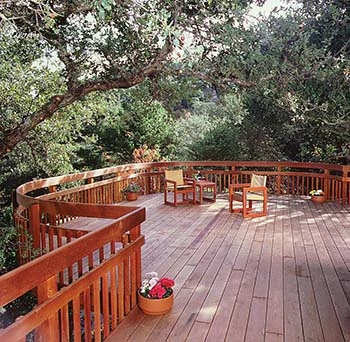 Don't rebuild or tear down what you don't have to
Much like future-proofing your purchases, don't discount existing structures immediately. In many cases, something that looks run-down like a pergola or patio still has a number of useful years of service left. A thorough cleaning and refinishing not only helps protect but also prolongs its usefulness.
Make a greener space with less greenspace
Many assume that designing a backyard "oasis" means investing heavily in plant life, and committing to the work it takes to keep that plant life alive and thriving. With some parts of the country facing limited water resources, and a trend among homeowners who prefer enjoying their leisure time instead of working on their leisure space, consider the beauty found in plantings that require less water, and landscaping designs that minimize the presence of grass.
Plant with a purpose
Even if you are limiting your green space in your back yard, get the most out of your plantings and incorporate plants that serve a dual purpose, such as herbs or fruit-bearing plants and trees. Not only does it add visual variety to your space, but helps the yard work harder for you—and isn't that what we'd like our home-improvement investments to do?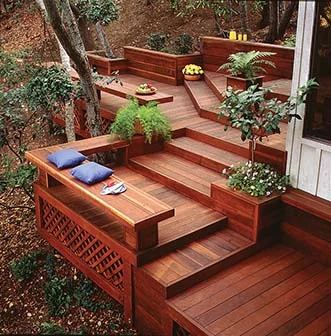 With a little time spent planning and considering the full potential of your space, anyone can make their back yards greener, more welcoming, and enjoyable in every season. From making the most of what is already there to layering in naturally sustainable materials like redwood, it's easier than most think.
Editor's Note: Charlie Jourdain is president of the California Redwood Association. Founded in 1916, the California Redwood Association is one of the oldest trade associations in the lumber industry. From the very beginning, the association's primary mission has been to promote redwood products and educate builders. Contact [email protected] or (888) CAL-REDWOOD.