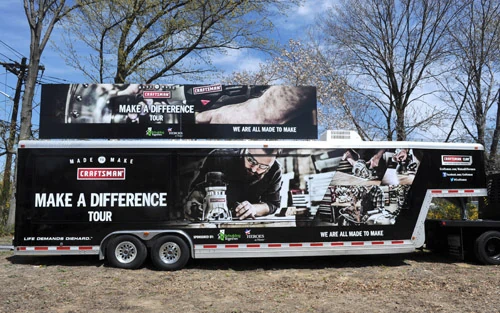 Craftsman is on the road this summer to inspire Americans to open their tool boxes and start working with their hands, all while making a difference in communities across the country. The Craftsman "Make a Difference" Tour will visit more than 20 locations nationwide, renovating homes of U.S. veterans and helping communities in need.
Throughout the tour, Sears Heroes at Home and non-profit Rebuilding Together will join the Craftsman "Make a Difference" Tour. At the tour's first stop in Moonachie, N.J., the "Make a Difference" partners helped restore a home owned by a U.S. veteran that was devastated by Superstorm Sandy. National TV personality Ty Pennington was there to lead volunteers and officially kick off the tour.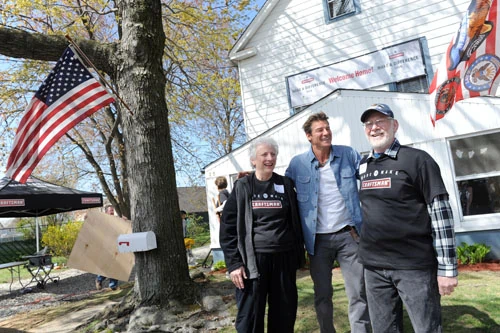 "It is so important to give back, and I have been fortunate to be part of some truly heartwarming home renovations throughout my career," said Pennington. "I'm excited and proud to be part of the Craftsman 'Make a Difference' Tour because, with the help of volunteers from Heroes at Home and Rebuilding Together, we'll make a positive impact in the lives of those in need."
Featuring a 36-foot trailer and truck filled with the latest Craftsman tools, the "Make a Difference" Tour's stops across the U.S. will include projects benefiting military veterans, assisting areas affected by natural disasters, and local community restoration projects where Sears Hometown Stores are located. Scheduled tour stops include:
| | |
| --- | --- |
| Ardmore, Pa. | Moonachie, N.J. |
| Chicago | Philadelphia |
| Miami | St. Louis |
| Milford, Mich. | Sturgis, S.D. |
| Minneapolis, Minn. | Washington, D.C. |
Due to the tragic tornado of May 20th, the "Make a Difference" Tour is also making an emergency trip to Oklahoma.
"We believe all Americans can build, create and shape their worlds, from the smallest of home projects to the tallest of buildings. And, we enjoy the pride in seeing our passion for making come to life," said Michael Castleman, president, Kenmore, Craftsman and DieHard and senior vice president, Sears Holdings.  "For 86 years, the Craftsman brand has provided quality tools that are made to make. The Craftsman 'Make a Difference' Tour brings the desire of making to life, by mobilizing Craftsman Club members and local volunteers to make a difference in communities across the country."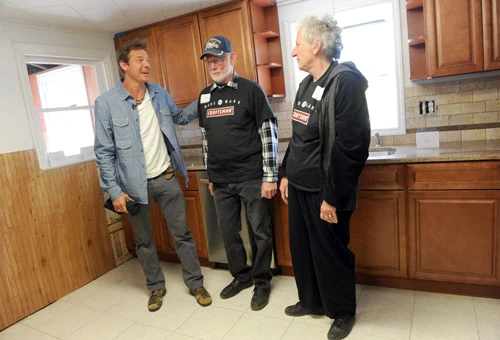 You can get involved in the tour by signing up for Craftsman Club. Members can then follow the tour online at Craftsman.com/MakeaDifference where they can view updates, photos and information on each stop, and check for volunteer opportunities at planned rebuilding projects and events happening in their community. Additionally, the "Make a Difference" Tour will be making surprise stops in several areas, visiting lucky Craftsman Club members who need extra inspiration to complete their project.
At each event, volunteers and attendees can learn about the latest products from the Craftsman brand, including power tools, hand tools, garage, storage and lawn and garden equipment. Attendees will see hands-on product demonstrations with Craftsman tools, plus giveaways, an area to record testimonials on what building and creating means to them, and a chance to sign up for Craftsman Club.
To learn more about the "Make a Difference" Tour, visit Craftsman.com/MakeaDifference.