By Matt Weber
Laminate countertops present a durable, economic choice that can be installed by the DIY'er.
We expect a lot from a countertop. A countertop serves as a heavily used work surface as well as a decorative focal point. The right material choice for your countertop should reflect your lifestyle and balance your desire for good looks, durability and low maintenance. Today, there are more choices in countertop material than ever before, and EHT offers a few pros and cons of eight of the most popular countertops, as well as a peek at some innovative recycled materials to hit the market.
Granite
Granite countertops are among the hottest materials for the discriminating homeowner. Available in thousands of colors, granite countertops are natural stone that can be polished to a smooth, lustrous finish that holds up well to heat and can potentially last a lifetime. With the application of one of today's low-maintenance sealers, a granite countertop will resist stains and add value to the home.
On the down side, granite is among the most expensive countertop materials, ranging from $50 to $200 per square foot, installed. If choosing granite, then consider future renovations because, being a natural stone, it can be hard to match the granite's exact color is adding a new section at a later time. Granite requires occasional resealing and can crack if improperly installed. And, although granite tiles are available, the slab countertops can be very challenging for a do-it-yourselfer to install correctly.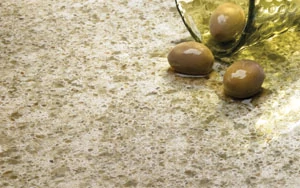 Engineered Stone
Engineered stone is available in even more colors than granite and boasts a scratch-resistant nonporous surface. Composed primarily from quartz, the many vibrant colors and styles can mimic natural stone, while the surface remains very stain- and scratch-resistant. Additionally, engineered stone is somewhat more flexible than granite and less likely to crack.
However, sharp edges have a tendency to chip, so bull-nosed edges are preferred. Another pricey material, engineered stone ranges from about $50 to $100 per square foot when professionally installed, and has the same installation challenges as slab granite countertops. Popular brands of engineered stone include Silestone, DuPont Zodiaq and Cambria Quartz.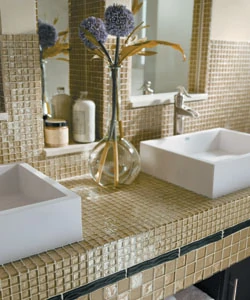 Tile
Ceramic and Porcelain tile are heat-resistant materials available in tons of patterns, colors and prices. With a little imagination, the installer can arrange practically any creative pattern by mixing, matching and custom-cutting tiles. Tile allows the creation of border accents, diagonal tile installation, and many more creative layouts. Tile can range from $10 to $40 per square foot for professional installation. However, tiling a countertop is in the realm of the savvy DIY'er, which can shave a lot off the overall job cost.
After they've been sealed, tile countertops are easy to clean and very durable. However, tile can also chip at the edges. For this reason, wood edging or bull-nosed border tiles are often used at the countertop edges. Another weakness lies with the grout joints, which can sometimes stain. Large tiles with fewer grout lines can minimize this, as can thinner grout joints and tinted grout. However, manufacturers such as MAPEI have made great strides in formulating a stain-resistant grout called Opticolor to eliminate this problem (www.mapei.com).
Solid Surface
Available in a wide array of vibrant colors and styles, solid surface countertops, such as Swanstone and DuPont Corian, can mimic stone, quartz or concrete. Although solid surfaces can scratch easily, the solid coloring throughout the material allows the scratches to be sanded out for repair. Plus, professional installation can achieve a seamless countertop that is highly stain-resistant.

Laminate
Offering the widest range of colors and patterns on the market, laminate countertops also excel at resisting stains, water and heat from hot dishes. Popular brands of laminate include Formica and Wilsonart, which sell for a modest price of $10 to $30 per square foot, installed. Or, you can save money by plunking down $40 to $80 for a 4-by-8-foot sheet of laminate and install the material yourself—it goes down fairly easily with a roller and contact cement. You'll need a circular saw to cut it to shape and a router to trim the edges.
On the down side, laminate seams and edges are usually visible. Additionally, laminate countertops don't generate as much resale value to the home that you can expect from other materials. Plus, the material can chip and scratch. These damaged areas can be difficult to repair because the laminate filler usually doesn't match the color of the original material. However, Kampel makes an interesting repair product called SeamFil which can be custom color-matched to the laminate countertop (www.kampelent.com).
Wood
For a warm, natural touch to the décor, it's hard to beat wood or butcher block countertops. Typically made of hardwood such as oak or maple, wooden countertops are available in several tones and finishes. Wood countertops are easy to clean, and they can be sanded and refinished to renew the look. They're comparatively inexpensive at $30 to $65 per square foot, installed. Plus, it's easy to install a wood countertop, which can be sold as slabs, or even custom-cut and glued-up into butcher block by a DIY carpenter.
However, these countertops also have the same pitfalls of wood. Wood can stain and be damaged by water over time. Wood countertops also must be sealed to keep debris and bacteria out of the wood grain.
Stainless Steel
Often used in commercial kitchens because it repels heat and stains as well as resists rust, a stainless steel countertop provides a contemporary and industrial look. Stainless steel is easy to clean, and the countertop is built to your specification, complete with an integrated sink for a seamless appearance.
As far as cons, stainless steel countertops are very expensive and require professional installation, running about $100 to $150 per square foot, installed. Stainless steel is also prone to scratches and dents, and can easily show fingerprints.
Concrete
Concrete Countertops are one of the fastest growing segments of the countertop industry. They can be constructed in unusual shapes, textured, etched and stained in artistic colors or patterns. Concrete countertops are usually cast in place inside the kitchen. Although, the high price of professional installation may be an obstacle for some ($80 to $120 per square foot, installed), the do-it-yourself approach can save a great deal of money. Construction requires creating forms, mixing and dyeing your own concrete mix, and troweling the surface to a glassy finish. However, there are several how-to books and articles on the subject, and companies such as Quikrete now offer a Countertop Mix, which is a specially formulated, flowable, high-strength concrete mix for pre-cast and cast-in-place concrete countertop applications. Concrete resists heat and scratches, and new treatments and finishes can reduce porosity and help prevent cracking.
On the downside (aside from the installation cost), cracks can develop in a concrete countertop, but this can usually be minimized with skillful installation and the proper sealing techniques.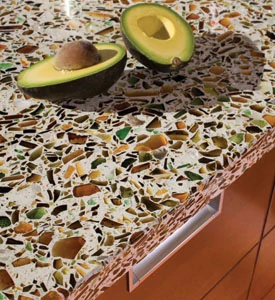 Recycled Glass
For the green-minded remodeler, Vetrazzo, Inc. manufactures countertops made from 85-percent recycled glass. The largest proportion of glass comes from curbside recycling programs, while other glass comes from post industrial usage, windows, dinnerware, stemware, automotive windshields, stained glass, laboratory glass, reclaimed glass from building demolition, and other unusual sources such as decommissioned traffic lights.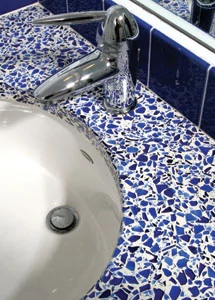 Available in dozens of striking colors and designs, recycled glass countertops are smooth, just like highly polished granite, and they're comparable in strength, scratch resistance, thermal resistance, durability, and care and maintenance to granite.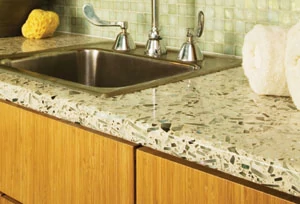 However, Vetrazzo panels must be fabricated to your specific dimensions before installation, and the company does not sell directly to homeowners. This means you can expect a high installation and material cost, much like granite.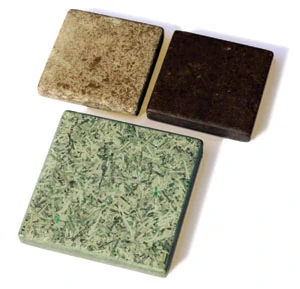 Recycled Paper
Another environmentally friendly material is Shetkastone, an innovative countertop material engineered with interlocking fibers from recycled wastepaper, cardboard and cloth to create a beautiful, durable surface that is non-toxic and has no off-gassing. Shetkastone machines like wood and is a scratch-resistant, stain-resistant, water-resistant, and class "A" fire-rated product. Similar to solid surface materials, the colors are the same all the way through, so it can be refinished to its original appearance in the unusual case of any surface damage. Shetkastone is available in a growing variety of colors and styles. The countertops are shipped finished and ready to install, and the price falls between solid surface materials and granite. In other words, it's a very nice, unique material, but also expensive.