A countertop is among the most prominent features of a kitchen or bathroom, the work surface around which all activities revolve. Because it's such a central feature of the room, homeowners want a countertop that complements the interior décor. Of course, styles and tastes change over time, and that holds true for countertop designs. Countertops are used on a daily basis and subjected to a lot of wear, which can eventually require a new surface. When a homeowner wants a change to their countertop, however, they're often confronted with the high cost of labor and materials for replacement.
To provide a way to spruce up a countertop that is DIY-friendly and easy on the pocketbook, manufacturers have introduced a variety of coating products to renew the existing surface. Here's a roundup of some of the options currently available.
WiseBond™ Bar & Table Top Epoxy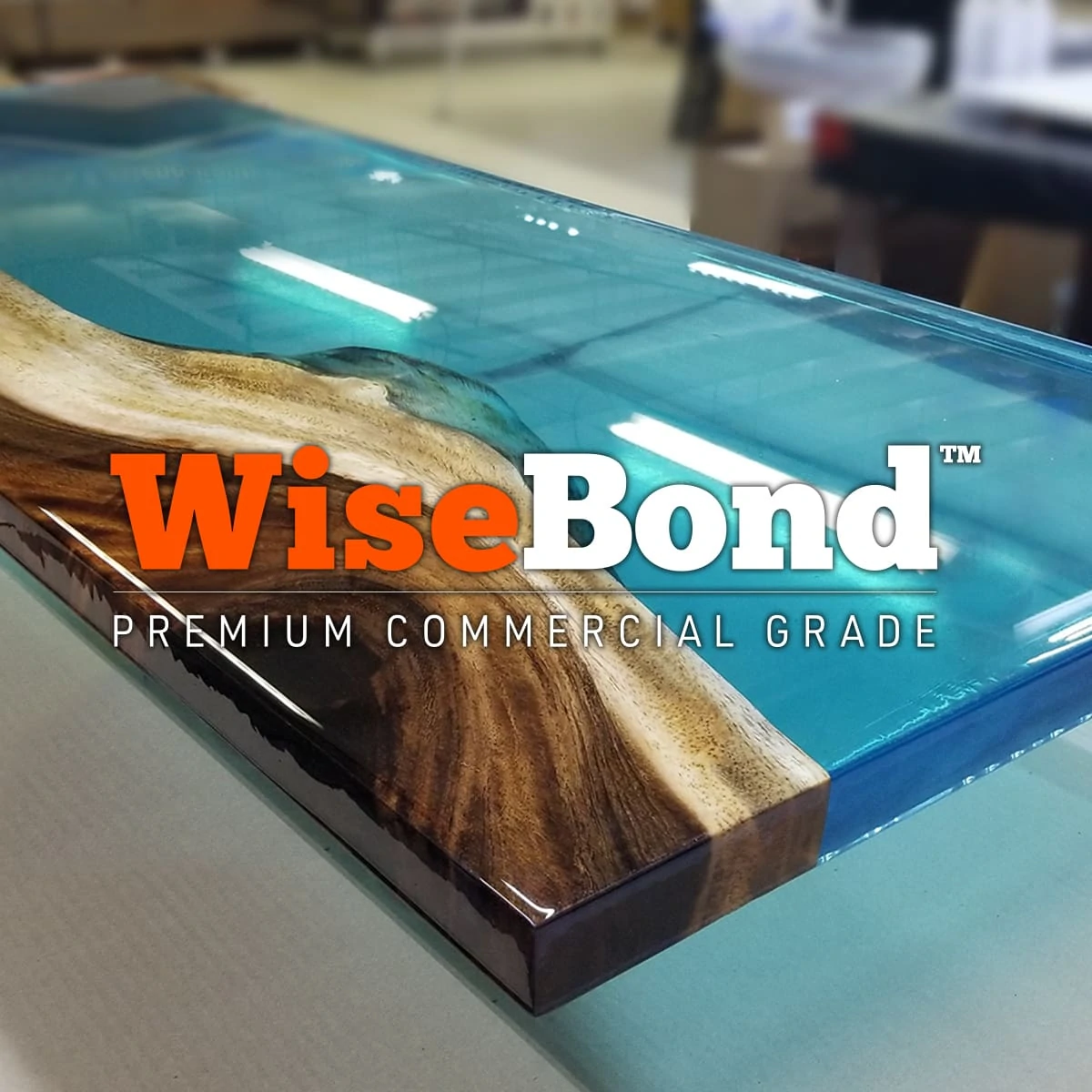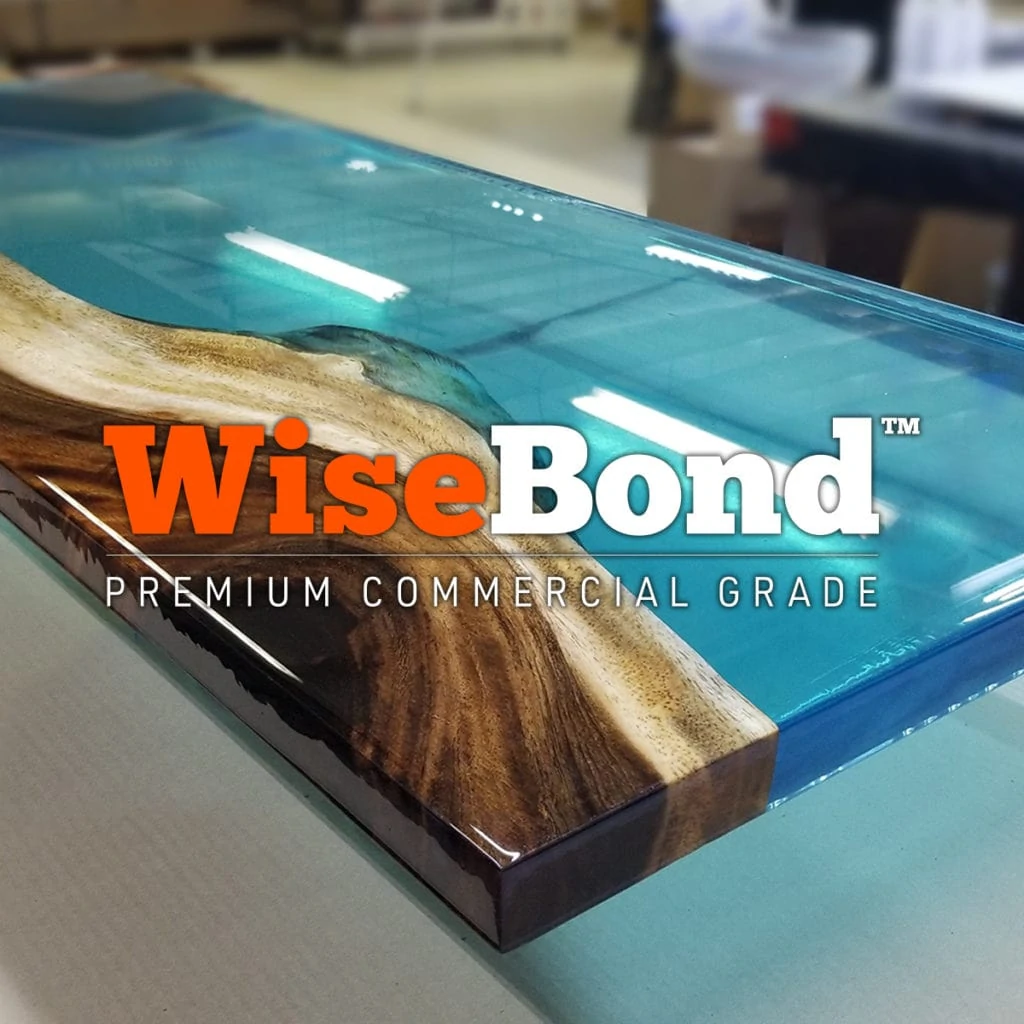 WiseBond™ Bar & Table Top Epoxy (for flood coating table tops, bars and countertops) is a self-leveling high-gloss finish coat epoxy for river tables, and can be tinted for faux granite or faux marble kitchen countertops. Any surface can attain a high level of see through transparency as well as a Super-Wet gloss finish with a high shine that is crystal-clear.
WiseBond™ Bar & Table Top Epoxy is UV stable for all types epoxy surface flood coating. This epoxy can also be applied to old formica or concrete countertops to create unique colorful designs using our WiseColor™ epoxy resin colorants. Simply add powder or liquid colorants to the epoxy and create artistic faux finishes that will amaze friends and families. Visit wisebond.com

SpreadStone Countertops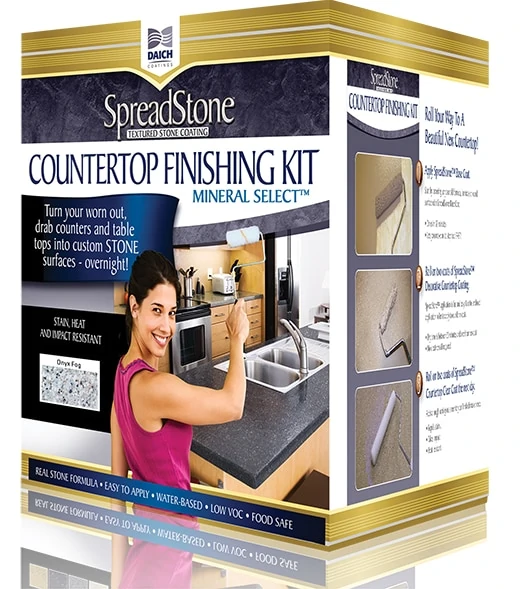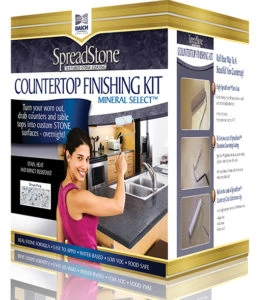 The SpreadStone countertop kit from Daich Coatings contains a liquid product that rolls on top of laminate surfaces and achieves the look of a speckled granite countertop. The kit it is made with real stone and goes on fast, requiring no creative skill. A mix of carefully combined stone ingredients, SpreadStone has been used for more than 20 years as a heavy-duty decorative coating for concrete floors, walls, columns and more. Now, with the Countertop Finishing Kit, SpreadStone gives a countertop excellent resistance to stains, heat, impact, abrasion and household cleaners—just what you would expect from real stone. The generous SpreadStone Kit means there is no reason to stress about having adequate supply, and if you still have some product left, you can use it to cover a small table or other surface.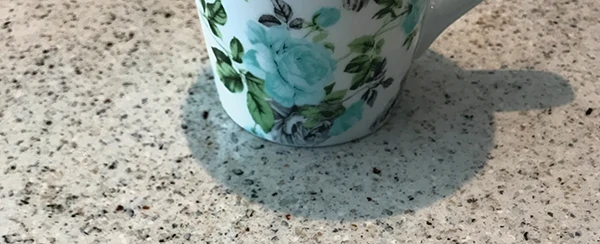 SpreadStone is not a faux finish paint product requiring an eye for detail. You simply roll it on. The finished result is far more durable than paint. The entire SpreadStone system is pre-mixed and ready to go with unlimited working time. A roller and brush are the only tools necessary.
Daich offers the original SpreadStone Countertop Kit as well as the Mineral Select Kit. The differences lie in their finished appearance and coverage. The Mineral Select Kit is made with a modified blend of stone and mineral ingredients that goes on slightly thicker for interesting visual appeal with natural mineral accents. Coverage rates for the Mineral Select kit run between 30 and 35 sq.ft. To be safe, when planning for your project, base your order on 30 sq.ft. to ensure you have enough product. The original SpreadStone Countertop Kit is made with an alternate stone blend that delivers a soft, multi-colored speckled finish and provides higher coverage at 50 sq.ft. Both products offer the same easy application and level of performance.
Want your new SpreadStone surface dressed in a glass-clear topcoat? Daich now offers the new SpreadStone Countertop Clear Coat for the smoothest high-gloss polished stone finish. This easy-to-apply epoxy kit adds a whole new look and feel to the Original or Mineral Select Countertop stone finishes—as well as over other existing interior countertops and tables. Visit www.daichcoatings.com.
Rust-Oleum Countertop Transformations kit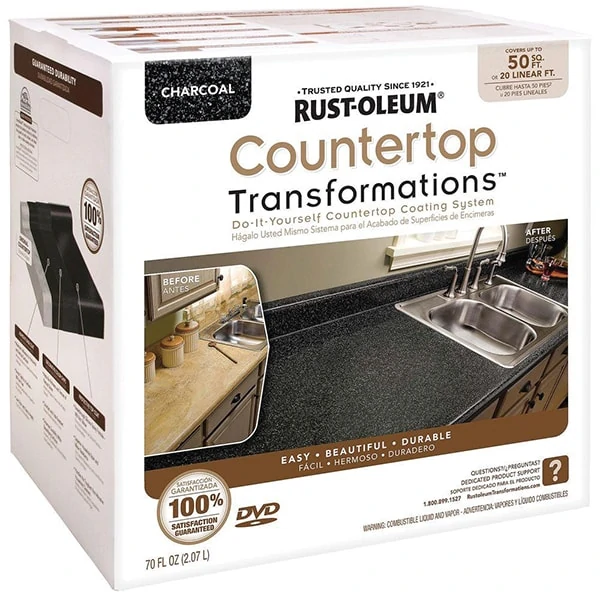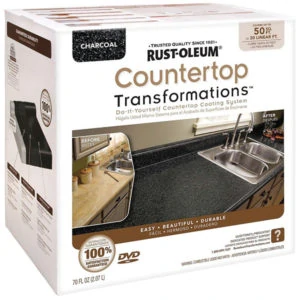 The Rust-Oleum Countertop Transformations Kit eliminates the cost and stress of a total countertop replacement. The kit is suitable for use on any laminate countertop in your home, requires no special skills or tools, and covers up to 50 sq. ft. The EHT staff used this product to resurface a bathroom countertop. The system requires sanding, rolling an adhesive base coat, spreading decorative plastic chips, and then sanding the chips to a smooth continuous surface. Finish up with a protective top coat, and you have a glossy new countertop with a contemporary stone-like appearance. This is a complete DIY kit with superior surface adhesion, and the protective coating inhibits growth of mold and mildew. Visit www.rustoleum.com.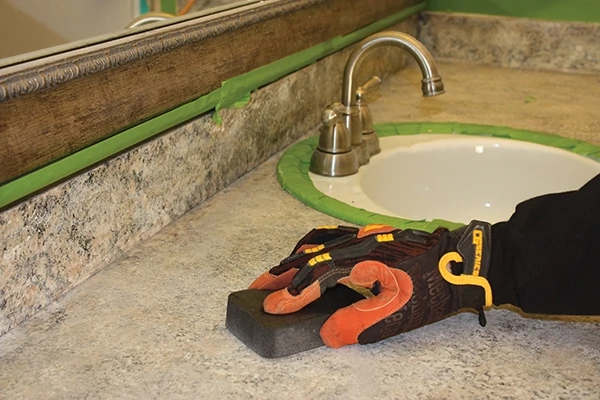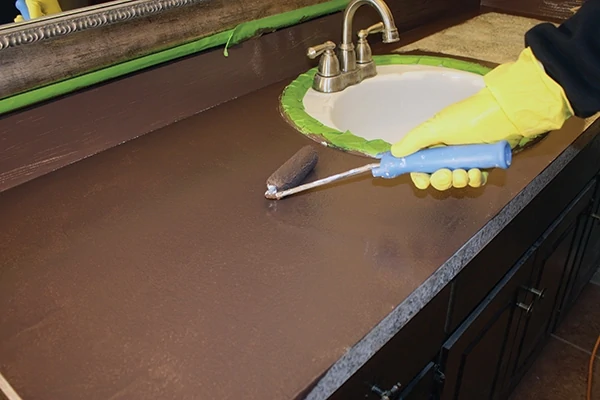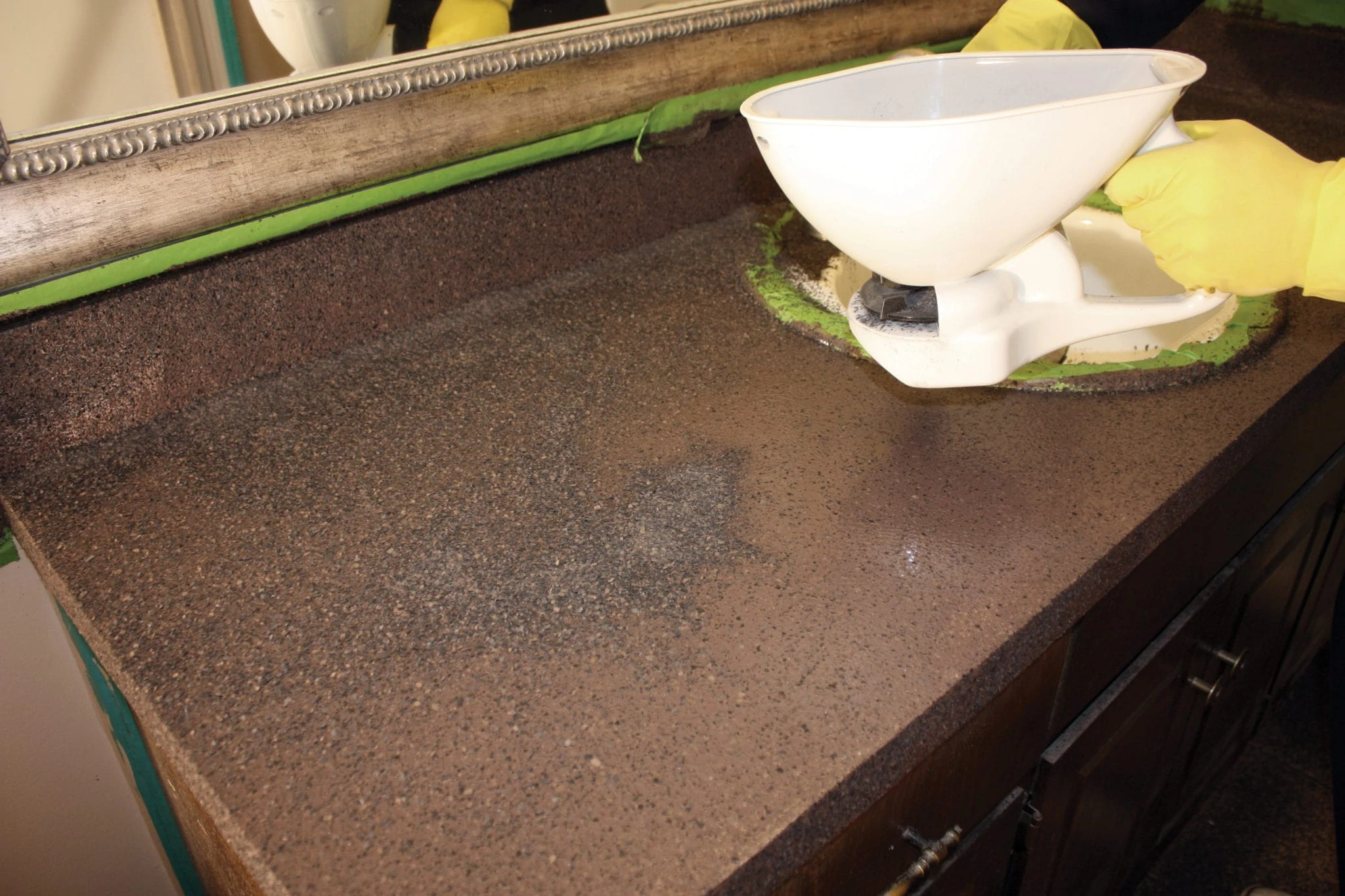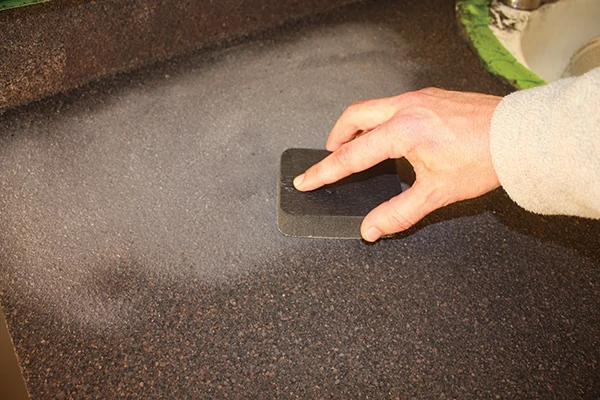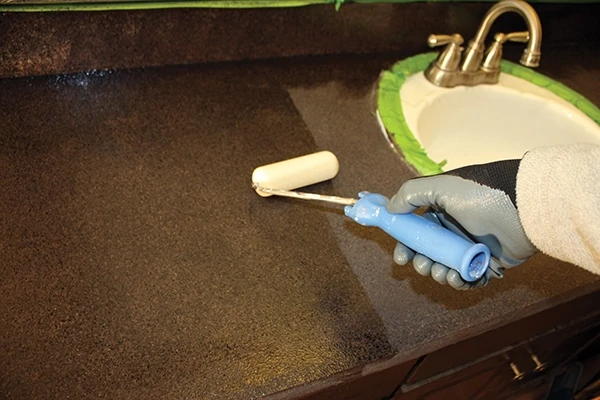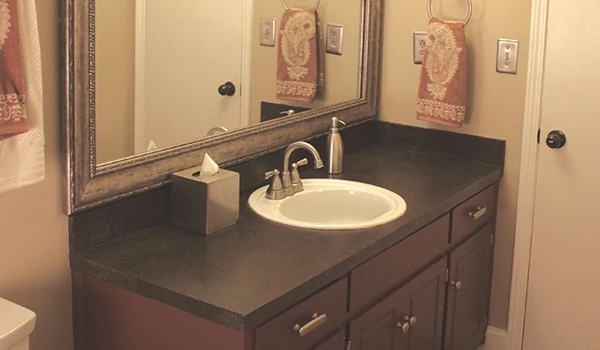 Aboglass
Want a wooden countertop or restaurant quality bar top?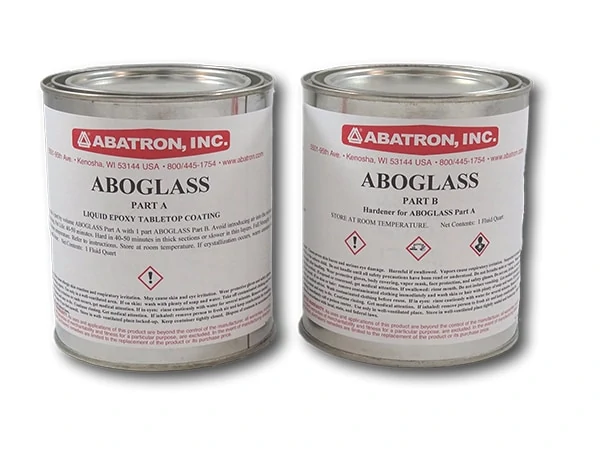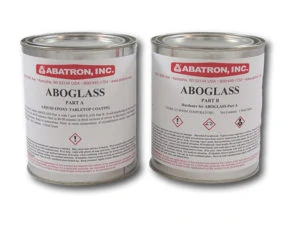 Applying Aboglass High Build Bar Top Coating to a wood countertop will highlight the stunning beauty of the woodgrain. This high-gloss epoxy coating enhances the natural look of wood and gives it a deeper, dimensional appearance with exceptional clarity. It also protects wood from spills, contaminants and abrasion. Aboglass is a two-part product (liquid epoxy and hardener) that contains no water or solvents. Apply the coating up to two inches thick. Use on bar tops, tables, vanities, boats and more. Aboglass is also great for decoupage and encapsulating artistic images and textures.
To apply, first clean the wood surface free of dirt and dust.  Slowly mix together equal volumes of resin and hardener. Pour or brush the Aboglass onto the surface. Use a spreader or brush to cover the entire surface. If surface bubbles appear, use a heat gun, blow torch or needle to eliminate them. Allow the coating to harden at least 1 hour at room temperature before moving, and two to three days before use. Recoat as desired within 24 hours of hardening. For maximum rigidity, heat-cure the surface after hardening for 1 hr. at 120°F. Learn more at www.abatron.com.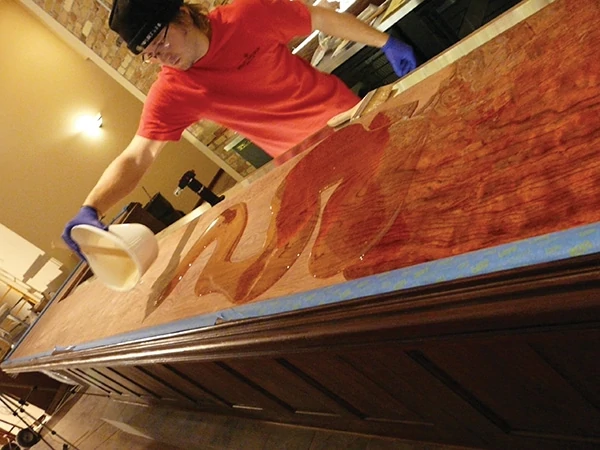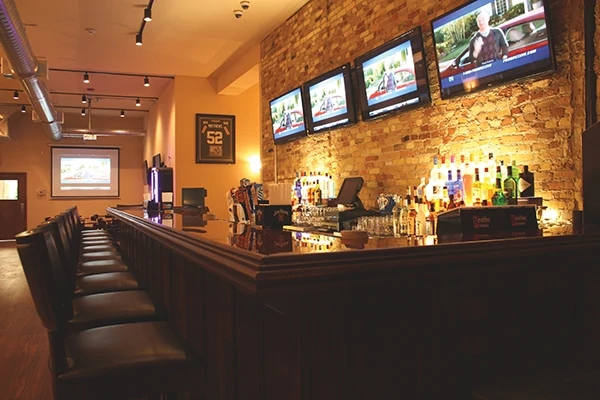 Rust-Oleum Countertop Coating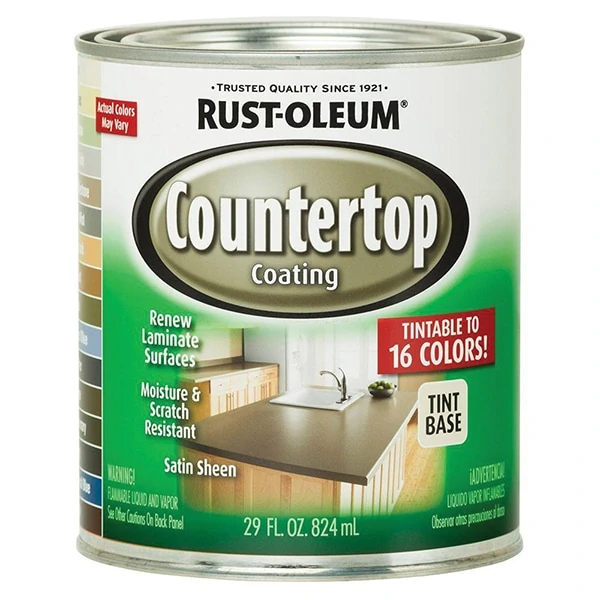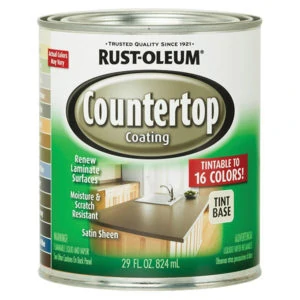 If you're primarily concerned with a change in color, Rust-Oleum Countertop coating can renew laminate countertops, cabinets and furniture with a countertop paint. The coating also contains HomeShield Antimicrobial Protection which will protect the painted surface by inhibiting the growth of mold and mildew and other odor- or stain-causing microbes. This is an easy-to-apply, one-part product that is scrubbable, washable, moisture- and chemical-resistant against common household items. One can of base covers up to 25 sq. ft., and the coating is tintable to 16 colors. Clean it up with mineral spirits.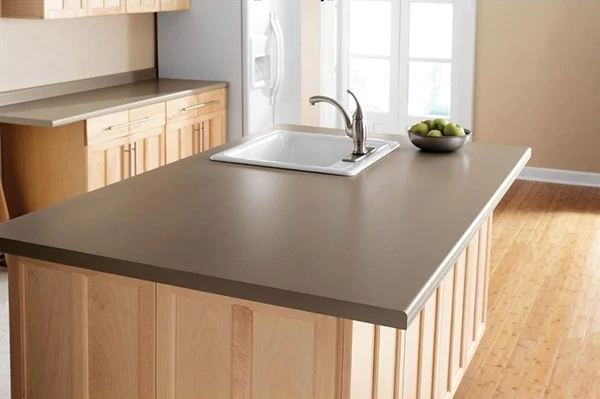 Artistic Patterns with Epoxy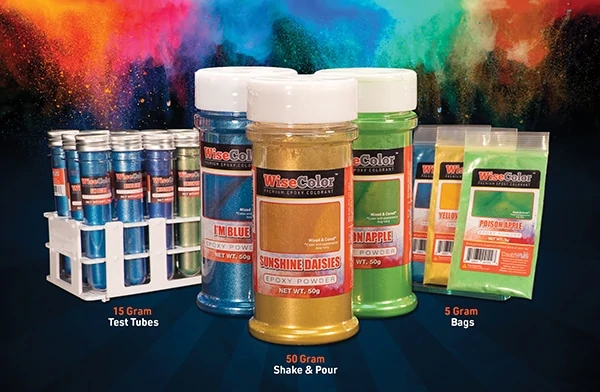 Epoxy-coated countertops are rapidly growing in popularity due to the almost limitless color patterns and combinations made possible by creatively combining various products in artistic ways.

Some suppliers offer customizable kits to create a fresh, new epoxy surface without the high cost or demolition. Before you order a kit, first determine the amount of epoxy needed for coverage and choose your base color (the overall color of the countertop). Next, choose any metallic powder you'd like to incorporate. These accent colors can be mixed into the epoxy or sprayed over the top to make the countertop look more like natural stone. Finally, add another clear coat, which is not required but can make the countertop appear more three-dimensional, very smooth and even more durable.
The basics of application involve mixing the two-part epoxy with the base color and "flood coating" the entire countertop surface. Thoroughly coat the countertop, allowing the epoxy to run over the edges. Heat the surface with a propane torch to help level the epoxy and release air bubbles. Torch evenly and never let the heat stay in one place. Move the torch in even, overlapping strokes or the epoxy surface will burn. This step not only levels the epoxy and releases air bubbles, but it can also give the finished product a marbled effect.
After you level the base coat, you can mix in accent colors by adding metallic mica powders to 91-percent isopropyl alcohol in spray bottles. Shake often before and during application to keep the colors suspended. Use this mixture to create veins, marbling, granularity and contrast. Layer colors on top of each other or apply them in random patterns. To make veins, drag accent colors through the epoxy surface with a paint stick. Create swirls by mixing two colors over each other. To create granular effects, apply the accent colors from a distance with a spray bottle, adjusting the nozzle for a fine or coarse spray. To enhance the effect, you can apply veining or glitter to a final clear coat, which adds dimension and detail to the new surface.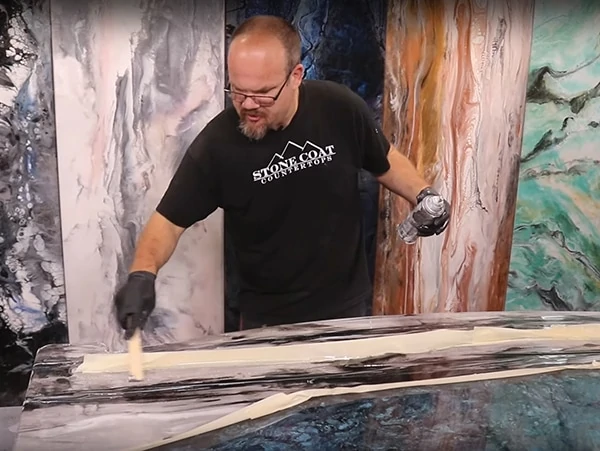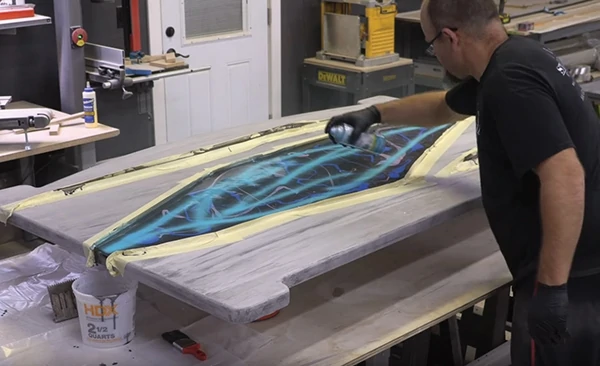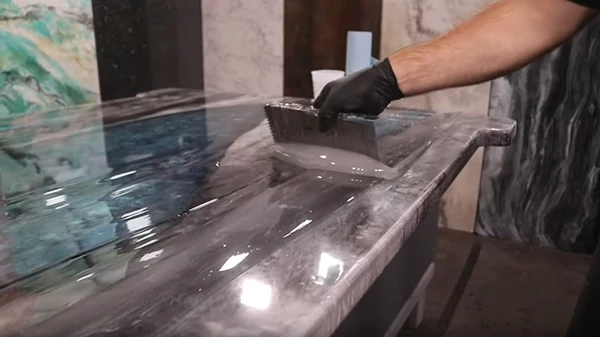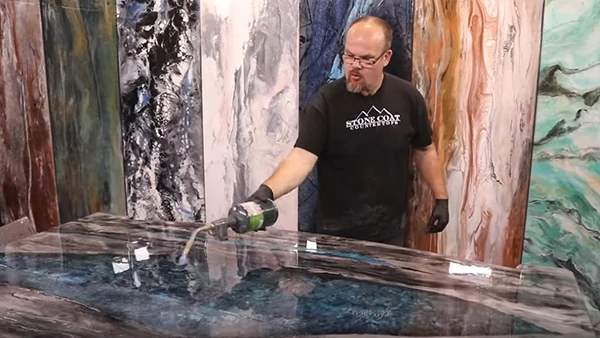 The range of colors and patterns is really only limited by the user's imagination.  For a variety of step-by-step  tutorial videos on applying various effects with epoxy, visit www.stonecoatcountertops.com. The company distributes a wide range of epoxy products and supplies as well as offers tips and tricks for special effects. Learn how to create a "Severed Marble" pattern. Maybe you'd prefer the look of "Faux Quartzite," "Exotic Stone," "3D Metallic," "Granite," "Sponge Technique," "Crackle Effect" and much more.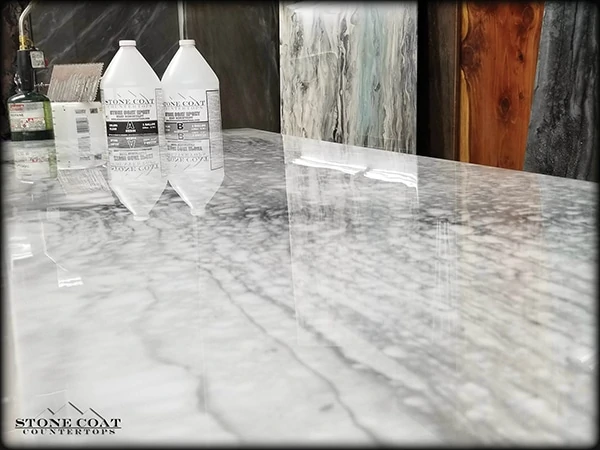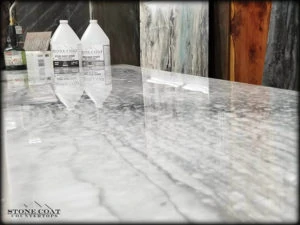 Side Note
DIY Tip for Countertop Coatings
While these aftermarket coating products can achieve a durable "like new" countertop surface, you will generally see better long-term results when applying to flat surfaces and bullnose countertops (rather than applying to countertop surfaces with a "sharp" or square edge). In our experience, the outside corners of a square edge are more susceptible to wear, cracking and impact damage, and will probably require touch-up repair in the future.