Circular saws are the most widely used cutting tools around, whether they're configured as a portable handheld model, a table saw, miter saw or radial arm saw. At first glance, the blades for these tools may appear similar, but the blade should always be matched to the job at hand. Certain saw blade materials are better suited for cutting certain stock materials. And beyond material concerns, subtle changes in tooth grind are carefully engineered to make one blade better suited to a specific application than another. Here's what to look for.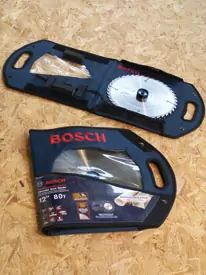 The latest Bosch pro-grade blades come with a handy storage case.
Material Basics
The entry level material for circular saw blades is standard steel. Steel blades are inexpensive and work fine for cutting soft woods. However, you can expect a steel blade to dull quickly, particularly when used on hardwoods.
High-speed steel blades, or HSS blades, are manufactured harder than steel for longer service life without dulling.
Professional craftsmen usually opt for carbide-tipped blades, in which the body of the blade is made from high-speed steel, but the teeth are made from the harder carbide material. These blades are initially more expensive than steel but stay sharper much longer than steel or HSS blades. Just how much longer? Well, Skil hails its line of carbide-tipped blades for lasting up to 60 times longer than steel blades.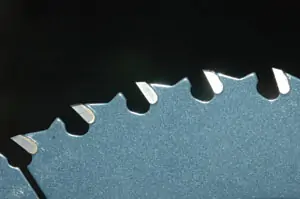 Carbide-tipped blades can last up to 60 times longer than standard steel.
As far as carbide goes, there are also varying degrees of hardness among carbide-tipped blades. For example, Freud's Avanti line of saw blades are manufactured with a blend of titanium and cobalt resulting in a high-density carbide material for a longer cutting life. In fact, Freud backs its Avanti line with a lifetime guarantee that the blade "will be free from defects in materials and workmanship for its life."
Next up are abrasive blades, which forgo teeth in favor of bonded abrasive materials similar to a thin grinder wheel. Often used with cut-off saws, or "chop saws," but available in many different sizes, abrasive blades are intended to cut masonry or metal, with the intended application generally printed right on the blade.
Diamond blades are among the most expensive saw blades, but they're the only way to go when cutting brittle materials such as glass or ceramic tiles, as well as concrete, brick and stone. Commercial-grade diamond blades are used to cut concrete road bed and similar heavy-duty jobs. With these blades, diamond crystals are heated and pressed into the segmental cutting teeth of the blade. Like abrasive blades, diamond blades don't actually cut so much as grind through hard materials. Diamond blades work best when cutting wet, because the water prevents the blade from overheating, reducing the amount of harmful dust and slurry from the cut.
Blade Anatomy
Tooth design is key to determining a blade's best application. Slight differences in the bevel, gullet and kerf of the teeth can significantly affect cutting performance.
According to blade experts at Vermont American, teeth can have a single bevel, two bevels or no bevel at all. Plus, the types of bevel can alternate from tooth to tooth on a single blade. The bevel, or variety of bevels, is what gives a blade its specific cutting pattern.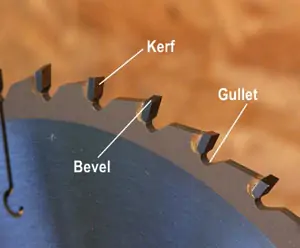 The number, pattern and design of the teeth determine the blade's cutting performance.
The space between the blade's teeth is called the gullet, and it clears the chips of material while the blade is cutting. The larger the gullet, the more efficiently it scoops out the cut material.
The kerf is the face of the tooth. The kerf is what does the actual cutting. The pattern of alternating kerfs is what's known as the tooth grind.
The tooth grind decides what application the blade is best suited for. There are many types of grinds, which may or may not be indicated on the blade's packaging. What's more important is the intended application is always listed on the package. Shop according to the blade's intended use and you'll be in good shape.
The quantity of teeth also plays a significant role in the blade's performance. For example, blades best suited for ripping stock along the grain typically have fewer teeth with large gullets for easy chip removal. Blades meant for crosscutting across the grain have more teeth, usually 48 or more, with a smaller gullet for a smoother cut. The higher number of teeth generally translates into smoother cuts, ideal for trim and finish applications.
Beyond blade material and tooth grind, another aspect of blade design is the expansion slots seen in larger sized blades. As the blade cuts, it heats up and expands; the slots compensate for this. These slots vary in design among manufacturers, but they all serve to keep the blade cooler and reduce warping.
When selecting the best blades, particularly for larger power tools like miter saws and table saws, keep an eye out for such features as anti-friction coating. It does just what it sounds like, minimizes friction, thus heat, during cutting in order to reduce wear and extend the life of the blade.
Cutting-Edge Blades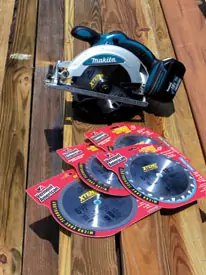 Xtend Blades for Cordless Saws
When it comes to new blade technology for circular saws, Vermont American takes a targeted approach to battery-powered saws. With the rising popularity of cordless saws thanks in part to lighter lithium-ion batteries, Vermont American now offers a wide range of Xtend Blades with Micro Edge Technology. Micro Edge is a combination of "scalpel sharp" teeth (V.A.'s terminology is a bit of a stretch) and a very narrow kerf edge. This narrow cutting kerf creates less drag and resistance than standard blades with wider kerfs. The decreased resistance means cordless saws operate more efficiently. According to Vermont American, the blades pay off with 40 percent more cuts per battery charge.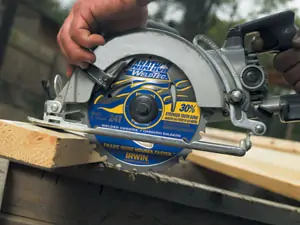 Irwin Marathon Blades
The last time I was blade-shopping at my local hardware store, Shaw Building Supply in Mount Olive, Alabama, Mr. Shaw told me the best blade he carried was Irwin's Marathon series. I took his suggestion and was pleased with the quick, clean cuts I got during a deck-framing project. Features include a thin kerf for faster cuts, micro-grain carbide tips, a fully hardened plate for longer life and a reinforced shoulder for added durability.
Irwin recently launched the Marathon series for handheld circular saws that features WeldTec technology. The blade has welded carbide teeth (as opposed to brazed, like most blades). According to Irwin, this pays off with 30-percent stronger tooth bond and 50-percent longer life.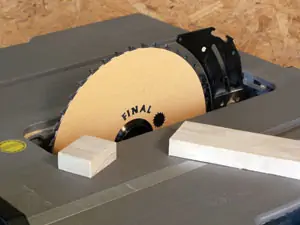 Final Cut  
A uniquely new concept in blades is the Final Cut Saw Blade. This 10-inch, 40-tooth blade features sanding discs on each side of the blade that allow it to cut and sand the work piece at the same time. The abrasive disc is actually wider than the blade kerf, so each cut produces a fine, double-sided finish that needs no further sanding. Quite frankly, our staff was skeptical about the design, but we gave it a try on some No. 1 pine and it does leave a nice, smooth finish on the cuts. The big question is: How long will it last? According to the manufacturer, "It all depends on the material being cut. For example, if you are cutting 2-1/4-inch pine casing, the blade and sandpaper will make about 2,000 cuts before you need to resharpen the blade or replace the sandpaper."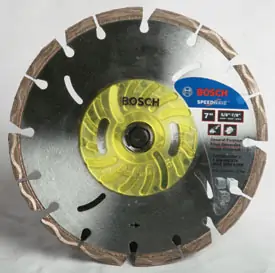 Bosch SpeedWave 7-1/4"
Bosch offers a 7-1/4-inch SpeedWave diamond blade with a diamond-shaped arbor knockout so users can cut with an angle grinder, as well as any worm-drive circular saw. The blade features a wave-shaped ridge along both sides of each segment, designed to reduce blade friction and drag. The design also helps clear dust faster for better overall performance. In addition, SpeedWave benefits from the first-ever center Cooling Disc. The disc uses the blade's rotation to draw ai rinto the integrated cooling channels and then evenly distributes it, allowing the blade surface to cool, which increases the blade life. (www.boschtools.com)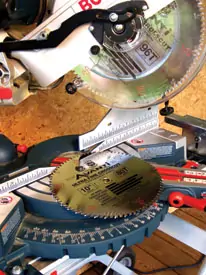 Freud Avanti Blades
"A hot knife through butter" is an overused metaphor, but that's what we think of Freud's Avanti blades, which made the most effortless cuts of any of the blades we tested. The Alternate Top Bevel (ATB) tooth grind makes practically splinter-free cuts, and the teeth are made from a mixture of cobalt, tungsten and titanium for unsurpassed cutting life. Freud's anti-friction coating is called Silver I.C.E., and one touch is all you need to tell its difference from competitive coatings. The glassy smooth surface reduces heat and pitch build-up, and according to Freud, the Silver I.C.E. coating will result in blades lasting twice as long as standard polished blades.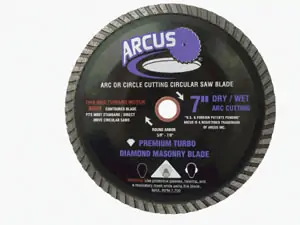 Arcus Masonry Blade
In past issues EHT has covered the contoured Arcus blade that makes it possible to use a circular saw to cut curves and circles in wood. Arcus now offers a contoured masonry blade that can be used freehanded, or with a compass guide, to make curved cuts from a 15-inch radius and larger. The Arcus masonry blade is 7 inches with a 10-millimeter rim that can be used dry or wet. Maximum depth of cut at 15-inch radius is 1-1/2 inches, and a cut at 24-inch radius is 2 inches deep. The cutting width is 1/8 inch, ideal for scoring decorative grout lines in patio slabs. The contoured blade height lying flat is 1/4 inch due to the contoured design, so check your saw for enough clearance to make sure the blade doesn't rub when mounted in the saw. (www.arcusblade.com)
Hilti's High-Capacity Cordless WSC 7.25-A

One of the saw's we used to test the blades was Hilti's new WSC 7.25-A 36-volt, 7-1/2-inch cordless circular saw. Lightweight, well balanced and very powerful, the WSC 7.25-A is equipped with a 36-volt, 3.3-amp hour Hilti Cordless Power Care (CPC) lithium-ion battery, making it the highest capacity cordless circular saw on the market. The WSC 7.25-A also has the deepest cutting depth on the market with a 2-5/8-inch cut depth at 90 degrees. The saw's new W-CSC Teflon-coated saw blades reduce friction when cutting, and the ultra-thin blade increases cutting speed. And you probably won't need it, but the saw is covered under Hilti's Lifetime Service. The WSC 7.25-A will be serviced quickly, if needed, with no additional cost for two years. After which, the saw will have a maximum repair cost of no more than 30-percent of the tool's then-current list price. (www.us.hilti.com)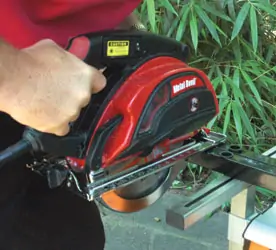 M.K. Morse's Metal Devil
M.K. Morse's Metal Devil saws and blade series makes cutting metal as easy as cutting 2-by-4 lumber. The Morse Metal Devil combines unique metallurgy and a special tooth configuration to cut metal faster, cleaner and cooler than was previously possible. In tests it cut through 6-by-1/4-inch steel plate in an average of less than 12 seconds and 2-by-2-1/4-inch angle iron in less than 6 seconds. EHT used the combination of the Metal Devil 9-inch blade with the Metal Devil saw and we heard oohs and ahhs from those watching, as we cut through Fortress Iron's metal rails used in a decking project. The Metal Devil allowed us to stack rails back to back, saving us 50 percent in time spent cutting. The blade cut as fast on the 30th rail as it did the first. (www.mkmorse.com)