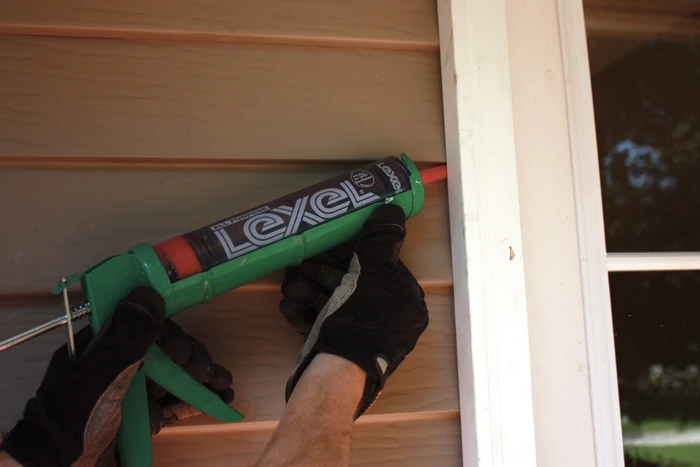 Caulks are used to seal joints for a decorative finish, to seal joints to prevent water intrusion, or both. When it comes to sealing joints in crown molding or weatherproofing windows, choosing the right caulk/sealant product is the first order of business.
Selection
Silicone sealants have long been the staple for exterior projects where a waterproof seal is necessary. However, standard silicone cannot be painted and is incredibly messy and sticky to use. Newer formulations of silicone-based sealants can be painted—but only if indicated on the packaging—so pay close attention when buying. Silicone sealants work well for use in the kitchen and bath. They can be purchased with antimicrobial additives to fight mold and mildew, and can be easily removed and replaced when the bead gets grimy.
Acrylic caulk is only appropriate for interior projects and is not waterproof, nor is it very flexible and may crack over time. However, acrylic caulk can easily be painted and is much easier to tool and clean up than silicone. Standard acrylic caulk is decorative and not intended to serve as a sealant, but it is also the least expensive option.
Hybrid caulk/sealant products come in formulations containing some of the attributes of both silicone and acrylic, meaning they can be cleaned or tooled more easily, remain flexible, can be painted and still retain a waterproof seal.
Pro-grade polyurethane-based sealants are ideal for siding, windows and doors, because they stay flexible and don't shrink, have better adhesion than silicone—plus, they're paintable. Lexel is a high-quality sealant that utilizes liquefied rubber that even sticks to wet surfaces. These pro-grade sealants cost more but deliver excellent results. Water-based and solvent-based caulk/sealants complicate the selection even further, offering similar hybrid properties, and many serve double-duty as adhesives.
Fire-resistant caulk is used around electrical wires and fixtures as an additional safety measure.
Specialty caulks are formulated with special properties specific for certain applications. For example, Sashco's Slab concrete crack repair caulk combines superior adhesion, elasticity and a granular texture to match the surrounding concrete. Quikrete's Fireplace Mortar is a silicate-based refractory cement caulk that withstands temperatures of 2000 degrees F.
The easiest way to parse the many options is to pay close attention to the indications on the packaging, making sure they match the job at hand. Whether the product is flexible, waterproof, paintable, or contains a mildewcide additive, all features of the product should be listed prominently on the label.