By Paul Williams
When selecting your new stove you have several options. It's not just looks but also design, function, fuel and operation. Wood burning or now the politically correct expression, bio-mass burning, can also include wood pellets, corn and any numerous types of agriculture products. To start, we'll go over some common designs.
Inserts or Builder Boxes. These units will increase the efficiency of an older masonry fireplace or can provide the base for construction of a modern fireplace. Inserts will usually have doors and a blower system that greatly improves the operation and efficiency. They promote cleaner burning and use far less fuel than a traditional fireplace. Thereby saving money and helping the environment. Builder boxes are found in new construction and can offer the flexibility of burning wood or installing gas logs.
Circulating Stoves. These stoves are double-walled units with two layers of construction: the inner firebox, which is usually lined with firebrick and cast iron, and an outer shell, usually decorative steel that promotes circulating air around the firebox. These create a chimney effect by pulling the cooler air off the floor and often times they offer a blower option that enhances that effect. The major advantage of the "circulator" is that during operation the outer shell or cabinet does not get as hot as a traditional appliance. This makes it safer when used in high-traffic areas such as a game room or when small kids are around. The cooler cabinet provides a burn-free environment. Some models even offer the ability to use the inner firebox as a cooking surface, making it perfect for those times when you experience a power outage.
Radiant Stoves.This type of appliance is designed to use radiant energy as the primary source of heat. They are usually the more decorative variety and include glass fronts that create the ambience and focal point of a room. These stoves will often use all three forms of energy to heat the area—radiant, conduction and convection. Many will also offer a blower option to help distribution and reduce hot spots. Common construction can be welded steel, cast iron and even masonry.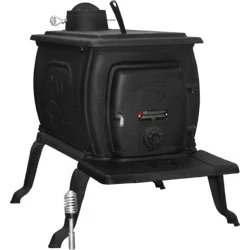 Warm Air Furnaces. When looking for a whole house heating system, warm air furnaces provide the ability to add supplemental heating to your entire home. They connect and direct heat through ductwork. Just like a traditional central furnace, they will require both a hot air supply and cold air return. Often these are installed in conjunction with an existing central furnace. This provides thermostat convenience with even heat distribution and tremendous savings opportunity, especially when compared with today's volatile energy prices.
Features to Look for
First, check with your insurance company and local codes to see what is approved in your area. Some areas may have restrictions on wood burning and some may restrict the type that can be used. For example, a certain emission limit may be required, or a specific certification.
EPA Approval. These units are the most efficient, burn less fuel and save money. They will have high combustion efficiencies and promote clean burning with little to no visible smoke. Your neighbors will appreciate that.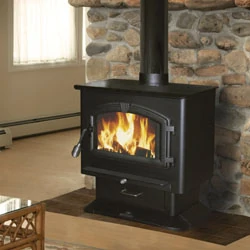 Tax and Stove Change-out Incentives. Check your area for incentives that will aid in replacing older, dirtier stoves. These programs are becoming more popular and offer the biggest bang for the buck when cleaning the air. Today, modern stoves are available that burn 90 to 95 percent cleaner than older models.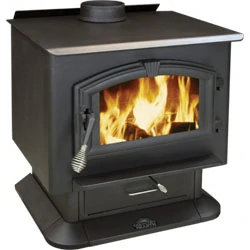 Proper Sizing. Often, people select models that are much too large for their installation. If the stove is too large it won't burn as cleanly or efficiently, and require more maintenance.
Customer Support. Make sure the company that manufacturers the product is reliable and can back their products with customer support. Communication through the dealer or directly with the manufacturer can be invaluable when needed.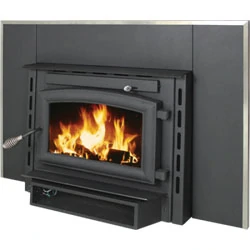 Stove Placement
Stove placement is usually determined by location of an existing chimney flue or by the new chimney location. The ideal chimney location is the center of the home. Chimneys operate best when well insulated. The less exposed to the outside elements, the better. When attaching the appliance, a straighter connection is always better. Connection to the chimney is usually made with single-wall black stove pipe, and it should be the same size as the flue of the wood-burning stove. Never use long horizontal runs, and if a short run is required (less than 4 ft.) include a 1/4-in. rise for each foot from the stove to the chimney. Make sure each section of stove pipe is sealed and that connection to the chimney is unobstructed.
Note: Masonry chimneys will often include cast iron cleanout doors. These have been found to be problematic and a source for leaks. This can cause drafting problems and increase maintenance. Make sure all gaskets are in good shape and properly sealed.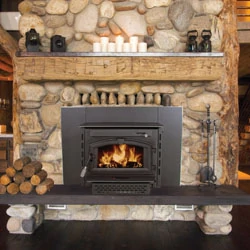 Clearances
To reduce the possibility of fire, the National Fire Protection Association (NFPA) has recommended certain minimum clearances between wood stoves and combustible materials or furniture. However, today's modern appliances have been rigorously tested and all safety clearances will be included in the owner's manual. Always follow the manufacturer's recommendations.
All floors under wood stoves (except concrete, masonry and approved non-combustible construction) must be protected from heat and coals that may fall out. This protection should extend under the stove and outward on all sides. Check the manual for specific requirements.
Editor's Note: Paul Williams is national sales manager for U.S. Stove. For more information, visit www.usstove.com.