There's a lot to be said for a metal roof's snazzy looks and top-notch performance. The right roof can liven the home's curb appeal and provide years of superior low-maintenance protection. Today's residential metal roofing comes in a wide variety of styles and designs. Metal roofing materials are not only light weight but can be very energy efficient. And unlike asphalt roofs, which require re-roofing every 15 to 20 years, metal roofs won't decompose. These roofs can withstand rain, fire, earthquakes and hurricane-force winds.
Although the initial investment in a metal roof is steeper than most other roofing materials, over time a metal roof can save a great deal of money and hassle. This is because there is no second investment in roof replacement, or the labor that comes with it. Metal roofs are practically maintenance-free, requiring only the occasional rinse with a garden hose. And most metal roofs come with a 30- to 50-year warranty. Insurance companies in certain states, like Texas, even offer discounts of up to 35 percent to homeowners with metal roofs.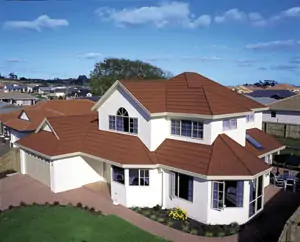 What to Look For
When selecting a metal roof, first make sure the product's design is an appropriate match to your home's construction. Most metal roofs require solid decking. Many systems are frequently installed over existing shingle roofs. Some can be installed over lathe boards or over wood shingles on lathe. Some new products can even be installed over existing slate and asbestos roofs.
Next, choose a material that complements the décor of your home and neighborhood. You can find quality metal roofing with just about any appearance, whether it's standing seam or a facsimile of shake, slate, tile or standard shingles. Some of today's metal roofs are coated with a granular texture to look like traditional asphalt shingles.
Base Metal
Metal roofing is fabricated from a wide variety of metals, including galvanized steel, galvalume steel, aluminum, copper and zinc alloy—even stainless steel. The metals differ in properties, and the type used sometimes depends on the design of the roofing panel. Consider all the available options.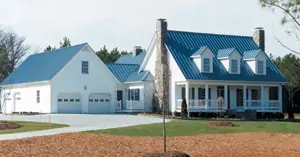 The sturdiest option, steel roof systems have a metallic coating of zinc, or a combination of zinc and aluminum, that is bonded to the steel at the factory to prevent rust from forming. This is followed by a coating of epoxy primer and a baked-on acrylic topcoat that adds color and protection.
Aluminum products are extremely lightweight and commonly used in residential roofing. Aluminum won't rust, but must still be coated for a finished appearance. The coatings are similar to those used on steel roofing.
Copper has a classic look rooted in centuries of use. It will never rust, it's soft and easy to work, and it weathers naturally to a beautiful green patina. It's also very expensive.
Zinc Alloys are specifically formulated for strength and durability, but this can also be a pricey option.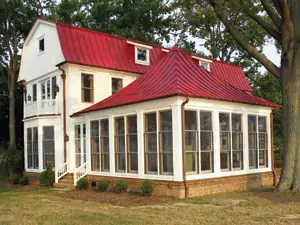 Product Design
As metal roofing grows in popularity it also evolves in technology, giving rise to new products. As you consider your options, research the products' track record. Ask about the systems' flashings and accessories. You want a product with a history of solid performance. For example, inquire how the valleys are installed. If your area is prone to freezing temperatures, it might be smart to choose an "open" valley system that carries water on top of the roof rather than a "closed" valley, which carries water through channels beneath the panels. The hidden channels have been known to clog with ice and snow, causing accumulated water to infiltrate the roof system.
Underlayment
Although metal roofing should be installed without dependence on an underlayment, the panels can develop condensation on their bottom side during certain weather conditions. For the best moisture protection, use an underlayment such as 30-pound felt or one of the new polyethylene-based varieties. Many of the polymer-based underlayments work very well beneath metal roofs because they serve as their own slip-sheet. These polymer underlayments are also very light and easier to install than traditional felt paper.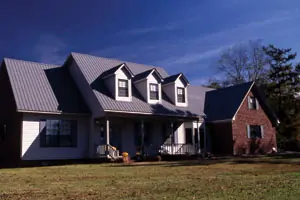 Weather Resistance
Metal roof systems have panels that actively interlock with each other, giving them stiff resistance to high winds. The best systems have passed 120-mph wind-driven rain testing and/or UL 580 uplift testing exceeding 90 psf.
Impact resistance is another factor. While metal roofs are tough, not all are created equal. Aluminum and copper are softer metals than steel, and more prone to denting. Certain systems are guaranteed not to dent. Some insurance companies in certain states are offering premium discounts to homeowners who choose roofs that have passed certain Impact Resistance tests. If you live in a hail-prone area, make sure your roof product measures up.
Energy Efficiency
Light-colored metal roofing can help to reflect heat. This can keep homes naturally cooler in warm weather and insulated during the winter, which can lower energy bills. With steel, copper and zinc roofs, this works best when the metal is painted with a bright color or light metallic coating. Aluminum, however, inherently reflects radiant heat, even when painted in darker colors.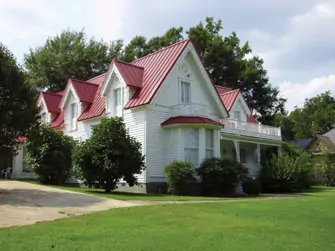 Fastening
Choose a roof system in which all fasteners and roof components are made of a compatible metal. Specify a system with concealed fasteners. Any exposed fasteners or holes through the panels are areas where water can potentially enter the roof system. With steel roofs, water infiltration can lead to corrosion of the panels and fasteners. Many metal roofing systems use "clips" to fasten the panels rather than fasteners that attach the panels directly to the roof. The clips allow for expansion and contraction of the metal—very important to standing seam systems with long panels.
Finish
Metal roofing, especially steel, requires a good coating for long-term durability. Product warranty lengths are usually determined by a combination of the metal and the coating. Look for a finish that has proven the test of time. And make sure the finish is warranted against fading, chalking, chipping and detaching from the base metal.
Proper Installation
As with any building product, the performance of the overall project will depend on proper installation. Roofing products should include detailed installation instructions from the manufacturer. Choose a contractor who has experience with your specific roof system. Get referrals from past homeowners who are satisfied with the work done on their homes. Also, get three different written estimates. Have three roofers come out to measure the roof, inspect the project and provide a cost estimate for labor and materials. Then compare the numbers. And always select a licensed and insured contractor to guarantee the roofer has been certified to do the job.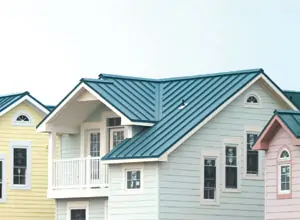 A metal roof is a major investment, so it's important to look closely at today's wide selection of styles and qualities. But with the right product and an experienced installer, a new metal roof can add to your home's beauty, comfort and value.
Metal Roof FAQ's

Will the roof material require additional structural roof deck reinforcement?

The natural properties of the steel, aluminum, zinc and coppers usually used in metal roofing are more than 50 percent lighter than asphalt products and up to 75 percent lighter than concrete tile. Especially in areas that get heavy snows, metal roofing is the preferred choice as a durable, lightweight roofing alternative.

Does the roof come with a product warranty?

Every product you buy for your home should have a warranty. While most premium asphalt roofs will last somewhere between 12 and 20 years, metal can last more than 60. That's why you'll find most metal roofing with warranties around 50 years—nearly four times longer than most other roofing products.

What is the overall life-cycle cost of the roofing material?

A home is a long-term investment, and homeowners should think of their roof in the same manner. While asphalt can be cheaper than metal initially, spread out over 60 years—which isn't long at all in housing terms—metal is the clear choice. Consider this: If a metal roof is covering your home, you'll probably never have to re-roof again. Asphalt requires re-roofing every 15 years or so. And while costs vary from region to region, metal will win the cost battle every time.

What is the installation cost?

Installing a new roof or re-roofing is a serious and specialized matter. Because there are so many factors when installing roofs, for instance, the roof's pitch, size and current condition, combined with regional weather patterns and the homeowner's particular roofing selection, it is very difficult to quote costs without actually seeing the project. However, because metal can usually be laid right on top of the existing roof, the clean-up process is quick and easy, eliminating loose nails in the lawn and shards of material to be disposed of.

Are there maintenance costs?

Proper roof maintenance is essential to ensure it lasts as long as possible. The benefit of a metal roof is that maintenance is essentially nothing. With any roof, it is a good idea to occasionally remove any debris—branches, leaves, etc.—that may have fallen onto it. With a metal roof, this usually entails nothing more than hosing the roof down, usually from the ground. Properly installed, a metal roof needs only to be admired.
(Courtesy of Metal Roofing Alliance)