With the right fence, you can expect years of protection, privacy and value. The traditional beauty and affordability of wood is a primary reason it has held strong as a popular fencing material. A properly designed, finely crafted and skillfully installed wood fence takes on an individual quality all its own. And when matched to the style of your house and grounds, it will enhance your home's appearance and add to its value.
Wood fencing can also be constructed in a wide range of styles. Research your design options to get the most value for your money and the right fence for your needs.
What Material Should You Choose?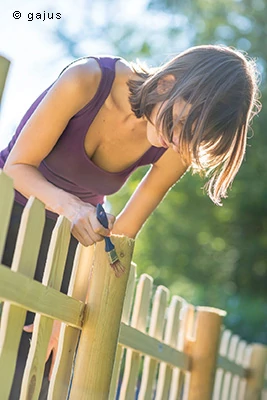 Most fences are made from wood because it's affordable, versatile and easy to obtain. Wood comes in uniform sizes, and it's the easiest material for a homeowner to use. You can finish it with paint or stain. Or, if you use treated wood or cedar, you can let it age to a natural color.
Proper installation is the key to an attractive, long-lasting fence. The single greatest problem with wood fences is premature failure of the posts. Wood does not hold up well to ground contact and once the posts begin to fail, the appearance of the fence is compromised. Be sure to use quality posts and rails made from softwoods that are naturally rot-resistant such as cedar or redwood, or those that have been pressure-treated to limit rotting. Buy hot-dip-galvanized, aluminum or stainless steel fasteners. Other fastener types can rust and disintegrate, or react adversely with the natural preservative oils present in some wood.
The appearance quality of the boards you choose will make all the difference in the way your finished fence looks. You'll find different grades that meet the various quality specifications. In terms of wood quality, you generally get what you pay for.
Wood fencing materials let you choose from a wide range of styles limited only by your imagination. Consider all the possibilities before you decide.
Panel Style
For an easy-to-build fence on a flat yard, DIY'ers might consider using pre-assembled panels that install between posts. The rectangular panels are a system of rails and pre-attached fence boards. However, if your yard is sloped, then to keep the panel tops level you'll have to stagger the panel heights where they fasten to the posts. If the yard has a significant grade, the staggered panels will create gaps at the bottom of the fence, through which a family dog can escape (and unwanted critters can enter).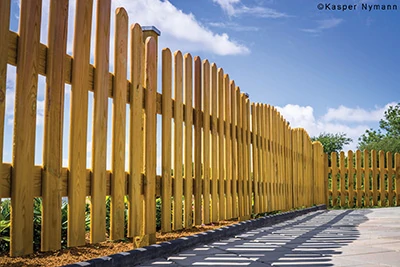 Whether using pre-assembled panels or building your own, the stretches of fence between the posts can have the pickets installed uniformly, or they can feature a repeating panel pattern for additional décor. Arched or scalloped panel tops, for example, can give a privacy fence a distinguished appearance, but keep in mind that these styles work best on flat, open yards that make it easy to keep the pattern consistent.
Picket Arrangement
Fence styles vary greatly, and ultimately the pattern and details are up to you. The following is an over-view of the most traditional styles.
Solid Board — Available with a cap rail for an estate look, this style also can be arched or scalloped for a flowing look that highlights the post, which can be finished with a decorative topping.
Shadowbox — This privacy fence allows breezes to pass through, looks attractive from both sides and is easy to build. When built with boards that alternate position on both sides of the rails, a shadowbox fence can allow a degree of visibility to the other side of the fence when looking through it from an angle, but provide obscured privacy when looking straight at the face.
Spaced-Picket — Popular for its versatility and perhaps the most traditional of American fences, the traditional "white picket fence" makes a good border while providing an open view.
Lattice Top — Lattice comes in a diagonal pattern and a horizontal/vertical pattern, providing your fence with a beautiful, finished look. This privacy fence allows privacy yet provides vision through the lattice top. Lattice's open design breaks a strong wind into a light breeze. In addition, breezes are allowed to pass through with less resistance, putting less stress on the integrity of the fence.
Stockade — Another popular early American style, it offers a classic New England look with panels consisting of thinner 3-in. pickets butted together with tight spacing.
Basket Weave — Attractive when viewed from either side, this style is very strong and makes an appealing privacy fence. It's also an attractive backdrop for plantings. Vertical 2×2 spacers are weaved between horizontal fence boards for a unique-looking fence. Because of the spacers, each fence board needs to be longer than the distance between posts, so it can bend to fit. Be sure to cut the boards to fit each section individually.
Vertical Board on Board — Another privacy fence, this attractive design requires three rails with boards attached to each side.
Post and Rail — This fence combines an open view with exceptional sturdiness. The different types available allow you to create a unique look for your landscape. Add wire mesh or stainless steel cable inside the fence for containment of pets or children.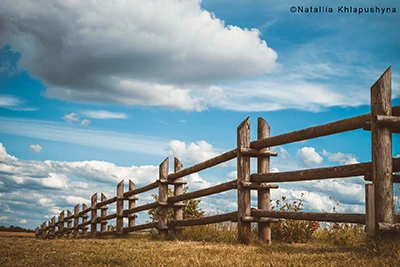 For a rustic boundary or accent for your property, consider the following fence styles:
Split Rail — Use Western Red Cedar in either two- or three-rail design for a true Appalachian look.
Round Post and Rail – Made with round posts, this system creates a uniform rustic appearance that flows with your landscape.
Ranch Rail — This is a popular look for equestrian containment. A stately take on the split three-rail design, this system can be finished in white or black, often with capped posts.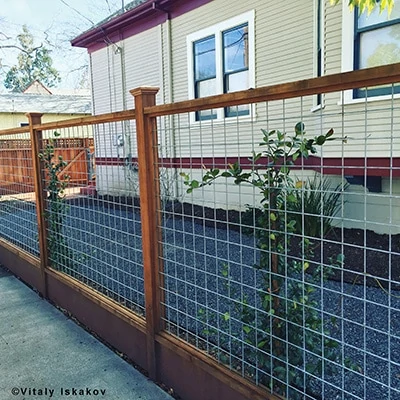 Board Styles
Dog Ear — The dog-eared fencing style remain a popular and economical choice. Dog-ear boards can be used in several styles of fencing, from privacy to shorter, picket-style spaced fencing. The term "dog-ear" applies to the shape of the top of the boards. Instead of a flat top, the boards have the corners sawed off, providing a "dog-ear" shape, or half-hexagonal shape, to the top of the boards.
Picket — Picket style fence-boards have deeper, steeper corner miters at the top for the more pointed appreance of a traditional picket fence.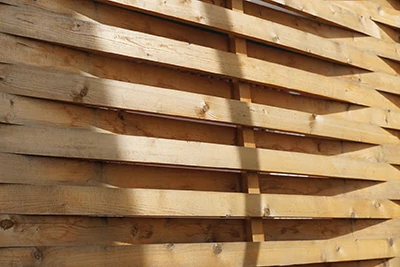 Gothic — The tops of these fence boards feature additional detail for a more ornate and classical look.

Customize Your Fence
Workability and adaptability are two key benefits of wood fence systems. These benefits allow you or your design professional to create a unique system. Boards or pickets can be topped to match or create a design. Fence posts can also be topped to match your boards, or if left as a flattop post, the addition of unique post caps will put the last finished detail on your fence. Caprails and fascia boards add elegance and create a more formal look. And arbors, trellis and pergolas can be incorporated with fence systems, creating your own personal touch and look.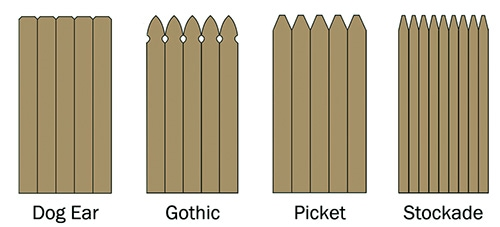 Adding the Gate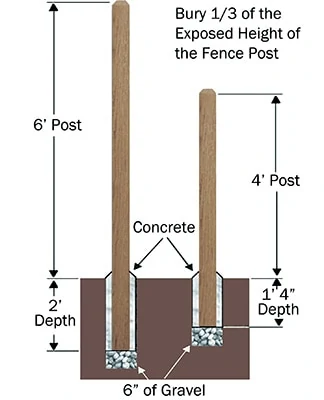 The gate is the most important part of your fence, and since it's also the only moving part, it's most susceptible to sagging, sticking or slipping out of alignment. Properly designed gates will use quality hardware to help maintain proper operation.
Strong gate posts are critical for wood fences. Wood's tendency to warp and twist can cause any gate design to become misaligned. To better ensure longevity of the wood gate, consider using steel posts for the posts. Steel is a solution for natural warping and twisting of wood posts.
Make sure the size of your gate post can handle the weight of the gate. Wider gates require larger posts that will not bend under the stress created from opening and closing the gate.
Several types of gate hardware are available. Gate hardware that is coated with an epoxy and then a polyester finish will yield long-term resistance against fading and rust. Another option is gate hardware with plastic and stainless steel components that allow you to lock the gate like your front door, featuring reliable latching action with a sleek design.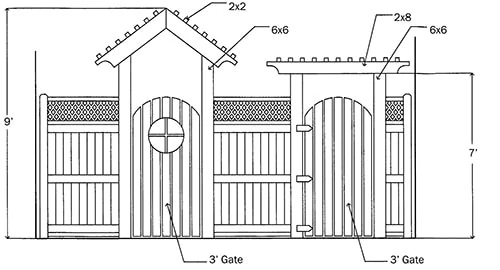 Gate frames are another source of failure with wood gates. For a wood-frame gate, consider using a gate sag prevention kit that includes a turnbuckle for adjustments as the gate wears.
Side Note
Build a Fence Gate that Won't Sag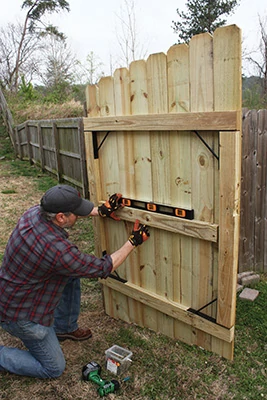 Wooden fence gates are notorious for getting out of whack. The wood's inherent instability during temperature changes coupled with the heavy weight of the gate can stress the wood connections as well as the metal hardware, causing the gate to warp, sag and eventually require replacement.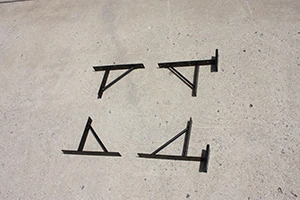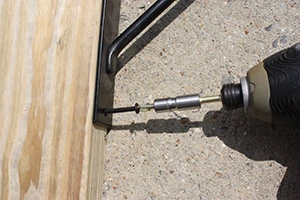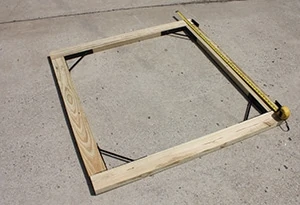 A "No Sag" gate kit with metal brackets can solve the problem. Available at most hardware stores, the kits typically include two hinged brackets, two non-hinged brackets and an assortment of mounting screws. The kit is designed to fit a gate 25 to 72 inches.
The brackets comprise the corners of a square gate frame made of 2x4s. Predrill all screw holes to avoid splitting. Once the square frame is complete, fasten it to the fence post, ensuring it is level and plumb. Check its swing for smooth unobstructed performance and make any necessary adjustments. Then, using quality decking screws, fasten the 1x boards to the reinforced gate frame using two screws at each 2×4 location.