By Matt Weber
How to Match the Air Supply to Your Air Tools
When you need to run anything from a framing nailer to a sand blaster, the right air compressor can handle the job with power to spare. Air compressors are versatile and economical, providing a single power source for a wide variety of tools that tackle everything from woodworking and metalworking to painting and mechanical work.
Pros and DIY'ers alike can choose from a wide variety of compressor sizes and capacities. Small inflators can air up bike tires and provide an emergency fix for leaky car tires. Also available are powerful portable air compressors for construction work, as well as professional-grade stationary models for carpentry shops and automotive garages.
Air Compressor Anatomy
There are many types of compressors, but they all perform the same function. All compressors increase the pressure and reduce the volume of air by filling a chamber (tank) and then reducing the chamber's volume. Reciprocating—also called "Piston"—air compressors are the most common type and can be found in a wide range of horsepower output.
Piston compressors can be found in two primary configurations; single-stage and two-stage. Single-stage air compressors work by drawing in air and compressing the air to its final pressure in a single piston stroke. Single-stage compressors can usually reach pressures of up to 150 PSI. Typically, a single-stage pump will have a higher CFM (cubic feet per minute) rating than a two-stage pump, because each cylinder is drawing air and compressing it during every rotation.
The larger two-stage compressors work in a similar manner, but they compress the air in two steps or stages. During the first stage, air is drawn and compressed to an intermediate pressure. After being compressed in the first stage, the air is piped to a second stage where the air is allowed to cool, to be compressed in the final step. Two-stage compressors can usually reach pressures up to 200 PSI. Compressors with two-stage pumps are more efficient at higher pressures and continuous use because the air is cooled between the stages.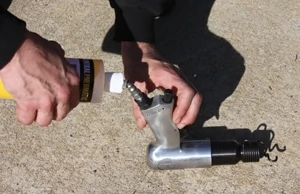 Air Tool Value
An air compressor is only as useful as the pneumatic tools that do the work. Although they require connection to a compressor hose, air tools offer some significant advantages over electric tools. One of the biggest benefits is that air tools do not require their own motor. This makes the tools more compact, lighter and easier to handle—with less moving parts to malfunction. For this reason, air tools are also known for their long-lasting value. With electric tools, you have lots of small motors that can wear out. With air tools, you have a single powerful motor to run them all, and as a result air tools can perform for years without failure.
Versatility is another advantage. Whether you're building a shed, painting a fence or fixing your car, you can easily interchange a variety tools at a single compressor, including a ratchet wrench, paint sprayer, angle nailer, finish nailer or impact wrench.
Assessing Compressor Power
The most popular air compressors among DIY'ers and pros on the move are portable units that can serve as an inflator, and much more. These mid-size units can be toted to the jobsite while still providing ample power. A portable air compressor is a great household tool that can inflate tires, operate an airbrush kit and power short-burst tools like nailers and staplers.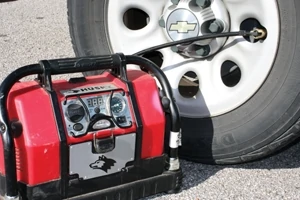 When choosing an air compressor, many people assume the higher the horsepower rating, the more powerful the compressor. However, horsepower can be misleading. Like two race cars with the same horsepower rating, one of the cars can still go faster. There are many other factors influencing how well the machine will perform other than horsepower.
Furthermore, manufacturers provide different variations of horsepower. Some compressor manufacturers rate their products by peak horsepower (also known as brake horsepower). Peak horsepower is the maximum output a motor can produce while the motor has the start windings engaged, which can be as much as 7 times the running horsepower. Under normal operating conditions, the start windings are only engaged for a fraction of a second, so using peak horsepower as a comparison rating can be misleading since the motor only achieves this horsepower during startup.
If the start winding is engaged for an extended period of time, the motor can overheat and fail.
Another misleading rating is a compressor's air pressure or PSI (pounds per square inch) rating. Most air tools require 90 PSI to operate, and most air compressors produce at least 90 PSI, meaning virtually any compressor intended for pneumatic tool use will achieve the necessary air-pressure output. Although higher PSI can impact run time, it does not necessarily improve tool performance.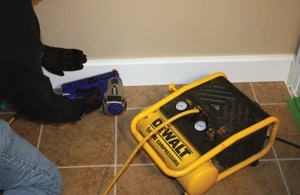 You primarily want to pay attention to the air flow. Some tools consume more air than others. Nailers need only a short burst of air. Sanders, on the other hand, need massive air flow to power their continuous action. Air flow is measured in cubic feet per minute (CFM). The greater the air flow, the bigger the power output.
When selecting an air compressor, check the CFM rating of the most powerful air tool you plan to operate. Then choose an air compressor with a CFM rating that exceeds that of the tool. (For simultaneous use of multiple tools, add up all of the tools to be used at the same time.) If the air flow isn't adequate, then the tool won't operate properly. Many nail guns require less than 1 CFM. Most air tools require 3 to 6 CFM. Sanding or grinding applications may require an industrial compressor that produces 6 to 13 CFM.
Also, don't be confused by manufacturers who give higher CFM ratings at different pressures. Since most air tools operate at 90 PSI, you should primarily be concerned with how much CFM you will get at 90 PSI.
Tank Capacity
The next factor is tank size. Sizes are usually listed in gallons. However, don't confuse larger tank size with more run time for tools. For intermittent use, a big tank is fine. But for continuous use, the compressor will need a smaller tank with a big pump and motor. If the power source is strong enough, you should not run out of air. Of course, the bigger the pump and motor, the bigger the compressor's price tag. For intermittent use, you can save money by choosing an air compressor with a smaller pump/motor and a larger tank.
The shape of the tank is also something to consider in relation to your storage space. Some units feature twin tanks, giving the compressor a box-like shape. Some tanks are round and flat, called a "pancake" design. Some tanks are designed horizontally, while others stand vertically to occupy less floor space.
Bells and Whistles
Another aspect to consider is an air compressor's maintenance requirements. Oil-free compressors have sealed bearings and require less maintenance than oil-lubricated compressors. Oil-free compressors usually have enough power for homeowner applications. Most heavy-duty, professional-grade compressors are oil-lubricated, but these compressors require regular oil changes.
If shopping for a portable unit, consider factors such as the compressor's weight and whether or not it has wheels. Even a mid-size compressor can be tough to lug around.
Also, look for easy-to-read gauges and easy-access controls. Factors such as the number of hose outlets are also important. Most portable compressors only have one, but some offer two outlets. Some compressors also come with accessory kits that include hoses, couplers and even air tools.
What's New?
Campbell Hausfeld'sNew 200 PSI Compressors
Campbell Hausfeld has engineered a new line of compressors that offers greater air pressure with no increase in size. The company's first 8-, 15- and 20-gallon 200 PSI air compressors provide the power to run air tools 40 percent longer than traditional models, resulting in faster home and automotive project completion. In addition to 40 percent longer air tool run times (based on initial tank fill of 200 PSI compared to an initial tank fill of 150 PSI max on same size tank; assumes tool operation to 90 PSI), the new 200 PSI family of compressors are packed with smart design elements and user-friendly features that make it easy for a DIY'er to "do it like a pro." They feature American Society of Mechanical Engineers (ASME) steel tanks made from 15 percent thicker steel designed to exceed 10 million cycles, and all units are backed by Campbell Hausfeld's 10-Year Tough Tank Guarantee. They're easy to maintain, utilizing oil-free pumps, as well as easy to move, with the pumps and motors located at the bottom of the tank for improved balance, and wheels for roll-around transport. The units are available at Lowe's Home Improvement and range from $179-$329. Visit www.chpower.com.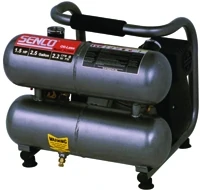 Senco PC 1131 Compressor
Senco's PC 1131 is a portable compressor built to handle nailing tasks from finishing to framing. The 1131 is built to meet the demands of the professional contractor with its oil-splash design and induction motor. The 1131 has 4.5 gallons of air storage in its twin tanks, meaning fewer compressor cycles than the smaller single-tank units. The motor draws 14 amps, which helps to prevent tripping circuit breakers, and we especially liked its zero to full capacity pump-up time of just over a minute on cold mornings. The Senco 1131 comes in at 60 pounds—about the same weight as a compound miter saw before adding a stand. So moving it about on the job site should not be an issue. For contractors and homeowners needing portability plus power, the Senco PC 1131 is a good choice. Visit www.senco.com.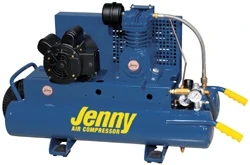 Jenny K-series Compressors
Jenny Products, Inc. offers the line of K-series electric wheeled-portable compressors. Durable and powerful, yet highly portable, the K-series is designed to meet the demands of the serious DIY'er or professional contractors. The K-series features the renowned "K" pump, which is a heavy-duty, single-stage cast-iron compressor pump. The series consists of three different horsepower ratings—1, 1.5 and 2—and four basic air tank configurations—8, 15, 17 and 30 gallon. Operating on 115- or 230-volt single-phase power, K-series compressors can deliver as much as to 8.4 CFM @ 100 PSI for quick recovery. An optional dual voltage feature allows for easy switching between 120 and 230 volt, and a dual control option offers start/stop or constant-run operation. Splash lubrication with Jenny "Ultimate Blue" compressor-pump oil offers contractor-duty protection of the pistons, crankshaft, bearings, rings and cylinders. Additionally, the units are belt-driven with a large flywheel for easy start-ups and extra cooling, and a directional air shroud helps further reduce pump temperatures. For maximum portability, K-series electric compressors are available with fully pneumatic wheels to tackle rough worksite terrain. Visit www.jennyproductsinc.com.