A cedar siding upgrade can provide a great look and an excellent return on investment. But as always, proper installation is critical.
There's nothing like new siding to dress up a home. Just like painting interior walls revitalizes the inside, residing revamps the home's exterior character and adds distinction. Furthermore, according to the latest annual survey by Remodeling Magazine, renovating the home's exterior with upscale siding provides the best financial return on investment. On average, homeowners can expect to recoup 103 percent of the siding construction cost when it comes time to sell—higher than most other home projects.
But in addition to improving a home's appearance and adding value, residing protects the home from the elements, as well as improving its insulation performance values. So if you're considering a residing project, here are a few considerations, installation tips and thoughtful planning ideas to help ensure your project is successful.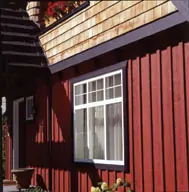 Mixing siding profiles is a popular look. Here, Western Red Cedar beveled shingle-styled siding complements the red board-and-batten area below.

Pre-Installation Considerations
Materials: Choosing the proper siding material is a logical first step when residing, as your choice of material affects the layout and installation aspects that follow. And numerous siding material options are available these days: vinyl, fiber cement and all-natural wood are just a few examples. But while a number of alternative products have hit the market in recent years, Western Red Cedar remains a popular all-natural choice due to its exceptional beauty, versatility and durability.
"Cedar brings an all-natural warmth and character to exteriors that will last for years to come," explains Jack Draper, Managing Director of the Western Red Cedar Lumber Association. "Alternative materials just can't compete when compared to the beauty and performance of all-natural Cedar siding. For centuries, people have requested Cedar siding to grace their home's exterior."

Acclimatizing: Start by choosing kiln-dried siding and then acclimatize the siding to your local climate. This ensures the moisture content is at equilibrium before installation and will help minimize any potential movement later.
On the job site, keep the siding dry. Stack siding at least 4 to 6 inches off the ground, under cover and with vertically aligned stickers. If the siding is to be stored over ground or concrete, place a moisture barrier around the siding to prevent moisture accumulation.

Pre-priming: These days, many manufacturers offer siding pre-finished on all sides, making the acclimatizing phase much simpler and less time-consuming. This finishing technology is important as it ensures the highest level of quality-finished products, thus greatly increasing consistent coating, longevity and overall resistance to moisture; allowing you to choose the preferred finishing color and simply install. For example, properly finished Western Red Cedar siding will offer decades of low-maintenance protection.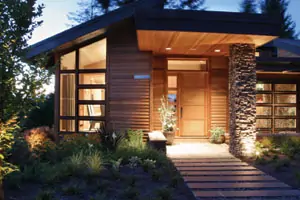 Installation Tips
Structural Assessment and Upkeep: Once your old, existing siding is gone and the house now shows its bare bones, you can see if it needs any structural improvements.  This is an ideal time to re-nail loose sheathing, replace rotted elements, patch all holes, gaps, seams and cracks, and seal around window and door openings for better insulation.

Moisture Protection: Although it's often overlooked, what's installed underneath your new siding is equally important to providing your home long-term durability and protection. Specifically, you need to make sure the siding is backed by a high-quality weather barrier to help block rain and wind from entering the home.
In recent years, a number of excellent weather barrier wraps have been designed to provide superior water drainage, combat water and prevent wind infiltration—creating a more comfortable, energy-efficient home. One such weather barrier wrap is Dupont's Tyvek DrainWrap. DrainWrap offers the unique combination of a drainage system and a weather-resistant barrier in a single product. Even better, it does not support the growth of mold or mildew and helps keep heating and cooling costs down by stopping outside air infiltration. Teaming such a weather-resistant barrier with a low-density material like Western Red Cedar improves the overall insulation of the home, keeping interiors warmer in cold weather and cooler during summer.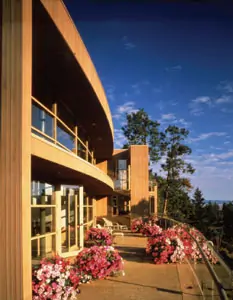 Fasteners: Paying attention to the type of fasteners being used is paramount.  Stainless steel siding nails are the best choice, although hot-dipped galvanized nails are also acceptable. Additionally, use "splitless" siding nails with thin shanks and blunt points to reduce splitting. And for greater holding power, nails with ring-threaded or spiral-threaded shanks are suggested.
Lastly, the size of nails to use depends on the type and thickness of siding. Good building practice is to use nails long enough to go through underlying materials, such as sheathing and weather barrier wraps—and penetrate at least 1-1/4 inch into solid wood.  Avoid the use of power nailers as these tend to over-drive the nails.

Installation Techniques: With the wide variety of standard and custom profiles available these days, there's no "one size fits all" approach to siding installation. Therefore, if you're looking for in-depth installation information for Bevel, Board-and-Batten, Tongue-and-Groove or Lap Siding, see the free "Installing Cedar Siding" booklets and DVD available at: www.cedar-siding.org. Detailed how-to information, sketches and descriptions give you the direction you need to complete your project—and the more thorough the plan, the better the job. As with all building projects, ensure you follow your local building codes.
Editor's Note: All photography in this article appears courtesy of Western Red Cedar Lumber Association.