(guest post courtesy Western Red cedar Lumber Association)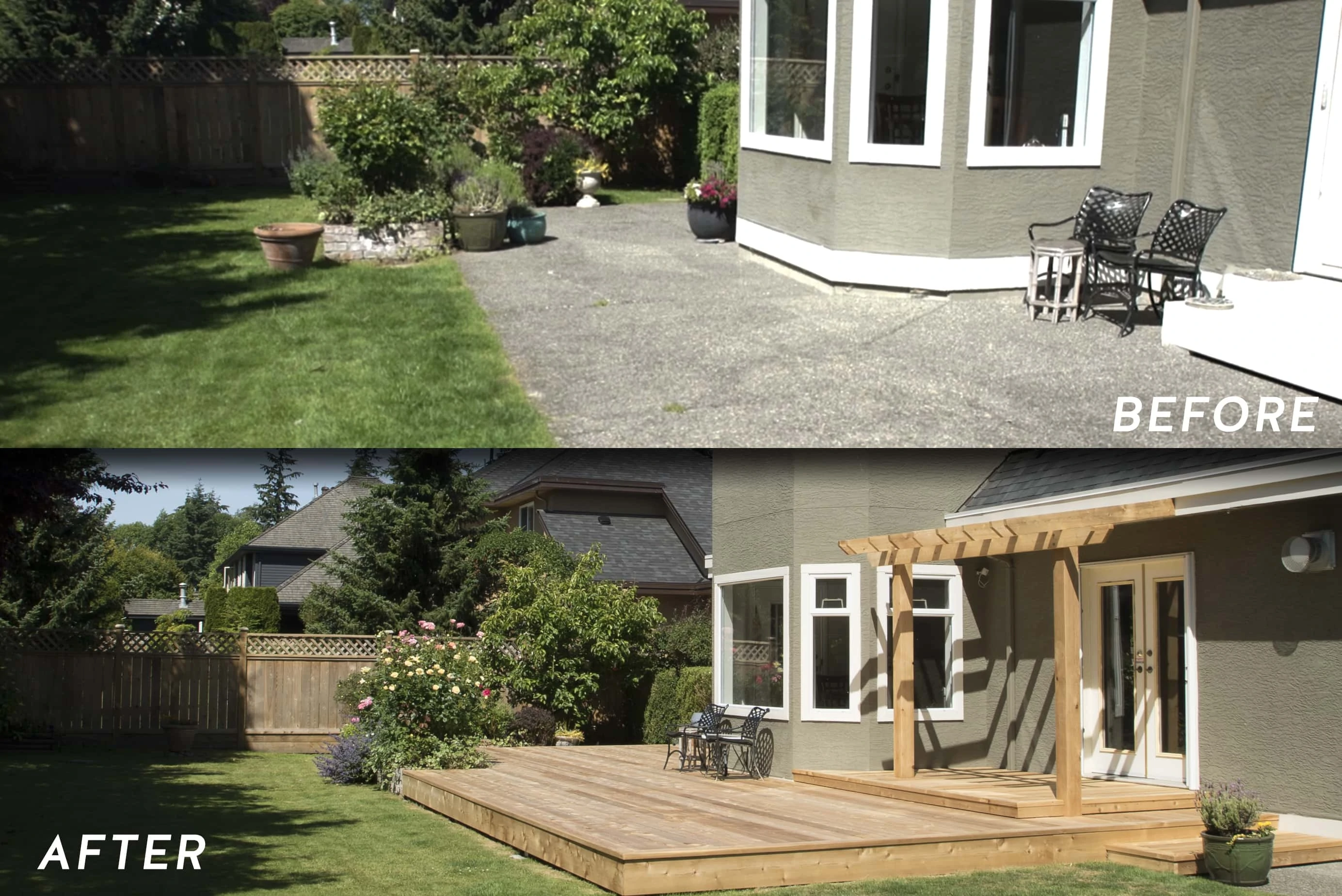 How do you restore an ageing aggregate patio in desperate need of repair? Well, you have a few options. You could remove and replace the existing concrete – but this can be quite costly and let's face it – it's not the greenest choice when you consider where all that old non-biodegradable material will end up (i.e. the landfill).
Alternatively, you could just fill in the cracks but this is more of a band-aid solution because you'll still be left with unsightly seams. Or, for roughly the same price as repairing the cracks, you could build a beautiful brand new Western Red Cedar deck on top. For homeowner, Tom Waithe, the choice was clear.
"Ever since we moved in, I've always hated that concrete – it was always something that needed a lot of maintenance, a lot of repairs," says Waithe. "And these cracks – they just kept on getting worse and worse. So the deck just seemed like the perfect opportunity to actually cover the really ugly mess that was happening here."
Warmth & Workmanship
In addition to covering up a multitude of sins, this naturally beautiful deck creates a lot of warmth in Waithe's outdoor living space. And for Tom's contractor, Gary Karlsen, the choice to go with Real Cedar made his job easier.
"I prefer working with Western Red Cedar because it's a nice light material," says Karlsen of Groundforce Landscape & Stone. "It's not as heavy as some of the other woods we've worked with in the past."
Installation Pro Tips
To add even more beautiful texture, Waithe opted for an Architect Knotty grade of decking – which not only gives some added character and charm; it's also a more budget friendly option. As a further cost-cutting measure, Karlsen suggested using 14 footers. That's because non-standard lengths such as 10s, 14s and 18s, often cost less per linear foot compared to more common lengths such as 12s, 16s and 20s.
In terms of spacing, Karlsen left just under a ¼" between the boards. That's because like all wood, Real Cedar will shrink and expand as it acclimatizes to the local environment. So depending on how humid your region is, leaving too much space could lead to unsafe gaps and too little space could lead to a lack of ventilation and debris build-up.
Finishing Touches
As for finishing, Real Cedar is pitch and resin-free which means it accepts and holds a wide range of stains and finishes. But for the lowest maintenance option, Real Cedar can be left to weather naturally without any finish at all – exactly what Tom chose to do for this particular project. A big part of that decision was to keep this project as green as possible.
"We really enjoy that there's a sustainability factor to it all," says Waithe. "Something more natural felt like a really good choice with the house, the backyard and the direction we're going in with the whole neighbourhood."
Investment Benefits
When all was said and done, Waithe saved money by building a beautiful Real Cedar deck on top of his ageing aggregate patio. And as Karlsen points out, Waithe also added significant resale value to his property.
"A home like this with a cedar deck will attract new homeowners too, actually," says Karlsen, pointing to findings in the latest National Association of Realtors "Cost vs. Value" report.
Waithe, however, is in no rush to put his home – complete with a new and improved indoor/outdoor space – on the market any time soon.
"We're looking forward to years and years of enjoying the beauty of this deck," he says.