Give your workshop a workout by building the perfect workbench.
By Rob Robillard
Okay, that was misleading. There is no such thing as a perfect workbench. I can say this because I've built and rebuilt my workbench at least five times in twenty years and I'm now considering a new design. I'm not alone in this quest for the perfect bench.
A workbench can be the most essential part of your workshop or garage, but know that there is no "holy grail" of workbenches.
The fact is that all workbench designs end up as a compromise.
Essentially, a workbench is a platform to get stuff done. It can be a simple table with a machinist's vise bolted to its top or built to accommodate a number of different work-holding mechanisms.
Basic Features
A good bench should be heavy enough that it doesn't move while you're working, and stiff enough that it doesn't rack to pieces under the forces that will be placed upon it.

Most DIY'ers would agree a good bench needs these key features: For starters, the base must be sturdy—no wobbling allowed. It must have a large, flat work surface that's rugged enough to stand up to years of hard use. It must be a comfortable height, and the bench should suit the type of work you spend the most time doing. Tool or parts storage is nice, but not critical.
There are many methods to build a workbench. You'll find a number of plans for sell online, all with varying degrees of cost and sophistication, but most of them are really just tables. The key is finding the one that works best for you.
Woodworking benches tend to include elaborate work-holding systems with items such as bench dogs, planing stops, hold-fasts, board jacks, and will usually have one or more woodworking vises integrated into its structure.
If you're like me, however, you'll build your own solid, versatile work-surface for assembling all types or projects, including home repair issues like repairing a wobbly stool or re-sharpening lawnmower blades. It's nice to keep the cost down, too.
Designing Your Own Workbench
If you're considering making your own, take a moment to examine how you will use the workbench. Analyze your needs based on the type of things you do in your workshop, the types of tools you use and your workshop or garage's limitations.
I use a principle of simple observations in almost all aspects of my work, designing a workbench included. It's called the Pareto's Principle or the 80/20 Rule. I've used the 80/20 observation to determine how to build a workbench, size, height, accessories and other factors. The 80/20 refers to the "vital few and trivial many". The principle states that 20 percent of work is always responsible for 80 percent of the results. That means I need to focus my design on the 20 percent of my work that really matters. Don't just "work smart", work smart on the right things.
So how do I apply this to my work bench? It means building a bench that optimizes your specific tasks. For starters, figure out the specific tasks for which you will most often be using the bench.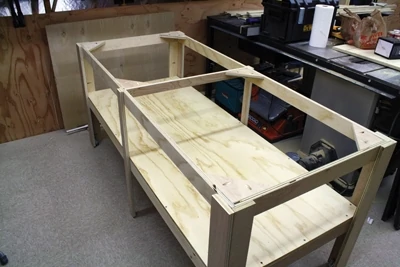 To me, there are three basic workbench use applications: General work/construction; sanding, cutting and hand-plane applications; assembly and repairs.
Here are some important design considerations you should consider. Ask yourself the following questions:
• Is your bench going against a wall?
• Do you need 360 degree access to your bench?
• Will you be placing heavy objects on the bench?
• If yes, should you install casters for mobility and storage?
• Will casters affect your working applications, such as hand-planing?
• Will you be mounting a vise, saws or other bench-top tools permanently?
• Do you need shelf or drawer storage?
• Do you have space to stretch out long boards?
• Have you considered electrical and lighting considerations?
Once you answer these questions you'll have a good idea of what type of a bench you need, with the least amount of compromises. The goal is to design a bench that meets your needs for the majority of situations.
Correct Workbench Height
Customize the size of your workbench to your body height. Most workbenches range from 28 to 36 inches deep, 48 to 96 inches wide and 28 to 38 inches tall.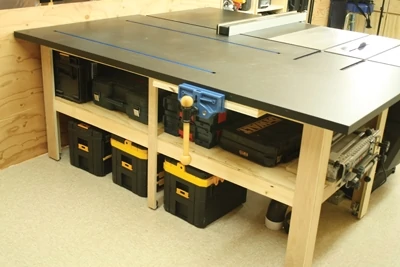 TIP: If you're unsure about your preferred bench height, build your workbench legs without a horizontal cross brace at the floor. This way if the bench is too high you can later trim it down in height.
The amount of space you have available will likely dictate its depth and width. Size your bench so you can move material and equipment past it freely, and so it's not a constant obstacle in your workspace.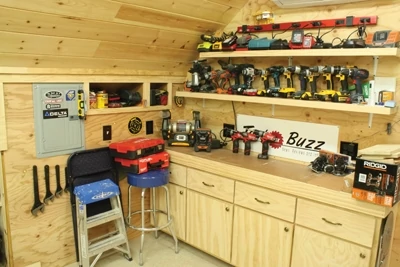 Workbench Height Rule of Thumb:
General work:  For basic joinery and construction, set the top of the bench to your belt line
Sanding, cutting, hand-plane work:  Set the top of your bench 6 inches below the belt for better leverage
Assembly and repairs:  Set the table top 6 inches above the belt.
Assembly of large items:  Set the table top 12 inches or more below the belt.
Build It Strong
The secret to the strength of any workbench is selecting the right materials and building a sturdy base and top. A simple, cost-effective workbench can be built with 2x or 4x stock, and the top, shelf, and end panels can be sanded plywood or plank stock. I choose these materials for their sturdiness, low cost, and ready availability.
When assembling the bench, keep fasteners and joinery simple. Use glue, and pre-drilled lags or structural screws. Build your bench like a house with continual point load and a strong foundation.
Resting the tabletop on the legs is stronger than attaching the legs from the side using only fasteners. Again, this all depends on how much weight you plan to put on the table. Are you building cedar birdhouses or rebuilding a Chevy V-8 engine?
TIP: For wall-mounted workbenches, install the bench on a ledger board or blocking mounted into existing wall studs. Align the tabletop so the ends of the plywood are are even with the outer edges of the studs. Most studs are laid out and installed 16 inches on center, and this works well with plywood sheet stock measurements. Additional studs or supports can be added if needed.
Storage
Consider incorporating storage options into the bench or its surroundings. The more shelves, drawers and tool holders one has, the better. All the nooks and crannies add up to lots of storage space, which makes it easy to organize and locate needed tools, supplies, fasteners, etc.
I'm a big fan of cabinet doors and shelves to hide my tools and keep them dust-free, but doors and drawers do add cost and complexity to the building process.
Power and Lighting Considerations
Plan for electrical power and lighting. If you're fortunate enough to be wiring your own shop, dedicate 20-amp circuits along the walls, including one or two for your workbench.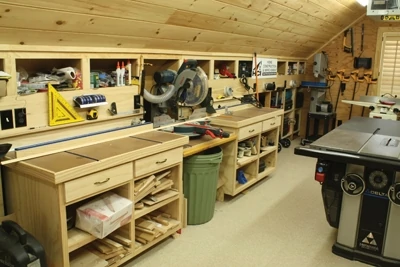 Proper lighting in your workshop is as important as any tool in your toolbox. Whether it's to see what you're doing, to illuminate mill marks on wood surfaces or for photographing of your work, having adequate and proper lighting is important. Make sure you have ample lighting positioned to reduce shadows that may com-promise productivity or safety.
Most of the light in the workshop should come from overhead lighting. The overhead fixtures should be spread out to provide consistent overall lighting throughout the entire shop without major dark spots.
Fluorescent lighting is the least expensive way to light a workshop. These fixtures can be installed with screws, and are no more difficult than installing a regular light fixture. The lights are bright, use very little electricity and are easily replaced.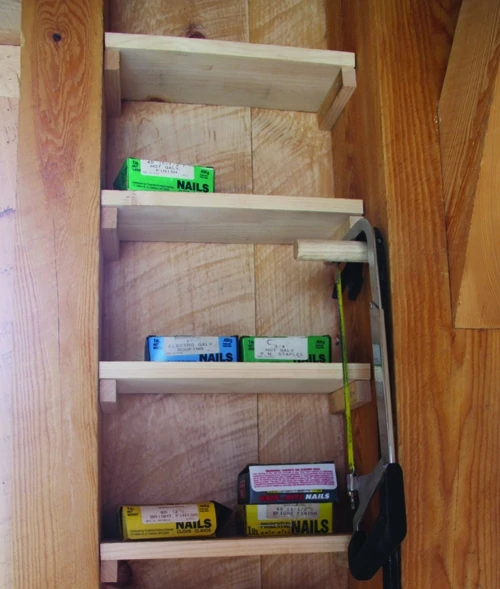 Spot lighting can also enhance the workspace. In addition to the overhead lighting, it may be advantageous to place recessed flood or spot lights directly over some of your tools and workbenches.
Many tools now come with on-tool lighting. My drill press is one of them. You can purchase after-market lighting with heavy-duty magnets or just install a simple clamp light to such tools. These task lights are a great supplement to your overhead lighting but should not be a replacement for poor shop lighting.
If you have cabinets over a workbench then under-cabinet lighting is a perfect solution for task-lighting the bench.
Finally, as good as your bench is, you can make it even more versatile by adding a bolt-on woodworking or mechanic's vise.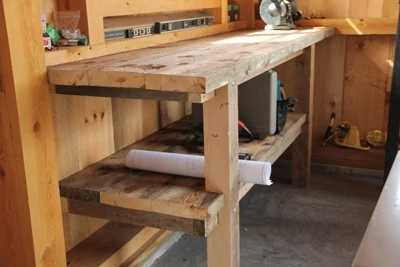 How to Build a Rough Sawn Workbench
The workbench shown here was made of materials left over from a previous project. Most of the workbench parts came from rough sawn 2×10-16-ft. staging plank material. The planks sell for $34.00 each, were used and not returnable, so they became the "perfect" material to allocate to this workbench.
This bench measures 25-by-87-by-48-in. high, and is made from a combination of the rough-sawn planks and some 4×4 stock for the legs. The planks make up the top and shelf, and the supports are ripped down plank sections.
1. Determine footprint of your workbench, which means determining the Width x Length x Height.
2.  Check the floor level in the area where the front legs will sit. Are they level or will the legs be different heights? Make a note and put aside for later.
3.  Cut the bench-top planks to length and rip them for even spacing. The benchtop planks were ripped so three boards fit evenly up against the horizontal beam of our post-and-beam building. The bottom shelf ended up deeper because it extends to the outer wall.

4.  Rough-cut the shelf planks and put aside. Rough-cutting means leaving them 3 to 4 inches longer than you need.
5.  Cut the 4×4 legs and put aside, the legs will sit directly under the bench-top planks. If the legs won't be sitting on a level surface, keep them longer than the height of the finished bench to trim later. Determine how far your bench-top will overhang your frame supports. You may want to consider vise clearances.
6.  Rip the remaining plank stock into 2×3 boards for the support framing of the top and shelf.
7.  Cross-cut four 2×3 long supports for the benchtop and shelf. Then, cut enough short supports to install them every 16 inches on center for strength and rigidity. (On this table the long supports are 72 in. and the short supports are 22-1/2 in.)
8.  Determine shelf height.
9.  Assemble the bench-top support and and shelf support frames with using 3-in. galvanized decking or other structural screws.
10.  Draw a level line on the wall and mount both frames into the wall studs with two 3-inch screws every 12 inches. Use temporary scrap wood supports if needed.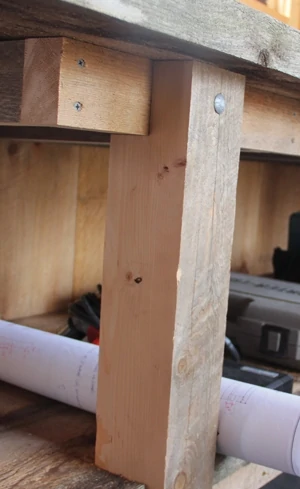 11.  Clamp the legs to the level frame again and mark for notches. If the legs aren't level, this is the time to cut them. Notch the two outer 4×4 posts to accept the 2×3 support frames. Use a miter saw and handsaw to accomplish this.
12.  Dry-fit the 4×4 posts to the outer edge of the support frame.  Check for level and plumb, adjusting as needed.
13.  Drill 5/8-in. pilot holes through the 4×4 posts and frames. Insert 1/2-in. carriage bolts with washers through the 4x4s and frame supports on the two outer legs. Tighten and check for level as you do this.
14.  Measure the shelf support and determine how much overhang, if any, you want to see on your shelf.
16.  Cut shelf planks and install with 3-in. screws into each 2×3 support. Use a hand saw or jigsaw to notch the shelf planks around the 4×4 legs. (Install these before the top planks for easier access.)
17.  Install the top planks next, in the same manner.
18.  Position the bench in your workspace and use it for all your projects.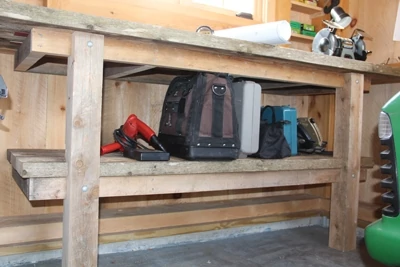 Hot Products for the Garage & Workshop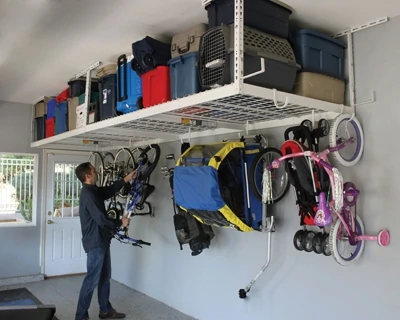 Overhead Storage with SafeRacks
SafeRacks is a premier provider of overhead garage storage, offering high-quality ceiling racks designed to utilize wasted space in your garage. SafeRacks offers nine different size racks, but the most popular is the 4×8. The 4×8 SafeRacks can hold up to 600 lbs. and can be installed down from your ceiling up to 45 inches. With each size storage rack, choose from three different types of dropdown lengths (12-21 in., 18-33 in., 24-45 in.) to customize the height to fit your garage and storage needs. SafeRacks are designed to be installed into wood joists in your ceiling, enabling installation almost anywhere in their garage since it does not have to attach to any side walls. SafeRacks also offers accessory hooks that attach directly to the rack so that you are able to hang items such as bikes, strollers, chairs, rakes, umbrellas and much more. Visit www.saferacks.com.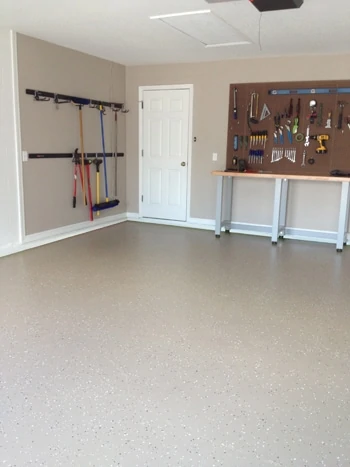 Seal-Krete Epoxy Paint
Give your garage a showroom finish with Seal-Krete epoxy paint. Painting your garage floor with epoxy paint can provide a tough, durable finish that protects it from oil, gas, antifreeze and salt, and keeps your garage looking great. As with any painting job, surface preparation is key to a long-lasting finish, so take your time and follow the manufacturer's instructions carefully, such as allowing appropriate dry time between product applications. Once you have your floor completely clean and etched, you can apply a concrete bonding primer. Primer is recommended in order to get maximum adhesion from your paint. Epoxy paint is easy to apply with a brush (for cutting-in along walls) and a roller. Most one-part epoxies recommend two coats to get the best looking and longest lasting floor. For additional protection, you may decide to seal your epoxy floor with a clear sealer. Add a non-slip additive when applying sealer to provide a slip-resistant finish to your topcoat. Seal-Krete has a full line of products for your garage floor. Visit www.seal-krete.com.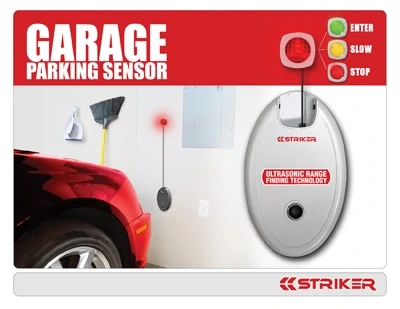 Striker Parking Sensor
The Striker Parking Sensor is designed to take the guesswork out of parking a car in tight garage spaces. It features ultrasonic range-finding technology to accurately locate a vehicle within the desired parking constraints. The Striker Parking Sensor is conveniently equipped with a range selector, making it easy for the user to pick different parking distances from the garage wall. The base unit can be mounted on the wall in front of the car at bumper level. Then, the signal light is mounted in a position easily viewed from the driver's seat. As the driver approaches the parking sensor, they will see a green light indicating that it is safe to proceed. As the car nears the sensor, a yellow light will illuminate as a warning to slow down. Finally, when the car is in the desired parking distance from the sensor, a red light will illuminate, signaling the driver to stop the car. It's easy to install and comes complete with all mounting hardware, instructions and warranty. Visit www.strikerhandtools.com.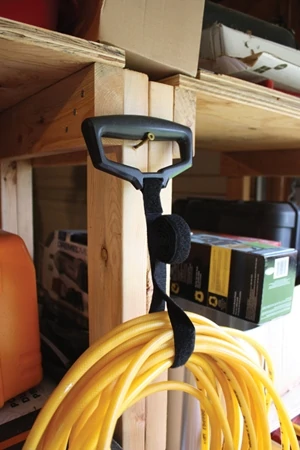 Get Organized with Scotch Fasteners
To help organize your garage and workshop, 3M's Scotch Brand offers a line of home fastening and mounting products, including the new Extreme Fasteners. These new hook-and-loop style fastening strips lock three times stronger than Velcro Industrial Strength Fasteners, and they're designed to withstand even the harshest conditions once the adhesive backing is bonded, including rain, mud and dirt. The Extreme Fasteners feature 3M Dual Lock Technology that click together to secure heavyweight items up to 10 lbs. in place. Extreme Fasteners can be used to secure under cabinet lighting, hang a birdhouse outside, hold a toolkit or other heavy object on the wall, and much more.
The Scotch Garage Organizer Bundling Strap is an ideal accessory to keep the clutter off your garage floor. Hang up to 20 lbs. using the heavy duty strap and steel construction bracket.
The Scotch Handle Strap Scotch secures bulky loads up to 15 lbs. for easy grab-and-go transport and storage. It comes with a 36-in. strap, and the the easy-grip handle features a slot for hanging on hooks, nails or pegboard. Visit Fasteners.Scotchbrand.com.
Side Note 1
Garage Door CheckUp
For many DIY'ers the home's garage doubles as the home workshop, and proper maintenance is important. Corrosion and metal fatigue will eventually cause the components of a garage door to fail, but you can extend its life with a little annual upkeep. Lubrication prevents corrosion and allows the moving components of the door to move more quietly and smoothly with less wear from friction. Lubricate the the chain drive (or screw drive) with white lithium grease, available at any home center. You can coat overhead torsion springs or extension springs with standard WD-40.

Check the door rollers every year for wear and tear. Nylon rollers tend to crack apart, and the worn bearings of steel rollers can cause the wheels to deflect. Replace as needed by removing the roller bracket (but do not remove the bottom bracket).
If the door doesn't close far enough or returns once it hits the floor, you probably need to adjust the travel setting of the door opener. Check with your manufacturer to determine the adjustment procedure. Some door openers have set screws you can adjust with a screwdriver, while other units have knobs or trip levers for adjustment.
Side Note 2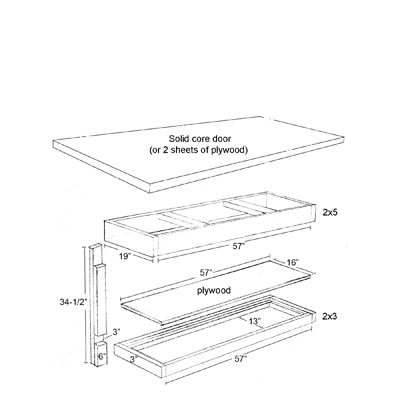 Beefy Shop-Made Workbench
This workbench, which we use in the EHT workshop, is constructed from 2x6s, 2x4s and 2x2s. I first ripped the rounded edges off the lumber, so each 2-by-4 measured 3 inches, and each 2-by-6 measured 5 inches. I then assembled it according to the diagram, sizing the height for a 6-ft. tall person to work comfortably, but you can adjust the height of your bench accordingly. I used 2-1/2-in. No. 8 wood screws when fastening through 2x lumber into the face of another 2x board. I used 3-in. screws, however, when fastening through 2x lumber and into the end of a board. Make the bottom shelf by cutting your sheet material of choice to fit flush into the lower frame over the 2×2 edge supports, and fasten with 1-5/8-in. wood screws. The sturdy top is nothing more than a solid-core door available at any home store, centered on the table frame and screwed to the brackets from beneath. — Matt Weber, EHT editor-in-chief
Side Note 3
Triple-Decker Storage
For some easy and economical utility shelves, these three plywood shelves are supported by ladder brackets. Each bracket is constructed of two 2×2 legs bridged by three 2-ft. long 2×2 cross-braces. The cross-braces of the brackets are 2 feet apart, but you can customize the height of the shelves. I assembled the brackets using triangular gussets fastened with a combination of Gorilla Glue and wood screws to anchor each intersection of the cross-braces. Use a square to make sure you're assembling the brackets at 90 degrees. And measure between each corresponding cross-brace on each leg to ensure the braces are evenly spaced so the shelves sit flat. You can strengthen the shelves' stability by driving 3-in. screws through the 2×2 brackets and mounting them to wall studs, then adding the plywood. Or, for freestanding shelves, screw 1/4-in. luaun backing onto the legs at the rear to add structural rigidity.