Build a simple firepit in a weekend and add ambience to your backyard. Find inspiration here, and then follow our step-by-step guidelines to create your own cozy outdoor retreat, where your guests can enjoy nightly tall tales, ghost stories, or sing-alongs.
Good to Know
If you need a portable solution, Lowe's carries a variety of freestanding fire bowls and firepits.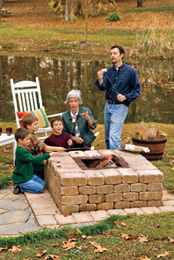 The kids' favorite treat is smores by the fire. 
 Design for Comfort and Safety
Set a few stones into the ground to serve as a flat surface for a side table. If desired, add additional pavers around the structure or to create a path leading to your home.

Before you begin building, check your local codes regarding open fires and permits. Take care to site the firepit away from overhanging trees and shrubs, structures, and flammable materials.

It's best to dry stack the pavers because heat can melt adhesive or cause it to release fumes.

Line the inside of your firepit with fire-rated material, such as fire-rated bricks.

Follow basic fire safety rules. Children should always be supervised, and a water source needs to be easily accessible.

Use a whiskey-barrel planter to store firewood.
Basics for Building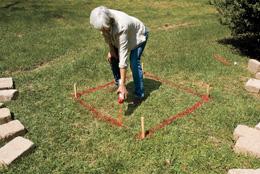 Mark the dimensions on the ground with stakes and twine, creating a square. For easier building, adjust the dimensions to avoid splitting any pavers. Spray-paint over the twine, covering the grass. Remove the stakes and twine.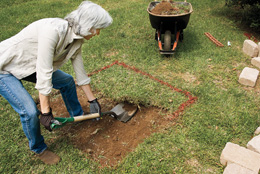 Use a shovel to dig out the square to a depth of 12 inches. Keep the site level.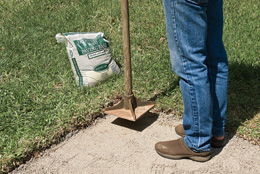 Add several inches of paver base to the square, and tamp it down. Using a level, make sure the area is flat. (The paver base covers the entire floor of the firepit.)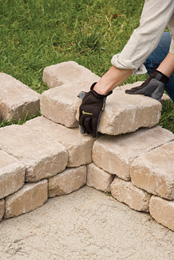 Lay a perimeter of pavers level with the ground. For each course, check from paver to paver and from front to back to ensure that the structure is level. Alternate the gaps between pavers from one course to the next.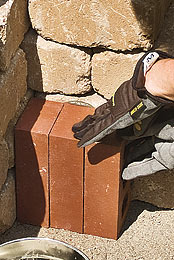 Line the interior walls with fire-rated bricks, smooth sides facing out. Complete one row before you add the next. Bricks need to fit tightly with no gaps; this will make a stable, uniform surface so that the pavers are not directly exposed to heat.