By Belinda Remley
Real Wood Treated to Last and Versatile for Outdoor Projects
This isn't your Grandma's backyard. That's right.
Gone are the days of cheap folding lawn chairs and rusty tables. The trend toward making outdoor living spaces more luxurious and more livable has steadily increased over the past few years. Homeowners are looking to expand their living and entertaining space outside.
Affordable, adaptable treated wood has risen to meet the challenge of creative, useful outdoor living spaces. "Preserved wood is eco-friendly and long-lasting," says Matt Roughen, Head of Marketing North America for Arxada, "It has proven itself as an exceptional building material that retains the natural beauty of wood, because it is wood. While many companies offer products that look like wood, others like Arxada, choose the real thing and provide the preservatives to extend the life of the wood."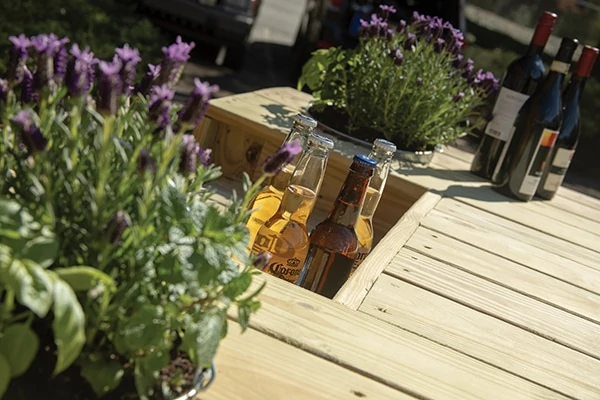 An outdoor deck remains the most popular application for backyard improvement, but it is not the only project that is catching the fancy of builders. While many homeowners leave deck building to the pros, they are excited and eager to take on weekend projects to improve their backyard living. "The most popular backyard project behind decks is the raised bed garden," says Roughen. "Homeowners do their research and gain project inspiration and build plans via the internet and from store associates at their local home-improvement store. Then, they plunge into projects with confidence."
Roughen explains that it is important to have a real plan for building a project. "Good plans let the builder know what supplies are needed and about how much time the build may take. The plan should include step-by-step instructions that take the project from a pile of treated wood to a beautiful outdoor addition. So, armed with a detailed plan, contractors and DIY'ers can head to the store to pick up the wood, hardware and any other supplies they need."
Arxada provides free plans that can be found on their website https://www.arxada.com/en/wood-protection/americas to help homeowners in their quest for backyard bliss. "Among our plans is a raised bed garden, a picnic table, and our latest addition, a planter bar." Roughen says. "We designed and built it at Arxada's facility to show homeowners how this can be a weekend do-it-yourself project and to provide a new, unique project idea."
Planter Bar Construction
The planter bar is about 6 feet wide, 4 feet high, and 32 inches deep. It is made from preserved wood and sits on casters for easier mobility. There are holes for drop-in round galvanized steel bucket planters on each side of the bar. "We included the planters thinking they would make ideal herb gardens," explains plan designer Josh Miley. "However, they would also be a lovely spot for seasonal, flowering plants to dress up the bar area. It also makes a fun gathering spot to create refreshing summer cocktails."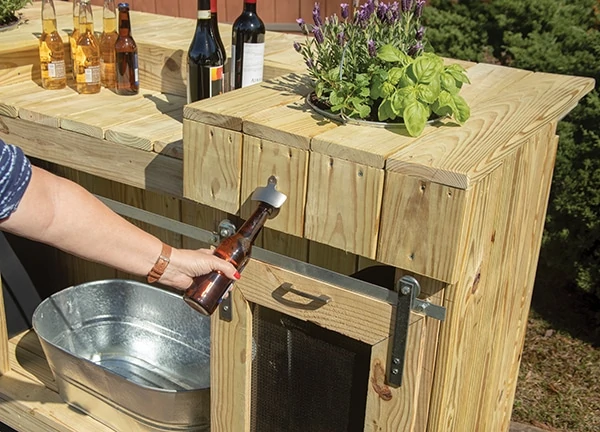 "We also personalized our bar with two bins—one for trash and one for recycling," Miley says. "We included a slightly lower preparation level, making it easier and more comfortable for the bartender to entertain his or her guests. Below the drink prep area is storage, where we chose to include a galvanized steel bucket for ice and drinks. To add style and function, we created screened barn doors for the front area that includes the trash cans and the storage area."
Miley says, "Using our plan and securing all of the materials ahead of time, a semi-experienced weekend warrior should be able to complete the build over a long weekend. And, cost for materials is about $400 for a project that adds beauty and function to your backyard."
With any outdoor living addition from larger projects like decks and fences to smaller ones like raised bed gardens and the planter bar described here, it is important to choose the right treated wood for your application. The American Wood Protection Association (AWPA) has updated its standards to offer specific guidance in the use of treated wood. AWPA is a non-profit organization whose members are industry individuals who work together to govern wood preservation standards. Industry leaders who are members of AWPA found it necessary to update the standards by which wood is preserved because using wood properly is imperative for a finished project to last.
Consumers can either purchase Above Ground or Ground Contact preserved wood for their project.  "It just depends on the severity of the exposure conditions of the wood," explains Roughen. "Ground Contact preserved wood is treated to a higher retention level than Above Ground. That simply means there is more preservative in Ground Contact preserved wood to offer protection for more demanding end uses like raised bed gardens."
Further guidelines say that Above Ground preserved wood is intended for the parts of a project that are at least 6 inches above the ground, where the wood dries easily, and where it is well-ventilated around all the boards. While Ground Contact preserved wood is versatile enough to be used in almost any application, it must be used in applications where the wood:
will come in contact with or be within 6 inches of the ground or fresh water
is critical to the structure and difficult to repair or replace
is in certain physically Above Ground uses exposed to harsher conditions such as prolonged contact with soil, vegetation or sprinklers
"As an example, treated wood that is not subjected to prolonged wetting from sprinklers or that has good air flow around like a pergola canopy can be treated to Above Ground retentions," Roughen says. "Wood that is critically necessary to a structure and is not easy to replace, such as posts and joists, should be treated to Ground Contact retentions."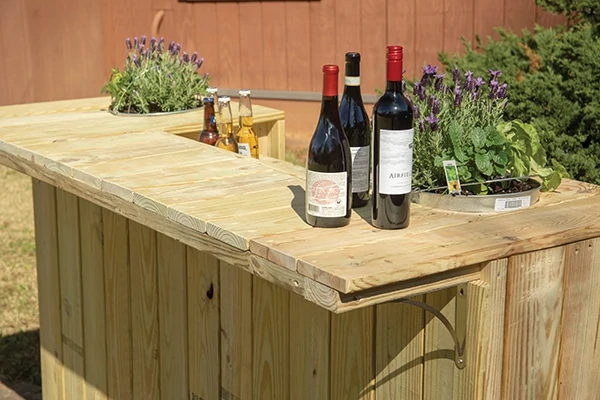 No matter what your plans for a backyard living space, preserved wood remains the most versatile, affordable, easily accessed building material. It is the ideal choice for projects such as the planter bar recently created by Arxada. With the proper plans and the right wood for your application, your project—big or small—will be not only fun to build but also will be an enjoyable addition to your outdoor living space.