In today's economy, homeowners are weighing the pros and cons of a project from a variety of angles before deciding to proceed. With housing prices in some areas dropping, it seems that big remodeling projects are "out," while small upgrades and renovations are "in." 
Despite these projections, it's not all gloom and doom. In fact, according to the National Association of Home Builders, Americans are expected to spend $217 Billion on home renovations this year. That's up from $210 Billion in 2008, and not far below the all-time high of $218 Billion spent in 2007.
One project that remains a viable addition is an outdoor deck, as well as any deck upgrades such as new rails, new surfaces or deck lights. New decks are becoming more elaborate, often with multiple levels for different purposes, and with so many different materials to choose from, you can build a deck that works with any architectural style.
Whether you're building new or are looking to upgrade an existing deck space, be sure to include a lighting plan in your design.
Marv Esh, co-owner of Keystone Custom Decks in Lancaster, Pennsylvania, a family-owned business that has been building decks for more than 25 years, says his company began adding lights to the decks they build just a few years ago. Today the majority of decks they build include a lighting plan.
"Outdoor lighting is an inexpensive upgrade, and deck lights not only add beauty and style to a deck, but function, as well. With lights on your deck, you can get more use out of the space, and create an environment that is comfortable both during the day and after the sun goes down," Esh says.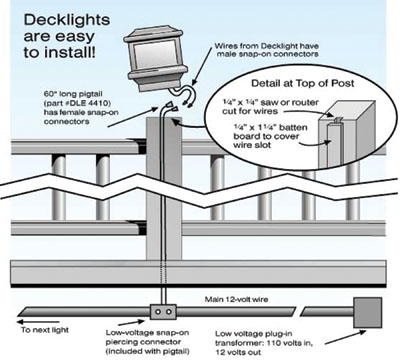 Deck Lighting Options
The variety of deck lights that are available has grown tremendously in recent years. Products designed specifically for decks come in styles that range from traditional post cap lights with flat or pointed tops, to post lights with a more sophisticated "lantern" look. Sleek LED post caps with down lighting offer ambience in an energy-efficient package, with a bulb that will last for several years. Some manufacturers also offer step lights, path lights and other landscape lighting options.
If you plan to install lights on your deck posts, you can find decklights available to fit most post sizes, from the smallest to the largest. Matching adapters for post lights can be purchased that allow you to install them directly on the top rail of your deck.
Installing deck lights is easy, but it does require some planning. The first thing to do is decide where you want lights and what type you want. Once you determine how many lights you want, all related specifications revolve around that number.
Aurora Deck Lighting (www.auroradecklighting.com), considered to be one of the nation's leading manufacturers and marketers of deck lights, offers a variety of styles in a range of colors to match wood, composite and vinyl deck materials. They also offer matching post caps, step lights, path lights and accessories, as well as everything you need for simple installation.
Deck Lighting Basics
There are basically three lighting categories for exterior application that can be broken down into low voltage (12 volt), line voltage (110 volt) and solar-powered lights.
If you choose to install low-voltage lights or solar lights, there's no need for an electrician. Line-voltage lighting typically requires a licensed electrician to install, and many municipalities require a permit for installation of line-voltage lighting.
Most do-it-yourselfers elect to go with solar or low-voltage lights, which can be installed in as little as a few hours.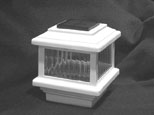 Solar Deck Lights
The easiest lights to install on a deck or fence are solar lights. Solar lights are powered by the sun, so there's absolutely no wiring necessary. Recent improvements in technology have both brought down the price and improved the performance of solar lights. In addition, attractive high-end styles are now available in a variety of sizes and colors.
According to Jay Savignac of Aurora, solar-powered lighting should be considered "accent lighting," as it is not quite as bright as other types of outdoor lighting. It looks great on a deck or fence, and offers a softer, ambient light.
"The solar lights we sell are an award-winning design that uses LED bulbs and NiCad batteries. The batteries charge during the day, and the photo-eye activates the LED lights at dusk. Run time is based on the season and the location. Northern climates will have a run time of 8-14 hours during the summer, and a shorter 3-6 hours during the winter, based on sunlight," Savignac says.
Solar lights are not effective if placed under eves or under trees, as they require direct sunlight to charge. It can take as long as three weeks for the battery in a new solar light to become fully powered. Direct sunlight is the key, so on cloudy days, batteries don't receive as strong a charge, which will result in a shorter run time at night.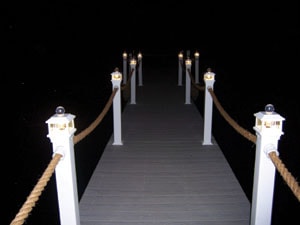 Low-voltage Lighting
Low-voltage lighting utilizes a transformer to step the power down to 12-volt from 110-volt. You plug the transformer into a standard wall outlet and then all lights connect to the main wire in a daisy chain fashion. The individual light wires can be run above ground, under the joist or under the handrail of your deck, as well as through vinyl or composite materials. They also can be buried along pathways or under your deck just three inches underground.
To install a light on a wood post, simply cut or route a channel vertically along the face of the post and run the wire up the channel. You can cover the channel with a batten strip or a wood piece cut to fit the slot size. You also can drill a hole from the top of the 4-by-4 post on an angle to meet the underside of the handrail and run the wire from post to post under the handrail.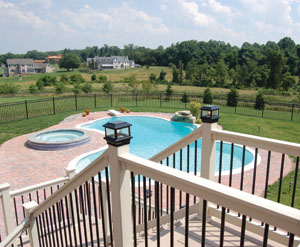 Deck lights are available in styles that look as pretty during the day as at night
Low-voltage lighting uses very little power, and as much as 200 linear feet of wire can be connected to lights and to the same transformer. For applications longer than 200 linear feet, alternative wiring or additional transformers may be required.
It is important to buy the right size transformer to ensure that it is neither too big (which will make your bulbs burn brighter and reduce their lifespan), or too small (which will cause the lights furthest from the transformer to be dimmer than desired). The wrong size transformer could also cause it to fail.
"Transformers are specified per installation, and we always size the transformer as close as possible to the required wattage draw without going over," Esh says.
Common deck light transformers are available in sizes that range from 44 watts (for two lights) to 900 watts for up to 50 lights. To determine the appropriate transformer size, add up the total number of light watts. For example, an average deck light is 18 watts. Six lights x 18 watts is 108 watts. In this example, you would choose the next largest size transformer, or in this case a 121-watt transformer.
Transformers usually have built in timers to set your on/off times, as well as a manual override. You can also connect your transformer to an outlet with a light switch, so your lights can be controlled from inside or outside.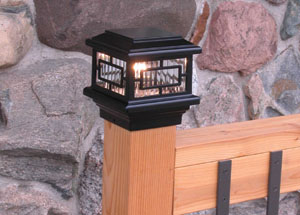 The Right Lights for Your Deck
The variety of deck lights that are available has grown tremendously in recent years. Deck lights are widely available online, as well as at home-improvement and hardware stores. Many deck contractors serve as distributors of deck lighting and offer installation services. Installation information is readily available from manufacturers, who sell both to deck contractors and do-it-yourselfers. Most manufacturers offer product warranties and customer service.
Deck lights are available for virtually any style of deck. Aurora's gallery of styles includes lights that look as pretty during the day as at night, and most styles have a coordinating post cap for use on posts where lighting isn't desired. 
Aurora's Orion, for example, is made of solid cast aluminum with a lantern style "candle" light inside. It is available in a variety of different colors, and the glass on all four sides of the light contains a geometric design that reflects light during the day and casts a warm, patterned light at night.
"Homeowners are staying home more and are entertaining more, and in the warm weather months it's always great to entertain outside. Outdoor lighting in the deck area is a great investment, and specially designed deck lights are the perfect way to create ambient lighting that helps take a deck from daytime hangout into nighttime party space," says Chelsey Gardner, an outdoor living expert based in Dallas.
If you have a deck, this just might be the year to add some deck lights. It's a simple project that will add function and value to your outdoor living area.