Whatever the weather, Bigfoot's newest 12" plastic tube (BFT12) delivers a simple, yet dependable way to build footings. Ground water or rain poses no threat to our Bigfoot tubes. The tapered plastic design prevents uplift from frost and high velocity winds.
The BFT12 meets or exceeds all Local and National Building Codes when used with a Bigfoot Systems® Footing Form. It measures 12" by 4' and can be used with Bigfoot Models BF28 or BF36.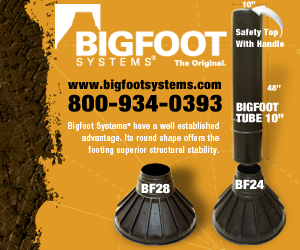 In 2012 Bigfoot Systems Inc. added a 10" plastic tube (BFT10) to our product line. The BFT10 quickly took off as contractors and do-it-yourselfer's like the idea of having the security of their tube not breaking down and collapsing from ground water, rain or wet soil as well as the added protection from frost heave the BFT10 offers due to its tapered design and slick surface.
In Mid 2018 Bigfoot Systems Inc. introduced the 12" plastic tube (BFT12). The BFT12 has the same design as the 10" tube and works with both the BF28 and BF36 model Bigfoot. With the BFT12 addition to our product line we are confident we have the most complete pier foundation footing form system on the market with 4 different size Bigfoot accepting 7 different size cardboard tubes and 2 sizes of the most commonly used plastic tubes.
For more info visit https://www.bigfootsystems.com or call 902-627-1600 or toll-free 1-800-934-0393 from Canada and the United States.