By Walt Steele
Wilda Watson can tell you exactly how many Pine Hall Brick Company standard clay pavers it takes to fill a 1990s-vintage Little Tikes toy wagon.
Eighteen.
In October, Wilda hauled her last load of 18 pavers in that wagon, taking them from the spot where they were delivered and pulling them close to where her husband, Matthew "Clark" Watson, was waiting. He took them out and laid them in the last stretch of a herringbone pattern for a driveway project at his home in Worth Township in rural Pennsylvania, north of Pittsburgh.
It was the last of 25,000 pavers in a driveway that measures 263 feet long from garage to roadway, varying in width from 33 feet to 13 feet. By the garage, there is a 26-by-21-ft. turnaround for vehicles. Closer to the road, there's a planter and a flagpole with American and Pennsylvania flags.
It's remarkable enough that a married couple would take on a do-it-yourself project of this size, which is far beyond the normal patio or walkway that most homeowners are willing to tackle; and would indeed be a challenge even for professionals.
Even more remarkable is the couple themselves: Wilda's 84 years old and Clark is 86. She did the project, pulling the bricks in the wagon that was originally a grandchild's toy 25 years ago, on two artificial knees; he laid more than a few pavers while battling pneumonia.
Spend a few minutes talking with Wilda and Clark and you get the idea that something in Pennsylvania is different—maybe it's the water. Maybe it's the cold every winter that makes you tougher and more resilient. Maybe it's living in a rural area, long associated with being self-reliant. Or, maybe it has to do with wanting to be productive, to get something accomplished with your days.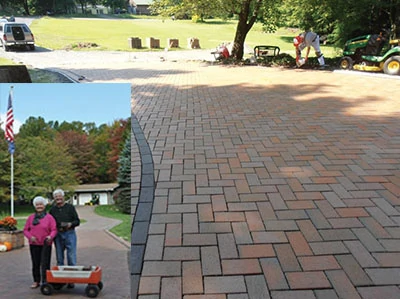 Clark certainly seems to feel that way. After careers with National Fuel Gas and others in insurance, plumbing, heating and being an electrician, Clark was searching about to find something to do; something, that is, besides the 'honey do' list that he says his wife started minutes after their wedding 66 years ago. He says that it's a list which he still hasn't finished.
It turned out his answer was just outside. The blacktop that he had installed atop the original driveway decades ago was unsightly and had begun to erode because of the harsh winter climate. He had repaired it dozens of times. Clay pavers, he reasoned, would be tougher. And besides, as Clark puts it, you could start on it, stop to go see one of your 37 grandchildren or take a vacation, and then go back to it.
Clark hired a work crew to strip away the blacktop and gravel underneath and dig 500 feet of ditches to provide proper drainage. The area for the driveway was excavated three inches deeper, and an underlayment of crushed stone, topped with sand to a depth of about 1-1/2 inches. They used a hand tamper to level the underlayment and sand, and used a wet saw to cut the pavers.
Wilda Watson says they bordered the driveway in brown pavers, and then laid a soldier course outside of that. She said the key to laying pavers for a driveway is in the sand. "If you get the sand just right, then there is no problem in laying the pavers," she said.
The Watsons worked on the driveway from June 2014 until September 2014 and from May 2015 until October 2015. The first year, work had to stop both because of the weather and because Clark's health worsened, requiring hospitalization. He had recovered by the spring and re-started the project.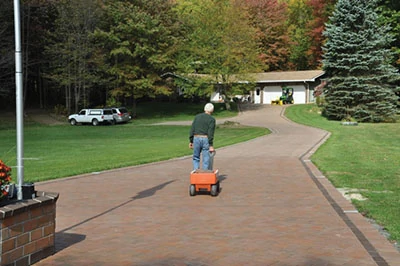 But during last winter, one of the harshest on record, they kept a close eye on the driveway and were particularly pleased to see that there was no heaving and no movement whatsoever of the portion that they had paved.
Now that the driveway is finished, Clark seems ready to embark on a new adventure. Some recent storms have dropped some trees on his property, and he really needs to get to work on them. He's still working on the light posts near the new driveway, trying to find ways, maybe even heat-lamps, to keep them from freezing up. And his shop, out back, could use a cleaning. He has a new, four-wheel drive John Deere snow blower with a closed cab and a heater, so he's ready for the winter, this time.
But given that he has had motorists stop and admire his work and ask who put in his driveway, we did suggest that he might have found a new career path for himself. Maybe he should start a business installing clay paver driveways and walkways and patios.
For the record, he didn't say no.
Editor's Note: Walt Steele is a recognized expert on clay pavers. He is paver business manager for Pine Hall Brick Company, America's largest manufacturer of genuine clay pavers. The company has plants in Madison, NC and Fairmount, GA. Visit www.PineHallBrick.com